Jimmy G. and the Young QBs
New names stepped into the spotlight in Week 1, and none performed better than the Patriots backup quarterback. Plus a very Raider thing to do, a coach needs a heart, a new cause to get behind and much more 
​Editor's Note: Peter King and the staff of The MMQB took over this week's issue of Sports Illustrated magazine. In it, you'll read the kind of feature stories that you've come to expect from The MMQB, plus an all-access behind-the-scenes look at one day in the life of the NFL, from inside the Texans' team meeting on the night before the season opener to the Patriots' celebrations at the end of their surprise win in Arizona, and much more. Pick up the magazine on newsstands, or subscribe here.
GLENDALE, Ariz. — "Jim-MEE! Jim-MEE! Jim-MEE!"
The players in New England's locker room surrounded quarterback Jimmy Garoppolo and gave him the kind of moment he won't forget if he lives to be 103, chanting his name like this was some high school post-game locker room and not the most outwardly blasé and act-like-you've-been-there-before group of players in sports.
Of all the Week 1 NFL stories—Trevor Siemian besting Cam Newton, Jack Del Rio burning the coaching rule book in New Orleans (and winning because of it), the precocious play of somany kid quarterbacks—the Patriots winning in the desert without Tom Brady and Rob Gronkowski and their two tackles, with a quarterback who'd never played, has to be the winner. Look at the New England schedule. What game would be tougher this year? At Pittsburgh in October? Maybe. At Denver in December? Could be. But the first game of the season, the first game of the Brady ban, the first start of Jim-MEE's career, against the top offense in football last year, with the cast intact … I never saw this coming. America didn't either. At least the 44 states outside New England didn't.
We'll get to everything else from a jam-packed weekend in a bit, and news of Sam Wyche awaiting a heart transplant, and a cause I hope you'll consider helping, and a lot more. This is the beginning of the 20th season that I've written this column. It was made for weekends like this. 
So on with the show.
* * *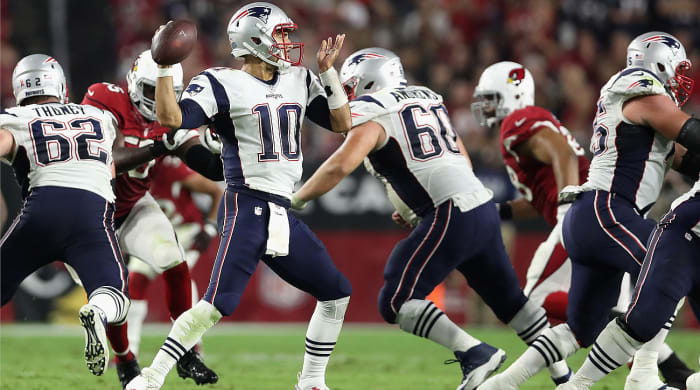 "Oh man," Garoppolo's friend and backup, rookie Jacoby Brissett, said to him at his locker Sunday night. "What a game."
What a weekend. One of the first 14 games decided by 10 points or more. Four one-point games. Look around the league in Week 1. What was noticeable in so many games? Young quarterbacks, some playing for the first time, playing with such poise and maturity. Garoppolo was so unaffected by the hype and the buildup Sunday night, the same way you saw Siemian make the little sidearm-flipped completion on his first snap Thursday, the same way Carson Wentz lofted a beautiful arcing strike to Jordan Matthews for a touchdown on the first series of his post-North Dakota State career, the same way Dak Prescott dueled Eli Manning on even terms before losing Sunday in Texas. You see those players and you know the league's got some good arms coming along to replace the older quarterbacks now—Brady, Drew Brees, Carson Palmer and the recently retired Peyton Manning.
The other reason this outcome was so significant: Brady has such a command of this team and this locker room, and then he was gone, his four-game ban for the Deflategate sanction separating him from the team nine days ago. It was left to Belichick and the coaches and the remaining veterans to convey the sense of normalcy, even with Brady in limbo.
• THE MMQB PODCAST WITH PETER KING: Like the Monday Morning Quarterback? Then subscribe to the new podcast from Peter King.
How'd they do it?
"We all just did our jobs," said veteran receiver Julian Edelman.
"It's all about tuning everything out and just doing your job," said defensive end Chris Long, in his first year in New England.
That mantra is so pervasive in Belichickland that even the alumni use it. I was in Houston on Saturday night and listened to Bill O'Brien's pre-game speech to his team, and he used some iteration of "Do your job" three times in 21 minutes.
Try as you might, you cannot get Patriots players to talk in real terms about what's going on in this difficult period. Because they know you don't do that; it can't help the team win, and Belichick insists on eliminating all the crappola that affects his team's chance to win.
"I don't think about who's out there playing," Edelman said. "That's not my job. You know Belichick: 'Ignore the noise. Don't believe the hype.'" There's little doubt he's succeeded. Walking around the locker room Sunday night, you couldn't find anyone giddy, or overly surprised, by what happened here. Train the mind, and the body will follow—as long as the body is good enough, and unselfish enough.
• CAM AND RG3, SAFETY PROBLEMS AND WEEK 2 POWER RANKINGS: Jenny Vrentas's Tuesday column debuts
"That's one of the differences here," Long said. "Team-first guys. To gather all team-first guys, I'm telling you, it's hard to do. But they do it here. It matters. Jimmy's one of those. It's a next man up thing, and he can handle it."
Garoppolo isn't demonstrative, nor particularly excitable. Two men in the offensive huddle on the game-winning drive had no memory of anything he said other than the play calls. He throws with good touch. He is accurate. Midway through the fourth quarter, New England trailing for the first time all day, Garoppolo faced a third-and-15. One of the options on offensive coordinator Josh McDaniels' call was a fake screen that gave Garoppolo a couple options downfield. One was a deep throw up the left side to Danny Amendola; that's the option Garoppolo took. His throw was perfect.
Garoppolo belongs. He just does. You saw his reaction to adversity—the two lost fumbles that kept Arizona in the game—which basically was no reaction. In the span of three hours, Garoppolo proved the Patriots aren't going to be the vulnerable team everyone thought they'd be in the four games without Brady. The next three are home (Miami, Houston on a Thursday, Buffalo), and the prospects of running away with the division again are suddenly very real. "Everyone can shut up now and watch the guy get better and grow," said safety Devin McCourty. Everyone can watch him do his job.
* * *
The risk manager
In some ways, Oakland coach Jack Del Rio didn't think his decision in the final minute of his game at New Orleans was very controversial. Drew Brees was having his usual track meet against the Raiders, putting up 34 points on Oakland and meeting very little resistance. So when the Raiders got the ball back down seven points in the waning minutes, this is what he thought: "I told the offense early on that drive that we're going to go down, score and then make that two-point conversion. It felt really obvious to me."
But coaches don't do that. Coaches play for overtime. Del Rio did not. "We were pretty much trading blows with Drew," Del Rio said. "I saw this as an opportunity to go win the game."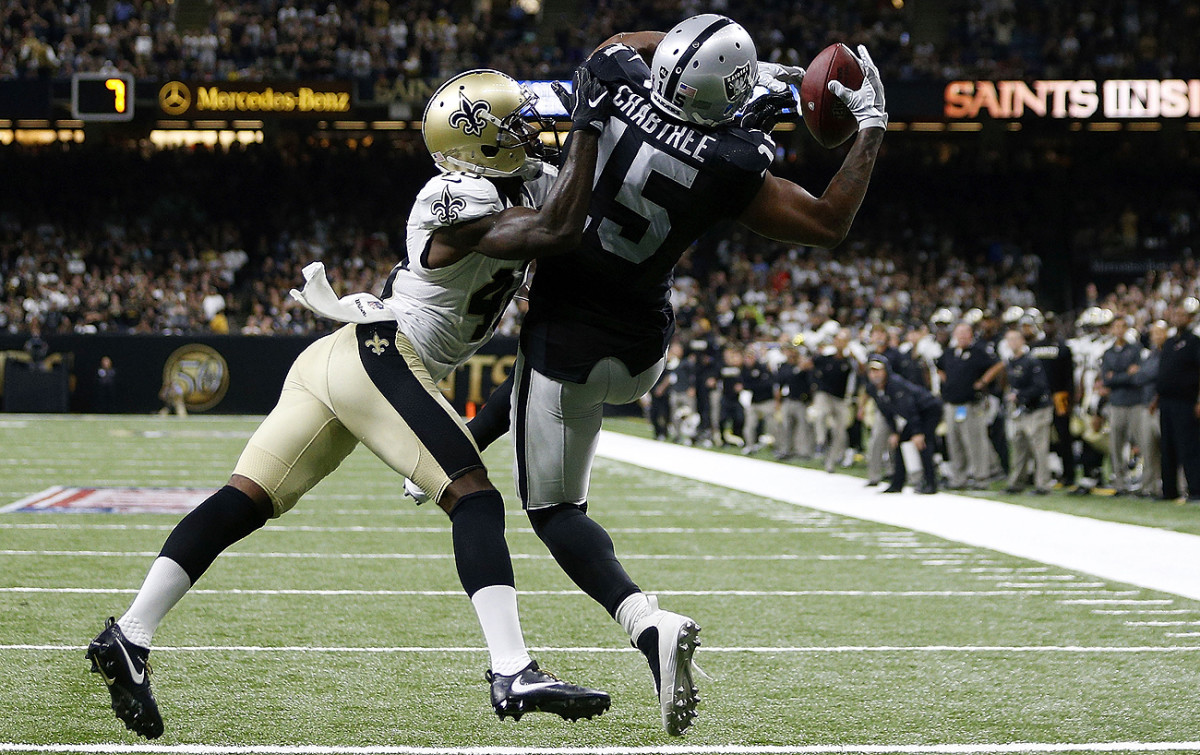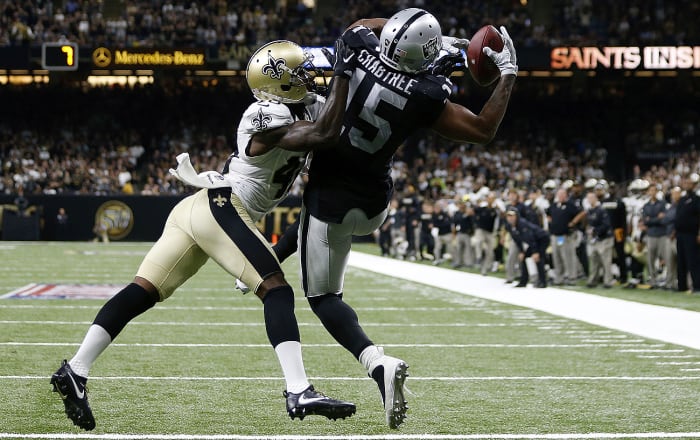 Derek Carr drove the Raiders down to score and Del Rio sure enough called for a two-point play. But I believe the smartest thing he did was to call timeout once he saw the New Orleans defensive formation. The Saints were in man coverage and the Raiders thought they might shade an extra man on star wideout Amari Cooper. So Del Rio instructed Carr to call a timeout. The Raiders saw the coverage, noted that Michael Crabtree would probably be single covered on the far left flank, and tried to take advantage. Sure enough, Carr threw a jump ball for Crabtree, and Crabtree won it.
The Oakland coach grew up a few miles from the Raiders home field, and was a huge fan of the team. I asked him if winning a game like this the Raider way, with guile and guts, made him feel more like a classic Raider of the 60s or 70s.
"I don't have to feel like a Raider," he said. "I am a Raider. Did it feel like a Raider thing to do? Yes it did."
• THE MMQB SEASON PREDICTIONS: Our staffers pick award winners, the playoff bracket and which team will lift the Lombardi at Super Bowl 51
* * *
Education of the week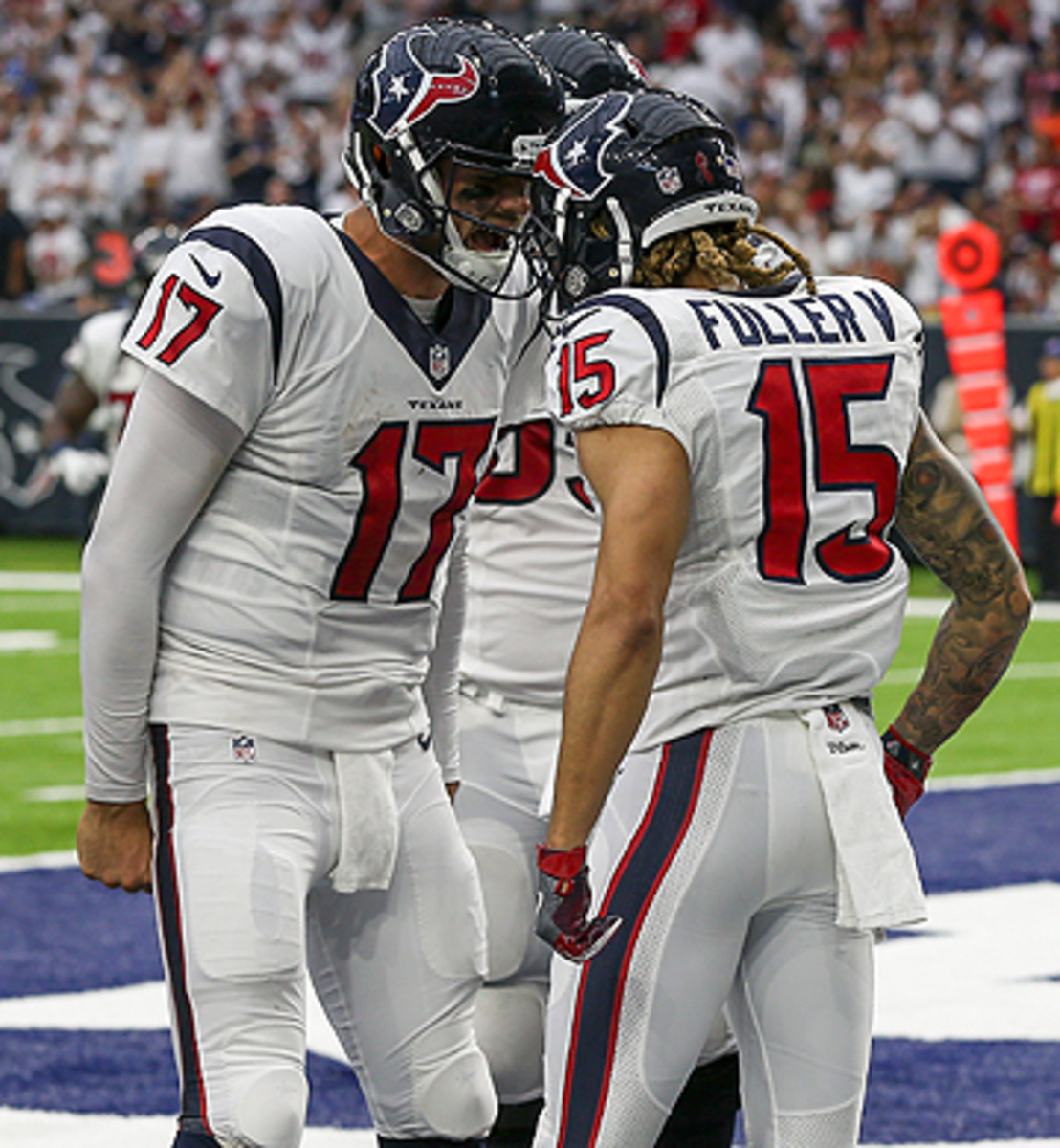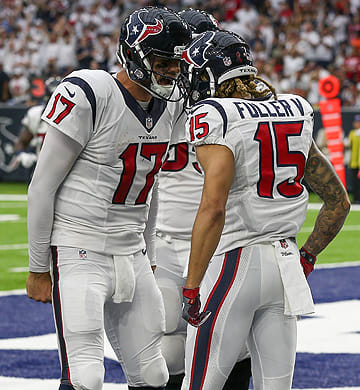 By midweek, we'll announce an interesting project for our website. The project took me to Houston on Saturday night and I got to witness coach Bill O'Brien talking to his team the night before the opening game against Chicago. I found it most interesting that O'Brien spent just 21 minutes speaking to his players.
There's a method to that. As he explained, young people are more inclined to shut off their attention span after 20 minutes or so. O'Brien walked to the front of the room Saturday night very purposefully, and each point he made in almost staccato bursts. When we talked about it afterward he was convinced that players need to get rest on Saturday night and he doesn't want to preoccupy them with things they have already heard Monday through Friday. One other interesting point: O'Brien spent more time harping on special teams than on either offense or defense. "What I have found," he said, "is that if you emphasize to your players the importance of something, they're going to remember that when the game starts."
You'll see some Texans coverage, including Brock Osweiler's message to Will Fuller V after his costly dropped catch that would have been a touchdown, later this week.
• A LACK OF 'O' IN BIG D: Andy Benoit points out the shortcomings the Cowboys offense showed in close loss to Giants
* * *
Sam Wyche needs a heart transplant
The 71-year-old former coach of the Bengals and Bucs—and one of the most interesting and innovative minds in football over the past 40 years—is in the Carolinas Medical Center in Charlotte this morning, his case the highest priority among transplant hopefuls. In fact, Wyche is in the same room that Panthers owner Jerry Richardson was in when awaiting his new heart in 2009. When I spoke to Wyche over the weekend, he said he'd had an unexpected visitor: Richardson. Twice.
"He told me his experience, and he was incredibly encouraging," said Wyche, sounding a bit worn. He's in a hospital renowned for its heart care and transplants. "He told me not to worry about the surgery. And then he came again, to see how I was. It was really incredible. He told me not to worry—heart transplants are like changing a tire to the doctors here."
Wyche came down with cardio myopathy, a disease of the heart muscles, from a virus in 2001. His heart has been steadily weakening, and now he said the left side of the heart has stopped working entirely. Two weeks ago, Wyche was working in his yard in Pickens, S.C., and noticed he was panting, and any little exertion took his breath away. After being examined and sent to the Charlotte heart facility, doctors discovered how seriously ill he was. They put Wyche with the highest-priority candidates for a transplant, meaning he'd be a prime candidate if a heart is found within a 500-mile radius.
His attitude is great. There's no hard-and-fast timetable for when he has to receive a heart; his vital signs are good, and he's in good spirits. He sounds neither morbid nor down for the count when he says: "I'm not afraid of dying, not at all. The main reason is because I have been saved. I believe there's a better place."
More to come about Wyche in the coming days. Of all the coaches I've covered—he was the rookie coach of the Bengals when I was the rookie beat writer for the Cincinnati Enquirer in 1984—he was the most open, the most diverse, and the one with the most interests. That Christmas, 1984, I arranged an event at a Cincinnati orphanage with Cris Collinsworth and backup quarterback Turk Schonert as special guest. I told Wyche about it, and he came too, and did a magic show. Yes, he was a magician in his spare time. A good one too. I have seen the man pull a rabbit out of his top hat.
I know you'll join me in sending your best wishes his way.
• CHARLES WOODSON'S NEW JOB: Jenny Vrentas tagged along as the retired NFL defensive back transitioned into ESPN analyst
* * *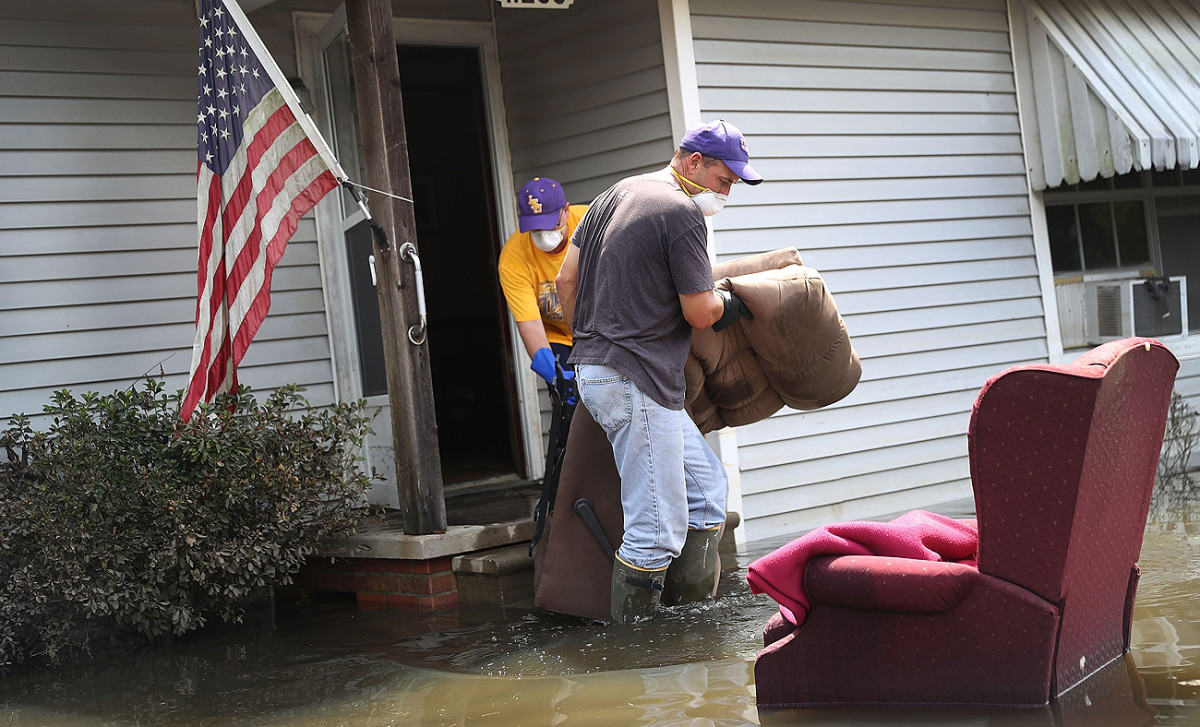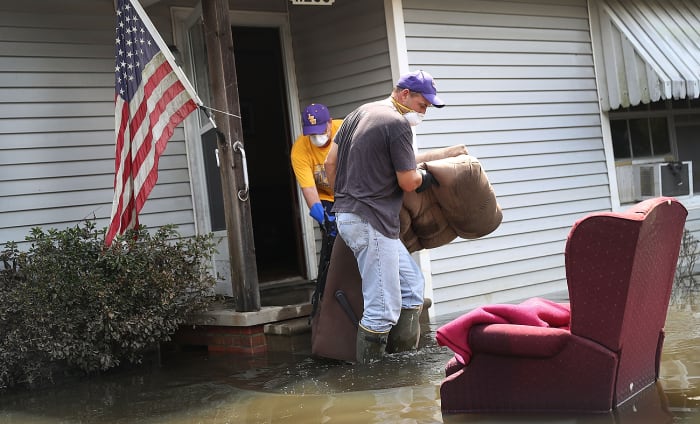 We need to help the good people of Louisiana
Entering season 20 of this column, one of the things I think about most fondly is your generosity and kindnesses. We've had some good times raising money for important causes—recreation facilities for troops at remote bases in Afghanistan, financial aid for Paul Zimmerman—and you've always opened your hearts. I'd like to enlist you on a new fund-raising project. We're going to raise $75,000 to help a high school band in Louisiana.
I didn't say, "We're going to try to raise $75,000." No, we're going to do this. I need you to help. This cause is a little different. The more you read about the flood-related devastation in the little towns and parishes of Louisiana, the more you're stunned that it's gotten so little attention around the country. The NFL and other bodies have helped local football teams get new equipment and uniforms, and there's been FEMA and Red Cross and United Way help for the neediest places and people. I went looking, with the help of a key outreach person in the state, Saints senior director of community and governmental affairs Stephen Pate, for a need that wasn't being met. Pate found a 248-member competitive high school marching band in St. Amant (pronounced "SAN-a-ma," like "Panama"), 50 miles west of New Orleans. There, the Amite River, typically 2.5 feet above sea level, rose to an all-time high of 17.9 feet in August, damaging 97 percent of the property in the town of 10,700—and leaving the band room at 1,983-student St. Amant High underwater. The damage: $285,000.
Band director Craig Millet begged and borrowed instruments from the region, got some out of closets of locals, and pieced together enough hand-me-down instruments to have the band's first post-flood practice last Thursday, so the band would be able to play at the first home football game Friday night. "I almost started crying," said senior trumpet player Truvie Ficklin. "The first song we played was the alma mater. And there is one part where the trumpets, we don't play, so I was singing along to alma mater. The words were something about, 'We'll make it through the hardships no matter what comes our way, because we're Gators.' And I was tearing up and trying not to cry."
"That's the best I've ever heard our alma mater," Millet said Saturday. "One half of the kids, I bet, couldn't hold back tears when it was over."
The band has been scotch-taped together, just so it can perform on a limited basis. But all the wooden instruments are destroyed, and even cheap hand-me-downs for some of the lost pieces can't be found. So The MMQB is going to team with the United Way to get this band back near full strength. In fact, the United Way has gotten us a third of the way there, contributing the first $25,000 to the cause. (I mean, hat tip to the United Way. Thanks so much.) Every cent donated to the band will go to the band—there will be no administrative fees. The United Way assures me if you donate $20, it's $20 for the band, free and clear. The United Way has given us a page to use for donations.
The $75,000 will give the band enough to jump start the major surgery needed to get the band back to normal. It will give Millet the money to buy all of the piccolos, drums, drum hardware, saxophones, chairs and stands that must be bought new. Did you know the two Yamaha wood piccolos the band needs cost $2,300 each? The replacement tenor sax costs $2,200.
I will make this offer: The United Way has kick-started us, with $25,000. I need you to give $45,000 over the next 11 days—by Friday, Sept. 23. If we're at $70,000, I'll get us home. Let's work to get this band near whole before the end of their football season. One out of every eight kids at this school plays in the band. It's a great community tradition, always one of the best 10 bands in the state. "We want to get back to normal as a band and as a community," said Millet. We can do our little thing. If we do a little bit of the little thing, we'll help a very big thing happen. Go here to donate; every dollar helps.
* * *
Quotes of the Week
I
"Sometime in February I'll enjoy it."
—Giants coach Ben McAdoo, after New York won a nerve-wracking first game of McAdoo's coaching career, 20-19 at Dallas.
II
 "GET OUT!!! GET OUT!!!!!"
—Detroit quarterback Matthew Stafford, screaming at wide receiver Marvin Jones with 12 seconds left in the Indy-Detroit game, after Jones didn't get out of bounds, forcing the Lions to spend a timeout that could have been game-altering. Lucky for Jones, Matt Prater hit a 43-yard field goal to win it, and Stafford could save what was left of his voice.
III
"I'm really concerned about the storyline. Nothing concerns me more than the storyline. I can't wait to read it tomorrow."
—Bill Belichick, in response to a question about, you guessed it, the storyline in Sunday night's 23-21 victory in Arizona.
IV
"You can shoot pigs out of it. You can do a lot things in this helicopter."
—Dallas owner Jerry Jones, on his new helicopter, which he'll use to cut down on the commute times to his new training facility in Frisco, Texas, on 105.3 FM in Dallas-Fort Worth. Two weeks ago, instead of a 45- to 55-minute drive from Frisco to Jones' stadium in Arlington, it took 15 minutes to chopper there for a Coldplay concert.
V
"I'm not against the military. I'm not against the police or America. I'm against social injustice."
—Denver linebacker Brandon Marshall, explaining why he joined Colin Kaepernick's kneeling-during-the-anthem trend Thursday night before the season opener.
After the game, Marshall told our Robert Klemko about his personal experiences that led to his decision to kneel down. 
VI
"You're in the stage now where you're creating a legacy. You've proven that you can play great. But legacy comes from playing great for a long time. Now you're in the legacy mode … You'll be rich forever in your life. You can go down as one of the best players to ever play in the NFL. But that's up to you."
—Denver executive vice president John Elway, telling me what he said he told Von Miller when he signed his six-year contract in July, on my new podcast. More about the pod later in this column.
• T-SIZZLE'S FIRE: Peter King goes unplugged with Terrell Suggs, the Ravens' modern-day gladiator
​
* * *
The Award Section
OFFENSIVE PLAYERS OF THE WEEK
With apologies to Jameis Winston (four TDs in a road win at Atlanta) and Andy Dalton (fourth-quarter-comeback win at the Jets despite missing 150 catches from departed/injured 2015 Bengals), and Victor Cruz (winning touchdown catch in his first game back after missing the last 26 for New York), I have two:
Carson Wentz, quarterback, Philadelphia. One of a number of precocious young quarterbacks who impressed this weekend, Wentz, in his first home game outside of North Dakota in his young life, completed 22 of 37 for 278, with two touchdowns and no interceptions in his NFL debut. Philadelphia beat the Browns, 29-10, the only game that's qualified as a rout among the first 14 played in the league this season. "I wasn't nervous," Wentz said afterward. "I don't really get nervous. I like to listen to worship music before the game to kind of calm my nerves." Seemed pretty calm to me. His 19-yard touch fade to Jordan Matthews for a touchdown on the first possession of his professional life was fairly extraordinary, because it was the kind of throw a great touch passer like Russell Wilson would have made.
Trevor Siemian, quarterback, Denver. He won't put the stats in the trophy case (18 of 26, 178 yards, one touchdown, one deflected pick, one bad pick, 69.1 rating), but this is about a quarterback starting his first game in the NFL and throwing his first pass in the NFL, and doing it against the defending MVP and NFC kings, and coming back from a 17-7 deficit with 20 minutes to go by leading touchdown drives of 10 and eight plays to score two fourth-quarter touchdowns. Siemian has miles to go, but what first-time starter doesn't? He's poised, he throws the ball well enough, he can fit it into tight windows, he knows what NOT to do. His biggest error was throwing a medium-deep ball too short and having Ben Benwikere make a great pick of it. Gary Kubiak probably had a pretty good weekend of sleep after seeing Siemian manage a game like that.
Jimmy Garoppolo, quarterback, New England. Imagine what you must feel, a kid from Eastern Illinois who never started a pro game, replacing Tom Brady on national TV in a very loud place. "Amped up," is how he described his pre-game emotions. I should hope so. He delivered in a big way: 24 of 33, 264 yards, 1 TD, no picks, a 106.1 passer rating. New England 23, Arizona 21.
DEFENSIVE PLAYER OF THE WEEK
Leonard Williams, defensive end, New York Jets. Williams had a career-best 2.5 sacks against a very good Cincinnati line and a quarterback who doesn't take many sacks, Andy Dalton. The Jets nailed Dalton for seven—Cincinnati let him take just 20 in 13 starts last season—and I know the Jets didn't finish the job in the Meadowlands, but this is going to be a very tough defensive team to play—led in part by Williams.
SPECIAL TEAMS PLAYERS OF THE WEEK
Dan Bailey, kicker, Dallas. Booted field goals of 23, 56, 25 and 54 to keep the Cowboys in the game (and ahead, till midway through the fourth quarter). Bailey should have had a chance for a fifth field goal, and the game-winner, if our Goat of the Week hadn't faux-pased so badly in the last 10 seconds of the game.
Andy Lee, punter, Carolina. I will never criticize a GM for making a deal that seems imbalanced, such as dealing a fourth-round pick in 2018 for a 34-year-old punter and a seventh-round pick. First, think of this deal. A low fourth is about the 130th pick. A high seventh is about the 220th pick. That's significant, surely. But if you're talking about acquiring a top-five punter in the league when you're a team with a coach who plays field-position football like Ron Rivera, it's at worst a solid deal and, if you watched Thursday night's game, it's looking very good. Lee punted four times, for 59, 56, 76 (a Carolina franchise record punt, with Lee booting from his end zone and the ball landing in the Denver returner's hands at the Broncos' 13) and 61. Lee tilted the field the way great punters do, booting from his 32, on average, with the Broncos starting drives from their 21, on average. "Andy Lee was phenomenal," said coach Ron Rivera. "He justified—at least initially—why we went out and get him."
COACH OF THE WEEK
Vance Joseph, defensive coordinator, Miami.In his first game as a defensive coordinator at any level of football, Joseph's game plan was a gem for 56 minutes, holding the Seahawks to 277 yards and only one long drive out of 11 possessions. On the 12th drive, Wilson had to convert two fourth downs to keep it alive and eventually pull out a win. You're right if you think close only counts in horseshoes and whatever, but I give Joseph credit. After the longest road trip in the league, against the toughest team in the league to beat at home, Joseph's crew held Seattle to 12 points and had the game in the balance for three hours.
Josh McDaniels, offensive coordinator, New England. To get Jimmy Garoppolo ready to play at such a high level in his first NFL start, to get the offense to perform at a high level on third downs against a good defense (10 of 16), to play so smoothly in such a difficult environment that's a huge home-field advantage … and to do it with no Gronk and two replacement tackles and of course without one of the greatest quarterback in history, I mean, McDaniels deserves every bit of praise he'd get after Sunday night.
GOAT OF THE WEEK
Terrance Williams, wide receiver, Dallas.On the last play (as it turned out), down 1 and with 12 seconds left, the Cowboys had no timeouts and needed 10 yards for a first down and about 12 yards and an immediate sprint out of bounds to have a chance to kick the winning field by Dan Bailey. Dak Prescott threw to Williams, who had enough for a first down … and then, inexplicably, Williams caught the ball and turned upfield, meaning the only way Dallas would have a chance to win the game was if Williams ran about 50 yards for a touchdown through the Giant defense. Stupid, of course, and non-thinking.
* * *
Right Combination of the Week
Aaron Rodgers, quarterback, and Davante Adams, wide receiver, Green Bay. Entering this season, Rodgers and Adams each had comebacks to make. Rodgers is a top-three quarterback in the NFL, obviously; he was the 15th-rated passer in football last year, devoid of weapons. Adams lost all his confidence last year and was one of the least sure-handed receivers in football. Sunday, they reunited, and it felt so good. There was no better combination in football than Rodgers and Adams when Rodgers slipped out of a sack by blitzing Jaguars cornerback Jalen Ramsey and side-armed a bullet to a diving Adams, 29 yards away at the goal line. Touchdown. "I thought we had that blitz picked up, but they brought Ramsey out to slot. I just kind of slid left. I was looking for Randall [Cobb] but I saw Davante over the top of Davon House and tried to give him a chance to make a play. He made a great catch." Darn good throw too.
* * *
Photo Op
Writer's Note: A new section in MMQB, where I'll share a picture or image with a good story behind it.
So, in the Jacksonville Jaguars' defensive meeting room in the bowels of Everbank Stadium, the emphasis on dislodging the ball is everywhere. On the wall, one sign reads:
IT'S ALL ABOUT THE BALL
PUNCH
RIP
SWARM
And on the right side of the entrance, just when players walk in the room, there's an NFL football, attached to the wall, six feet up from the floor, so players when they walk in the room can grab it or punch it or whack it—the way coaches will hope they do when it comes time to play games.
"What I've learned around here," said rookie linebacker Myles Jack, "is they want you to take away the ball on defense no matter how you have to do it."
Turnovers, baby. A very big deal under Gus Bradley. But the Jaguars have only 38 takeaways in 32 games over the past two years. Carolina had 39 last season alone. The Myles Jacks better get better at it, and fast, or they might not have Bradley to be preaching takeaways next year. On Sunday, Jacksonville forced exactly zero turnovers in a 27-23 loss to Green Bay.
* * *
Stat of the Week
Russell Wilson has never missed a game in his four-plus professional seasons. The Seahawks' win over Miami on Sunday was Wilson's 75th NFL game, and he's started them all. That helps debunk the not-big-and-sturdy-enough myth about Wilson. His performance has debunked everything else.
 

W-L

Pct.

Accuracy

Yds/Att.

TD-Int. Diff.

Seattle's 75 games
since Wilson was drafted

54-21

.720

.647

8.1

+72

Seattle's 75 games
before Wilson was drafted

30-45

.400

.589

6.5

+8
One more bit of significance about 75: That's where Wilson was picked in the draft—74 spots after Robert Griffin III.
* * *
Factoids That May Interest Only Me
I
Two years ago this week, Northwestern quarterback Trevor Siemian, playing at home against Northern Illinois of the Mid-American Conference, had one scoring drive in 11 possessions in 56 minutes. Northwestern lost 23-15.
This week, Denver quarterback Trevor Siemian, playing at home against NFC champion Carolina and MVP quarterback Cam Newton, had three touchdown drives in nine possessions in 60 minutes against the sixth-rated defense in the league in 2015. Denver won, 21-20.
II
The last time a Colts back rushed for 100 yards in a game (Vick Ballard, 105 yards, December 2012), Bruce Arians was the Indianapolis coach.
* * *
On Your Night Table
Writer's Note: So I like to read. This is the section—formerly Book of the Week—in which I ask a football person for a book recommendation.
Recommended by Colts quarterback Andrew Luck.
Fitting we kick off the season with a book Luck loved. The Colts QB launched his own book club this offseason and his first selection was this "Unbroken"-type story of nine kids from working-class backgrounds who took on team after team from the crew establishment and proved that meritocracy is more important than privilege.
On Friday, Luck said: "'Boys in the Boat' was the first veteran selection for the book club. It's a great story of grit and toughness—a great snapshot into life in America in the 1920s and life in the Pacific Northwest, maybe back when it was still a bit rugged, wild and maybe that last frontier. And a global snapshot of the pre World War II and pre all the atrocities that were about to be committed. It's about the Olympics and sports and what role they can play on sort of a grand stage, and the determination of the crew at [the University of Washington]. I thought it was a really fascinating read that gave good insights into human nature and what was going on in the world."
* * *
Mr. Starwood Preferred Member Travel Notes
I
Sunday, 7:44 a.m. Central Time, Houston Intercontinental Airport, United Terminal, TSA Precheck line.
The two women in TSA uniforms get up from their stations inspecting tickets and IDs. "We're taking a moment of silence to commemorate 9/11," one says. They bow their heads. The elderly man in front of me takes off his cowboy hat and puts it over his heart. "What is it?" his wife asks. He says, "9/11." I look over at the queues and X-ray machines. Stopped cold. TSA people, heads bowed. An announcement is made in the terminal. Everyone stops.
I find myself getting choked up, remembering sitting in my New Jersey home 15 years ago, glued to the TV and within an hour joining the line around the block at the Red Cross Blood Bank in Essex County, for blood that wouldn't be needed. What a time in our lives.
Three minutes pass. 7:47 a.m. CT.
"Thank you," comes the announcement over the PA.
A few people clap. No one knows quite what do. The lines start moving again.
II
Got something to add to your bucket list, American travelers: Golden Gate Park. We New Yorkers are snobbish about Central Park, and rightfully so. It's an oasis for peace and runners. But now I see why San Franciscans love their 3.3-mile-long park, which stretches from near Haight Ashbury to near the Pacific Ocean. I ran it last Monday with my daughter Laura on a beautiful 74-degree sunny morning … past Kezar Stadium (former home of the 49ers), past the de Young fine arts museum, past a lake, past lovely Japanese gardens (where the silence was deafening), past the Conservatory of Flowers, past—of all things—the Bison Paddock (yes, there were six bison that I saw, huge and majestic), and past a polo field. Perfect running paths and bikeways and walkways.
* * *
Tweets of the Week
I
II
All of a sudden, Sunday NFL Countdown became the kingdom of hot takes. There was also Charles Woodson predicting an 1,800-yard receiving season for Terrelle Pryor, and Trent Dilfer saying he thinks Tony Romo has played his last game as a Cowboy.
III
IV
* * *
Pod People
From The MMQB Podcast With Peter King, available wherever you download podcasts.
I had three podcasts drop last week, with John Elway, Bruce Arians and Michael Bennett the main guests, as I debuted the podcasts in partnership with DGital Media.
• From Elway, on whether Peyton Manning could be a good football executive: "The biggest adjustment you have is the amount of control. Really, you control everything outside the lines—who's gonna be on the football team, in most situations, depending on who the head coach is. But once they kick that thing off, you got no control. And Peyton, he likes a little bit more control than I necessarily needed at the time … How he's gonna handle that in this situation, if he gets in this situation, we'll see how he handles it. Because you have to trust in other people …You gotta hire people, and you gotta trust 'em, and give 'em the rope to go do their deal."
• From Arians, on the call he got from Steelers coach Mike Tomlin at the end of the 2011 season: "I was expecting a raise. I ended up without a contract."
• From Arians, after Colts owner Jim Irsay named him interim coach when Chuck Pagano went down with leukemia early in 2012, and Indy had to face the heavily favored Packers in the first game: "No one knows this, but the next night I had a panic attack in my office. I thought I was having a heart attack. It was a straight, blown panic attack. How the hell we gonna beat the Green Bay Packers and get him this game ball?"
• From Bennett, who feels players don't have enough power: "There's no reason our contracts aren't guaranteed. The only reason our contracts aren't guaranteed is because enough of us haven't said, 'Enough.' When we start saying, 'enough,' then things will change … I don't think there's enough outside people that are a part of the Players Association. You look at Starbucks, you look at Google, you look at any other great organization [with] a lump sum of money, they look for people that's been CEOs. Why can't we find people that've done something great outside of the NFL? Why does it have to be a player that's a head of the association? Why can't somebody who used to work at Microsoft, who's been a part of Microsoft for years, we go get them, and we start thinking differently. Our thought process is that we are workers, not that we are owners … We have to start taking ownership … We should make our own game. Why are we getting paid by Madden? There's enough players in the association we should be owning everything that comes in. We should make our own everything. Why drink Gatorade? We can make our own drink. You think people want to drink Gatorade because they've got the Cowboys [logo] on the thing? They want to drink Gatorade because Dez Bryant drinks it."
I think I'm going to enjoy this podcasting. We have two others on our network: The 10 Things MMQB Podcast, co-hosted by Gary Gramling and Andy Benoit, out Mondays, dissecting the Sunday games; and The MMQB Podcast With Albert Breer (Tuesdays), with Breer's enlightened view on all things NFL.
* * *
Dr. Z Unsung Guys of the Week
Each week, in conjunction with Pro Football Focus, I'll point out three players who played well but were under the radar. Paul Zimmerman would have loved this section. This week's trio:
• DE Olivier Vernon, New York Giants. The big free agent acquisition had no sacks, but one quarterback hit on Dak Prescott and five hurries on 46 pass rushes. Vernon was also a stout run defender.
• CB Damarious Randall, Green Bay. Randall was targeted six times in coverage by Jacksonville quarterback Blake Bortles, allowing two receptions for 13 yards. Bortles' passer rating when targeting Randall: 42.4.
• G Kelechi Osemele, Oakland. He allowed one quarterback hurry on 47 pass-block snaps to help keep Derek Carr clean. Osemele was the highest-graded run-blocker among all NFL guards this week.
Go here to access PFF's grades on every NFL player.
* * *
Ten Things I Think I Think
1. I think the most impressive wins over the weekend, in order, belonged to:
a. New England. For the above-stated reasons.
b. Denver. For winning with the Northwestern platoon quarterback in 2012 and 2013.
c. Kansas City. A word about the Chiefs. What impressed me was not so much the pluck, or whatever you'd call it, of coming back from a 21-3 deficit to beat San Diego. But it's how they turned around a physical disadvantage early and were dominating late in the game. That tells me they've got great character players. Three touchdown drives for San Diego to begin the game, then 0-for-nine in drives for touchdowns the rest of the way. Great job by the Chiefs.
d. Cincinnati. Got manhandled at times by the physical Jets. Had enough to come back.
e. Minnesota. Beating Tennessee shouldn't be any measuring stick, but the Vikings struggled running early and often, they got a shaky game from Blair Walsh, and they were just okay in the passing game in the first game post-Bridgewater. I think they'll strongly consider starting Sam Bradford in the opening game at the new palace in Minneapolis on Sunday against Green Bay.
2. I think the worst losses were by:
a. Miami. Had a huge win on the road in their pockets, and suddenly it vanished, after 56 minutes of really strong defensive play.
b. San Diego. Blew a 21-3 lead. Outscored 30-9 after that. Long flight home to San Diego, and the momentum they'd hoped to build for the Nov. 8 tax initiative didn't get started.
c. Indianapolis. No answers for another offense, this one slightly better than average at best. Detroit hung up 39 on the Colts. Bodes ill.
d. Atlanta. Amazing to say they really missed a guy who's never played a game as a Falcon. But Keanu Neal is going to be the heart of that secondary, and Dan Quinn needs him. Falcs can't be losing to the Bucs at home, and they've done it two years in a row.
3. I think I don't care if the league and the players union do their own investigation (which is what's set to happen) or if they combine forces. But the investigation into Cam Newton being allowed to stay on the field late in the game Thursday night has to be thorough and honest. My thought after I watched Newton get ear-holed late in the game, fall to the ground and appear for a couple of seconds to be napping on the turf: I don't care what time of game it is; this guy's got to be taken out, or a medical timeout has to be taken, to check him out. Take a cue from what Ben Roethlisberger did in self-reporting a concussion last year late in a game at Seattle.
• RON RIVERA ON SB 50, CAM CRITICS AND SUSTAINING SUCCESS:The Panthers coach talked with Albert Breer on the eve of the season
4. I think Keenan Allen was about to take his rightful place among the top five to seven wideouts in football, and then he tears his ACL in the first game of the season. I love the physicality and athleticism he combines in one package, and I'll really miss watching him in 2016.
5. I think you don't want to draw too many conclusions from one game, and I shall not. But Robert Griffin III has to be better than 12 of 26 with a 55.0 rating if he's going to revive his career under Hue Jackson.
6. I think I'm not much of an "America's Got Talent" fan, but I know a few people who swear by the NBC show, and it comes to a climax this week with 10 contestants vying for the championship. One of those talented people is Eagles long-snapper Jon Dorenbos, who left the team last night for the final two shows in the series; he'll be back in Philadelphia off a red-eye for practice Thursday as the Eagles prepare for the Monday night game next week. Dorenbos' talent is magic; he's done it most of his life, and it's been good enough to get him past several rounds of competition to the finals, which airs Tuesday night on NBC. The way this works is each one of the contestants has three to four minutes to do an act or a song. Then America votes. "This has a chance to change the rest of my life," Dorenbos said the other day. Good luck to him. You can vote between Tuesday at 8 p.m. and Wednesday at 7 a.m., and the results will be broadcast on a second show Wednesday night.
7. I think I cannot wait till the public gets a crack at this new Chuck Noll book. It is tremendous. Anything Michael MacCambridge writes is gold. This one, in particular, is good—"Chuck Noll: His Life's Work," which you can pre-order on Amazon—because a definitive work on Noll and the birth of the great Steelers has never been dissected the way MacCambridge does. It comes out in late October. I can just tell you this: If you get this book for a Steeler fan in your life, said fan will thank you for the education on what exactly Noll did early—largely, pursuing small-college and HBCU players—to make the Steelers
8. I think this is what I'd call home-field advantage—and I never would have thought of this: In the decade since the 2006 season began, the Arizona Cardinals have drawn the most false-start penalties (135) of any team in the NFL. Minnesota, with 125, is next. Seattle third, with 123. I never would have thought University of Phoenix Stadium was such a cacophonous place, and I was there Sunday night.
9. I think when you listen to Bruce Arians talk, as I did this week on my podcast, I find it stunning that it took him so long to get a head coaching job. Imagine this: There were eight coaching openings in 2013 … he's the first interim coach to ever win coach of the year … the first seven openings get filled without Arians getting a shot … the eighth team, piloted by Arizona president Michael Bidwill, took the plunge. Listen to this idea about teaching players, and you see why it's a wonder Arians couldn't get a job till age 60: "We have one of the largest staffs in the league, because I want small classrooms. Michael Bidwill was very gracious. Let's say I have $450,000 to hire one coach. Could I have three for $150,000? So I have smaller classrooms, and more eyes. I had a different idea how I wanted to get rookies ready. We have two tight end coaches. We have three offensive line coaches. When we come to the spring, and we have 90 guys on our roster, we have two practices going on. I want to have enough quality people to go to that other field, and those rookies get those 48 snaps that day, and the veterans get 48 snaps, rather than the veterans getting all the snaps and the rookies get three. You're not gonna find a diamond in the rough standing on the sideline. With the larger coaching staff, not only do we get the reps, we got 'em coached. We're bringing quality young coaches into the NFL. Our job is to make the game better, not just win games." No wonder so many players have loved playing for Arians over the years.
• THE 53RD MAN: Tim Rohan looks at the edgy life of three bubble players as final cuts loomed
10. I think these are my non-NFL thoughts of the week:
a. Story of the Week: The ocean invading the coastlines, with some great images, from The New York Times. Ignore science at your own peril.
b. Stat of the Weekend: Virginia Tech-Tennessee draws 156,990 at Bristol Motor Speedway. That is just nuts.
c. The Arizona Cardinals have sold out all 107 games at University of Phoenix Stadium since moving there in 2006. Capacity is 65,000. The college game Saturday drew two-and-a-half times more fans than the Super Bowl-contending Cardinals draw at home.
d. How about my Bobcats? Ohio U beat a Big 12 team on the road!
e. Well, it was Kansas.
f. I'd have exulted quite a bit more if it were an OU-KU men's basketball game.
g. Man, Central Michigan is fun to watch.
h. Man, Kenny Hill's a good quarterback.
i. Play for the win, Brigham Young. Glad you did it, even if it failed.
j. "I feel sick to my stomach,'' Dodgers manager Dave Roberts said Saturday night, after pulling pitcher Rich Hill with six outs to go, and 89 pitches thrown, with a 5-0 lead at Miami. The reason: Roberts feared the blister on the left index finger of Hill's hand, was coming back. That blister had limited Hill, a huge key to any chance LA has in October, to two games since July 17 before Saturday night. So the manager pulled a player because he was concerned about the playoffs more than a Sept. 10 game. And the manager is wrong?
k. I realize perfect games are rare (23 in history), and I love baseball. But Roberts was right.
l. When a team is playing for something, it should never be about records. It should always be about wins. If the Dodgers were 50-91, Roberts should let rich Hill stay in the game till his finger falls off. But Roberts wants Hill to be a factor in October. What would anyone say if Hill, after this game, has to sit for a month because the blister didn't let him throw? Sometimes the manager feels sick about a decision, even if it's the right one. And we'll never know if pitching 26 more pitches would have exacerbated the blister to the point that Hill would have been out three weeks before being able to pitch again. But that's why managers are managers—to make the tough calls like the one Roberts just made.
m. Coffeenerdness: Peets Major Dickason's Blend: a dark roast to die for.
n. Beernerdness: Houston, Saturday night, Doubletree Hotel Greenway, bar, turkey burger with SI photographer Robert Beck. I order the St. Arnold Lawnmower. He orders the same. We're happy. Beer is hoppy. Houston beer scene is ridiculously good. This is a light summer beer, with a little wheat taste.
* * *
Who I Like Tonight
Washington 23, Pittsburgh 20. Love this game. I think either team could win by two touchdowns; that's how explosive the two offenses can be this year. But I'm taking Washington, in part because Pittsburgh's wounded, and suspended, and without three main offensive weapons (Bell, Bryant, Wheaton) … and because Kirk Cousins will start his Contractual Prove It Tour by showing 2015 was no fluke. I know we tend to gloss over stats, but this one means something me: In 2015, Cousins' 69.8 completion percentage was 5.4 points better than Tom Brady's accuracy rate, 6.1 points better than Carson Palmer's, 9.1 points better than Aaron Rodgers', 10.0 points better than MVP Cam Newton's, and 14.5 points better than Andrew Luck's. No reason for Cousins to drop off now.
Los Angeles 20, San Francisco 12. I don't expect many East-Coasters to stay up very long after the ESPN cameras catch Colin Kaepernick kneeling from nine different angles at about 10:19 p.m. ET on the sidelines at Levi's Stadium. Actually, much of the focus here will be in the second-string passer for San Francisco (Kaepernick) and the third-stringer (Jared Goff) for Los Angeles. It's neat to say "Los Angeles Rams" again. But that doesn't buy on-field competence. By the way, the worst quarterback matchup or the weekend (combined record: 13-37) pits Case Keenum against Blaine Gabbert. Apt word, pits.
* * *
The Adieu Haiku
I do not believe
I have seen a weekend with
four one-point outcomes.
• Question or comment? Email us at talkback@themmqb.com.