Julio Jones: The 300 Game
The Falcons receiver hit a rare milestone Sunday as Atlanta took it to the defending NFC champs. Plus more from a wild Week 4 including the Bills blanking the Pats, the impact of Russell's rehab and our weekly awards 
The smart people in 2011 said the bounty Atlanta GM Thomas Dimitroff paid the Browns to move up 21 spots in the draft to pick Julio Jones was excessive. Two ones, a two and two fours is quite a premium to move from 27 to six. "Probably one of the greatest trades in draft history," Cleveland coach Pat Shurmur said then.
Five years is probably adequate time to judge a trade, so let's see.
For the Falcons, Jones caught 12 passes for 300 yards Sunday in a 48-33 victory over Carolina. It's the sixth time in NFL history that a player has amassed 300 receiving yards in a game. Jones led the NFL in receiving yards last year. He leads the NFL in receiving yards this year. He's 27.
For the Browns, the five players acquired through those draft picks—Phil Taylor, Greg Little, Owen Marecic, Trent Richardson and Brandon Weeden—are no longer on the team.
• SUBSCRIBE TO THE PETER KING PODCAST: Download current and past episodes and subscribe on iTunes.
Phil Taylor, Greg Little, Owen Marecic, Trent Richardson and Brandon Weeden did not play Sunday in the NFL. In fact, none of them dressed. Weeden's a third-string quarterback in Houston. Taylor's on IR in Denver. The other three are out of football.
Atlanta's 3-1 this morning. Cleveland, 0-4, is the only winless team in the NFL.
Shurmur turned out to be half-right. It was one of the greatest trades in draft history—for Atlanta.
* * *
What an eventful NFL Sunday. Rex Ryan did his latest haunt job on the Patriots. Case Keenum won to raise his record to 3-1; Cam Newton lost, and he's 1-3. Raiders won on the road again, and they're 3-1. Cardinals lost at home again, and they're 1-3. Denver, playing Trevor Siemian and Paxton Lynch at quarterback, buried the Bucs in Tampa and sit atop the league, the NFL's lone 4-0 team.
• THE TRUE STEELERS: Andy Benoit on Pittsburgh's blowout win and why Big Ben's team should still be a popular Super Bowl pick
But whoa, Atlanta's a steamroller right now, with 35, 45 and 48 points in its past three games, respectively. Matt Ryan to Jones is the envy of the league. Ryan threw for 503 yards and Jones caught for 300, the first time ever a that quarterback/receiver pair has gone for 500/300. In his best play Sunday, Jones ran a short crossing route against Carolina cornerback Bene Benwikere, caught a short toss from Ryan, ran away from Benwikere and turned upfield, beating the safety and leaving others in his wake. He just outran them all, for 75 yards and a shockingly easy touchdown. Jones is so tall, and you don't think a 6'3" guy would have his acceleration. But he runs away from fast corners.
That may not be the best thing to like about him. He's the anti-Dez. I forget who told me this in my trip to Falcons training camp in August, but someone with the team said the thing he liked most about Jones is you walk into the practice facility on Monday, and you have no idea if he caught two passes on Sunday or 12. Just a total flat-liner, the way GM Thomas Dimitroff remembers from his scouting research on him. "I saw him live twice at Alabama and obviously did a lot of work on him," Dimitroff said Sunday night. "What really interested me was what he was—driven—and what he wasn't—a diva. I mean, I was numb at what we were going to have to pay to get him. But I always felt strongly that a difference-maker like him, with an attitude like he had, would always be worth it."
After games, the Falcons bring the head coach and quarterback to a press-conference room to accommodate the media.On Sunday, Atlanta director of football communication, Brian Cearns approached Jones to say he should probably go to the podium instead of talking at his locker, because of the overflow he'd get with the big day. "Absolutely not," Jones said. "I will do it at my locker. This was a team win. I don't want to do anything different than normal." Cearns said okay. "He's the same guy if he catches one ball, like he did Monday night [in New Orleans] or he catches 12 for 300, like he did today," Cearns said.
I spoke to Jones on the phone after the game. "You're the sixth player ever to have 300 receiving yards in a game," I said. "Has that hit you?"
"No, it hasn't," he said. "To me, they're just numbers. Stats. I went out and did what my team needed me to do today for us to win. Just like Matt did, just like the line did all day. I'm no different."
​
The Panthers, Jones said, singled him more than he thought they would, "and we kind of exploited that. When you're playing a team in your division that you see all the time, you know each other so well and you really don't know which way they're going to play you. But me and Matt have great chemistry. So a day like this can happen."
Jones barely sounded happy. "I am," he said. "I'm very pleased. All I can do is go out and play 100 percent and let my production speak. But in this game, you rely so much on everyone else. We had a good team game today."
I really like players who have Jones's attitude. They do everything they can, and what happens happens, and then they come back the next game and repeat it. We want our players to have head in hands after a tough loss, to mourn. But we shouldn't make players be something they're not. Jones doesn't take his game home. He's no football junkie, flipping the TV from game to game on an off day. It's his job, and he tries to be perfect, and then he goes home. In his second year, Jones had a tremendous performance in the NFC Championship Game against San Francisco—11 catches, 182 yards, two touchdowns. Lots of players in the Atlanta locker room were crestfallen after the 28-24 loss. Not Jones. "I gave everything I had out there," he said. "I'm fine."
• THE COLLEGE COLUMN: Emily Kaplan on a MAC wide receiver eyeballing the first round of the NFL draft
The next two weeks should be very interesting for Jones and the Falcons: next Sunday against Aqib Talib and the great Broncos defense, in Denver; and the following Sunday against Richard Sherman and the great Seattle secondary. That's going to be some fun football.
* * *
Four teams, four quick stories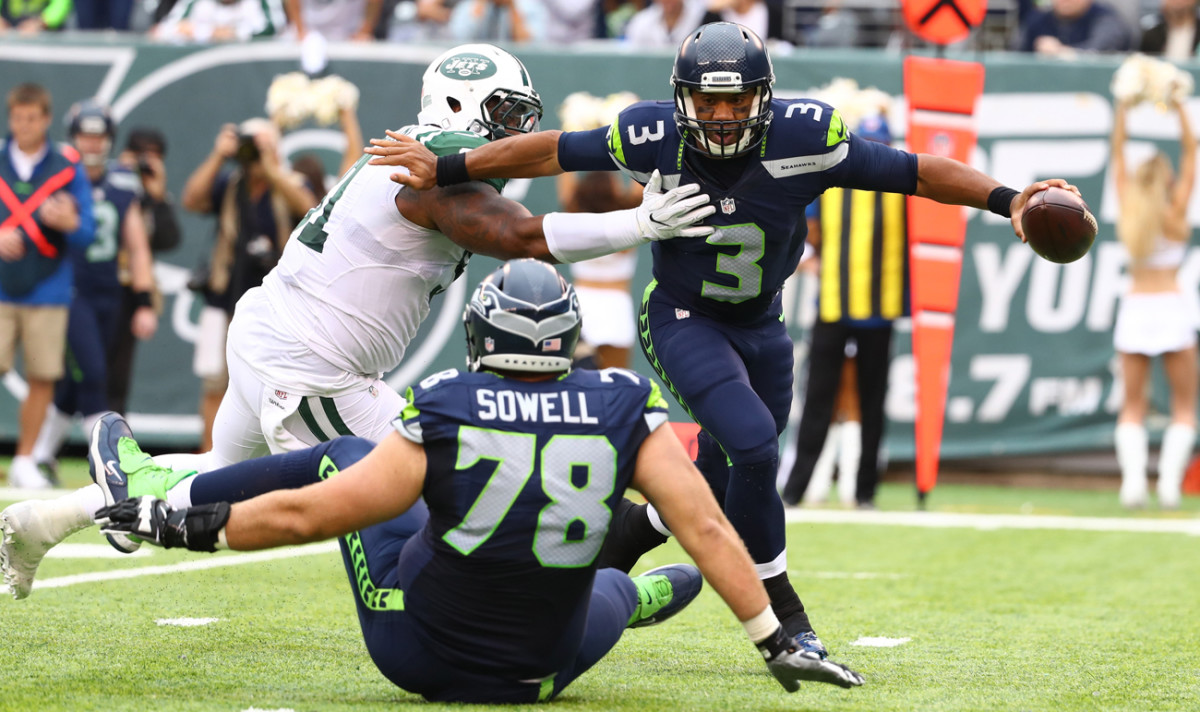 1. Seattle: Russell Wilson works harder than you—or anyone. Albert Breer of The MMQBreported Thursday that a rehab specialist, Drew Morcos, had moved into Wilson's home last week after the Seahawks quarterback sprained his left MCL (on top of a right high ankle sprain) to give Wilson round-the-clock rehab in advance of leaving for the East Coast on Friday. Seattle played the Jets in New Jersey on Sunday. I didn't know quite how to ask this question to Wilson on Sunday before the Seahawks left Newark for the flight home, so I basically said, You're a newlywed. How does your wife feel about a rehab guy living in your home for a week? "We were all in," Wilson said. "Ciara's great about it. She was at the game today too, with about 30 family and friends." Wilson's such an insane rehabber that he interrupted sleep to do it. "Drew's a movement specialist," Wilson said, "so I was pretty much keeping it moving all week. I'm on a bike, or I'm doing one-legged squats. I'd go to bed maybe at 1, then wake up super early to do more icing around 3 or 4." It paid off, obviously. Wilson played nimbly against a strong pass-rush, completed 72 percent of his throws and never looked like he favored either leg. "Felt great," he said. "Now I've got 14 days 'til the next game. I'll be fine." Fortunate week, in some ways, for a bye, but Wilson—who's never missed a game since being drafted in 2012—would have been ready to go anyway.
2. Los Angeles: Road sweet road. In Week 5, the Rams play their only home game between Sept. 19 and Nov. 5, when the Bills come to the Coliseum. What's happened is quite remarkable. Since getting skunked by the Niners 28-0 in Week 1, the Rams have reeled off three straight wins. You can bet there will be 80,000 fans, minimum, at Bills-Rams Sunday, and you can bet they won't be leaving early. Since Jeff Fisher took the Rams job in 2012, teams in his division (Arizona, Seattle or San Francisco) have been to the NFC title game all four seasons and made the Super Bowl in three of those years. All except the Rams have made the title game. And the Rams are a respectable 13-13-1 against division foes under Fisher. 
• BO KNOWS REGRET? Dominic Bonvissuto's Q&A with Bo Jackson on head trauma, Tim Tebow, Al Davis, Las Vegas and much more
3. Buffalo:Something pretty familiar helped the Bills rise from the ashes. After the Bills got waylaid by the Jets in Week 2, falling to 0-2, crisis was in the air. Rex Ryan fired his offensive coordinator, Greg Roman. The season teetered on the edge. In a team meeting, assistant defensive backfield coach Ed Reed got up and quoted a certain New England genius to the rest of the team. "Just do your job," Reed said, invoking a phrase Bill Belichick has made famous in New England. It's on T-shirts, walls of businesses and in the minds of all of the Patriots' players. The mantra means: If we have 53 guys concerned with doing their jobs the best they can, we'll be fine. Don't worry about the other guy. And now it's helped the Bills, or at least one Bill, put the awful play of the first five days of the season in the rearview mirror. "Hey, I'll always listen to what a Hall of Famer has to say," said linebacker Zach Brown after the Bills handed New England its first home shutout loss since 1993, 16-0, on Sunday. Brown had 18 tackles and a sack of Jacoby Brissett. "I have never been in this division before this year, so I never knew about this series. But today the message was pretty simple. Stop the run, and make the quarterback be a quarterback. Make him make plays." Brissett couldn't breathe for much of the game, and New England didn't have a series of longer than four plays until the second half. So nothing is forever in the NFL, and an 0-2 start can be overcome. "Nobody in here thought our season was over," Brown said. "But I do think the only people who believed in us were the guys in this room and the Bills Mafia." That's a fiercely loyal local fan group. But I bet even a few of them were shaky before the Bills waxed two major preseason Super Bowl contenders—Arizona and New England. With the Rams, Niners and Dolphins coming up, Buffalo has a chance to right the ship for good and give Rex Ryan a fighting chance to see year three.
4. New England: This is the week to use the Patriots in your knockout pool, folks. It's a virtual certainty that if you're reading this after 6:30 a.m. ET on Monday, Tom Brady is inside the Patriots' facility at Gillette Stadium, preparing to face Cleveland on Sunday. He is not sunbathing in Italy, or making an UnderArmour commercial, or throwing the football to his son Jack in Ann Arbor. "Knowing Tom," someone close to him said last week, "he's going to come back without bitterness and just get back to football."
* * *
The Obligatory Vin Scully section
I absolutely do not say that in an obnoxious vein. I revere Scully, the same way every sports fan in America does. Or should. And you cannot write anything about sports today without writing about the only man I can think of in any business who was great at a job for 67 years.
I don't have a good Vin Scully story. I never met him. But I do recall once, as a young reporter in Cincinnati, seeing Vin walking from the Dodgers' hotel downtown the seven or eight blocks down to Riverfront Stadium to do a Dodgers-Reds game and thinking how cool it was to see the legendary Scully walking down the street alone. He'd been doing the games forever then—that was his 32ndseason, I believe. And he did the Dodgers for 35 more years. Imagine doing something, anything, at such a high level for two-thirds of a century.
And then Sunday, his last game, still sounding lyrical (and credit to the New York Timesfor transcribing the half-inning I heard) two months shy of 89. Listen. You hear him.
" … I've always thought it was attributed to Dr. Seuss, but apparently not. It's still a good line, and it's one certainly I've been holding onto for, oh, I think most of the year. Here's Barnes, and Romo ready, and the first pitch for Austin, taking first strike. The line is, 'Don't be sad that it's over. Smile because it happened.' And that's really the way I feel about this remarkable opportunity I was given, and I was allowed to keep for all these years."
At the end of the game: "That was awfully nice. The umpire just stood up and said goodbye, as I am saying goodbye. Seven runs, 16 hits for the winning Giants, one, four and one for the Dodgers. The winner, Matt Moore, the loser, Kenta Maeda. I have said enough for a lifetime, and for the last time, I wish you all a very pleasant good afternoon."
Five thousand pleasant ones to you, good sir.
• FOOTBALL LIFESTYLE: Dominic Bonvissuto looks at a new line of old-school collegiate apparel and an ex-NFL kicker's involvement in the collection
* * *
The Steve Young book is gold.
The life story of Steve Young—"QB: My Life Behind the Spiral" by Steve Young with Jeff Benedict (Houghton Mifflin Harcourt), due out Oct. 11, but available for preorder now—is the rare sports book in which the heretofore pristine hero admits to some legitimate human scars. Young grew up so close to his parents that he could never attend sleepovers at friends' homes, and the separation anxiety and homesickness was a real problem. He threatened to quit Brigham Young multiple times. Young had such performance anxiety that, before a 1993 game, he didn't sleep for 36 hours, so petrified he was that he'd fail, and spent hours with a psychologist. In fact, that year, Young admits in the book that a depression specialist in San Francisco diagnosed him with separation anxiety and told him: "Never once have I seen an adult with the kind of separation anxiety that you have."
This was months after Young was named the NFL's Most Valuable Player, in 1992.
No one knew.
Young's always been one of the most interesting men I've covered in my time covering this game. A Mormon growing up among non-Mormons in ritzy Greenwich, Connecticut. Playing behind Jim McMahon at Brigham Young. Signing the biggest contract in football history, with the USFL's Los Angeles Express, and being sick over all the money. Jumping to the Tampa Bay Buccaneers when the USFL died, and then dealt to San Francisco when Bill Walsh wanted him to replace the great Joe Montana. And trying to live a normal Mormon life amidst the mayhem of the NFL. I covered Young a lot in my life, and I never knew so much of what he went through.
• BILL WALSH'S COACHING TAPES: Two years ago The MMQB rewatched film from Walsh's Niners heyday and found an enduring genius
A few examples of the stuff I never knew, or was just plain so interesting:
• On a day spent at Joe Montana's house, in the middle of their competition:
Bill [Walsh] scheduled a practice on Christmas. Afterward the players who were single were offered dinner at the homes of the married players. Joe invited me to dinner at his place. It was my first visit to Joe's house. The meal was magnificent. His beautiful wife was gracious. While we were at the dinner table, Joe and I were talking when Joe's daughter, who was probably around three years old raised her hand.
"Dad," she said. "Dad." Joe kept talking to me. "Dad," she repeated. "Dad."
"What?" Joe said sweetly.
"Is this the guy we hate?" she said innocently. It was all I could do to not burst out laughing.
"No," Joe told her. "That was someone else."
​• On being traded from Tampa Bay to the St. Louis Cardinals in 1987:
I get a call from [Bucs coach] Ray Perkins. He said, "Congratulations, you're a St. Louis Cardinal." I called [agent Leigh Steinberg]. He told me the Cardinals had offered the Buccaneers their first-round pick for me. That meant Tampa would have the first and second picks overall. Perkins had his eye on Alabama's All-American linebacker, Cornelius Bennett. I told Lee there was no way I was going to St. Louis. The Cardinals were another team that was going nowhere.
But I didn't sit back and wait. I immediately called [Bucs owner] Hugh Culverhouse. I didn't even give him a chance to say hello. "You traded me to the Cardinals? You tell me I'm your quarterback for life and you send me to the Cardinals? You can't do that to me!"
After I talk to Culverhouse, Leigh called him and issued a threat. He told him I would retire rather than go to St. Louis. Two hours later Culverhouse called me back and told me he had called off the trade.
• On the unending attention he got once the USFL died and he went to the Bucs:
Even on the field, I can't escape the craziness. We play the Colts at home. Partway through the second quarter I'm in the huddle when the head referee taps me on the shoulder. "Can I talk to you for a second?" he says. I step away from the huddle. "Hey, listen, my daughter's going to BYU," he whispers. Next thing I know he starts trying to convince me that I should meet his daughter. "I'd like you to take her out," he says.
I cannot believe this. We're in the middle of a game! "Oh, okay," I said. "What's her name?'' He tells me and I return to the huddle ... Late in the game we're down 31-23 and I'm trying to mount a comeback. I scramble out of the pocket and take a brutal hit. It causes me to fumble just before the whistle blows to stop the play. I am lying on the ground when the defense recovers the loose ball, all but sealing our defeat. Suddenly out of nowhere a yellow flag lands next to me. The referee whose daughter is headed to BYU calls a personal foul on the defense. First down, Tampa Bay. I get up and brush myself off. Then the ref walks past me and whispers she likes Italian food.
That's why this book is life. It's amazing, with an athlete covered so thoroughly as the NFL was getting so huge, that there's so much you won't know. I think you'll like digging into it. You can preorder it here.
Editor's note: This section subs for the weekly MMQB feature "On Your Night Table," which will return next Monday.
* * *
Quotes of the Week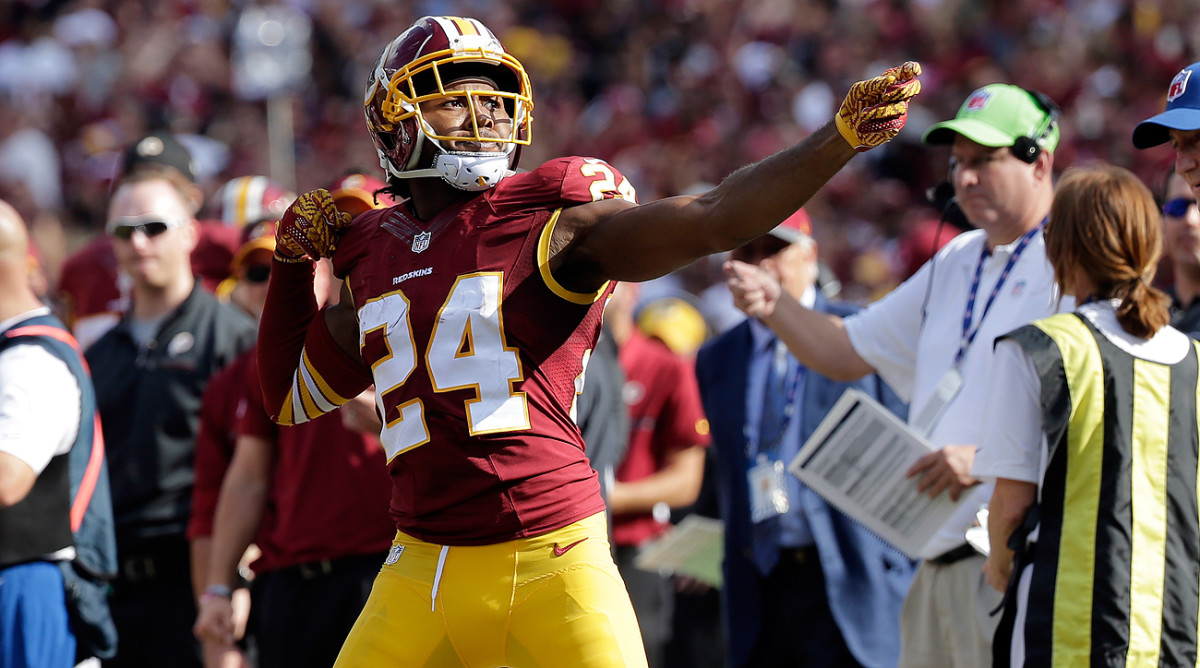 I
"After the play is over, unsportsmanlike conduct, number 24. Shooting a bow and arrah. That foul counts as one of those that leads to a disqualification. First and 10 Washington, after the 15-yard penalty."
—Referee Jeff Triplette, explaining a foul on Washington cornerback Josh Norman in the game against Cleveland.
And he did say "arrah," not "arrow."
And don't miss the if-looks-could-kill glare from Norman toward Triplette when he was announcing the call.
II
"Why Rex is Rex and Bill is Bill."
—Patriots president Jonathan Kraft, on his Sunday radio show, after the pregame shoving match between the Bills and Patriots, which started when two Pats went jogging down the sideline on the Bills' half of the field and Buffalo defensive back Robert Blanton took issue with it.
III
"It was embarrassing to watch that these are our two candidates. Both are proven liars, and it almost seems like they're trying to debate who's less racist. And at this point, talking with one of my friends, it was, 'You have to pick the lesser of two evils.' But in the end, it's still evil."
—Colin Kaepernick, on the first presidential debate between Hillary Clinton and Donald Trump last week.
Man. I'm all for freedom of speech, but Kaepernick's going to have to live with calling the next president "evil."
IV
"Uh, Julian, Walt Patulski from the Buffalo News. Are you playing quarterback this week? Are you playing quarterback this week?"
—Buffalo coach Rex Ryan, posing as a non-existent reporter and asking Julian Edelman a question in the conference call for western New York media Wednesday.
Actually, Notre Dame defensive end Walt Patulski was the first overall pick in the 1972 by the Bills, and he played five moderately successful seasons for the Bills and Cardinals before a knee injury ended his career.
V
"If I had young kids, to be honest, and if they came and said, 'Dad, I want to play football,' I'd smack them in the mouth. No. No. Because if I'd have known back then what I know now, to be honest with you, I probably would have taken a different path. I probably just would have played baseball."
—Bo Jackson, in an interview with Dominic Bonvissuto of The MMQB. 
* * *
The Award Section
OFFENSIVE PLAYER OF THE WEEK
Many deserving candidates, including Matt Ryan, who had the league's 19th game of 500 passing yards Sunday. However, just one winner.
Julio Jones, wide receiver, Atlanta.Twelve catches, 300 yards, 25.0 yards per catch, second man since 1990 to have 300 receiving yards in a game.
DEFENSIVE PLAYERS OF THE WEEK
Aqib Talib, cornerback, Denver.Actually, Derek Wolfe, who was unblockable for the parts of the rout of Tampa Bay that I saw, might have been in this space with his 2.5 sacks and two additional quarterback hits. The NFL had Denver hitting Jameis Winston 16 times in the 27-7 win. But I'm giving it to Talib, for his star turn early in this game. He ended two of the Bucs' first four possessions with interceptions—against the team that made him its first-round pick eight years ago—and the Broncos turned both interceptions into touchdowns. They'd never relinquish the lead after the second one.
Zach Brown, linebacker, Buffalo. In the first home shutout suffered by New England in 23 years, Brown starred all game long. After four starless seasons in Tennessee, Brown found the kind of seek-and-hit defense that suits him, along with a cadre of linemen in front of him that keeps him clean. He had 18 tackles, two forced fumbles and one sack of Jacoby Brissett. Brown is only 26, but he'll be hard-pressed to have another game like this in his career, and against the dominant team in Buffalo's division for years.
• SUBSCRIBE TO THE PETER KING PODCAST: Download current and past episodes and subscribe on iTunes.
SPECIAL TEAMS PLAYERS OF THE WEEK
Andy Lee, punter, Carolina. The Panthers were in danger of getting blown out when Lee had the best 20 minutes of his career Sunday in Atlanta. With Carolina down 14-0 and four minutes left in the first quarter, Lee boomed a 50-yard punt that pinned Atlanta at its 2-yard line. In the second quarter, he hit a 42-yard punt that was downed at the Atlanta 1-yard line, and then a 54-yarder downed at the Falcons' 2. Three punts, 20 minutes, all pinning the Falcons inside their own 3-yard line. Anyone question about Carolina paying a fourth-round pick for him now?
Adam Vinatieri, kicker, Indianapolis. Dude's amazing. With his 44th birthday less than three months away, Vinatieri on Sunday hit 53-yard and 49-yard field goals in the 30-27 loss to Jacksonville, on the slippery Wembley Stadium pitch.
Will Fuller IV, wide receiver/punt returner, Houston.He supplemented another good game catching passes (seven receptions, 81 yards, one touchdown) with a 67-yard weave-and-sprint through a Tennessee punt team that looked like it was playing in slow-motion. The return TD was the final score in a 27-20 Houston win that was tougher than it should have been.
COACH OF THE WEEK
Rex Ryan, head coach, Buffalo. Ryan's fifth win over the Patriots in eight seasons of coaching against Bill Belichick (Belichick is 12-5 versus Rex, so this recent run hasn't been anything like a Ryan domination) was his most impressive in a regular-season game. Yes, the Patriots were quarterbacked by a third-string rookie, but winning 16-0 when the Patriots were on a 3-0 season-opening roll and looking like the best team in the league, and winning in Foxboro, was a great accomplishment. Ryan played this one smart, pressuring Jacoby Brissett from the start. New England didn't have a drive over four plays until the second half.
GOAT OF THE WEEK
Melvin Gordon, running back, and Travis Benjamin, wide receiver, San Diego. I cannot believe I'm writing this. With the Chargers leading 34-21, San Diego had three more possessions against the Saints' porous defense (that's being charitable) in the final seven minutes. Gordon coughed up one fumble with 6:50 to play, leading to a Saints touchdown. And on the first play of the ensuing series, with Benjamin barely touched, he fumbled away another gimme to New Orleans, handing the Saints the chance for the winning touchdown. Which, of course, they scored. Ridiculous errors for a team that deserves to be 1-3. 
* * *
Right Combination of the Week
Derek Carr, quarterback, and Michael Crabtree, wide receiver, Oakland. The most beautiful throw-and-catch of the day belonged to these two, and it came at the biggest moment of the day. With 2:12 left in the game and Oakland down 27-21, Carr took the snap from the Baltimore 23, and Crabtree went up the right seam, making a neat move on two defenders and breaking two steps away from coverage near the goal line. Carr lofted a perfect strike right into Crabtree's hands for the winning touchdown … on a day when Carr and Crabtree combined for three touchdowns in all—of 5, 13 and 23 yards. Don't forget: In addition to Crabtree, the Raiders also have young star Amari Cooper. Carr is going to be in this space a few more times, because he's young and full of talent, and because he's got a great crew of offensive skill players with him.​
* * *
Stat of the Week
One of the popular points among special-teams coaches and lots of fans in the first month of the season is how the new kickoff rule—with kickers booting from the 25-yard line instead of the 20-yard line—is having the unintended consequence of actually promoting more returns instead of more touchbacks. The NFL adopted the rule last March in hopes of limiting the concussive blows that occur from the high-speed collisions on kickoffs.
In the 49 September games, ending with the Thursday night Miami-Cincinnati game, here were the numbers compared to 2015:
| | | |
| --- | --- | --- |
|   | 2015 | 2016 |
|   Kickoffs | 2,627 | 509 |
|   Touchbacks | 1,470 | 307 |
|   Touchback% | 56.0 | 60.3 |
|   Kicks returned | 1,080 | 191 |
|   Return% | 41.1 | 37.5 |
(Note: Percentages don't add up to 100 because some kickoffs go out of bounds.)
There's no guarantee that these percentages will hold up as the weather worsens, or as coaches try to gain competitive advantages. But through 1/5th of the regular season, touchbacks were up 4 percent—not down.
* * *
Factoid of the Week That May Interest Only Me
At age 41, Adam Vinatieri had a streak of 31 straight made field goals. Now 43, he has made 33 straight field goals and counting.
* * *
Mr. Starwood Preferred Member Travel Note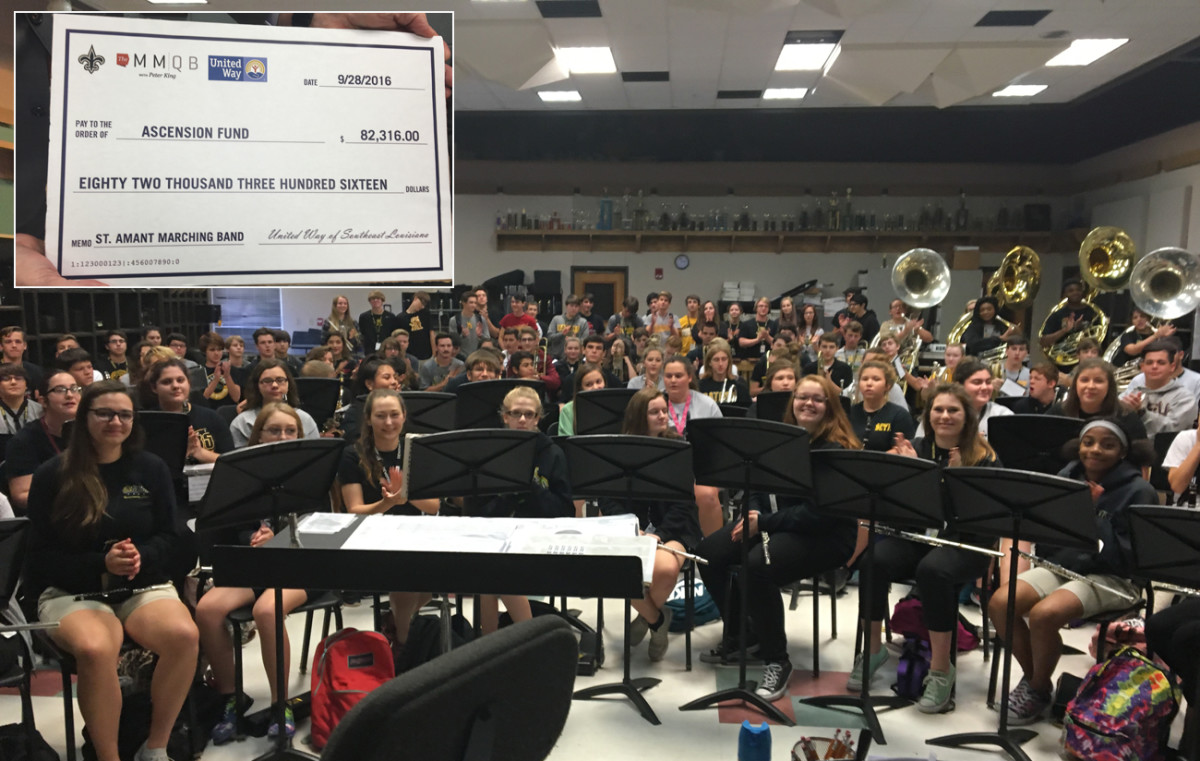 There are days in this business that are thrilling, rewarding, wonderful and any other heartwarming adjective you can think of. Wednesday was one of those days.
I was in New Orleans last Wednesday to record a conversation with Drew Brees for The MMQB Podcast With Peter King. (That will be available in the podosphere on Wednesday morning.) Then I hopped in a rental car with videographer John DePetro and Saints community relations czar Stephen Pate and drove an hour to see the St. Amant High School marching band. The St. Amant students were having half-days at Dutchtown High School in Ascension Parish in central Louisiana because of historic flooding in St. Amant that damaged or ruined 97 percent of the property there, including the high school. Several feet of water flooded the band room, ruining most of the wooden instruments and stands and damaging other instruments and all of the band equipment. We at The MMQB set out to raise $75,000 of the $284,000 it was going to cost to make the band whole again. Michael Williamson and George Bell of the United Way came to the band room at Dutchtown High near St. Amant on Wednesday. Pate got the United Way to seed our fundraising project for the band with a $25,000 gift. And thanks to 1,016 generous souls from across the United States, we were able to present a check for $82,316 to band director Craig Millet.
"I'm at a loss," Millet said. "I don't know what to say, other than thank you from the bottom of our hearts."
We talked to three of the band members whose houses got ruined by the August flooding. "I'm living in my basketball coach's driveway right now," said senior Courtney Mason, who plays the clarinet. "In a camper. We can't shower or anything. It's pretty awkward." She said the 248 students in the band need the escape because "band, to us, is like our second home."
Check out the video. The cause is ongoing. Help if you can.
St. Amant is a community of about 10,000 people. This is the kind of place it is: I wanted to go see the high school football field. It sits behind the middle school in town, a nice high school field with banners in the bleachers celebrating every kid on the team. While there, the principal, Christy Bourgeois, came out to greet us. She'd been raised in town and went to the same school she now oversees. She told us how big the high school football team was in town, and that people clamored for season tickets. There weren't enough to satisfy the demand. The crowds flowed to capacity.
"Do you ever hear of anyone scalping tickets to games?" I wondered.
"Noooooo," Bourgeois said, sounding disgusted by the concept. "We'd never think of doing that. Everybody here is like family. If someone really needs a ticket, they can usually get it."
Great people, great band. Back at Dutchtown High, the band played the alma mater for the visitors, and the high school principal, Mia Edwards, was overcome with emotion when the check got presented. As were the band members. Courtney Mason considered what she'd want to say to the 1,058 donors who helped get the band back on its feet.
"I would thank them a million times," she said.
* * *
Tweets of the Week
I
This signaled the end of the Deflategate story, following a similar Mike Florio report on NBC's "Football Night in America."
II
I wonder if the free-agent offensive guard will be getting a call from Indy GM Ryan Grigson.
III
IV
"I thought we agreed you were taking first pitch @TimTebow"
—@JJKilich
John Kilichowski, who later deleted the tweet, is a St. Louis Cardinals' minor-league pitcher who gave up a home run to Tebow on the first pitch he ever saw in professional baseball, last Wednesday in the Florida Instructional League.
V
* * *
Photo Op
Writer's Note: A new section in MMQB, where I'll share a picture or image with a good story behind it.​​
​Elise Young, a friend and former point guard at Fairfield and a trainer at a gym I've used in Manhattan, is a pretty big Patriots' fan, as you can see. When she was in high school, she got a photo with Tom Brady that she keeps on her phone to this day.
Asked her about the three-headed (or four-headed, including Julian Edelman) Patriot quarterback situation. "Next man up," she said. This morning, the next man becomes Tom Brady.
* * *
Dr. Z Unsung Guys of the Week
Each week, in conjunction with Pro Football Focus, I'll point out three players who played well but were under the radar.Paul Zimmerman would have loved this section. This week's trio:​
1.Outside linebacker Shaquil Barrett, Denver. Barrett's like a good sixth man in basketball, largely subbing as a Denver edge rusher. Against the Buccaneers, Barrett had one sack and one hurry on 22 rushes but was even more impressive as a run defender, with four run stops. He earned a team-high run defense grade of 92.7.
2.Guard Zack Martin, Dallas. The Cowboys picked up a big road win thanks in part to the play of their trio of interior linemen led by Martin, the third-year guard from Notre Dame. Martin didn't allow a single pressure on Dak Prescott on 38 pass-block snaps. Martin's biggest impact came in creating huge holes for Ezekiel Elliott to run through.
3.Tackle Jermey Parnell, Jacksonville. Parnell didn't allow a single hit or hurry of Blake Bortles on 47 pass-block snaps and earned an 84.3 pass-blocking grade against the Colts. Parnell also opened holes for the Jaguars running backs and had a fine 80.9 run-block grade.
Go here to access PFF's grades on every NFL player.
* * *
Pod People
From "The MMQB Podcast With Peter King,'' available where you download podcasts. 
• Baltimore receiver Steve Smith Sr., on being a man people love to hate: "I've rubbed a lot of people the wrong way, and I'd say 70 percent of it has been intentional on my part. It's competitive, and I'm a people person. I watch people. I say things to see how they respond … I've met business people and I'll talk and they say, 'Oh, you're a lot different than I thought.' I don't think people understand that off the field I can be different. The best way I can put it in perspective is that a person that is a salesman is going to operate totally different as a salesman to make a deal than [he] would if he is at home with his kids."
• ESPN's Ron Jaworski, on the good mechanics of Carson Wentz and bad ones of Jay Cutler: "Wentz has great mechanics. It was almost a clear difference … when you watched Jay Cutler, who is a veteran quarterback in this league with incredible arm talent—sloppy mechanics. Sloppy. And then you watch Carson Wentz get on that back foot, weight transfer, all of those little things about playing this position. That was his second start in the NFL [when he faced Cutler]. His mechanics were superior to Jay Cutler, who may have the best arm talent of any QB in this league. But you've got to coach the QB position, and you've got to coach it hard."
• COMING WEDNESDAY MORNING: Peter King's conversations with Saints quarterback Drew Brees and Seahawks wide receiver Doug Baldwin
* * *
Ten Things I Think I Think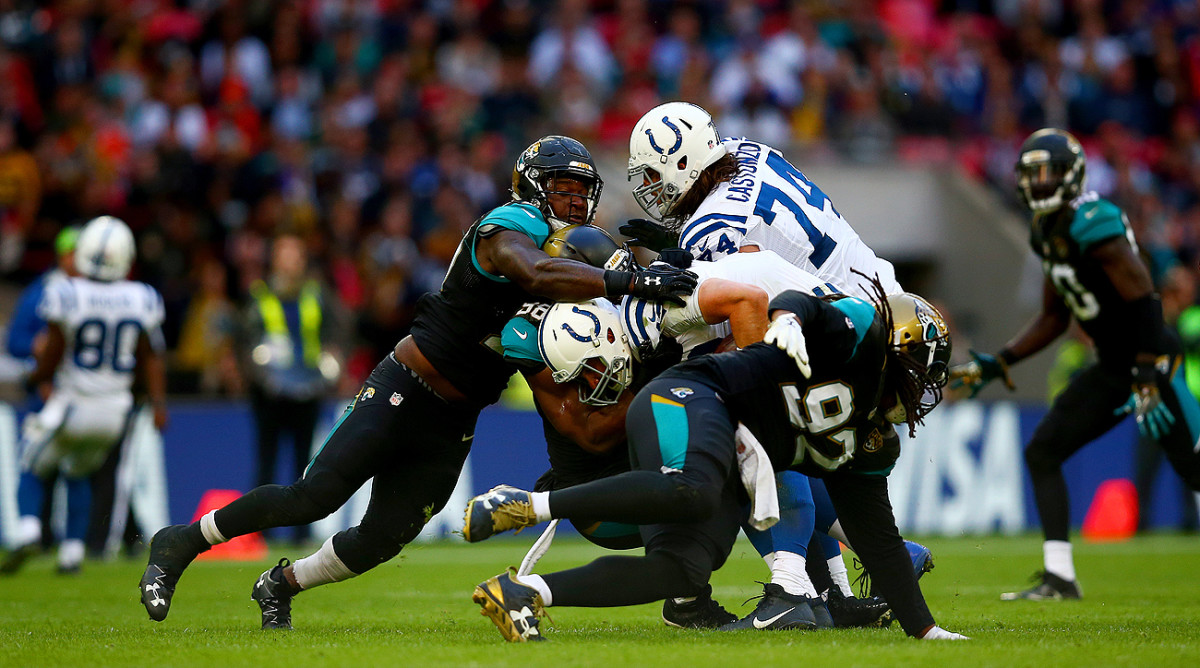 1. I think these are my one-liners of analysis as Week 4 nears the end:
a. Free gambling advice: Never, ever, ever wager against Mike Tomlin coming off a blowout loss.
b. We'll find out everything about the Falcons in the next two weeks, when they go to Denver and Seattle.
c. I hate Week 4 byes, and I'd really hate them if I were a player, because you'll get to Week 8 needing a break, and the break will be a month in the rearview mirror.
d. I have no idea what constitutes pass interference.
e. If the over-under on games missed for Trevor Siemian (shoulder) is 1.5, I'm taking the under.
f. Minnesota is the biggest threat to my Green Bay-Pittsburgh Super Bowl pick.
g. Jenny Vrentas will have some quality words on the Raiders on Tuesday, but I will make this one point: I never thought I'd see the day when Oakland would win three straight 10 a.m. body-clock starts (at New Orleans, at Tennessee, at Baltimore) to begin a season—or at any point in a season, for that matter.
h. I have no idea why Rob Gronkowski is invisible, except that in Bill Belichick's world the healthy guys play and contribute, so …
i. Presented Without Comment Dept.: Over the past 10 months, Case Keenum is 6-2 as a Rams' starting quarterback, with just four interceptions.
j. I sometimes watch 27-year-old Andrew Luck and wonder if he'll turn into David Carr or Tim Couch, the kind of quarterback who never reached his potential because he got battered so much.
k. Because I know I should have an opinion about another sellout game (83,764) at Wembley Stadium in the International Series, this is it: It'd be nice to see a game between two winning teams, or two storied teams.
2. I think the Football Story of the Week is a simple call. It's fantastic. Bleacher Report's Dan Pompei writes one of the best stories I've ever read on the real life of a coach—an offensive coordinator (New England's Josh McDaniels) who admits he's flawed and does something about it. The story is so real. Congrats to Pompei for writing it, and to McDaniels for opening himself up so thoroughly.
3. I think this taunting thing has to get re-evaluated by the NFL. Like, now. Jags receiver Allen Robinson catches a tough pass over the middle, gets leveled by D'Qwell Jackson and gets up, fired up, and spins the ball on the ground. Because Jackson is in the area, Robinson gets an unsportsmanlike conduct foul—with the bonus being that one more such foul gets him tossed from the game. That shouldn't be what the two-unsportsmanlike-conducts-and-you're-out is about. Verbal abuse, verbal taunting, punching, kicking, illegal use of the helmet … those are fair game. But the simple, "Hey, I made a big catch and held onto the ball" spinning of the football absolutely was not what this rule was installed for last March. It will be up to the Competition Committee and VP of Officiating Dean Blandino to do something about that next offseason.
4. I think I'm sympathetic to the plight of anyone with a substance or addiction issue—Josh Gordon entered rehab the other day for an alcohol problem, according to Mary Kay Cabot of the Cleveland Plain Dealer—but enough is enough. I'd give Gordon every chance at rehab if I were the Browns, then wish him well for the rest of his life. He's just too unreliable for a team trying to build a future.
5. I think I like Dirk Koetter, and I hope this is just growing pains for him as a head coach. But what an awful call he made in the fourth quarter against Denver. With 7:30 left in the game, and trailing 27-7, and with a fourth-and-six at the Denver 46, Koetter chose to punt. That is a ridiculous play call. How do you assume you'll get the ball three times in the last six minutes (max) of the game?
6. I think I was sure it was over for the Saints midway through the fourth quarter at San Diego, staring at a 13-point deficit and not having the ball. But the Chargers handed them the game, with three turnovers in the last seven minutes. Give Drew Brees and his mates credit for never saying die. But that doesn't mean it's suddenly sunny in Louisiana. Brees is three months from his 38th birthday, with no great defensive playmakers, with more dead cap money than any team in football in 2017, and with this daunting slate coming out of the bye in 13 days—Carolina, at Chiefs, Seattle, at Niners, Denver, at Panthers. Not sure how the Saints can salvage a good season, despite the miracle of Sunday.
7. I think Andrew Brandt's two-part series on the CBA at the halfway point should be required reading for all who cover, follow or love the NFL. Here is part one, and part two. Insightful points by the former NFL executive, not the least of which was this: "As one NFL owner said to me during the negotiations, 'I said to Roger, You mean we give them less hitting in practice and we can get the money we want? Where do I sign?' " I still can't find anyone who seriously thinks the NFL is pursuing or will lobby hard for an 18-game regular-season schedule. But we'll see what the landscape is like in four years, when the negotiations for a new deal ought to be seriously underway.
8. I think I am hoping against hope that one of the best defensive players of his era—still only 28—doesn't have a serious Achilles injury. San Francisco linebacker NaVorro Bowman was carted off the field against Dallas after grabbing his ankle area in obvious pain. Very good player, very good man, excellent leader, and overcame a horrific knee injury in the playoffs against Seattle in 2013 to come back nobly last year. I'm being selfish here; I know Bowman some and really appreciate the kind of person and player he is. I remember talking to him about the early retirement of Chris Borland, and Bowman saying how much he liked and respected Borland and his decision, and it had to be a personal decision from the heart; nothing remotely critical or judgmental. I really wish Bowman the best.
9. I think the Cardinals being 1-3, and Carson Palmer quite possibly out of a crucial game Thursday night in San Francisco, is the most impactful story of Week 4. Drew Stanton needing to win a vital division road game is not what Bruce Arians had in mind when Stanton became entrenched as Palmer's backup. The Cards are in trouble.
10. I think these are my non-football thoughts of the week:
a. Headline of the Year, from Friday's New York Post: DENZEL WASHINGTON STRANGLES ARETHA FRANKLIN. Seems that a man named Denzel Washington of New York City had a disagreement with his mother, whose name is Aretha Franklin. And on the upper west side of Manhattan, he confronted her and throttled her, and how could the Post not have made this into a good story?
b. This Joe Girardi is a good person.
c. Pete Abraham's story in the Boston Globe on the twilight of David Ortiz's career, with stories from his last season, is something all beat writers in all sports should read. Sometimes, when you're around the team you cover, you should just observe things and bank them. In midseason in New York, Ortiz went bat-crap on a couple of ball/strike calls, was still ticked after the game, and then, walking out of Yankee Stadium, Abraham observed Ortiz walk up to two New York City cops and tell them he loved them. Beat-writer gold, but not necessarily for the moment. Says so much about the baseball star, and the baseball writer.
d. Thanks for the memories, David Ortiz.
e. Nice to see the Dominican president, Danilo Medina, in the house at Fenway for Ortiz's final regular-season game Sunday.
f. No idea who will win these playoffs. I'd like the Giants if they could hit.
g. Madison Bumgarner vs. Noah Syndergaard on Wednesday night at Citi Field. Nice matchup.
h. What the heck. World Series pick: Cleveland over Chicago. Seven games. Yes, Cleveland. This must mean the Browns are going to win the Super Bowl!
i. Craig Kimbrel's a worry for Boston. Last four outings as closer: three innings, six walks, six earned runs. The leash will be short for him in the playoffs.
j. Coffeenerdness: Thanks for creating Italian Roast, God. The darker the better.
k. Winenerdness: Well, look what I found: Frog's Leap Cabernet, on tap (yes, on tap) at The Ribbon, a restaurant on 72nd Street in Manhattan. That will be visited again.
* * *
Who I Like Tonight
Minnesota 27, New York Giants 16. Not a good night for the Giants to have two of their top three corners hurt, or to be facing a premier pressure defense with a lot of noise in the new Minnesota stadium. (Major respect to the Vikings, by the way, from the league: A Sunday night season-opener for the new Vikes' home, then a Monday-nighter for the second home tilt.) I say Sam Bradford continues to play mistake-free, and the Vikings' dangerous front pressures Eli Manning into a few mistakes.
• THE VIKINGS' SECRET WEAPON: Jenny Vrentas on the man calling all the shots on the sideline in Minnesota
* * *
The Adieu Haiku
Generous Panthers
Giving up 30 a game.
That really stuns me.
• Question or comment? Email us at talkback@themmqb.com.