Broncos head coach Gary Kubiak resigns
Broncos head coach Gary Kubiak has resigned amid concerns about his health.
Denver Broncos head coach Gary Kubiak has resigned, the team announced Monday.
Kubiak's family is concerned about his health, ESPN's Adam Schefter reported Sunday, as he has had several incidents in recent years to cause him to miss games.
Kubiak told his players after Sunday's game that he was stepping away after two seasons with the team.
"As I told our team last night, this is an extremely difficult decision to step down as head coach. I love to work and I love football, but ultimately the demands of the job are no longer a good fit for me," Kubiak said in a statement. "I gave everything I had to this team the last two seasons, but this year, in particular, has been tough on me. As hard as it is to leave this position, I know that it's the best thing for myself, my family and the Denver Broncos."
Kubiak was hospitalized after a Week 5 loss against the Atlanta Falcons and diagnosed with a complex migraine condition. He did not coach the following Thursday night game against the San Diego Chargers.
GALLERY: WHEN NFL PLAYERS WERE COACHES
When NFL Coaches Were Players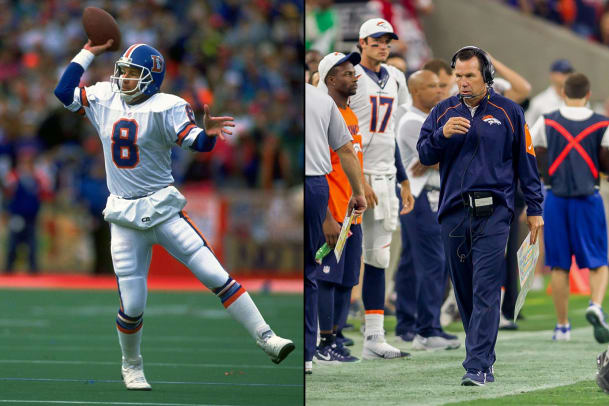 During a game against the Indianapolis Colts in the 2013 season, Kubiak, who was then the coach of the Houston Texans, suffered a transient ischemic attack, otherwise known as a "mini-stroke," during halftime of that game. He spent two nights in the hospital before being released.
Denver won its season finale with a 24–6 victory over the Oakland Raiders. Kubiak confirmed in his postgame press conference that he addressed his future with the players after the game but did not elaborate.
Kubiak, 55, has a 20–11 record as a head coach with the Broncos, leading the team to a Super Bowl title in his first season. With the Texans, Kubiak had 61–66 mark with two playoff appearances in eight seasons in Houston.
- Scooby Axson