From Summer School to the Super Bowl for Brady, Ryan
Matt Ryan and Tom Brady didn't get to Houston by accident. Here's the story of how offseason work with a couple baseball pitchers benefited both QBs. Plus items on Dan Quinn, the Indy mess and six draft storylines
MOBILE, Ala. — Back in July, I visited Tom House and Adam Dedeaux in California to try and figure why 13 of the NFL's starting quarterbacks had gone to a couple former pitchers to fine-tune their throwing mechanics and round themselves out as athletes.
Six months later, two of those 13 are facing off in Super Bowl 51.
One will play the final game of his 30s there, after making his sixth consecutive appearance in the conference title round. The other just wrapped up the best season of his career after a three-season playoff drought, posting a 117.1 passer rating, and then besting it in playoff wins over the Seahawks (125.7) and Packers (139.4)
As the ex-baseballers would explain, for Tom Brady and Matt Ryan, none of that is by coincidence.
This week's Game Plan is packed with stuff on the Super Bowl teams: On how Brady led the Falcons to Ryan; why Dan Quinn's success was predictable in some corners; and the coach who's made all the difference in Foxboro. And we'll go to other corners, too, with a look at the Colts' tumult and a half-dozen hot draft storylines at the Senior Bowl here in Mobile.
But we start with the quarterbacking mecca that House and Dedeaux have built, and what's it meant to the two Super Bowl quarterbacks on their way to Houston.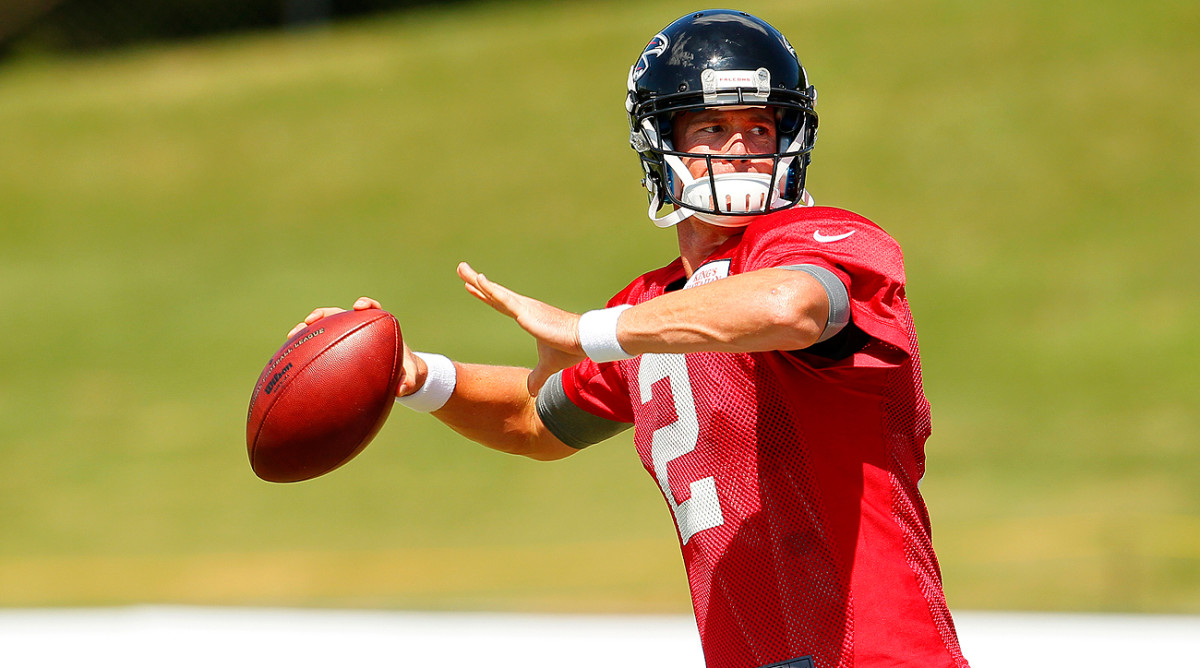 Brady has long been the most famous client of House and Dedeaux (who recently bought House out). Conversely, Ryan, is among the newest quarterbacks to come aboard. The results are what tie the two together here.
The results of the past few years are what pushed Ryan to House and Dedeaux in the first place. Ryan went to California last January for a three-day evaluation. He left with a list of things to work on. Six weeks later, he traveled back for another four days, then Dedeaux joined Ryan and his offensive teammates in Fort Lauderdale for their pre-offseason program workouts.
Then, during OTAs, Dedeaux went to Atlanta for troubleshooting, and Ryan went back to California for another four days during the break between the Falcons' June minicamp and the July start to training camp. Since, Dedeaux has come in periodically for tune-ups, and the two talk every week.
• MATT RYAN IS OLD SCHOOL: At Ryan's 320-year-old high school in Philly, he's remembered as a low-key leader—just like now—and a 6'5" triple-option QB
"The progress that Matt made this year has been awesome. We knew he was capable of doing it," Dedeaux said this week. "Going through the evaluation process, we found some things he needed to get better at, strength-wise and mechanics-wise. He put in a ton of work. And I think it's helped his confidence overall. Through the work he did, he was able to take huge strides, more than we even thought."
The big improvements Ryan was tasked with making were to get stronger in his core and his throwing shoulder. There were little things, too, like erasing Ryan's previous struggles throwing short and to his left.
And the result, as the coaches saw it, was not only a more confident quarterback, but a more physically capable one too.
"There were throws we worked on in the offseason, and throws that he identified—hey, this is a throw I struggled with," Dedeaux said. "And the thing about him is he's gotten better through the season. Different things have come up. And he'll say, 'OK, we need to work on this, and he's gotten better.' We worked all through the offseason and in-season things come up.
"He was able to make adjustments, based on everything we'd been working on. As new things came up, he kept getting better and better. I think he's playing far better now than he was even in the beginning of the season."
As for Brady, House has told the Patriots quarterback over the years that—injury permitting—he should be able to keep playing, and playing well, until he's 45. So Dedeaux isn't exactly shocked that this is happening.
But this year has been different. The four-game suspension—during which House spent time working with Brady in Massachusetts—made it so, as did adjustments the quarterback made to his playing style.
Again, the results are what matter, and those are pretty easy to see in a record 28-to-2 TD-INT ratio, and a seventh trip to the Super Bowl. The age thing? Not a problem, as predicted.
"I think he's better now than he was five or six years ago," Dedeaux said. "He's playing better. His body allows him to do more. And constantly we were encouraging him to use the athleticism he had. He played catcher in high school—he had the ability to be athletic, to be quick and move his feet.
"I think now he's playing better than ever, honestly. He hasn't lost any arm strength. There's no decline in arm strength. I think he's able to do more now than he has before."
So in 10 days, Dedeaux will be in Houston to get one last look at Brady in his 30s, and another look at the rebuilt Ryan. And that won't be a bad testimonial for the work he and House have done.
• WHAT WOULD BELICHICK DO? Andy Benoit on how the Patriots might try to slow down the Falcons offense in Super Bowl 51
* * *
FOUR DOWNS
1. How Brady inspired the Falcons to draft Matt Ryan. There are plenty of mechanics and technical aspects to scouting quarterbacks. But with most general managers, instinct is involved too. And so it was that in early 2008, new Atlanta GM Thomas Dimitroff arrived fresh off six years in New England. And that experience with the Patriots played a role in a feeling Dimitroff got about Matt Ryan.
Armed with the third overall pick, the Falcons brass finished a private workout with Ryan on Boston College's campus, and climbed aboard Arthur Blank's jet. I'll let Dimitroff take it from there. "I remember we were flying West to San Francisco to work some players out, watching some video," Dimitroff said Wednesday. "It was funny, it hadn't quite dawned on me this way before, but I swear to God, I looked out the window and there was this amazing sunset shining through the clouds, and I looked down at the video I was watching. And I saw the '12' on Matt's back (Ryan wore 12 at BC), and I immediately started thinking about Tom Brady. And it was like, this is a no-brainer, this is what we have to do. You're always looking for confirmation. That was a fun moment for me, like, 'What are we doing? We're overthinking this. And [then-coach Mike Smith] and I talked about it and said no question, 100 percent, this is our guy."
And it wasn't just a feeling either. Dimitroff says now that being around Brady reinforced his beliefs on the importance of leadership and work ethic in quarterbacks, and Ryan certainly had those. There were also physical similarities. "Having had the opportunity to be around Tom, watching him, and marveling at him and how he handled himself, ad-libbing in the pocket was one of the things that really got my attention," Dimitroff said. "When I started to watch Matt Ryan, it was a major similarity they have. They can create and ad-lib in the pocket before they throw, and you combine that with an attitude I thought Matt had just watching from afar, and it was on my mind. The similarities sunk in for me on several levels."
Ryan still, of course, has a long way to go if he's ever to create a legacy like Brady's. But looking at where they are, I'm gonna guess the Falcons are pretty satisfied that one No. 12 led them to another.
2. Quinn's emergence a long time coming.Five years ago, I put together a list of college coaches that NFL teams were eyeing, and only one real surprise popped up—an assistant made the list. Back then, Dan Quinn was in his first year as Florida's defensive coordinator, imported by Will Muschamp after spending 2010 as the Seahawks' defensive line coach, and so the idea of him being an NFL head coach seemed pretty far off. Turns out, it wasn't, and the guys who gave me his name were right.
So to get some insight into what makes Quinn what he is, I figured it'd make sense to circle back with the AFC college scouting director who originally called my attention to Quinn. I asked him how he knew then what we know now, and he was pretty concise with his answer: "He had worked under some good head coaches and he was a very good coordinator and position coach—really high energy. But one of the keys was that he has that very few head coaches have is he has a really good feel for personnel. He always did as an assistant coach, and he does now." And that, to this evaluator, became obvious when Quinn was describing the array of Gator defensive prospects that he was coaching. "You'd just watch and see the growth and how he grew as a leader of his position group and then the defense. How do the players respond to him? Also, are they getting better? Are the players in the right spots to utilize their talent."
That was all there with Quinn, and it was on display for the NFL teams that'd roll through Gainesville to see. "Always thought he was a stud," said another college scouting director. "One, he's sharp. Two, he's always been a real dude. Players respect that combination. When you're smart, have presence, and don't BS people, they'll respect the s--- out of you and play their ass off for you. That's why I believe in Muschamp and (Jimbo) Fisher as potential pro coaches. And these flash-in-the-pan gimmick guys that everyone wants to anoint have no shot. At Florida, you knew he was a strong presence and scheme guy who interacted great with staff and players."
Quinn returned to Seattle to replace Gus Bradley as defensive coordinator in 2013, then became Falcons coach two years later. And that ability of some to predict this meteoric rise—which will carry right into the Super Bowl—is a pretty good reminder to everybody that traits in a coach are more than who's name is hot at a certain time.
• ROAD TO HOUSTON: Follow our Super Bowl 51 road trip, with feature stories on the Patriots and Falcons, plus tales of broken bobbleheads, crushed cameras and gastric bypass
3. Patriots smart to scrap this experiment. Over the two years that Dave DeGuglielmo was running the Patriots offensive line, the team tinkered with rotations that, on paper, would help to build the unit's depth and flexibility. In 2015, the idea cost the unit and brought to light another strength of the New England program—an ability to admit a mistake and not let it fester.
This year, the line has been turned from weakness to strength, and it's been done by going back to the conventional way of running an offensive line, with very little substitution, and by going back to the old coach, Dante Scarnecchia. For the balance of the season, Nate Solder and Joe Thuney have manned the left side, David Andrews has been at center, and Shaq Mason and Marcus Cannon have anchored the right side. That's allowed for cohesion, and the development of Mason and Cannon, as well as the quick assimilation of the rookie Thuney. The Patriots ranked seventh in rush offense, after finishing 29th in 2016, and Brady's not getting beat up the way he did last year, and Scarnecchia deserves a ton of credit for it. I voted for Kyle Shanahan as my assistant coach of the year, but gave Scarnechhia pretty serious consideration.
And I thought this quote from my TV colleague Dan Koppen (an ex-Pats lineman) to my SI colleague Greg Bedard encapsulated what the old line coach does well. "It's attention to detail, consistency and that's what Scar brings," Koppen said. "Marcus, in the past, would let one bad play turn into two or three and you can't do that. I think really working on his technique, his fundamentals, and getting him to do it on a consistent basis, that's just from the practice field, the meeting room, going over things time and time again and just building up his confidence. Scar could teach a chair, he's that good of a teacher. If you're willing to go in there and listen and put in the work, that man can teach you how to play football." That's for sure.
4. Colts just the latest example of a coach/GM relationship bringing down the house.It happened in San Francisco two years ago. It happened in Los Angeles, and was brewing in Buffalo before both those teams fired coaches. And so the firing of GM Ryan Grigson in Indianapolis is just the latest example of how the relationship between a coach and general manager taking a wrong turn can tear apart an organization.
No matter the particular source, murmurs from the Colts coaching staff about the talent level in the building weren't hard to find in 2015. Conversely, grumbling about the staff's ability to develop what they'd been given came from the scouting side. And some of the things that were said—last year's stunning reconciliation between coach Chuck Pagano and Grigson notwithstanding—just couldn't be taken back. That's why, as ESPN reported, the Colts needed to bring in a psychologist to try and counsel the two back to the same page. The truth is, while the guys could be and were better about it in 2016, the fractures were beyond repair.
When I was doing the reporting for last week's breakdown of the NFL's Final 4, and the commonalities between the teams, one thing that came up repeatedly was how the front office and staff worked together. And even if it wasn't perfect in all those places, it was obvious that to the rival coaches and GMs I spoke with that the personnel people were drafting to the specifics the coaches wanted, creating an organizational synergy. "There's a union between coaches and scouts there—some teams are that way, and some aren't," said one GM of the Packers, Falcons, Patriots and Steelers. "It's pretty clear with those four teams. If you have talent, you can win." And a head coach delved deeper, saying, "Talent doesn't win; talent in right places, coached right, motivated right gives you the best opportunity. The most talented player might not be the best guy for your football team. The right fit is the right guy for your team. Nobody does that better than Belichick. It's not about talent with him, it's about fit. You can be the most talented guy, you might not fit what he wants to do, and he's gonna pass you by. Those (four) teams, I don't think they really care about what other teams think. I don't think they get into that. It's what they think, what they believe in. They have crafted their vision, their belief, and they stick to it. And that's what they go get."
It's not easy, of course, to achieve that kind of alignment. If people aren't getting along, you don't have much of a chance.
• ERIN ANDREWS—THE PAIN YOU CAN'T SEE: The Fox sideline analyst opens up about her emotionally draining civil trial and her cancer diagnosis
* * *
THREE CHECKDOWNS
• It'll be interesting to see if the Packers tweak how they manage game weeks in 2017 based on all the injuries that decimated their secondary and running backs. Green Bay went to a revised schedule a couple years ago that was similar to what Chip Kelly did in Philadelphia—with a regular practice on Saturdays before Sunday games, rather than just a walkthrough.
• The NFL and NFLPA moving on the Dolphins for their handling of the concussion protocol, in relation to a big hit Matt Moore took in the wild-card round, is another example of the last bridge that pro football has to cross in its efforts to minimize head injuries. It's easy to take a guy out in the second quarter of a Week 4 game. It's much harder to do in a crucial spot late in a game or in a playoff setting, which was evidenced in past circumstances involving Julian Edelman and Cam Newton, and again here.
• The Redskins' decision on whether to franchise Kirk Cousins got a lot more complicated when Kyle Shanahan and the Niners exchanged vows. Shanahan tried to get the Browns to trade for Cousins when he was there in 2014, and preferred him to Robert Griffin when he was in Washington. Before, the idea of Cousins getting a monster deal elsewhere was hypothetical. Now, the Redskins know that there is a very real suitor out there.
• MIND YOUR NFL BUSINESS: Andrew Brandt has 10 thoughts on the ongoing happenings of the NFL's business season
* * *
TWO COLLEGE PLAYERS TO WATCH SATURDAY
1. Eastern Washington WR Cooper Kupp (Senior Bowl, NFL Network, 2:30 p.m. ET): It'd be hard to be more productive than Kupp was in college. A four-time FCS All-American, Kupp caught 428 balls for 6,464 yards and 73 touchdowns, which are all FCS records. And he's caught everything thus far this week, setting the stage for Saturday's game. "He's caught the ball well," said one AFC exec. "But he's neither big nor fast. He's looked okay." For most prospects from non-FBS schools, this week is a good chance to show what they look like against major college prospects. And Kupp has done well against a strong group of defensive backs. A strong Saturday will help, but he's probably going to need a good showing in Indy to back it up because of that skepticism over his traits.
2. Houston OLB Tyus Bowser (Senior Bowl, NFL Network, 2:30 p.m. ET): Until two years ago, Bowser was playing both football and basketball at Houston, which tells you what you need to know about who he is athletically. And this week, he's flashed all of that. "He's an outside 'backer prospect with pass-rush upside," said one AFC area scout. "He's a little too finesse for my liking right now, but he has athletic ability and flexibility. He just needs to put it all together." In just eight games this fall, Bowser registered 8.5 sacks and 12 tackles for losses. So there's production there, plus the expectation that he'll test awfully well at the combine.
• HARTFORD'S WHITE WHALE: Tim Rohan on how the Patriots almost became Connecticut's team
* * *
EXTRA POINT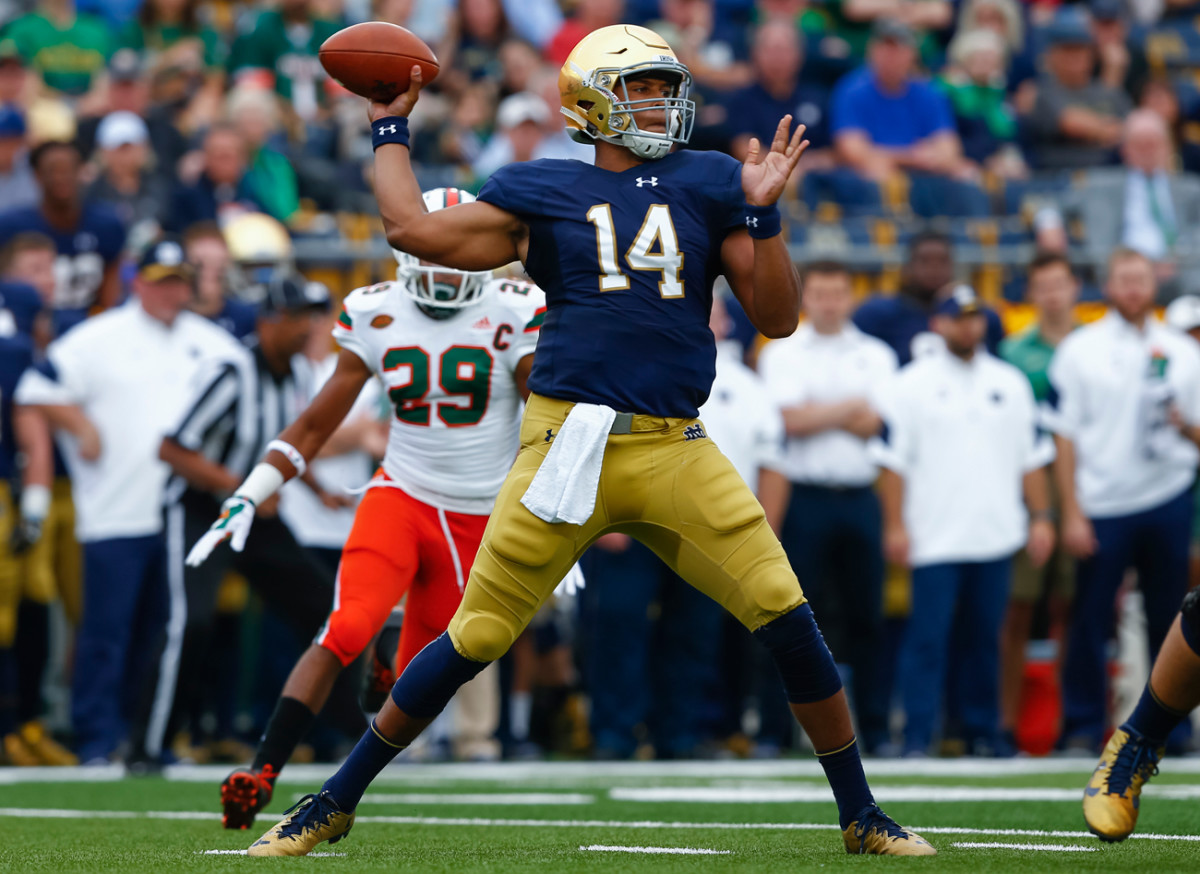 Tucked in the back corner of the first floor of the Renaissance here in Mobile, Ala., there's a five-foot tall cutout of Dak Prescott in his Senior Bowl uniform and Mississippi State helmet. A short walk down a hallway from there, and up an escalator, there's another one.
The Cowboys quarterback's presence is everywhere in Mobile this week.
And it's not just in those two pieces of cardboard, but also the thoughts of every coach and scout who was here last year, watched the ex-Bulldog practice for a week, saw him win game MVP, then let him slip to the fourth round all the same. Prescott, at that point, was seen as a projection. That was before he threw for 3,667 yards, 23 TDs, four interceptions and a 104.9 rating, and won 13 of his 17 starts.
This week is the unofficial start of 2017 for most of the NFL, and the kickoff in earnest to draft season, with the coaches joining the process in Alabama that the scouts have undertaken for months. That means storylines will start to emerge, and this year, there's no more interesting one than Prescott breaking down what so many believed about spread quarterbacks, and what it means for the '17 crop.
As it stands now, Notre Dame's DeShone Kizer, North Carolina's Mitch Trubisky and Clemson's DeShaun Watson are fighting to be the top quarterback taken. All three are from college spread systems. Trubisky may be the most ready to play in a pro system, but he's only started for one year. One exec told me that Watson should probably sit for a year, and Kizer is "two years away" from being ready to play.
That, of course, is what everyone thought that Prescott needed. Mississippi State coach Dan Mullen knew better. For one, he felt the burden Prescott carried in setting protections, and the throws the offense required of him had him more ready than most believed. For another, he knew anything that Prescott lacked, he could learn.
"My job is to coach guys up," Mullen said. "So I look at the guys that have talent, and when we get them, I wanna coach them. I wanna see—do they have the skills that we look for? And what we look for—do they do the things that are hard to coach well? If they do that, then the things that they don't do well that are easy to coach, I can get those fixed.
"Leadership, demeanor, work ethic, and processing of information. … If you have those things, I can coach your footwork and your release."
Maybe, but it still requires a leap of faith on the part of the NFL team.
What Andrew Luck did at Stanford directly correlated to what he'd be asked to do as a pro. What Carson Wentz did at North Dakota State was pretty close. With others, like Prescott, and Trubisky and Kizer and Watson, it's not that the NFL is saying they can't do what it takes to make it. It's that they don't have hard evidence that they can.
"It is a major factor," said one NFC offensive coordinator. "It just is. Especially playing early, there's so much to learn, there are so many skills you have to develop and work. You see it here. They may have the skill set, it's just doing it. It's doing things they haven't been asked to do."
So spread-quarterback projection, and how it'll effect the quarterbacks at the top of the draft, is one to watch as we get closer to the combine. Here are five other draft stories, based on the buzz in Mobile, that'll grab headlines in the weeks to come.
• How far will Joe Mixon fall?As I understand it, the Oklahoma coaches have vouched for what their star tailback has done to move past his ugly domestic violence incident of 2014. But the December release of the video of the altercation changed everything. Mixon has first-round talent. He'll be off some teams' draft boards. His handling of the next three months will determine how many.
• Where do the running backs go?LSU's Leonard Fournette, Florida State's Dalvin Cook (who has his own off-field history) and Stanford's Christian McCaffrey lead a historically strong and deep class at a position that's been devalued in recent years. The quality of this group, plus Ezekiel Elliott's impact in Dallas, should help change that.
• The strength of the secondary class. Two safeties—Ohio State's Malik Hooker and LSU's Jamal Adams—could go in the Top 10. And there's an array of tall, long Seattle-type corners. If you want to improve your pass defense, this draft is for you, because of these guys, and …
• Myles Garrett is a generational talent, and he's not the only edge-rusher who figures to go high. Tennessee's Derek Barnett, Stanford's Solomon Thomas, Alabama's Tim Williams (he's got some off-field flags) and UCLA's Takkarist McKinley all look like potential defensive cornerstones.
• This isn't the best offensive line crop.The 2017 class is considered deep and strong everywhere but at quarterback and along the offensive line. A number of teams are eager to borrow the Dallas blueprint—Miami already has—and sink resources up front. This year might not be the best year to do it.
• Question or comment? Email us at talkback@themmqb.com.