Robert Kraft Made a 'Mistake' and Turned It Into a Dynasty
The story of how the Pats owner ignored some bad advice to kick-start an era of NFL dominance. Plus why the 49ers hired John Lynch to be GM, a TV legend signs off and more from Houston as Super Bowl week begins
There is only one word to describe what happened Sunday night, on Super Bowl Week eve: wow. The 49ers hired Pro Football Hall of Fame finalist John Lynch to be their general manager, shocking the football world, as the partner for likely new Niners coach Kyle Shanahan. Well, maybe one other word: risky. "Neither of those guys are afraid of failure, and I'm not either," club CEO Jed York told me as the clock neared midnight Sunday. Heck of a story, to be told after another story, a truly historic one.
NEW YORK — "Sweetheart," New England owner Robert Kraft said to me the other day, in his 11th-floor apartment with the view of all views of Central Park, "I've got a little factoid for you this week."
The owner of the Super Bowl-bound Patriots had a big smile when he said it. Seems that a few days earlier, the night before the AFC Championship Game, Kraft had a small dinner party at his home in the posh Boston suburb of Brookline. A video was shown. Three young defensive players—Elandon Roberts, Vincent Valentine and Malcom Brown—came into view and said in unison, "Mr. Kraft! We weren't born when you bought the team!" He purchased the Patriots in January 1994; they were born in the next three months.
"Twenty-three seasons," Kraft mused. "Nineteen years in the playoffs. Two years under .500. Twelve conference championship games. Eight Super Bowls. I feel pretty proud."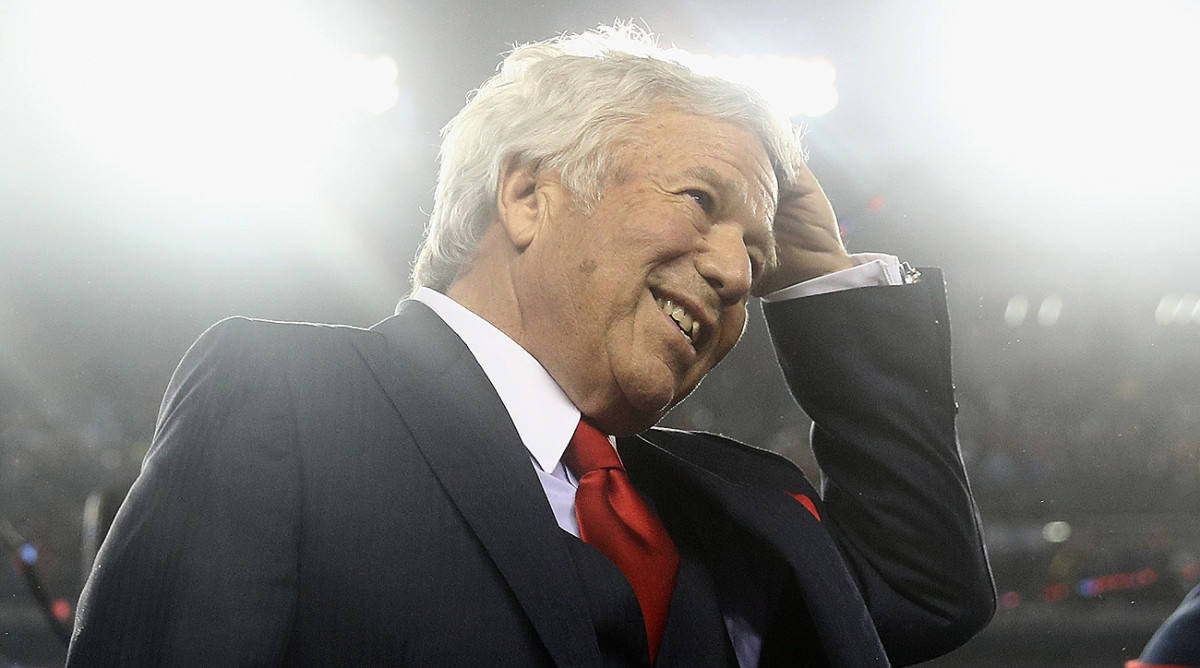 Kraft is right in pointing out this extended run of greatness, because it's unlike any in team sports over the past quarter-century. To make it happen—to make the Patriots the kind of dominant franchise that is so counter to every tenet of pro football, to send the Patriots to the favorite's role in another Super Bowl this week—the most important thing Kraft did happened nearly two decades ago. It was the kind of against-the-grain move that will go down in football history as one of the smartest decisions an owner has made.
Against the grain might be putting it mildly.
In fact, one team owner, when Kraft was about to make this momentous decision, advised against it. Kraft remembers this owner's exact words.
"He said if I did it, I'd be making the biggest mistake of my life," Kraft said, his voice taking an ominous tone.
The owner: Art Modell of the Baltimore Ravens.
The looming catastrophe: hiring Bill Belichick.
• DO YOU WANT TO WIN A SUPER BOWL OR NOT? Seven agents explain to Robert Klemko what it's like to negotiate with Belichick and the Patriots 
* * *
So there's a lot going on this United States this morning, and I don't mean the start of Super Bowl week in Houston. But since this is (mostly) a football column, let's get to the nuts and bolts of these strangers, Atlanta and New England, meeting in Super Bowl 51. Namely:
• Will the Vengeance-Thy-Name-is-Patriots and Roger Goodell co-exist without fisticuffs this week? (They will.)
• Will the Falcons be able to win if Julio Jones is shut down? (The numbers say: without a doubt, yes.)
• Will Tom Brady become the winningest quarterback in the Super Bowl era? (Give me a couple of days to ruminate on that one.)
• And is this the year (with voting looming Saturday) for Terrell Davis to make the Hall of Fame? Or Kurt Warner? Or both, in a class devoid of automatics outside (probably) of LaDainian Tomlinson? (It's clearly the best shot yet for both.)
We start high above Central Park, 11 afternoons before the Super Bowl. Kraft ducked into the other room at one point to speak with Tom Brady. But for most of two hours on this unseasonably warm January afternoon, the Patriots' owner reflected on the franchise of our time—hated by many, envied by 31 owners, beloved by six states and the president of the United States (who called Kraft with congratulations 24 hours after the AFC Championship rout of the Steelers), and respected by those who understand how hard it is to post 16 straight winning National Football League seasons.
My favorite Kraft line was about money. "The key to success in business, and the key to life, really, is creating aligned interests with smart people," he said. "Winning football games has been more important to me than making money. Winning is what turns me on. Money is pretty good, but a shroud has no pockets."
My favorite Kraft story was about the Belichick hire.
It happened 17 years ago this month, the drama that caused a rift between Belichick and his mentor, Bill Parcells; that caused Belichick to resign as the coach of the Jets within two days of assuming the position; that caused Belichick to sue the NFL and the Jets for not allowing him to coach elsewhere; that prevented Dom Capers from being the coach of the 2000 New England Patriots; and that caused bitter rivals (the Jets and Patriots) to exchange Belichick and five draft choices in the biggest trade for a coach in history.
In short: Belichick was an assistant on Parcells' Jets staff, and his contract (buttressed by a $1 million bonus from then-owner Leon Hess) called for him to succeed Parcells when Parcells stepped down as coach. Which happened on the night of Jan. 2, 2000, after the Jets finished the 1999 season with a win over Seattle. Parcells' resignation was announced the following day (he would remain director of football operations). The Patriots filed a request with the league on the morning of Jan. 3 to interview Belichick for their vacant coaching job (after firing Pete Carroll), but were denied, because the clause in Belichick's contract tied him to the Jets. The next day Belichick quit due to uncertainty surrounding the sale of the team to Woody Johnson (smart move) and his distaste for non-football-man president Steve Gutman. The Jets hired Al Groh to coach the team. But they wouldn't let Belichick out of his deal. The battles between the two teams, involving commissioner Paul Tagliabue and a federal court as well, lasted three weeks.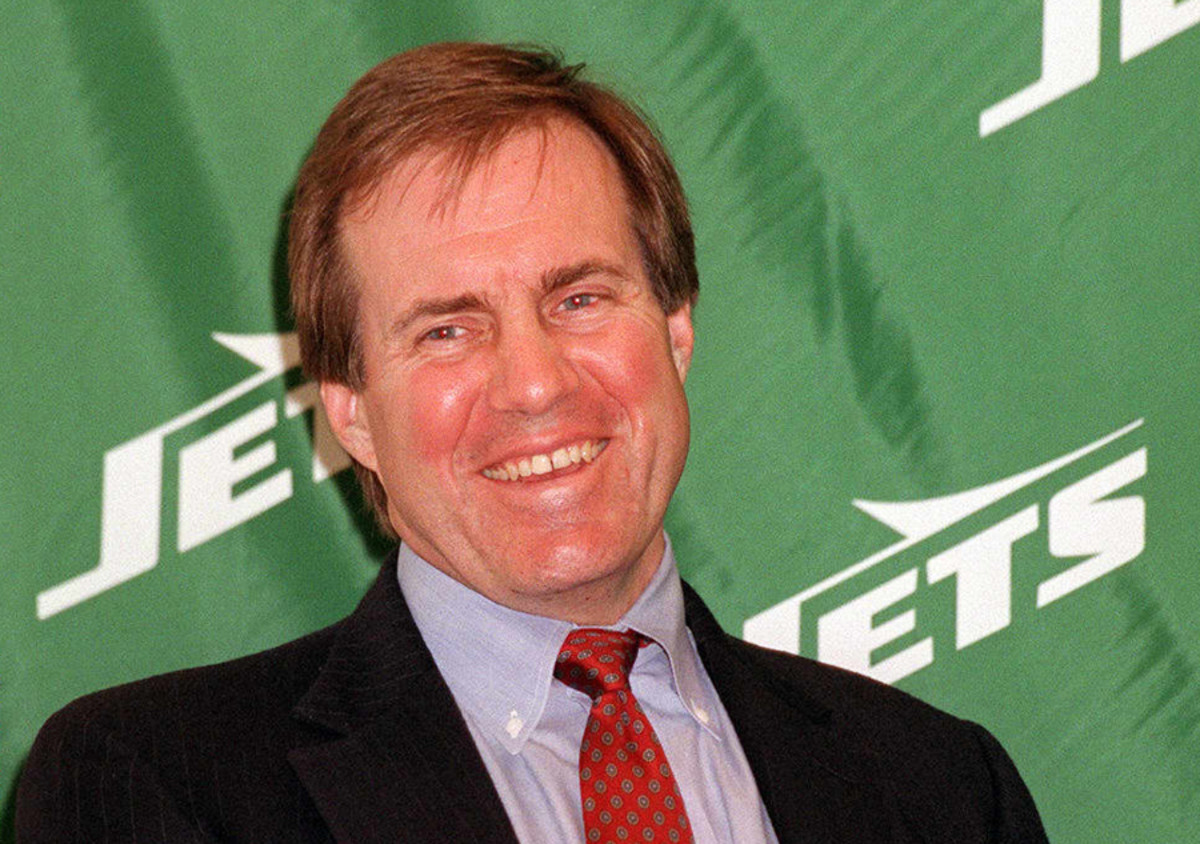 "To start," Kraft said, "you need to understand we were without a coach for almost a month, and the other coaches had been hired around the league, and they had hired coaching staffs, and I was getting killed for it. Killed. The league office thought I was crazy for wanting Bill. Everybody in there—George Young, Joe Browne, people at the highest level of the league. It was toxic. Nobody thought it was a good idea. I was getting killed by the media in Boston. Bill had one winning year in five seasons in Cleveland. And then I got sent video tapes of a couple of his press conferences in Cleveland."
Proof, he saw, of Belichick's communication skills. Or lack thereof.
"So after all that," I said, "were you a little scared of hiring him?"
"Of course!" he said. "How could I not be? I watched those tapes!"
But Kraft remembered a couple of things. In 1996, after he was fired by Cleveland, Belichick was on the market, and Parcells lobbied for Kraft to hire him; Kraft thought Belichick, if he didn't go to New England, would have ended up coaching on Miami's staff in 1996. So Kraft okayed the hire, and the Patriots went to the Super Bowl that season, with Belichick's secondary a big reason. "I asked the defensive backs, 'What has Bill [Belichick] brought?' And they said he always put them in the right position to make plays.' When Parcells left after the Super Bowl, we decided to clean house, and I met with Bill [Belichick]. Now, we had just started this era of the salary cap a couple years earlier, and to understand the salary cap was to understand value. The one thing he said to me when he left was, 'You should sign Troy Brown. Great value there.' I remembered that. Here was a guy on the other side of the ball, and Bill knew how important he was. And he turned out to be right."
• SUPER BOWL 51: Bill Belichick's North Star—how the Patriots coach and the Naval Academy continue to influence each other
With the case hung up in court, and the Jets knowing they'd get nothing if they hung on to Belichick for a season, Parcells called Kraft on the night of Jan. 26. The two men hadn't spoken in three years, since a bitter parting after the Super Bowl season of 1996.
"My [secretary], one night, says to me, 'Someone saying he's Darth Vader is on the phone. Do you know who that is?'" Kraft said.
"Oh, I knew who that was."
Said Parcells: "He was getting ready to hire Capers. I just said to him, 'I want a 1 [a first-round pick] and something else.' It really wasn't that hard."
The Patriots sent a first-round pick in 2000 and fourth-round and seventh-round picks in 2001 to the Jets for the rights to Belichick, plus a fifth-round pick in 2001 and a seventh-round pick in 2002. (None of the picks mattered but for longtime serviceable defensive lineman Shaun Ellis, taken with that first-rounder by the Jets.)
"He could have held me up for more," Kraft said.
"I called Bill the next morning," Parcells said. "I told him to call Kraft. I told him he should make sure to get at least four years in his contract."
Belichick's New England deal was announced less than 24 hours after Darth Vader's phone call.
"I always felt we had a little bit of simpatico," Kraft said. "It's like a woman. A spouse. What's right for me might not be right for some other man. In a football sense, he had product knowledge. Troy Brown. I listened. I remembered. Honestly, it was like when I bought the team. I thought I was going to pay $115 million, maybe $118, $120. I ended up paying $172 million, the most for a team ever at that time. I broke every rule in business when I did that. But you know why I did it? It's my hometown team. I loved that team. I knew I'd never get another chance to buy it. So with the coach, I wanted Belichick. I was getting what I wanted if I got him. I'm not thinking about the next year or two. I'm thinking about three years, five years, 10 years. He was going to be with us for a long time."
Now he has been. And Kraft has no regrets. Four Lombardi Trophies, a few spats … and no regrets. You hear about differences inside the upper echelon of the Patriots, the kind of differences that happen when strong-willed successful people disagree. But the thing about the Patriots is, the disagreements rarely reach the front page of the Globe.
"We're like a family," Kraft said. "When we disagree, we disagree in private. In all my businesses, we do not tolerate division from within."
• SUPER BOWL 51: The Tale of Tom Brady and Johnny Foxborough—how Belichick gets the best out of his star QB, by treating him like any other player
* * *
Now for the obvious question: Won't this one mean more?
For so many reasons, but mostly because of the war between the NFL and the Patriots over Deflategate and the Tom Brady suspension to start this year, and because of Kraft. He's an extremely loyal league guy, but got slapped down with such an onerous sanction: a four-game suspension for his quarterback, the loss of first-round and fourth-round draft choices for the team and a $1 million fine.
"Nothing, to me, will ever top the first [Super Bowl win]," Kraft said of the 20-17 upset of the Rams that capped the 2001 season. "It's right after 9/11. We're red, white and blue. The Patriots. The underdog. So many people pulling for us. We'd waited 42 years for it.
"This year, to me, is life. When you want something so badly, you work for it and go through the hard times. You persevere. Our organization hasn't made excuses. What happened was unfortunate. I don't think it was fair, the league's penalty on us. But it is what it is. In a way, our fan base has bonded even more with us through the hard times.
"I want Roger [Goodell] to do the right thing for the league, obviously. In this case, I don't think he did that. He got bad advice from the people around him, and the league didn't handle it well. But I've compartmentalized it. Now we try to win the biggest game of the year."
"But," I said, "what would it be like to stand up on the podium after the game and have Roger hand you the Lombardi Trophy?"
Pause. Kraft looked over my shoulder, out the window, toward Central Park.
"It'd be sweet."
• ROAD TO HOUSTON: Follow our Super Bowl 51 road trip, with feature stories on the Patriots and Falcons, plus tales from along the way
* * *
The Very Interesting Shanahan-Lynch Pairing
Sometimes, a story that seems so preposterous when you first hear it makes more sense the longer you digest it. A preface: I've always thought an arranged marriage between a coach and a GM is stupid. On very rare occasions (Pete Carroll-John Schneider) it works. Most often (Josh McDaniels-Brian Xanders, Chip Kelly-Howie Roseman, Rex Ryan-John Idzik, Rex Ryan-Doug Whaley, etc.) it does not. That's why it seemed odd that the 49ers would place Kyle Shanahan—their coach one week from today—in a room with ace Vikings scout George Paton and then with ace Cardinals scout Terry McDonough, and then smoke would come out of the chimney and Shanahan would say about one of them: "That's it! That's my GM!"
It's just not a smart way to form a partnership. So when Adam Schefter of ESPN reported that John Lynch had contacted Shanahan last week and told him he was interested in leaving TV to be a GM, and Shanahan returned the interest, the story began to make sense. Lynch spent Thursday night with Jed York in the Bay Area, then flew to Atlanta and had four more interviewing hours with York, and then York saw him debriefed by Shanahan in an Atlanta hotel room … that's when York thought this was real, and possible.
After going through the Shanahan sessions with Paton on Friday night and then McDonough on Saturday morning, York thought the Lynch fit was best. As did Shanahan.
Shanahan is 37. Lynch is 45. Lynch has watched John Elway go from inexperienced former star player to Super Bowl champion GM. They are friends. Lynch has enjoyed his Fox analyst work, but I am told he longed for something more, something with more substance. Now he'll have to figure out whom to hire and trust as his football czars in San Francisco—as Elway has, with Tom Heckert and Matt Russell in Denver. Maybe it'll be former Tampa Bay GM Mark Dominik, or incumbent personnel man Tom Gamble in San Francisco. But Lynch is going to need help. Lots of it.
The reason why I'm not down on it? I know Lynch. He knows his limitations. He knows he needs a couple of great scouts to help him. Lots of people will recall the last Fox analyst to ascend to the throne of an NFL team without personnel training—Matt Millen in Detroit in 2001—and how miserably he failed. This may be the same thing. If Lynch doesn't surround himself with strong personnel people, it will be the same thing. If Lynch and Shanahan don't find a long-term quarterback, regardless of their long contracts, they will fail in their quest to lead the 49ers out of the wilderness.
"Nothing is guaranteed," York said late Sunday night. (He also said, "I need some sleep.") "But so many opportunities are missed in the NFL because people don't want to do something different. We're okay with that, because I am confident in Kyle and John. John has watched John Elway, and how he's built a team in Denver. As easy as it is to say he hasn't built a team yet—I get that—I talk to Kyle, and he says John is the most prepared of all the TV [people] he meets in the production meetings before games. We understand we'll have to live with growing pains, but I'm willing to do that because I believe the upside with both of them is so great."
It all sounds good—the enlightened GM, the overly bright coach—but nothing will matter until one of them picks the right quarterback to help rebuild the Niners. Knowing each man the way I do, I expect they both know it.
• THE COLLEGE COLUMN: Emily Kaplan on the big arms and the draft's biggest risers at the Senior Bowl
* * *
About that Goodell-Kraft-Brady Dynamic...
Robert Kraft told me he doesn't expect any incidents if the commissioner has to hand the Lombardi Trophy to him Sunday night, or stand with Tom Brady at the MVP ceremony Monday morning. It's an interesting but overplayed angle of this week. The real drama in a post-game presentation happened 36 years ago, when Raiders owner Al Davis was in the middle of a lawsuit try to move the franchise from Oakland to Los Angeles, and the Raiders beat the Eagles in the Super Bowl, and commissioner Pete Rozelle, who hated Davis with most fibers of his being (the feeling was mutual), had to hand the trophy to Davis.
Rozelle had an ingenious plan. To avoid Davis dissing him by not shaking his hand, Rozelle said a few nice words to America about the Raiders' big win, handed the trophy to Davis with both hands, and got off the podium.
"It started as part of the AFL-NFL war," recently retired NFL PR man Joe Browne said last week. "Al was left out of the merger talks [between the AFL and NFL], and the conflict lasted the whole decade of the seventies. Whatever we did, the Raiders complained about. Scheduling, second-guessing throughout the labor strife. It was one big second-guess, one big criticism."
Then, two days before the Super Bowl, Rozelle said: "From a practical viewpoint, the Raiders being in the Super Bowl makes it all the more unconscionable to have the Raiders leave Oakland." Kindling thrown on fire.
"That Super Bowl Sunday day was interesting," said former Raiders executive Mike Ornstein. "I was walking with [Davis] to the stage, for the presentation, and he said at one point, 'Damn, this is going to be fun.' I don't know if Al ever looked at Pete. He took the trophy, turned away, held up the trophy, and I think he said, 'Just win, baby.' … Really, that was a much more contentious battle than this one between the Patriots and the league. It was a war. That was a great win for the Raiders. The smile on his face was ear to ear.
"I don't expect Tom Brady, who is such a class act, to do anything."
• SUPER BOWL GEAR GUIDE: From Julio tees to Patricia hoodies, Dominic Bonvissuto runs down the best apparel for Patriots and Falcons fans
* * *
Bon Voyage, Brent Musburger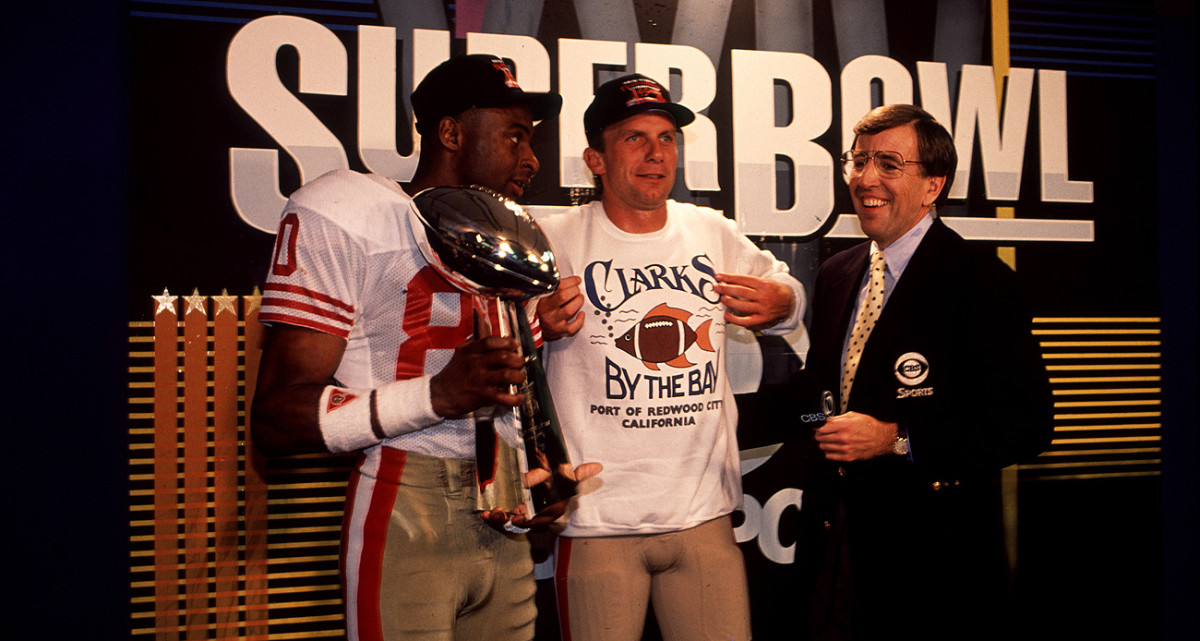 It's a shame that, except for two years in the mid-'90s when he hosted a halftime segment on ABC's "Monday Night Football," Brent Musburger hasn't worked the NFL for a quarter-century. He was Chris Berman before Berman, the iconic host of the iconic studio show "The NFL Today," which was appointment viewing before and during football games until CBS parted ways with Musburger in 1990. He's 77 now, and has been a fixture on ESPN college games for years, and he is retiring now to move to Las Vegas to work with a new sports betting network; the Las Vegas Review-Journalreported he'll host an afternoon talk show on sports and gambling on Sirius XM Satellite Radio. His final game on ESPN is Tuesday night with Jay Bilas: Georgia at Kentucky. "I always knew I would head back out west one day, closer to our two boys in Montana," Musburger told me Friday. "[Sports gambling] is a growth industry, and with the Trump administration in office, it might be a chance it grows beyond the Nevada borders. People like the action, and those in the NFL who are honest realize how much the gaming factor has played into the growth of the league."
Three questions for Musburger, from his home in Jupiter, Fla. (he'll soon move to Nevada), yield this insight: He might not have been working football over the years, but he sure knows a lot about it. (More about my personal feelings on Musburger in Ten Things I Think I Think.)
MMQB: How much have you missed working the NFL?
Musburger: Here is what I miss. Things like this: If you give Mr. Belichick an extra week, he will take one thing away from the Falcons. Just watching the games and watching the Patriots, you learn what he does so well and why he's such a great coach. Also: How is the money flowing? What are the bettors saying about this game? I have fun with the games, and look forward to all of them. I miss the NFL a lot. This era of NFL players I covered in college. Matt Ryan, at Boston College … one of the most intelligent players I dealt with. Tom Brady, entirely different story. He was engaged with Drew Henson in college so often, battling for the quarterback job at Michigan. And he was … well, I did not see this coming. But the people in that league intrigue me. Can you imagine how things have changed? Think back to my favorite photo. The photo of Joe Namath before Super Bowl III, on the beach chair, getting interviewed down in Miami. [Musburger, a radio man from Chicago, and several sportswriters were in the photo.]
My wife, Arlene, and I went to that dinner a couple nights before the game where Joe guaranteed the win. Strange thing. Not Trumpian at all. Not emotional. Just matter-of-fact. I watched the game from a photo deck at the Orange Bowl. Right next to me was Howard Cosell.
MMQB: Assuming the Raiders move to Vegas, how do you think they'll do?
Musburger: I think it will be an enormous success, especially for the fans of the teams that play the Raiders in Las Vegas. Every season, the road fans will plan trips to Vegas to see their teams. They will find a very, very warm reception in the community. It's a growing community, very transient. It's a natural. Vegas has grown so much beyond the gambling, and the NFL will find that out.
• FOOTBALL IS MORE FUN WITH ACTION: Dominic Bonvissuto outlines how to spend a weekend in Las Vegas watching playoff football
MMQB: Best coach of all time: Paul Brown, Vince Lombardi, Bill Belichick?
Musburger: Such a tough call. I really wasn't around Paul Brown in his prime. Vince Lombardi, I was around him more than any of those three. Talk about how times changed: On Saturdays before Green Bay home games in the sixties, Red Smith and some of the New York columnists, and some of the rest of us coming in for the game from out of town, we would all go to Lombardi's house for cocktails and hors d'ouevres. And he'd be there with a drink, as jovial and engaging and as wonderful a personality as you could imagine. Vince Lombardi! Entertaining the media the day before the game! Somebody would ask him about his preparation, and he'd say, 'Hay's in the barn, young man. Nothing I can do.' Now, Bill … Bill has mastered being a stoic. I ran into Bill down here in Jupiter last year, in a yogurt shop, with his lady friend. A social conversation with Bill lasts a minute, minute and a half, then you move down the road. But it's so much harder to build teams now, obviously. The free-agent era makes it much more difficult than what it used to be. I marvel at how Bill handles his roster. He gets rid of Richard Seymour and the name players. He did it this year too [with Chandler Jones and Jamie Collins] … I would say this: In the Super Bowl era, he is the best of all the coaches. The very best."ts
• HOW BELICHICK BUILDS A TEAM: Robert Klemko on how the Patriots' unquestioned success and Belichick's style gives them a huge advantage in roster-building and negotiations
*Bonus question: What do you think of Deflategate?
Musburger​: This is what I tell people about that. Go get the play-by-play of the championship game with the Colts, when the Patriots supposedly tampered with the footballs, and the balls were changed out by the league at halftime. Look at Brady's stats in the first half (11 for 21, 95 yards, one TD, one interception), and then look at his stats in the second half (12 of 14, 131 yards, two TDs, no interceptions). I shake my head still at how far the league went on that one.
• ERIN ANDREWS—THE PAIN YOU CAN'T SEE: The Fox sideline analyst opens up about her emotionally draining civil trial and her cancer diagnosis
* * *
Quotes of the Week
I
"Oh my God, I'm not interested in that."
—Cleveland coach Hue Jackson, to Mary Kay Cabot of the Cleveland Plain Dealer, about the all-access show "Hard Knocks" potentially featuring the Browns in 2017.
II
"The reality is that Tommy never got suspended for deflating footballs. He got suspended because the court said that he could—Roger Goodell could do anything he wanted to do to any player for any reason whatsoever. That's what happened."
—Tom Brady Sr., in an interview with KRON-TV in San Francisco.
III
"If they pass on Deshaun Watson, they're passing on Michael Jordan."
—Clemson coach Dabo Sweeney, on the Browns.
Easy, Dabo. Easy.       

IV
"As players, we are kind of caught between a rock and a hard place, because, of course, we aren't looking forward to the move but we also kind of have to be. We have to be looking forward to it because if we're going up there with the wrong attitude, we won't have a shot. I think as players we kind of have to give a little false enthusiasm there to make something happen."
—Chargers center Matt Slauson, to the "Hardwick and Richards" show on XTRA 1360 AM in San Diego, on the team's move to Los Angeles.
V
"I hope when a little girl walks by that statue, she'll ask her mother who that was. And it'll be explained to her that she was a young woman who had a dream and followed it through."
—Mary Tyler Moore, who died Wednesday, speaking in 2002 about the statue unveiled in Minneapolis of her throwing a hat in the air, as she did to open "The Mary Tyler Moore Show" every Saturday night from 1970 to 1977, when it was one of the most popular TV programs in America.
VI
"Melancholy, no. I have been so busy I haven't had time to get melancholy. That will happen the next time college football comes around and I don't have a stadium in front of me."
—Brent Musburger, 77, retiring this week from his college football and college basketball play-by-play gigs at ESPN.
* * *
Stat of the Week
You just haven't been paying attention this season if you think the Falcons are lost if Julio Jones gets shut down.
Jones missed two games because of a turf toe injury this season. Atlanta averaged 41.5 points a game in beating the Rams and 49ers … by four touchdowns apiece.
Jones had four little-to-no-impact games in the 14 he played in the regular season. I looked at those games. Atlanta went 4-0 in the four games, and averaged 34.8 points per game. Looking at the four games, and how Jones' numbers compared to the combined numbers of wideouts Mohamed Sanu and Taylor Gabriel and backs Tevin Coleman and Devonta Freeman:
| | | |
| --- | --- | --- |
|   Game   |   Jones Rec-Yards-TD | Sanu/Gabriel/ Coleman/Freeman Rec-Yards-TD |
| Beat N.O., 45-32 | 1-16-0 | 13-166-1 |
| Beat Denver, 23-16 | 2-29-0 | 10-210-1 |
| Beat Green Bay, 33-32 | 3-29-0 | 16-175-3 |
| Beat Arizona, 38-19 | 4-35-0 | 16-161-2 |
So, in the six games this season when Jones either did not play or was a small factor, Atlanta was 6-0 and averaged 37.0 points per game.
• MATT RYAN IS OLD SCHOOL: At Ryan's 320-year-old high school in Philly, he's remembered as a low-key leader—just like now—and a 6'5" triple-option QB
* * *
Factoid That May Interest Only Me
The Falcons have five single-digit players, and all are named Matt:
2: Matt Ryan, QB
​3: Matt Bryant, K
4: Matt Simms, QB (practice squad)
5: Matt Bosher, P
8: Matt Schaub, QB
Atlanta has no players between 9 and 99 named Matt.
As you'll note, the three quarterbacks on the roster are all named Matt. Their position coach? Matt LaFleur. Which leads me to wonder when coach Dan Quinn ducks into the quarterback room and says, "Hey, Matt," do four heads turn?
* * *
Mr. Starwood Preferred Member Travel Note
Two notes as Super Bowl week begins, neither having to do with Super Bowl week:
• I have become a very frequent Delta Airlines flyer. Though I'm sure many of the scores of 8.5-ounce hard plastic water bottles given out to travelers on every flight are recycled, I am baffled about why cases and cases of these bottles, which contain six or eight gulps of water, are used instead of huge bottles of water poured into either recyclable plastic or paper cups. And I'd be hard-pressed to think the vast majority of the bottles are recycled anyway. It's a waste.
• We had a 60th birthday party for my brother-in-law in Pittsburgh on Friday night, and once again, Lidia's Pittsburgh set a record for attentiveness and pasta to die for. I'd like to try other places on my frequent family visits to Pittsburgh, but Lidia's is so good that the thought of a Pittsburgh trip without the Pasta Trio is, well, not very scrumptious. Great place.
* * *
Right Combination of the Week
Devonta Freeman and Tevin Coleman, running backs, Atlanta. How is this for a Right Combination to beat all backfield combos in the NFL? Freeman and Coleman produced 2,834 rushing/receiving yards, with 28 touchdowns. Every time they touched the ball this season (including the two playoff wins), they gave the offense 5.74 yards, on average.
I'm not saying Freeman and Coleman are going to burn the Patriots for 157 scrimmage yards and a couple touchdowns, but that's been their average game this year (1.55 touchdowns per game, to be exact). This is such a huge factor in the Super Bowl: Can the Patriots' defensive front do to Atlanta what they've done to so many good rushing teams this year? (New England's allowed but seven rushing TDs in 18 games.) The Freeman/Coleman combination will be huge, because it's clear that the Patriots won't allow the Falcons' receivers to run wild and have anything close to an average game.
* * *
Tweets of the Week
I
II
III
IV
V
VI
* * *
Pod People
From "The MMQB Podcast With Peter King," available where you download podcasts.
This week's conversations: Atlanta offensive coordinator Kyle Shanahan and legendary Boston sports writer and columnist Bob Ryan.
• Shanahan on working with his father, Super Bowl-winning coach Mike Shanahan, in Washington: "When I was younger I always told my dad that I wanted to coach with him one day. … I had to prove myself first, and once I had a chance to prove myself, that is when I wanted to coach with him. When he got fired from Denver, kind of unexpectedly, and he had that year off, I remember telling him—I was a coordinator at Houston at this time, and we had been third in the league and things were going really well in Houston, and my dad was taking the year off because he just got fired—and I remember telling him, 'Dad, when you get back, whether it is next year or 10 years from now, college or NFL, I realize that you aren't going to be an NFL coach forever, and it is important to me that we coach together someday, so whenever you get back, I am going to go with you if I can.' He came back the next year, and it was Washington, and I went there and I would never take it back. If my dad had ever passed away and I had never coached with him before, that is something that would have been real hard on me. I wish it could have gone a little bit better. But I think it was something I needed to do. Even though it was hard, it made me stronger, and I wouldn't take it back for anything. My dad and I have always been close, and that was the first time I ever really got to see him as a coach, being a coach, and he is a hell of a coach and I don't regret anything."
• Ryan on how Tom Brady compares to the best basketball player he covered daily in Boston, Larry Bird: "I'm going to tell you a Larry Bird story that I think you can apply to Brady. In 1983 the Celtics were swept in the playoffs by the Milwaukee Bucks, and it was the low point of that particular era. Bird had been sick and missed game one and never got off the mark. After game four in Milwaukee … I was there and I didn't have a deadline so I was able to hang around in the locker room after everyone had left. There were two of us left in the locker room with Larry Bird. Larry said that he was taking this loss personally and he was going home and he was going to practice and he was going to get better and he was going to come back a better player and next year they were going to come back and win a championship. And he went home and they came back next year and he was a better player. He had a left-hand shot that he did not have before. He had moves that he did not have before, and of course they made a big move to get Dennis Johnson, and they also changed coaches, but the point is, that is the attitude that I think Brady has always had as well. Never satisfied, he always feels that he can get better. He has the highest demands on his players, as you know with his receivers. Do you agree with me, that it has got to be the hardest team in the league to be a wide receiver? If only because of the complexity of the offense and most specifically because of the demands of the quarterback."
• Writer's Note: On Wednesday, the Super Bowl preview podcast will be out, and it will include a segment with Seattle quarterback Russell Wilson, the only QB to defeat both Super Bowl teams this year. Wilson was an identical 25-of-37 in victories over Atlanta and New England—a 26-24 win over the Falcons in Week 6, and a 31-24 win at New England in Week 10—and he'll talk about what each quarterback will face against a defense he hasn't seen in a while. The Patriots and Falcons haven't met since 2013.
Also this week: We've completely sold out our Podcast event at St. Arnold Brewery downtown Thursday night. I'll have conversations with Chris Berman, Mike Pereira and one more special guest. Thanks to everyone who bought tickets. See you Thursday. 
* * *
Ten Things I Think I Think
1. I think these are my quick notes of analysis from the off-week:
a. I know one thing about the Jets' hire of Kevin Greene as outside linebackers coach: If any 2017 Jets linebacker doesn't love football, Greene will snuff him out.
b. Still think the best landing spot for Tony Romo is the Texans.
c. I simply cannot see Bill O'Brien starting Brock Osweiler next fall.
d. East Carolina wideout Zay Jones jumped up some draft boards with his performance during Senior Bowl practices. He made some Beckham-like catches.
e. When I wrote the other day that Mike Tomlin needs to have a tougher hand with some players on his team, I wasn't saying that Tomlin's lost the locker room—not even close—but rather that every coach sometimes needs a reality check about disciplining his players.
f. This is going to be a difficult and fascinating year for the Hall of Fame selections and the 48 selectors when they gather Saturday morning in Houston to pick the class of 2017.
g. Of the 14 modern-era candidates not named Tomlinson, there's not a single one who's close to a lock, which leads me to think (probably dubiously) that it finally could be a year where we break the safety logjam (John Lynch, Brian Dawkins and, as a senior committee finalist, Kenny Easley) that has festered in Hall voting for so long.
h. This is also the week for the NFL awards to be announced (Saturday night in Houston), and, to refresh, I've got Matt Ryan as MVP and Bill Belichick as coach of the year; feel good about Ryan, not so good about Belichick's chances.
i. It still seems like a huge reach to me for the league to be doing anything but a hand-slap to Seattle for the Richard Sherman injury-report investigation, seeing that Sherman never missed a game and played in the Pro Bowl last night.
j. The object of the report is to ferret out information about players who likely will miss a game or games—which Sherman never did.
2. I think, from some viewing of the Pro Bowl (for the first time in several years), one player impressed me: Tennessee defensive tackle Jurrell Casey. Few players play this game hard. Rare players play like it's a real game. Casey is one of the latter.
3. I think, as I wake up this morning, I am still mind-boggled at the 49ers taking the risk of the year and hiring John Lynch as GM. Hiring a coach, 37 years old, who's never been a head coach. Hiring a GM, 45, who's never worked in personnel. Well, Jed York wanted to buy a lottery ticket and shoot for the moon … he's done that.
• MIND YOUR NFL BUSINESS: Andrew Brandt has 10 thoughts on the ongoing happenings of the NFL's business season
4. I think the Colts hired a very good man in Chris Ballard as GM. Always wondered why he never got a job before Jim Irsay hired him this weekend. Come to find out Ballard withdrew from some, and wanted to stay in the Midwest for family reasons, and this is the perfect shot for him. What GM who wants to win a Super Bowl wouldn't want to have Andrew Luck as the baseline player to start? Now Ballard is going to have to convince some great scouts—and he is very well-connected in the scouting business—to come help him build a great team around Luck. Immediately, he's going to have to build an offensive line. There's a fire alarm there, because Luck is the most important player on this team, and the line is D quality at best.
5. I think this is your DVR Alert of the Week: a one-hour special Thursday night at 10:30 p.m. ET on the life and broadcasting times of ESPN's Chris Berman ... including an interview with Bill Clinton, who was in in the booth when Berman and Buck Martinez had the call on Cal Ripken's Ironman game. Cool hour of TV, I'm sure. Marv Levy, Dan Patrick and Bill Belichick on the show too.
6. I owe Brent Musburger a debt of gratitude. In the mid-'90s I did NFL news updates at halftime of the Monday night game for two seasons for ABC. The first time I ever walked into the studio, on a September Monday night in 1994, I met Brent and told him I'd never done TV before. (Seems like something significant, but who I am to divine what's important about television?) Brent being the coolest cucumber in the room, he said, "Kid, don't worry. I'm gonna make you look good." And for two seasons, every time we were together, he'd ask me about the news of the day, and how we wanted to present it, and he'd say things like, "What if I set you up like this?" Sometimes we'd talk about stories and he'd tell me what would play best for a Monday night audience. In 1995, Deion Sanders, one of the game's biggest stars, said he'd talk to me after undergoing ankle surgery in Coral Gables, Fla., and he wasn't totally lucid for the interview; he was still slightly anesthetized, but halftime was approaching, so we had a choice to make. Brent and the producers found a good sound bite that was Lucid Deion, and we got a good scoop. Brent knew news, and he knew you don't embarrass people who'd gone the extra mile to do an interview with you.
7. I think I have a feeling Tom Brady Sr., won't be doing many interviews in Houston this week. But Sunday night? After the game? All bets will be off.
8. I think Tim Graham and the Buffalo Newsare to be congratulated for their work in not letting the sad saga of concussion-ravaged kicker Bjorn Nittmo go away quietly. Graham has now written twice at length about the pain Nittmo suffered, and then inflicted on his family as he attempted to fade into darkness himself. Great piece by Graham on Saturday.
9. I think I could not be more proud of The MMQBthis week, for:
a. Emily Kaplan's incisive and news-breaking story in which Erin Andrews opens up on the stalking scandal and her cervical cancer diagnosis.
b. Tim Rohan, on how close the Patriots' dynasty actually came to taking place in Hartford, not Foxboro.
c. Jenny Vrentas, on the intriguing roots of Matt Ryan, and how he's never forgotten where he's from.
d. Robert Klemko, with an insightful story about the Patriots getting discounts from players they sign because they want to play for the Patriots so much.
e. Andy Benoit with some insight on what kind of defensive game plan to expect from the Patriots against Atlanta's explosiveness.
f. Albert Breer with the special instructor Matt Ryan and Tom Brady both used, quietly, to get better in the offseason.
g. Photographer/videographer John DePetro and Road To Houston tour boss Kalyn Kahler, on finding real Falcons in north Georgia, and by golly, in downtown Atlanta.
h. I'll pass this along from Stephen Rosenberg, who tweeted the other day: "The current work by your young writers is the best I have read since the glory days of SI in the 70s and the Post in the 80s." Nice.
10. I think these are my non-football thoughts of the week:
a. Regarding Steve Bannon saying the press "should keep its mouth shut" and the press is "the opposition party," I urge this great champion of the Constitution to study the First Amendment, which says: "Congress shall make no law respecting an establishment of religion, or prohibiting the free exercise thereof; or abridging the freedom of speech, or of the press; or the right of the people peaceably to assemble, and to petition the Government for a redress of grievances."
b. I am pretty sure I will have more to say in non-football thoughts about this scurrilous human being in the coming weeks. I do hope it's just weeks, and not months. Because if it's months, it means Steve Bannon will stay relevant. And that will be bad news for the United States we all love.
c. Watching the excellent PBS Frontline documentary "Donald Trump's Road to the White House," it was clear that the louder and more bombastic Trump was, the more he appealed to the growing crowds. And the more he ripped the tar out of his opponents—whether true or false—the more the crowds loved it and became more dedicated to him. I've never seen momentum in a political campaign grow so steadily and fervently.
d. Amazing investigation by David Barron and Jake Kaplan of the Houston Chronicle into the Cardinals' hacking of the Astros' scouting system and computer network.
e. Football story of the week, by the Los Angeles Times' Sam Farmer, on the new Chargers coach, Anthony Lynn, who cheated death in a horrendous accident.
f. A few notes about the death of Mary Tyler Moore, if those 35-and-unders wonder why such a big deal was made of her passing: Her sitcom, "The Mary Tyler Moore Show," which was a Saturday night fixture from 1970 to 1977, was one of the first shows ever made with a single woman, 30ish, choosing a career instead of housewifery, and a career of influence in a male-dominated business. She was great as Mary Richards, associate producer for the nightly news on a Minneapolis TV station. And though exceedingly pleasant, she wasn't a wallflower. She made it clear that career was more important to her than men, and so many young women of that day got the message: You can have a job and a dream too. Often, serious issues were advanced without hitting you over the head with them. This was a gigantic scene (for the day and time), when Mary walked into her boss' office to complain about her salary.
Mary Richards: "I would like to know why the last associate producer before me made $50 a week more than I do."
Lou Grant: "Because he was a man."
Mary Richards: (indignantly) "Let's get this straight: The only reason he made more money than me is because I'm a woman."
Lou Grant: "Oh sure. It has nothing to do with your work."
Laugh track. (Seriously)
g. Point made. Oprah Winfrey said the other day that Mary Tyler Moore was her role model. Her and a lot of women.
h. This did not go unnoticed, New York Post, the day after Emily Kaplan's story on Erin Andrews was posted on our site: a story in your paper on Andrews' first public comments about the trial in Nashville and her cervical cancer with zero attribution to Kaplan's story. Bush league.
i. How much class does Venus Williams have? To react as magnanimously as she has after recent matchups with sister Serena, who has been so dominant in the sport, is a lesson for all in learning to accept a loss.
j. And Roger Federer winning at 35. Might not be Brady winning a Super Bowl at 39, but it's close. Congrats to him.
k. Saw that tennis aficionado Richard Deitsch of SI.comcalled this the best Australian Open.
l. Coffeenerdness: You can do better than serving a tepid and coffee-flavored-water cup of coffee, Delta. Hope that was just one bad cup.
m. Beernerdness: Excellent to see the spread of white beers around the country. Tried Full Pint White Lightning (Full Pint Brewing, North Versailles, Pa.) in Pittsburgh the other night and liked it a lot. 
n. RIP, Barbara Hale. The legal secretary on "Perry Mason" was always solid, always smart, always terrific.
* * *
The Adieu Haiku
You are looking live!
If you're 32 today,
that means little. Sad!
• Question or comment? Email us at talkback@themmqb.com