Chris Matthews's flash of Super Bowl stardom ended as suddenly as it began
Nobody knew Chris Matthews's name until the reserve receiver helped send the Seahawks to Super Bowl XLIX, then almost took home the game's MVP award. Two years later, he's back on the margins of the NFL.
For the record, Chris Matthews drives a peppy 2016 Dodge Challenger and is perfectly happy with it. (His two-door has some serious giddy-up, he says, adding, "I like to drive fast.") If he covets the red Chevy Colorado pickup truck awarded to the MVP of Super Bowl XLIX two years ago, Matthews isn't letting on.
"I wasn't thinking about the MVP award or the car or anything like that," says Matthews, who as a member of the 2014 Seahawks streaked comet-like across the postseason sky, only to disappear almost as suddenly. "I was thinking about getting that ring, 'cause it's such an elite group. Plus a lot of my teammates at the time already had Super Bowl rings, and I just wanted to feel a part of that."
After making a clutch special teams play in Seattle's dramatic NFC title game comeback, Matthews was the Seahawks' most effective offensive weapon in their ensuing 28–24 Super Bowl loss to the Patriots, finishing tied with Julian Edelman as the game's leading receiver with 109 yards. That didn't stop coach Pete Carroll from calling Matthews into his office the following Nov. 17 and cutting him, underlining what a cold line of work both men are in. Matthews was a heartwarming story, a guy who'd gone from hiding in plain sight to the cusp of Super Bowl history to the unemployment line, in less than a calendar year.
John Riggins is happy to be far removed from his Super Bowl stardom
You may recall that Brady gave that truck to Malcolm Butler, the Pats cornerback whose goal-line interception sealed New England's victory. Of course, had Tom Terrific wanted to reward the person most responsible for that Seahawks defeat, he might have gifted the truck to Darrell Bevell, the Seattle offensive coordinator who called for a slant pattern inside the one-yard line when he had one of the NFL's best short-yardage runners in the huddle. If Marshawn Lynch scores, Seattle wins, Richard Sherman contributes one fewer meme to the internet, the Seahawks spend the off-season answering questions about their budding dynasty, and it is Matthews, rather than Malcolm Butler and Julian Edelman, declaiming in the post-game maelstrom, "I'm going to Disneyland!" 
"Unfortunately, that didn't happen," says Matthews. "But I feel like, as time goes on, I'll definitely get back to the Super Bowl, and win one."
He said this shortly after the end of the 2016 regular season, which he spent quietly on injured reserve with the Ravens. Early in Baltimore's final preseason game, against the Saints, he tore a ligament in his right thumb while blocking on a punt return. "Tore it all the way through," he says. "My thumb was just hanging there."
• Heading to Houston? Buy your Super Bowl tickets here | Parking pass info
It was only after the game was over—Matthews caught five passes for 64 yards—that he informed the trainers. The injury required season-ending surgery, one more obstacle for a player who has already overcome an array of hardships, setbacks and booby traps.
Yet Matthews, who enters the off-season as a restricted free agent, is clawing his way back. Other than creating separation from defensive backs with his deceptive speed and high-pointing balls like Dennis Rodman elevating for a rebound, responding to adversity is what he does best. He's had plenty of practice.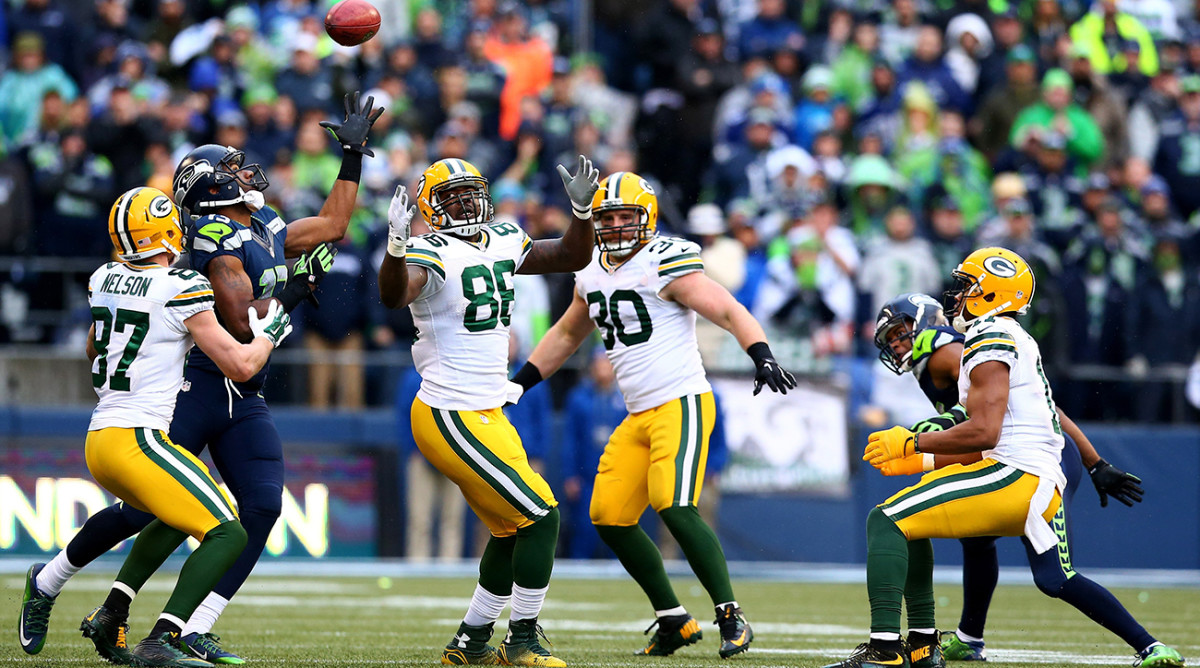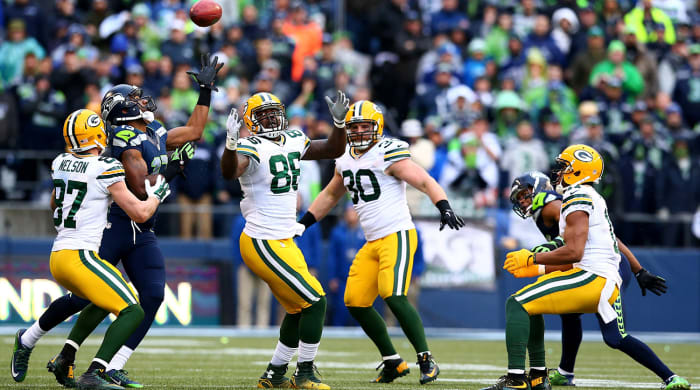 As a member of the football team at Dorsey High in southwest Los Angeles, Matthews had to—this will sound familiar—scrounge for touches. "In high school," he recalls, "I was pretty much what I've been all the way up to the pros: the back-up guy."
With a pair of gifted wideouts already on the roster, Matthews was asked by Dorsey head coach Paul Knox to move to tight end, "just so he could get us all on the field," Matthews says. He was often called on to block for future UCLA and Green Bay running back Jonathan Franklin. The Bruins were interested in Matthews, too, but he fell short of the school's academic standards. San Diego State dangled a scholarship, only to yank it late in the process. After two years honing his football skills—and study habits—at Los Angeles Harbor College, Matthews transferred to the University of Kentucky.
There, paired with another Packer-to-be, Randall Cobb, he did considerable damage to SEC secondaries. His nine touchdown catches tied him for the conference lead; his 925 receiving yards ranked sixth behind, among others, Alshon Jeffery, Julio Jones and Cobb, and just ahead of A.J. Green.
Antwaan Randle El has no regrets and plenty on his plate in life after Super Bowl glory
Matthews looked on miserably during the 2011 draft as a parade of receivers, many of whom have now been out of football for years, heard their names called in the late rounds. (Where have you gone, JerrelJernigan, Kris Dunham, Clyde Gates, Greg Salas, Tandon Doss, KealohaPilares, Ryan Whalen, Ronald Johnson, Scotty McKnight, Stephen Burton, David Ausberry, DeMarco Sampson?) In all, 28 wideouts were selected in 2011, Matthews not among them.
"We were a little surprised by that," allows his agent, Rodney Edwards. "I didn't know it was going to be such a tough road for him, based on what he did coming out." Uninvited to the scouting combine, Matthews ran a 4.59 40-yard dash at his pro day, fine speed for a receiver so rangy, and performed well at the Texas vs. The Nation all-star game.
Matthews signed with the Browns as a free agent on the day the lockout ended and essentially disappeared, catching one ball in his rookie preseason. That his lone reception was a four-yard touchdown against the Eagles did not prevent him from being cut nine days later.
"I was feeling down because I'd worked so hard to get there, and didn't feel like I got a legitimate shot," he says.
No NFL teams called the rest of his rookie year. Thus began a two-plus-year journey to the cold margins of pro football.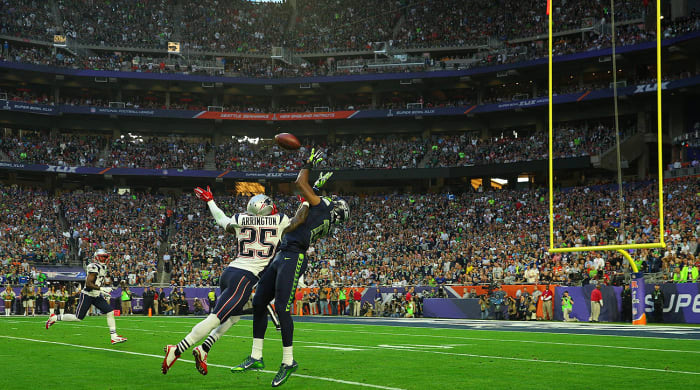 First stop: Des Moines, Iowa, where he shared an apartment with two other receivers on the arena league's Iowa Barnstormers. In six games with the team, Matthews caught 36 passes for 472 yards and nine touchdowns. He never learned that the second 'S' in the city's name is silent.
"We could tell right away he could be an extremely special player in our league," then Barnstormer quarterback J.J. Raterink told The Des Moines Register three years later. "It's tough for a guy who feels like he should be in the NFL to set their ego aside."
Next stop: Winnipeg. Matthews remains bemused and mildly annoyed by his introduction to the CFL's Blue Bombers. En route to a game in Salt Lake City, he took a call from a Bombers scout who seemed conflicted. "The guy said, 'We're looking at you, but if we decide to bring you up here, you've gotta be ready to go, because you can't run by anybody and get open,'" he recalls. "So I'm thinking, 'Well, what did you call me for if you don't think I can do it?'"
Motivated by the scout's doubts, Matthews turned in a monster game in a 63–62 loss to the Utah Blaze. The next day, Winnipeg called back, then flew him to its rookie minicamp. He performed well there and in training camp, only to lose his starting job on the eve of the season.
"After everything I'd done," he says, "they put another guy ahead of me."
That guy went down with an injury, and Matthews blew up, racking up 81 catches for 1,192 yards and seven touchdowns in 2012 to earn the CFL's Most Outstanding Rookie Award. Following his second season north of the border, during which his production was limited by injuries, he worked out for the Chiefs, Packers and Giants.
In February 2014, Matthews was back in the L.A. area, working as a security guard, with hopes of being hired by a nearby Foot Locker, where he'd submitted an application. One day, while he was on the job as a rent-a-cop, Seattle called.
After The Helmet Catch, David Tyree took a winding road to his second Giants job
He signed soon after and spent the 2014 season yo-yoing between the Seahawks' practice squad and unemployment. During his weeks with the club, he poured his energy into special teams, knowing that would be key to his survival—even though he hadn't played it in high school or college. "The first thing you hear when you get to the NFL is that the only way an undrafted player's gonna make the roster is to play special teams," he says. Under the direction of Seattle cornerback/special teams ninja DeShawn Shead and assistant coach Chad Morton, he became better than proficient. On Dec. 6, 2014, Matthews was promoted to Seattle's active roster.
Six weeks later, in the NFC title game against the Packers, Matthews watched from the sidelines as Russell Wilson's passes clanged off the hands of his regular receivers. Finally, after getting four interceptions out of his system, Wilson put together a comeback. Green Bay led by just five with 2:09 to play when Matthews took the field as the Seahawks lined up for an onside kick.
"We used to always practice the onside kick on Friday, just to get all the kinks out, let everybody know exactly where you need to be," he remembers. "But it was always just a walkthrough type of thing, on air." When he walked onto the field with the season on the line, it was the first time he'd taken a live rep of an onside kick. That was O.K.—his job wasn't to come up with the ball but to free up Kam Chancellor.
But Green Bay's Brandon Bostick muffed the ball, and Matthews opportunistically snagged it. One touchdown, a Hail Mary two-point conversion and an overtime bomb later, Seattle was Super Bowl-bound.
Against the Patriots, the Seahawks struggled to move the ball on offense yet again in the first half. Late in the second quarter, Wilson looked down the right sideline for Matthews, who was a decoy on the play and did not expect the ball.
"We'd practiced that play for two weeks and Russell never threw that ball," Matthews says. "I don't know why he decided to throw that one, but I thank him to this day for it."
Elevating over cornerback Kyle Arrington, Matthews made a twisting, mid-air adjustment and came down with a 44-yard catch, the first of his NFL career. Three plays later, Lynch bulled in from three yards out to knot the score at 7–7 with 2:16 to play in the half.
After the Patriots responded with a touchdown, Wilson drove the team 69 yards to the 11-yard line in four plays and 29 seconds. With two seconds on the clock, the Seahawks called timeout. "The coaches were arguing whether or not to kick a field goal," Matthews recalls, "and Pete turns around, looks at me and goes, 'C'mere Chris. I'm gonna throw you a jump ball.' I was like, 'All right, for sure!'"
Matthews made Carroll look brilliant, beating cornerback Logan Ryan in the end zone to snag Wilson's perfectly placed pass.
In the second half, he hauled in a 45-yard pass, helping set up a field goal. His fourth catch, a nine-yarder, jump-started a 50-yard touchdown drive. His final line would have put him squarely in the MVP conversation with Lynch, who never got a chance to cement his case with a game-winning run down near the goal line.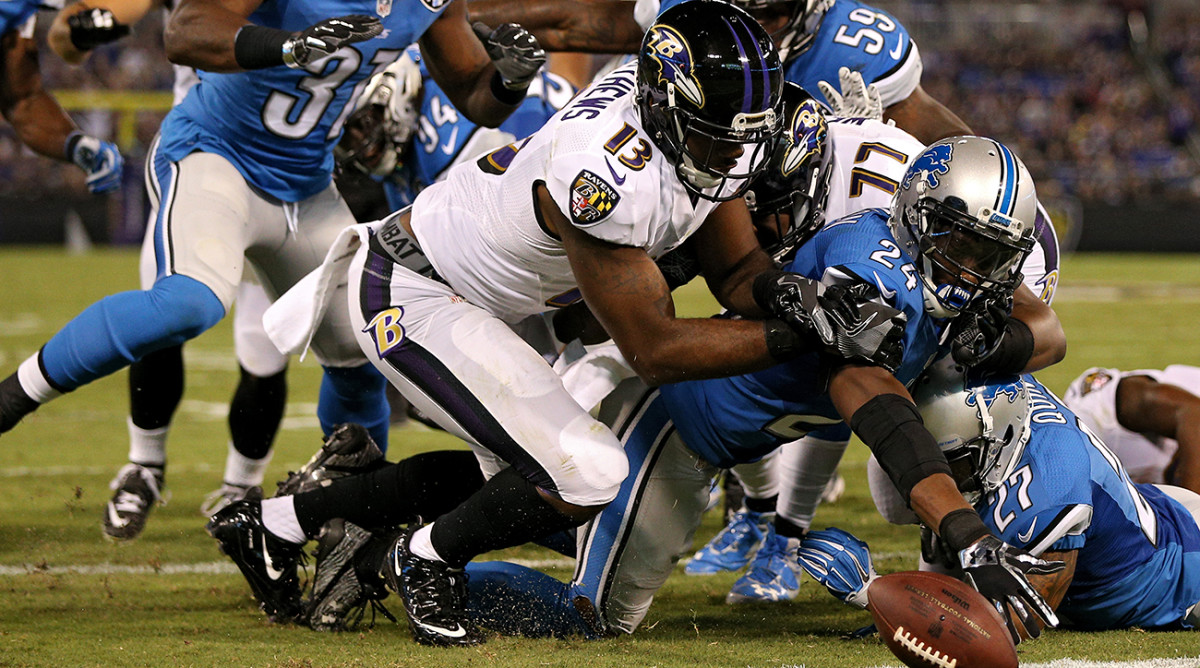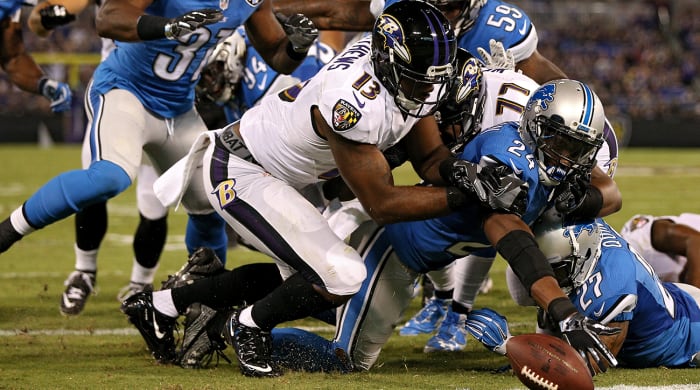 Nine months later, Matthews was in Carroll's office, getting laid off.
"Chris Matthews is a tremendous football player," said Wilson the next day. "He's a hardworking guy. He's a guy that has a lot of talent. I'm rooting for him."
Matthews stayed on the high road, speaking of his respect for the Seahawks and gratitude for the opportunity they gave him. But yes, he now allows, "I was a little bitter about it. I was part of a real brotherhood there. Beyond that, I felt like I could've done so much more for them. But business is business."
He reports that Seattle had given him the option of returning to the practice squad, "but I felt like I was too far ahead for that. I didn't want to go back to that life." Had he taken that safer route, Matthews believes, he'd be out of football now.
A week later, Matthews was picked up by the Ravens and caught nine passes, including a touchdown, in the final month of the 2015 season. Before tearing the thumb ligament, he'd turned in a strong preseason and appeared to have found a home in Baltimore as a special teams ace and backup receiver.
Though Matthews will visit L.A. in the off-season, he's committing himself to the Ravens. "The majority of my time is going to be spent here in Baltimore, training, soaking up the community, just being around the team, letting them see my work ethic, showing how much I want to be here, how I want to try and help them get back to another Super Bowl. And win it."
Despite that performance in Ravens camp a year ago, he's back in a familiar place: on the bubble, scrapping for a roster spot. Which is fine by him. He knows no other way.
"I've never been one to shy away from a challenge."