After tearing up D-II, two West Georgia long shots are trying to crash the NFL draft
In the shadow of national college football powers, two overlooked players arrived at the University of West Georgia and found a team where they could grow into stars. Now both Dylan Donahue and Alex Armah are trying to convince NFL teams to take a chance on them.
To get to the University of West Georgia in tiny Carrollton, Alex Armah had to drive 88 miles from his parents' house in Dacula, Ga. Dylan Donahue, meanwhile, had to go on a cross-country odyssey that included an NAIA school, a lost season spent on multiple roofs and a junior college. But once Armah and Donahue became teammates at West Georgia in 2015, they clicked immediately. Now, they're fighting to get drafted—and neither of them expects to play defensive end again.
Donahue is the undersized pass rusher who likely would have starred at the Division I level had he not taken a circuitous path. Armah, meanwhile, earned all-conference honors on both sides of the ball as a senior and has NFL teams evaluating him as a fullback, a linebacker or both.
The story of how West Georgia's dynamic duo came together begins in 2011 with a teen in Billings, Mont., who couldn't concentrate and couldn't stay out of his own way. Donahue had always hoped to follow in the footsteps of his father Mitch, the former Wyoming star who won the WAC defensive player of the year in '89 and '90 and who led the nation in sacks in '90 with 22. The 49ers selected Mitch in the fourth round of the '91 draft, and he played two years in San Francisco and two years in Denver. After football, he opened his own roofing company. Dylan used to watch VHS tapes of his father as a pro and dream of someday chasing quarterbacks for a living. But as Dylan's graduation from Billings West High drew closer, it became apparent he didn't have the grades to play Division I football.
Dylan had struggled with attention-deficit/hyperactivity disorder and struggled even more with multiple medications used to treat it. Ritalin hadn't worked. Neither had Strattera. Neither had Adderall. The condition made concentration impossible, and the medications just made him depressed. "My social life took a toll in high school," Dylan said. "I was kind of an outcast. I didn't really talk to anyone but my teammates and my girlfriend." Shut out of NCAA schools because of his grades, Dylan's only choice to continue his football career was at Montana Western, a small NAIA school in Dillon, Mont. "They were the only ones who would take me," he said.
Dylan didn't help himself there, either. He got sucked into a campus culture heavy on drinking. He couldn't be blocked at football practice, but he wasn't doing anything in the classroom to get himself to an NCAA school. Frustrated, he quit after a school year and went home to work for his dad. At the time, he figured football would end there.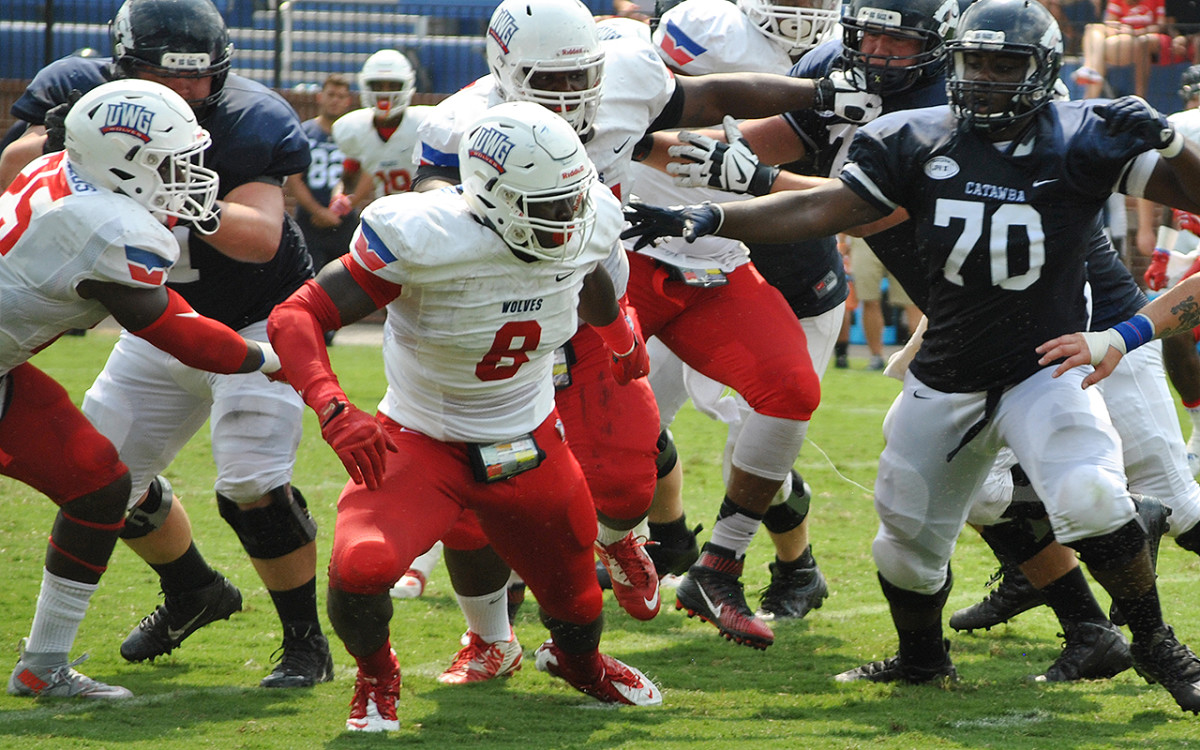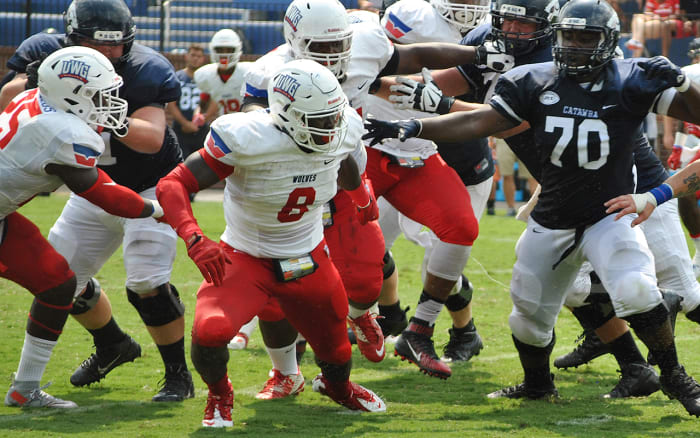 Meanwhile, in the outer northeast suburbs of Atlanta, Armah thought he was good enough to play in the SEC or the ACC. He corresponded with Mississippi State, but the Bulldogs were only interested in him as a walk-on. Georgia Tech showed initial interest as well but faded down the stretch. Eventually, Armah wound up choosing between Gulf South Conference rivals Valdosta State and West Georgia.
He chose the Wolves and headed to Carrollton, where he redshirted as a freshman in '12. During that year, Armah fell in love with the place. "I tried to branch out—to get to know people and get to know the community," Armah said. "I hit the weight room hard. That's when I started getting noticed. You start to build these bonds with your teammates. My teammates started to trust me.
While Armah spread his wings at his new school, his future teammate fell into a giant rut. Even though he'd learned most of the jobs at his father's company, Dylan wound up with some of the worst because of his age and his experience level. "We did everything from flat, metal roofs to shingles to residential to commercial. If it was a residential house, I'd tear off the shingles. The next day we'd start putting stuff on. Then clean-up, I did a lot of clean-up because I was the young guy. … I was still the young guy so I had to still do the grunt work."
2017 NFL Mock Draft roundtable: SI, MMQB staffers role-play every pick of Round 1
Roofing is difficult enough, but roofing in Montana in the winter is its own brand of misery. "Right in the middle of winter, we were doing a tough job down on the Indian reservation," Mitch Donahue said. "It was just dumping snow on us every day. We had to shovel snow and let it dry out before we could start working for the day. He was on the shovel crew, and he was pretty much hating life at that point." After a while, Dylan had enough. "One day I was driving my dad's work van—which I hated driving," he said. "I was just looking around. Is this really what I want to do with my life? Do I really want to stop and join the rest of my friends that are out here just working? … I'm just wasted talent."
So Dylan began seeking a way to get back to college and back to football. Some older friends provided the answer. They had played at Palomar Community College in San Marcos, Calif., between San Diego and the Orange County line. "There were guys getting D-I scholarships," Dylan said. "They're like, 'You're better than them. You should try it.'" It sounded like paradise to Dylan, and the reality was even better.
Dylan thrived in California. A tutor helped him manage his ADHD without medication. His grades rose, and so did his profile on the field. In his second season at Palomar, Dylan led the team with 22 tackles for loss. Suddenly, schools in Divisions I and II were interested. The scene after practice and games wasn't so bad, either. "It's surreal. And then going to the beach and hanging out after. It made it easy for me," Dylan said. "There was eye candy. There was stuff to look at. There was no bad mood. It was like I was in a dream world."
Meanwhile, in Georgia, Alex started at middle linebacker for the Wolves as a redshirt freshman in 2013. After that season, West Georgia head coach/athletic director Daryl Dickey became just athletic director Daryl Dickey. The Wolves hired North Alabama coach Will Hall to take over, and Hall's staff had other plans for Armah—who had grown from 6' 1" and 220 pounds to almost 250—beginning in the spring of '14.
"We talked him into moving to defensive end," said Hall, who coached the Wolves for three seasons before becoming Louisiana-Lafayette's offensive coordinator in January. "He wasn't that fired up about it, but he was a team guy." Armah may not have been excited initially, but he provided the pass rush his coaches envisioned. In his first season at defensive end, Armah had 14.5 tackles for loss, seven of them sacks. All the while, his coaches were working on landing the player who would play opposite him the next two seasons.
Dylan Donahue received interest from multiple Division I schools, including Missouri, USC and Colorado State, but that interest quickly faded for most of the schools once coaches realized Donahue wasn't a typical junior college transfer. Because the eligibility clock for Division I begins ticking with the first full-time college enrollment, Donahue's gap year on the roof meant he would only have one season to play in Division I. West Georgia coaches knew this. "When you understand the NCAA rules," Wolves defensive line coach Josh Aldridge said, "you can kind of understand who is going to fall through the cracks."
2017 NFL draft rankings: Top prospects by position
West Georgia hoped the 6' 3", 248-pound Donahue would fall to them. "He's relentless," Aldridge said. "He plays harder than anybody I've ever seen. I mean anybody—anybody I've ever seen on Sunday. It's like his heart is going to stop." He also plays like a certain former Wyoming star. "It is freaky," Mitch Donahue said. "We both had different coaches. He's built a little different than me. He's definitely faster than I was. But if you watch us on tape, if the jerseys were the same, you wouldn't be able to tell the difference."
Donahue also considered Colorado State-Pueblo, which had beaten the Wolves in the Division II semifinals in 2014. He visited Colorado State-Pueblo, but when a coach there tried to discourage him from visiting West Georgia, Donahue decided he needed to research the Wolves more thoroughly. He loved what he saw from their defense, and he signed to play for Hall and Aldridge. Once in Carrollton, he teamed with Armah for the first time. "We clicked immediately," Armah said.
As their coaches had predicted, Donahue and Armah proved a ferocious tandem. In '15, they combined for 32 tackles for loss — 21 of them sacks — and the Wolves reached the Division II semifinals again.
Before spring practice last year, Armah and the coaches huddled. Armah joked that since he had proven so adept at the swinging gate two-point conversion play and since the Wolves were in need of tight ends and fullbacks, perhaps he should get a look at those positions. After all, he'd played both in high school. Hall was intrigued. After three years as a starter, Armah didn't need any reps at defensive end in spring practice to play the position effectively in the fall. "What's he going to do in spring ball besides get hurt?" Hall thought. Then he thought some more. "Tell you what he could do…"
What Armah could do, apparently, was everything. He could set the edge as a tight end and blow open holes as a fullback, and he didn't care if he got the ball or just blocked. "He's a natural," Hall said. Last fall, Armah was a first-team All-Gulf South Conference defensive end and a second-team tight end. Donahue was the league's defensive player of the year.
As the season ended and the time came to prepare for a potential pro career, Armah faced a question: Where should he try to play? He figures he's too small to be a 4–3 defensive end, so his main college position is probably out. But the answer is easy to figure out after asking Armah one question.
Which of the following feels the best?
A) Scoring a touchdown.
B) Sacking the quarterback.
C) Making a huge tackle on defense.
D) Obliterating a linebacker with a lead block.
"If that collision happens in the hole with that 'backer, I love that," Armah said. "I live for that."
Armah expects that an NFL team likely would use him as a fullback or H-back who can play on every special teams unit. But he has pitched a role that must seem like catnip for coaches. "A lot of NFL teams don't use a fullback as much," Armah says. "I could see myself getting those eight to 10 snaps as a fullback and dominating on special teams while also maybe backing up the Mike linebacker."
Subscribe to Draft Season, an SI narrative podcast about the 2017 NFL draft's best stories
So can Donahue or Armah get drafted? It's possible, Hall said. It's just as likely that neither gets drafted and they sign free-agent deals and try to prove their worth in camp. Donahue likely will need to play as a 3–4 outside linebacker. His performance at the combine (4.75-second 40-yard dash, 26 reps at 225 pounds on the bench press) didn't send him shooting up draft boards, but it also didn't disqualify him. Besides, scouts know him. Thirty-one of 32 NFL teams visited West Georgia to see Donahue and Armah. "We've even had a scout bring his own son to a game to see him play," Hall said of Donahue. "He literally plays like his hair is on fire."
Armah didn't get invited to the combine, but his pro day numbers (4.68-second 40, 26 reps, 34.5-inch vertical jump) should help. His bench press total would have made him the second-strongest back at the combine behind Oklahoma's Samaje Perine, and his 40 time stacks up favorably against pure fullbacks such as Florida State's Freddie Stevenson.
The road from Division II in the NFL is a little tougher, but it can be traversed. At West Alabama, Hall coached cornerback Malcolm Butler, whose interception sealed the win for the Patriots in Super Bowl XLIX. "All you can ask for is a chance," Hall said. "You get in there as a free agent in a camp situation, the NFL is a business. They're going to keep the best 53 players." Aldridge believes his players could be a bargain on the draft's final day. "Both of them will be the steals of the lower end of the draft," Aldridge said. "I don't see how you're going to find anyone who plays harder than Dylan Donahue, and I don't see how you're going to find a better do-it-all player than Alex Armah."