Pat Mahomes Has a Little Brett Favre in Him
The next Favre? There are similarities between ol' No. 4 and the rising draft prospect from Texas Tech, including a coach who has spent time with both players. Plus reader mail on Blandino, Trubisky and more
The draft is filled with mysterious but intriguing prospects. Atop that list, or close: Texas Tech quarterback Pat Mahomes. While in Lubbock, Mahomes put up some silly stats in a pass-first, spread offense, but also got sloppy with his mechanics, at times improvised too much, made some decisions that left coaches shaking their heads, and showed a cannon for an arm.
Ring a historical bell? With some coaches it has. And how coincidental it is that, on the same campus, working at the Texas Tech Double T Varsity Club (the organization for Texas Tech alumni athletes), is Rodney Allison, the man who was the quarterback coach for a similar college player 27 years ago: Brett Favre.
Recently, New Orleans coach Sean Payton found his way to campus to examine Mahomes, and he found Allison, the former quarterback coach at Southern Miss when Favre was there in the early nineties.
"I told Coach Payton, 'Pat's got everything it takes. He's got some Favre-like qualities,'" Allison said from his office in Lubbock the other day. "Similar in styles. They create things on the field that other guys don't.
"Now how will that translate to the NFL? I don't know. But he's a similar player to Brett. And Pat studies the game. He loves the game."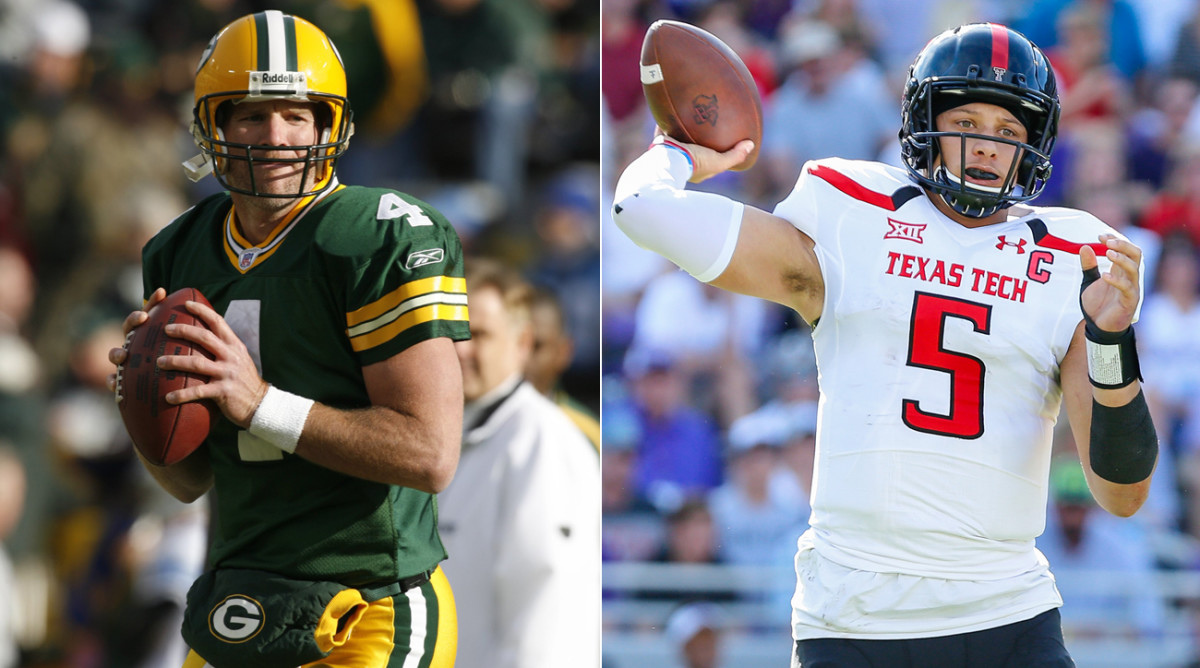 One difference: Favre lived a wilder life in college than Mahomes does now. Favre was a party guy. He crashed his car a few weeks before his senior season began, and had to have a major part of his intestine removed. "I was one of the guys who went to the hospital when it happened, and we were more worried about his life than whether he'd ever play football again," Allison said. But weeks after the accident, a tender Favre took the field in Tuscaloosa and engineered a major upset of Alabama. The legend was born. Two years later, he was a Packer.
Mahomes also has played well against big opposition, and NFL scouts like that. His other-worldly 734-passing-yard performance against Oklahoma last year was a silly basketball game of a football game, but it was one the NFL noticed. Mahomes was mostly coming from behind with a prolific offense and a terrible defense last year.
Allison had an interesting observation when I pointed out that Mahomes must benefit from having been around professional athletes. His dad, Pat Mahomes, and godfather, Latroy Hawkins, pitched in the major leagues for a combined 32 years, and the young Mahomes used to go on some road trips and played ball in many big-league parks. "Right," Allison said. "But remember Brett's dad was a coach. Brett was around the game his whole life, and that really helped him know what he was doing."
The young Mahomes played baseball early in his Texas Tech career before quitting to concentrate on football. Allison thinks it would help for Mahomes to do the same thing (minus the beer and late nights) that Favre did in his rookie NFL season.
"I think quarterbacks need to sit for a while," Allison said. "And Pat, he's just raw. He's been a baseball player. He had that arm slot. He's got a great arm. Mechanically, I think he struggles with a few things. But it's fixable, for sure. Coach Payton told me he thought there were things that would be pretty simple to fix in a fairly short period of time. Like, when he goes left on a bootleg, getting his feet under him so he's more balanced when he throws. That's just practice. But like Brett, Pat just loves playing. You can see the fun they have. With both guys, it was contagious with their teammates. Arm-strength, Patrick might be better. They're at least the same."
Atlanta chose Favre with the 33rd pick in the 1991 draft. A year later, Favre got traded to Green Bay for the 19th overall pick in the 1992 draft. Where will Mahomes go when the draft kicks off in eight days? Certainly earlier than 33rd, and perhaps earlier than 19th. The Cardinals, jonesing for a long-term replacement for 37-year-old Carson Palmer, have eyes for Mahomes and pick 13th in the first round. The smart team for Mahomes? The one that, as Allison said, can afford to put him in school for a year, and not be tempted to throw him into the fire before he's ready.
• 24 HOURS WITH PAT MAHOMES: Emily Kaplan goes behind the scenes to chronicle a day with the rising draft quarterback
Now for your email:
* * *
TRUBISKY'S LONE SEASON
Much has been said of Mitch Trubisky only having one year as a starter in college.  In looking at the starting quarterbacks in the NFL, I can't find a good one (forget great one) that only had a single good year in college. I can't even think of a former NFL great who was only a starting quarterback for a year in college. These guys were consistently good for two to three years or were unexpected stars like Brady.  Am I mistaken with my analysis or is there something about Mitch that is so great that this trend doesn't apply?
—Ryan, Orlando, Fla.
You are not wrong, Ryan. In fact, when our Andy Benoit sat down with Trubisky to watch tape and discuss his game last month, Benoit and Trubisky watched his final college game, versus Stanford, and there was significant negatives about his game that Benoit (and many others) have found. He has a good deep arm, is smart, makes mostly good decisions … but the problem is his inexperience. If he goes to a place desperate for a quarterback (Browns? Jets?), under pressure to play before he's completely ready or without a long-term plan, I question whether he'll be a success.
• INSIDE THE FILM ROOM: Andy Benoit goes over game tape alongside rising draft prospect Mitchell Trubisky
DEAN'S DEPARTURE
If the league pays Roger Goodell anything like $40 million a year, but the credibility and enjoyment of the game rests on officiating, why wouldn't the league pay Blandino whatever it takes ($5-10 million) to keep things going smoothly? I believe both of my premises are true, so there's something missing in your story. What does Blandino make?  What will he make in TV? Is there some hidden flaw or dispute with him? Did the NFL do something to anger him? Did the job stop being enjoyable, or not worth the hassle? The league just changed its process to focus on the very entity Blandino created, which will now be critically elevating its function, and HE LEAVES? Something's missing.
—Gregg
It doesn't make much sense for me to guess at the money either Blandino was making at the NFL, or what he will make on TV. I'd throw out a number and could easily be off by 50 or 60 percent—or more. But the NFL didn't have a dispute with him. This seems to be a lifestyle choice by Blandino. He likely can make more money and work about half the time, overall, including the offseason, which is preferable for a 45-year-old man with two children under 5.
There's really nothing missing but this one thing: Before centralizing replay reviews and having all decisions made in New York, Blandino should have been locked up in a new contract for at least the 2017 season to get the system up and running. We haven't heard from Blandino yet, so we'll see if there's more to the story—like whether money mattered to him or whether he just wanted out for his family's sake.
• MONDAY MORNING QUARTERBACK: Peter King on Dan Rooney, Dean Blandino, the draft and much more
2007 DRAFT
You wrote, "The only two teams, then, that picked wisely long-term to lead the 2007 draft are the same teams picking 1-2 on April 27: Cleveland and San Francisco." I think the entire eight-year career of Calvin Johnson (No. 2 in 2007) was a pretty wise choice by the Lions.
—Rob S., Bedford, N.H.
Correct … and the Lions would certainly sign for eight years of a possible Hall of Fame receiver. I guess my point is how odd it is, and how much of mirage the draft can be sometimes, that after 10 years, only two players remain as starters for the teams that drafted them.
JOE LAHOUD, A HERO
Your wish of a happy 70th birthday to Joe Lahoud probably caused many readers to look up who he was in the world of sports. I did not have to look because I grew up in Danbury, Conn., in the 1960s and 1970s until I moved to Pennsylvania in 1979. Joe Lahoud was our hero in Danbury. He was, and remains, the only major leaguer who was born and raised in Danbury. To any boy who grew up in Danbury when I did the name Joe Lahoud still makes us smile.
—Paul R., Ardmore, Pa.
He was at one time a great hope for the Red Sox, and lasted 11 years in the majors. Glad he brings back good memories to you. Me too.
THE GREAT JERSEY CAPER
Kudos on your story about the jersey. It was well written, entertaining, nuanced—everything you want to see in a story.
—Robin H.
It was not mine, but I will pass along the kudos to Jenny Vrentas and Robert Klemko, writers of the piece, and to the editor on the project, Gary Gramling. There's a bit of pressure to deliver on a story that had been so widely reported on, and Jenny and Robert delivered.
RIP DAN ROONEY
Thank you for your excellent coverage of Mr. Rooney's passing and his impact on others. As you undoubtedly know, everyone who met him has a story. Here's mine. The inaugural regular season game at Heinz Field was against the Bengals in October 2001. My sister was working for a VIP involved in the pregame festivities and I got to tag along as her guest that day. I'm from a blue collar family near Pittsburgh and grew up during the heyday of the dynasty years. Yes, I was a little excited! We were in the stadium offices lobby, just the two of us and the receptionist, when Mr. Rooney came out to greet us. After discussing the morning logistics, he turned to me and asked where I worked, what I did, and several follow-up questions. On what had to be one of the biggest days during his tenure running the team, he was genuinely interested in my job. After the conversation ended he walked back to the door, stopped, and came about half way back to us. With a serious look on his face he asked, "Can I get you some coffee?" Authentic, Humble, Pittsburgh.
—Louis A.
You met the real Dan Rooney. There was only one.
• Question or comment? Email us at talkback@themmqb.com.