Aaron Hernandez, According to the Journalists Who Covered Him
Three writers who covered Hernandez—in high school, college and the pros—look back at his once-promising life and the tragic turn it took
Now that Aaron Hernandez's tragic story has an ending, many are trying to understand the influences and choices that led to his ruin. The MMQB asked three journalists who covered the fallen star at different stages of his football career to share their impressions and memories of Hernandez, on and off the field.
Shawn Courchesne, formerly of the Hartford Courant, covered Hernandez as a high school phenom at Bristol (Conn.) Central and top recruit of the University of Connecticut, and later University of Florida. While working for the Orlando Sentinel, Jeremy Fowler covered Hernandez during the tight end's time with the Florida Gators. And Ian Rapoport, working for the Boston Herald, covered Hernandez as a New England Patriots rising star.
KAHLER: What was your first impression of Aaron Hernandez?
COURCHESNE: I was the UConn football beat reporter for the Hartford Courant when Aaron was in high school. D.J. Hernandez, Aaron's older brother, was one of the quarterbacks on the roster for the UConn football team and Aaron had committed to UConn when he was a sophomore in high school because of the family history there. His father had gone there and D.J. was there, it was kind of the family thing to do. As a sophomore, everyone knew Aaron was talented, but he wasn't at that level yet where he was being pursued by the biggest of the bigs, so he had committed to UConn early. As the beat reporter covering the team, he was obviously on my radar. He would show up to practice more often than you would see any typical recruit or commitment show up, because his brother was on the team and he lived less than an hour from campus. So you got to know Aaron just from him being on campus all the time. He was like any typical 15- or 16-year-old kid, goofing off, laughing, joking. He had a slight arrogance about him, but I think any kid who has been recognized as one of the best football players in the state is going to have that. And also he carried some celebrity status around the UConn football team because he was a commitment and because his brother was a quarterback on the roster. He and his brother had polar opposite personalities. D.J. was very quiet, all business, very focused. Aaron was more jovial and outgoing.
FOWLER: I was the Florida football beat writer for the Orlando Sentinel during the 2008 and 2009 seasons when Aaron was a sophomore and junior. Most of my interactions with Aaron were in controlled environments and Florida had an interview set-up where players were pretty well-protected, as they are at a lot of college programs. The times I spoke to him were usually in big groups and everything was fairly sanitized as far as how the interview process went. It was just surface talk about the team. He was generally pretty mild-mannered and I found him to be a pretty good quote. He had some good insight in football-related matters. He was a smart guy in that regard. Beyond that, it was hard to get to know him because you didn't have access to him. You had to go by reputation or what you saw on the field, which were always pretty pleasant.
RAPOPORT: I was the Patriots beat writer for the Boston Herald when Hernandez was drafted in 2010. He was definitely very quiet, he took a while to come out of this shell. I don't know about my first memory, but my first couple were a really reserved and quiet type of guy who seemed uncomfortable with a lot of the spotlight. His locker was right next to [Rob] Gronkowski, two rookies, buddies, came into the team together and paired together a lot. They both got a lot of publicity and interview requests and I always remember Hernandez kind of being uncomfortable with that. He was fine, and usually willing to do something but definitely kind of shy.
KAHLER: What was Hernandez like as a player?
COURCHESNE: He was the biggest player in the state at that time. You could see that he was a beast in high school, especially in Connecticut, where you don't have a lot of superstar kids. He was literally head and shoulders above all the competition on the field. It seemed unfair at times when you saw some of the highlights.
FOWLER: Florida had a tight end named Cornelius Ingram who was a good player and got drafted in the NFL, but he had a huge knee injury, and when Aaron came into the lineup they didn't miss a beat and were probably better off. He moved like a running back or a wide receiver from the tight end spot, so he was perfect for Urban Meyer's offense. He just slithered through tacklers and had a gracefulness about him in the college game that certainly translated into why he did so well on the field in New England.
​RAPOPORT: Obviously he was a tight end, but he looked like a receiver and he moved like a receiver and I just remember him making guys fall down. Cutting, making guys whiff, and he kind of waved them by him, really like a basketball player. I had conversations with him about what he was like as a basketball player because that is what it looked like to me. He would stutter step or really just make guys fall down. I had never really seen anything like that, especially from a tight end, so I was kind of intrigued. I always remember his end zone celebrations. I would always take very careful notes and try to guess what it was. There was the unlock the safe, take the money out of the safe, count it, make it rain. At the time that was all cute and funny. When I think of him, and I think of him as a football player, I think of making guys miss and I think of his very creative end zone celebrations.
KAHLER: Hernandez's father, Dennis, died when he was just a junior in high school. Shawn, what impact do you think that had?
COURCHESNE: I don't know when Aaron slipped into involvement with nefarious characters. I don't think it was when his father was around because I was always under the impression that his father was the insulation from that crowd. They didn't live in the best area of Bristol and they weren't wealthy, and obviously if you live in an area like that there are going to be influences. But his father was really known as a guy who helped kids and coached his kids in sports for their entire lives. As far as I knew, while his dad was still alive, there were no behavioral issues or anything like that. When his father passed away it was totally unexpected; he went in for a routine hernia surgery and didn't make it. It was not long after that, when Aaron got ranked as the first or second-best tight end in the country as a junior, that changed everything. His father was gone at that point and suddenly every recruiter in the country is calling him.
• WHAT WE'RE LEFT ASKING: Those who knew him and covered him are once again doing some self-examination, and pondering how a man could lead a double life of NFL star and violent killer.
KAHLER: Hernandez committed to Florida during a visit in the spring of his junior year. Do you think if he would have been better off going to UConn where his brother could have kept an eye on him?
COURCHESNE: Since the day this whole saga started I always thought that. You always wonder about anything in life, how one decision can change the path of everything you do. I think it is fairly well documented that some of these characters from Bristol were spending time with him at Florida. Obviously they were having some influence over him down there. I don't think that would have happened at UConn or if they would have tried, I think [head coach] Randy Edsall or D.J. would have put a stop to it. You didn't have those same safety valves in Florida. I want to believe that maybe if he doesn't have those influences on him, and he has more positive influences pushing him in the right direction, maybe the story is different… When Aaron committed to Florida, his mother called me, and I distinctly remember she was sobbing on the phone. She was so upset that he was not going to UConn. I'm not going to say that she knew anything at that point, but I think what she did know was that if he had gone to UConn, D.J. would probably have taken him under his wing. Randy Edsall ran a tight program there and I think she knew any influences that were starting to come over him, there would be some defense from that. She was very upset about that. I tried to call D.J. that night and D.J. wouldn't answer his phone. He was obviously pretty upset about it.
KAHLER: Jeremy, did you know about Hernandez' failed drug test at Florida while he was there?
FOWLER: What I knew is at the time there were a handful of players who would mysteriously appear on the sidelines in a walking boot. Percy Harvin did that at one point. Either in a walking boot or out of the lineup and they'd be on the sidelines. Some guys would wear a boot, some guys wouldn't but it was highly speculated at the time, and later confirmed by some players I talked to down the road, that the boot was a mechanism for when a player got in trouble. Players strongly speculated that was why guys were wearing a boot even though they weren't injured, necessarily. So Aaron had one of those moments. I'm not sure if he was in the walking boot or not. I know he was out of the game mysteriously [against Hawaii in the 2008 season opener]. I don't know the direct correlation between the drug tests and that, but it was known that he got in trouble for that and there were some issues there.
​KAHLER: Hernandez led a bit of a double life while he played for the Patriots and the Gators. Did you ever sense he was hiding something?
FOWLER: Now, years later, putting things together and talking to people on that staff and around that program, it was pretty clear that there was a double life. Maybe he was a little more controlled in Gainesville because he wasn't back home. At least for the coaches, him going back to Connecticut was an issue. He would go on breaks or spring breaks or whatever it was and Coach [Urban] Meyer and everybody else there were certainly worried about that circumstance for him, that he would run back into old crowds, or be with the wrong people, so they felt like at least when he was in Gainesville that things were a little easier for him to manage. He was mercurial. On one end of the spectrum he could be a big jokester taking the towels from teammates in the locker room or taking cookies from a defensive line meeting. And he was great with the kids of coaches and he would play with them. There was that side of him that a lot of people knew and I think that's why you see a lot of former Gators players posting on Instagram this week about Hernandez. Even though they maybe knew something was up and knew that if he got in trouble they wouldn't be surprised, they didn't see this [coming]. One former player told me, "If Aaron got in trouble, would I be surprised? Absolutely not, he just had that kind of personality. But killing somebody, nobody would have expected that at all."
​RAPOPORT: I would come at it from a different angle. To me, he was always a little edgy. The things that stuck out to me were, there was a lot of conversation from media people about him and [Rob] Gronkowski. Are you guys buddies? Do you hang out off the field? And they really didn't. Guys can be friends with whoever they want, but when a guy doesn't hang out with his teammates, it's not a red flag, but it is noteworthy. I always noted that he had a different group that he was hanging out with. I knew he was a tough dude and I knew he was very edgy and I always sort of accepted that. I knew about his drug past, Albert [Breer] detailed that pretty well. I heard all the stories, drug tests and all that. I honestly just assumed that he was still doing some of that stuff, so I wouldn't say I was really surprised. I guess I was surprised mostly by how much I liked him. He and I got along really well. We had each other's numbers, he would help me out with explaining stuff, like, If you need anything, give me a call. He would talk about the different things that he was doing away from the field. We got along really well. I would not say I was close to him, but we were definitely friendly. I was surprised by that.
• AARON HERNANDEZ, FROM A BROTHER'S PERSPECTIVE: Jonathan Hernandez and all the little moments, all the poor choices, all the unwise associations that led to murder.
KAHLER: Jeremy, you're now on the Steelers beat, where former Florida teammate and friend of Hernandez, Maurkice Pouncey, plays center. Have you ever talked to Pouncey about Hernandez?
FOWLER: I think they did remain friends. I don't know how often Maurkice visited him, if at all. I can't speak for the Pounceys directly, but I think they dealt with some of the grapplings that a lot of players did. They knew him on the team and then he had this double life they are trying to wrap their heads around, and that can be difficult. So I think some of these players chose to accept the realities and remember the friendship they had with him. For Maurkice, I know that can be a hard process. I can't speak directly on it, but he did value that friendship because they knew each other a long time ago.
KAHLER: While at Florida, Hernandez formed a friendship with Tim Tebow. Urban Meyer even led him in daily bible studies. Was that enough, or you think Meyer and Florida coaches should have or could have done more to help Hernandez or discipline him?
FOWLER: It's hard to tell. I do know that Urban Meyer and the coaches liked Tim Tebow's influence on Aaron; they were friends and the coaching staff welcomed that. The stark contrast between football's greatest missionary and a convicted murderer who is serving a life sentence, it is just jarring when you think of it that way. But they were friends and I think Tebow was an influence on Aaron. But could they have done more? It's hard to tell. Probably at every level, depending on how much they knew about his background from the Patriots to the Gators. With the accumulation of issues, from the whispers of drug offenses that were later reported, the bar fight, the Venue nightclub incident that he was implicated in years later, Florida probably could have done more, discipline-wise. No one expected him to transition to this.
KAHLER: Is Hernandez's story an example of what can go terribly wrong when we put star athletes on a pedestal, and teams and programs manage their issues instead of confronting them?
RAPOPORT: I definitely know the storyline, and I think there are a lot of examples of coaches and teams who say, Yeah I know this guy is a problem but he is a great athlete so I'm keeping him. I don't know that Hernandez was really like that, because he did such a good job of hiding everything that he was doing. Guns, drugs, violence, all of the things. When people describe him and what he was like in the Patriots locker room, he was a fun-loving guy, definitely emotional, would cry after losses, would cry when he did something wrong that hurt a teammate on the field. He was very emotional but also really funny and would take someone's car keys and go get McDonalds. There was definitely the drug stuff, and he's not alone as someone who failed drug tests in college. I don't think he was enabled because I don't think anybody really knew. It's interesting because you think about the pre-draft process and people hire investigators to figure this stuff out, and nobody knew what he was really into or had done before he entered the NFL. That was the thing that stood out to me. He lived a double life but did a very good job of covering it.
KAHLER: How much do you think the Patriots knew?
RAPOPORT: I've thought about this a lot. The Patriots are an extremely careful and diligent organization. There's no way in the world they give him a big contract extension if they knew anything that was going on. At one point he talked to the Patriots about trading him away from New England because he felt like he was in danger. I know they knew that. I know Belichick and the Patriots offered to help and hire a security firm. But that is different from being involved in it. To me, there is simply no way that they knew. There's a PR reason to say the Patriots didn't know, but there's also the money reason. There is no way in the world the Patriots waste this money if they had any idea what this would turn into.
• AARON HERNANDEZ WON'T AFFECT HOW NFL TEAMS SEE PLAYERS: NFL execs explain the minimal impact the Hernandez saga will have on how they do their jobs.
KAHLER: Looking back on the Hernandez you knew, is there anything that now jumps out at you as a red flag?
RAPOPORT: Yeah, there is one that I think about a lot. I would end up hanging around by his locker a lot. He would do his interviews and we would chat. There weren't a lot of guys that were just hanging out in the locker room, especially during those years, so we would hang out and we would talk. When we first exchanged numbers, he called me over and said, "Hey I just want you to know, you're my guy. If you need anything let me know, I will help you out if I can. But I just want you to know, if you f--- me over, I'll kill you." I sort of laughed a little bit, and I said, "Don't worry, I got you, I'll take care of you." It was me and this other reporter from CBS Sports, WIlliam Bendetson, and he was standing there and had listened and we kind of turned to each other and both laughed. And then the first text I got after it became clear that Hernandez was the suspect in the murder investigation was from William Bendetson, who was like, Hey remember that day in the locker room?
COURCHESNE: There was never anything I saw in him where I thought he was changing or becoming a different person. After he committed to Florida, I didn't have that much contact with him after that. He went into that realm and he separated himself from the UConn program. I always wondered if that was something that Randy Edsall said, like, I don't want you around anymore after you turned your back on us. I really had no interaction with Hernandez after that, and that is the time that most people have said is when things started to go bad. That perfect storm, committing to Florida, losing his father, and a lot of wonderment about his life and his dad and influences and where he was going.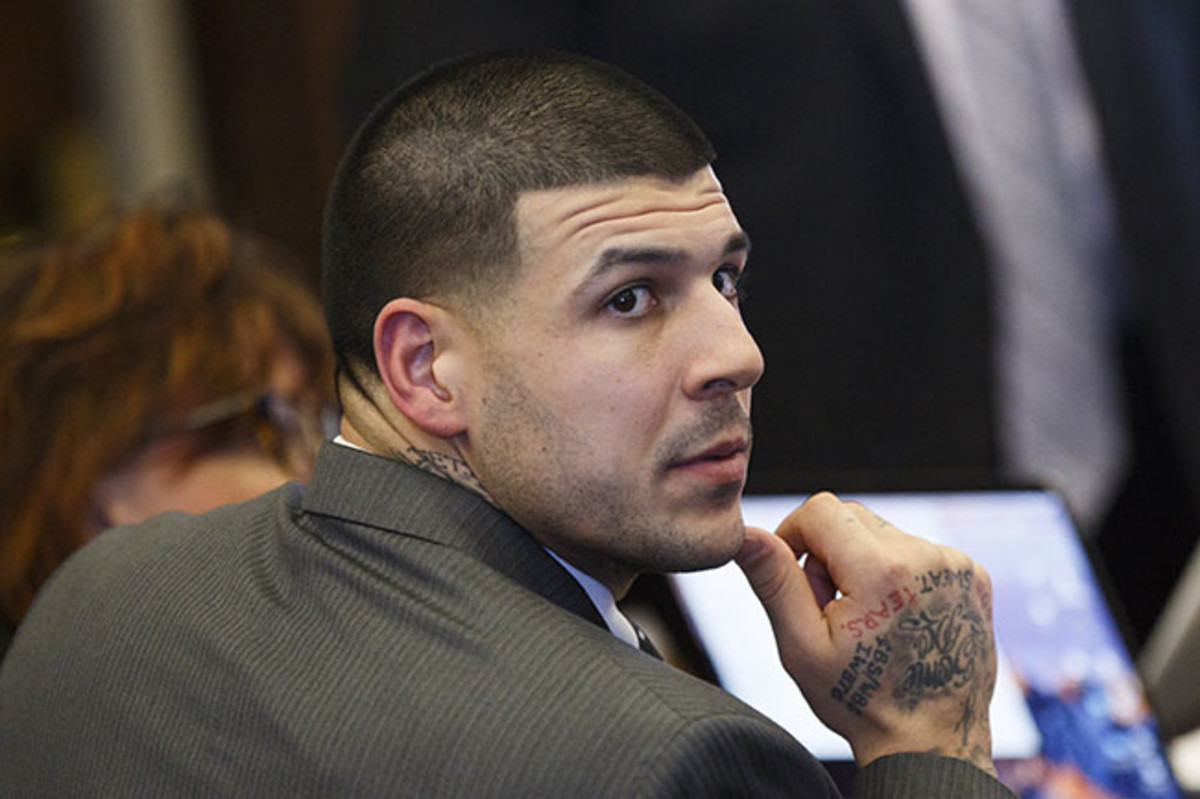 ​KAHLER: Our Albert Breer wrote a column about the impact of Hernandez's story and whether it might make coaches and executives think differently about players with a checkered past. Do you think there is any lesson in Hernandez's saga for NFL teams to learn?
RAPOPORT: I don't think so. Teams investigate a lot and we are going to spend the next week talking about all the investigations into Joe Mixon. These things are very real and I think teams try to do a good job at finding out as much as they can about the past. This seems more like an anomaly than anything else. There are some players who come into the league with a history of drug problems who have been violent. I don't think anyone can say, Alright, this is the next Aaron Hernandez. It is so case-by-case that I really don't think it will affect things that much, and that's O.K. I think the Patriots and the NFL in general did a lot of things, really everything they could do on Hernandez, and it still turned out like this. So I don't know that it is going to be one of those far-ranging things.
FOWLER: It's the character debate on steroids, every year the NFL goes through the same song and dance about players with character issues. How far should they fall in the draft? Should teams take them off their board entirely? Hernandez went in the fourth round. Obviously, on talent alone, he would have gone a lot higher. The Patriots were taking a calculated risk. It has to resonate with teams. It's an anomaly but it's gotta be a reminder to triple-check everything to see if there is even a remote problem that could lead to issues down the line.
KAHLER: Some people argue that Hernandez doesn't deserve any sympathy because he was a convicted murderer. Do you have any sympathy for him?
RAPOPORT: Yeah, I did feel sad. I'm sure I shouldn't. I'm sure I should say he deserves nothing. I feel really sad. I'm sad for him and his family, I'm sure he didn't mean to end up like this. I'm sure everyone connected to him is left to deal with this now and I hate it. And for the victims I hate it even more because they get no closure now. I'm sure I shouldn't feel sad, but I really do… He was someone that I knew and liked and then later found out there was a lot more that I didn't know. But he also has a daughter and a family and the victims and their families don't get any peace now. I was just really sad for him, for what his life became, for everyone. I don't know, I just felt sad. The whole thing sucks.
COURCHESNE: I understand the people that say they don't have sympathy for him because of what he did and is alleged to have done and the monster that he has been portrayed as. I totally understand that, but I think there were mental health issues. Anybody that loses a parent suddenly at 16 years old is going to have some issues. He's admitted that he started using marijuana after his father died, so a combination of issues in your head and using drugs, and if you're using drugs you are probably hanging out with people who don't have your best interests in mind. I have sympathy for 16-year-old Aaron Hernandez, who got caught up in that life because his head was messed up. I don't have sympathy for the adult who allegedly killed people and became this raging monster. I have a ton of sympathy for his brother who I believe is a really good person and has had his life turned upside down because of this. You look at D.J.'s story, he was a rising coach in college football at Iowa and had to get out because I think mentally, he couldn't handle all the pressure of dealing with all that he was dealing with on that front. It's such a tough question because I do understand when people say they don't have any sympathy for him.
• A WASTE IN EVERY SENSE: Peter King on Aaron Hernandez's death.
KAHLER: How should Hernandez be remembered?
FOWLER: He's an example of some things in life, they make you ask yourself, Why? You just can't put an answer around it. It's a colossal waste of great talent and a bright future. You think of his family and the families of the victims and it is one of the NFL's greatest tragedies.
RAPOPORT: To me, he was one of the most talented players I've seen as his position, who I was friendly with, who turned out to be a murderer. That's kind of what it is. It's tragic and sad in so many ways and it will take a long time to explain, and I don't know that I will properly do it justice, but I'm sure there will be a book about it and a movie about it. It is one of the most complex, surreal, unbelievable stories that I can imagine. I remember the moments when he was being brought in, police were there and helicopters were circling his house and we were live all day on [NFL Network]. I'm talking about it and covering it and making calls and figuring out what is going to happen. He got released, and the Patriots had cut him, what is going to happen to his salary and his family, and the whole time I kept thinking, This is unbelievable. I still can't believe it's all real. But it is unfortunately.
COURCHESNE: When I think about him, I think about that kid on the sidelines at football practice who always had a smile on his face and was always goofing off with people. He didn't seem to have a mean bone in his body. He talked to everybody, he laughed with everybody and he was just a fun kid to be around. I remember sitting with him in a locker room, all alone after his father died, and he still seemed strong and jovial. And I knew he was depressed about his dad, but he still clung to that personality. I remember watching him during NFL games, he was so over the top and jovial and everything was so celebratory. When I saw him on the field in the NFL, it made me think about that kid on the sidelines, and I thought, Wow, he hasn't changed, he's just a kid out there playing. And transpose that to what we seem to understand about the other parts of his life, if he was that hair-trigger monster that he has been portrayed to be… 
Question or comment? Email us at talkback@themmqb.com.