The White Cornerback: NFL players past and present open up about race at the position
The NFL is a melting pot, with Liberian linebackers, Australian punters, German receivers and Cameroonian tackles. But the diversity ends at one position—it's been 14 years since a white player has regularly started at cornerback.
One weekday in August 2012, when the NFL regular season was approaching and rosters were being winnowed, first-year Seahawks quarterback Russell Wilson called a stretch play during an 11-on-11 practice. A rookie cornerback wearing number 38 chased the play from the back side and with speed that Seattle had just clocked at 4.38 in the 40-yard dash, dragged running back Robert Turbin down for no gain.
On the next play No. 38 broke up a 40-yard fade down the opposite sideline. A few snaps later he snuffed out a slant route, slapping Wilson's spiral into the FieldTurf with an emphatic whap-bomp. Richard Sherman liked the first two plays, but the slant is what launched Seattle's second-year cornerback from the sideline, his yet-to-be-famous dreads flying, Donny Lisowski thinking he'd died and gone to football heaven as coach Pete Carroll's hip‑hop selections scored the scene from speakers taller than Donny.
"I see you!" Sherman yelled, leaning backward and nodding at the white cornerback. "They don't see you, but I see you!"
Born and raised in Seattle, the 28-year-old Lisowski will always remember the summer of 2012, when he had the Seahawks' practice facility buzzing. He wore the same surging bird decal on his helmet that Marshawn Lynch wore on his. He lined up for DB drills behind his favorite player growing up, Marcus Trufant. He earned the respect of Carroll and his assistants, men he said were first-class in all of their communications with him. But as those summer days turned into months—then years—of solo workouts and precisely zero phone calls from other NFL teams, Lisowski couldn't help but wonder whether there had been an invisible force at play in his career.
All 64 starting cornerbacks in the NFL are black. So are their backups. One hundred-sixty black cornerbacks, give or take. Not a single white one. It's been this way for more than 10 years.
For a while there Lisowski believed he might get invited to another NFL camp and become the first regularly contributing white cornerback in the NFL since the Giants' Jason Sehorn, who took his last snap at the position in 2002. Lisowski's name, it seemed, would replace the mythic, anthropological-sounding Sehorn's as the one that gets whispered anytime a white kid takes a serious crack at corner. (Uh-oh! Check out Sehorn!) But those days have passed; Lisowski is out of the game. As he describes it, "I feel like I beat football in a way. I've played at every possible level: college, semi-pro, Arena, CFL, NFL. ... Once you see all that, once you've proven to yourself that you can compete with the best, what more is there to do? I'm a competitor. I want to see what else I can learn and do and change in the world."
As for the actual Sehorn, who at 45 is now a part-time broadcaster and full-time dad: "I wore sleeves for a reason," he says. "Rarely will you find a photo of me in the NFL without long sleeves. I just didn't want it to matter. To me, this whole [white cornerback] thing was never a race issue. I've always seen it as a cultural issue and a confidence issue. And that goes back to how I was raised."
Sehorn's youth in Sacramento featured a single mom, absent dad, Mom working a chair at a downtown hair salon near the array of apartment buildings where Jason and his kid brother packed and unpacked throughout childhood. "When I say dirt-poor, I mean Mom made maybe $25,000 a year," Sehorn explains. "I remember buying milk with food stamps. Vividly. So, growing up, I was the minority. I was the outcast. ... I wore sleeves [in the NFL] because I just wanted to be a cornerback. I didn't want to be a white cornerback."
In the summer of 1993, Sehorn was merely a backup safety at USC, a soon-to-be-senior who was struggling just to get on the field. "Jason was probably the most naturally gifted athlete on our team," recalls Dennis Thurman, then the Trojans' secondary coach and last year the Bills' defensive coordinator. "We knew we only had one more year with him and that we had to find a place for him."
Cornerback wasn't an option, Thurman adds, "until I walked past the gym one afternoon and saw Jason playing basketball with [future Pro Bowl linebacker] Willie McGinest—backpedaling, sprinting, jumping, rebounding. ..."
Thurman's decision to stroll past USC's Lyon Center that day was the kind of cosmic intervention that white cornerbacks could have used to get over the hump the last couple of decades. And it's what they'll need going forward if they hope to break into an NFL lineup again.
To be fair, though, calling Sehorn the last of the white cornerbacks means ignoring the dozen or so snaps Dustin Fox played for the Eagles and the Bills in 2006 and '07. It means overlooking Ethan Kilmer's single magnificent snap as a corner for the Bengals in '06, and it completely neglects another member of the Cincinnati secondary that season, the real Sehorn—the last white player to start a regular-season NFL game at the position. (For the record, the tight-knit cornerback fraternity seems to respect Patriots receiver Julian Edelman for the spot duty he pulled over 13 regular season games in '11—"I remember that," says 14-year NFL cornerback Terence Newman, of the Vikings, "he played his ass off"—but none among them consider Edelman a real corner, especially since he has betrayed them by catching 377 passes over the last five seasons, each thrown by a man wearing the same color jersey.)
Over the past 20 years, only seven white men have played cornerback in a regular-season NFL game, including receiver Mike Furrey, who was thrown Edelman-like into the Browns' rotation in 2009. Yes, it can get mighty awkward anytime a white man raises his hand and points out what might be a touch of racial discrimination against him, especially in America in 2017. But even if we take issue with the white cornerback's right to feel frustrated, given the horrors inflicted by white men on non-white men on this soil over the last four centuries, there's no denying that during the last 20 years the new hires in his line of work have had one thing glaringly in common—with very rare exceptions.
Had Dennis Thurman walked a different route across the USC campus 24 years ago there's a good chance we'd all be saying Kaesviharn anytime we spotted a white cornerback. Like Sehorn, Kevin Kaesviharn (pronounced KASE-varn) wore dark sleeves during many of the games he started at corner for the Bengals from 2001 through '03, but he wore his because black is one of Cincinnati's colors and because he played in the NFL's coldest division. Also like Sehorn, Kaesviharn grew up in urban, multi-ethnic California, in South Central L.A.
"Competing against black kids, that's all I knew," says Kaesviharn, whose father is of Thai descent and whose mother is a blend of English, Irish and French-Canadian, "so I was never intimidated." When he moved to Lakeville, Minn., in junior high, he realized suddenly that he was the best athlete in school.
"What separated me [from Sehorn] was that I played the position for as long as I can remember," says the 40-year-old Kaesviharn, now a sports performance coach in Maple Grove, Minn. "I was a corner in high school, in college [at Div. II Augustana], in the Arena league. ... [In Arena], when you've got guys sprinting at you before the snap, that's where you really see who can cover."
Kaesviharn had 17 interceptions in his nine-year NFL career, including three as a rookie, in 2001, after he spent the spring teaching high school algebra and playing for the XFL's San Francisco Demons. No one knew that the three starts Kaesviharn would make at cornerback two years later, in '03—the season the Bengals nudged him to safety—would be the last starts by a white cornerback until, well ... ever?
"It's a touchy subject," Kaesviharn says of his move that season to safety, where he got his last 47 NFL starts. "That's just the way it was. Are there reasons it was that way with me? Yeah. Am I gonna stand up and say it was discrimination? I wouldn't take it that far. But to prove that there wasn't discrimination—I mean, you can't really do it." Asked if he ever felt he had to be twice as good as other corners just to keep his job, Kaesviharn pauses. "I haven't thought about all of this for a long time..."
Sehorn and Lisowski and the other corners do a lot of pausing and thinking, too, before they talk about their position and their skin color. No one wants to come off as a whiner, and in this country the subject of race will always be a shimmering pool of kerosene. They also do a lot of laughing because, among players, race is, first and foremost, fodder for jokes and stories. And laughing is what Kaesviharn does now as he finishes thinking.
"Yeah," he says. "Yeah, I felt that way 100%. I knew it."
Donny Lisowski says he didn't feel discriminated against by the coaches at the University of Montana and he didn't feel it from the Seahawks. Even if he had, he wouldn't want to come off as an excuse maker or as if he's trying to play some upside-down race card. He was a scholarship cornerback for four injury-free years at Montana, yet he never became a regular starter, and he realizes that this fact explains why his NFL dream never panned out. If he couldn't get on the field in the Big Sky Conference, says the prevailing NFL logic, why would we want him?
What got Lisowski noticed was the 4.38 40 that he ran in March 2012 in front of NFL scouts who had come to Missoula to see Trumaine Johnson's pro day. (Johnson, a third-round pick who started for the Rams last season, owned one of the Grizzlies' two corner spots during all four of Lisowski's years there.) The glowing orc that those scouts watched run that day—shirtless, shaved head, sun-starved skin—turned in a time that was not only faster than Johnson's personal best but one that also would have ranked third among corners at the '12 combine (and fourth at this year's event), had he been invited.
Those scouts learned that Lisowski had other positives. He'd just been named Special Teams Player of the Year in the Big Sky, where he covered punts and kickoffs as if there were a bungee cord stretched between his facemask and the return man's belt. When his hometown Seahawks invited him for a tryout, Lisowski duplicated his sub‑4.4 40. At their rookie camp that May he repeatedly won praise from Carroll, who after one lively scrimmage told a nest of microphones, unprompted, "I like Donny Lisowski. He was all over the place out here."
Lisowski signed a three-year deal with Seattle, and from April to August in 2012 he drove his dad's brown '01 Tahoe to the Seahawks' facility, where he worked out, practiced and studied as a member of the team he grew up worshiping.
Brian Davis was faster than Lisowski, if the stories his peers tell are true. Davis, the last white guy to play cornerback regularly in the NFL before Sehorn and Kaesviharn came along, started 15 games for the Redskins in 1988 and '89 (opposite Hall of Famer Darrell Green) and was a backup for three other teams before he retired in '95. If Lisowski resembled an impassioned orc at his pro day, then Davis in his prime was a bronzed Jeff Spicoli who didn't know what a pro day was.
Neither his surfer hair nor his 6' 2" knife of a body have changed much since Davis, now 53, jogged onto the field for Super Bowl XXII. That day, as Doug Williams became the first black quarterback to hoist the Lombardi Trophy, Davis became the last white cornerback to do so. Twenty-six years would pass before Russell Wilson equaled Williams's achievement, in 2014, during which time black backup QBs won seven Super Bowl rings. Meanwhile, other than Sehorn (who allowed a 38-yard TD to receiver Brandon Stokely in the Giants' Super Bowl XXXV loss to the Ravens—"We call that white on white crime," says retired cornerback Dustin Fox), no white cornerback has even suited up for the NFL's championship game.
"If you're a white corner, you're guilty until proven innocent," Davis explains during a break from his job as a trainer in his hometown of Phoenix. He has worked in the past with MMA champions and 2008 Olympic wrestling gold medalist Henry Cejudo, among others, and he doesn't know how to pull a punch. "I'm not going to be politically correct about this," he warns. "It comes down to this: How many white guys are f‑‑‑‑‑‑ fast enough to play cornerback in the NFL? Very, very few. It just doesn't show up as often in white bodies. Even if I'm a white coach or a coach who's pulling for [the white cornerback], I'm still thinking, 'Why is he here? I don't want him. He can't run, he can't jump, he's too damn nice.' That's another stereotype, by the way: nice, polite. [NFL coaches] want a f------ baller."
Even at the pinnacle of Davis's career, when he capped Washington's Super Bowl–record 35-point second quarter by intercepting John Elway just before halftime, Davis was overlooked. ABC's Dan Dierdorf (and the ensuing NFL Films documentary about the game) called him Tony Davis. Brian Davis was not wired to care about such minor details, even though the mistake did lend him a whiff of ethnicity. Besides, he endured worse disrespect on the field.
"I heard every kind of white boy comment you can think of," he says. In particular he remembers an older, gray-haired man in Oakland who used to chain-smoke on the sideline during warmups. "He'd be over there laughing, saying, 'Look, it's the great white buffalo! Hey, you're the long-lost white buffalo!' I was like, Who is this guy? How'd he get down here? My teammates told me, 'That's Fred Biletnikoff.' "
Davis became close with Williams when they both played for Washington. "Doug said to me one time, 'BD, what I like about you, you don't see color,'" says Davis. "To me, that's one of the highest praises you can give someone. That's how I've tried to raise my [kids].
"I remember one time, my daughter was about eight. She was playing with three or four kids and there was one black girl in their little group. Afterward my daughter was trying to tell me something about this girl—she was describing her shirt, her brown eyes, everything about her. And I go, 'Wait, are you talking about the black kid?' "
"She goes, 'You mean the brown one?'"
"To me, that's what Dr. King was talking about," Davis says. Then he quotes the late civil rights leader word for word: "I have a dream that my four little children will one day live in a nation where they will not be judged by the color of their skin, but by the content of their character."
"If blacks are superior, why is the league wasting all of this money on scouting?" Dr. Harry Edwards asked. "Just go to the black community and scoop up all your players and win every game.'
But how might Dr. King have reacted if a scientist showed him studies suggesting that black men are better equipped than white men for 160 of the most coveted, highest-paying jobs in America, that white cornerbacks are inferior to those of African descent?
A sizable chunk of our population considers the mere discussion of these issues to be morally vile. But as Jon Entine asked in his book, Taboo: Why Black Athletes Dominate Sports and Why We're Afraid to Talk About it, "What are we to make of the fact that an athlete of African ancestry holds every major running record, from the 100 meters to the marathon?" Entine, a senior research fellow at Cal who founded the Genetic Literacy Project, explains how all this relates to NFL cornerbacks: "In addition to sprinting speed, numerous studies have shown that athletes of African ancestry generally have longer extremities than white athletes. This is one of the ways Africans have dissipated body heat over thousands of years in sub‑Saharan conditions.
Long arms, of course, are nearly as dear to aspiring cornerbacks as speed; ask any corner who has found himself out of position on a fade. Studies published in the American Journal of Physical Anthropology and the American Journal of Clinical Nutrition point out that black Africans also generally have thinner hips than Caucasians, making their chassis better for accelerating, stopping, changing direction, leaping. ...
Playing cornerback.
All of this is up for interpretation—if you dare go there. "Even raising the issue of racial differences is considered racist in some circles," Entine points out in Taboo, "an odd stance considering the lip service given to cultural diversity." He's right. Most Americans—let's hope this is still the case—love to celebrate our melting‑pot‑ness, but we still get our dander up anytime the specifics of this biodiversity are discussed.
As for the 14-year Sehorn gap, Entine explains, "Two things have happened. First, the pool of elite white defensive backs has gotten smaller, even though whites still make up the majority of the U.S. population. Second—and this is probably related to the first—the white kids who could make it as cornerbacks, most of them self-select out of that position and find something where they don't look and feel out of place." 
Entine calls African ancestry "the single biggest factor in succeeding at cornerback." Flipping through photos of current cornerbacks in the NFL, it's a difficult claim to dispute. 
But Dr. Harry Edwards gives it a try. "What is Entine talking about?!" asks the revered Berkeley sociologist and activist. "Africans have been here for 360 years. Today, 80% of African Americans are people born of some level of interracial and intercultural mixing. [Entine's claims are] pure insanity. ... It raises the question: Exactly how black do you have to be to be good at corner?" Loosing a belly laugh of incredulity, Edwards continues: "If blacks are superior, why is the league wasting all of this money on scouting? Just go to the black community and scoop up all your players and win every game."
"If you're a young kid," says Terence Newman, one of the few active players who didn't request anonymity on this topic, "you try to emulate somebody, right? For me it was Deion Sanders, Emmitt Smith. Today, white kids might want to be Peyton Manning. Maybe J.J. Watt. It's not as likely that a white teenager is out there saying, I wanna be Richard Sherman."
"The solitary nature of the position is more appealing to young African-American players," says Dr. Edwards. "For some young people, they believe if they don't make it in athletics they're not gonna make it in any endeavor, so they take it upon themselves in every possible way. That's part of the appeal of basketball: You can do it yourself, you can make it by yourself. Or so kids think. ...
"This imagery of the elite cornerback, the aesthetic of it—Deion with the towel hanging from his waist, out there alone, no safety help—that's powerful imagery. It says, 'It's all on me.'"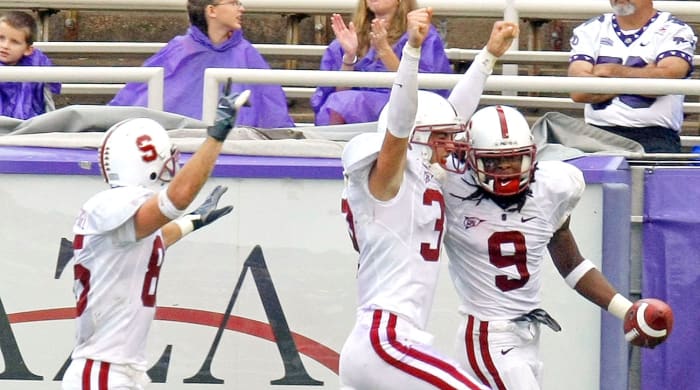 "I loved Donny as a player and a teammate," Sherman, now a four-time Pro Bowler, says of Lisowski's short stint with Seattle. "But in the end I think it was just a matter of [the Seahawks] preferring taller corners."
Sherman played with a white cornerback at Stanford for whom height wasn't an issue. Mark Mueller's wispy, vascular appendages looked like Usain Bolt's dipped in milk; he was the type of guy who could roll out of bed, throw himself a lob off the blacktop, rock it between his knees and reverse dunk it. "Mark was a better athlete than I was, no question," says Sherman. "All his measurables were better than mine."
Although Mueller played running back and linebacker at his suburban Denver high school, Jim Harbaugh and his Stanford staff projected the teenager as a cornerback, the spot where Mueller would one day be replaced, in a manner, by a converted receiver named Richard Sherman. Competing against each other in practice from 2007 through '10, the two young men—Mueller the corner and Sherman the wideout—were identical beneath their epidermises. Wide wingspan, thin legs, narrow hips, long strides. Mueller ran sprints for the Cardinal track team at 6' 3" and 200 pounds. His best 60-meter time was 6.96—a hair slower than Lisowski's PR of 6.89 but faster than the 7.06 Sherman ran for Stanford.
"Sherm was a lot hungrier to get to the NFL than I was," says Mueller, now an assistant track coach at Duke, "but the main difference was injuries. I tore my labrum in both shoulders, broke my toe, had six concussions, two herniated disks. ... My college career is borderline embarrassing because I was always in the training room. The coaches began to see me as this fragile track guy, which I guess I kind of am."
But what if Mueller's finicky physique had held up, and what if he'd been afforded the chance to make the mistakes that Sherman made in his first year at corner? (Even Sherman concedes that his 2009 season at Stanford was not exactly a lesson in lockdown.) Might Mueller be doing what Sherman is doing now? Asked another way: What if a clone of the game's best cornerback—except this clone is more athletic—were whipped into shape, gotten up to speed and dropped into an NFL lineup? "Sure, I think about it," Mueller says. "I could make those plays. But I'm not a big fan of what‑ifs."
Injuries. Position preferences. Social mores. "There isn't one single reason it is the way it is," Sherman says of the league's predilection for melanin at his position. "Nobody's stopping anybody."
"People used to tell me that all the time: Try safety." Pete Ittersagen says. "Like it's easy. So you want me to put on 25 pounds and play inside the box? Nah. I'm a corner."
Dustin Fox would disagree with that assessment. Though his size and his stats suggested that cornerback was Fox's natural position, the NFL insisted it was not. "I started at corner for four years at Ohio State [from 2001 through '04], won a national title, was named All–Big Ten—and I get to the NFL and suddenly I'm a safety," he says. "At 5' 11", 185 pounds. After I ran a 4.43 at the combine. Why?"
Fox's position coach at Ohio State was Mel Tucker. "I've never worked with a coach at any level for whom [race among cornerbacks] mattered," says Tucker, a black man raised in a predominantly Jewish section of Cleveland who is now the defensive coordinator at Georgia. Tucker said this as he sat watching tape of DBs. "There's no sound on these clips," Tucker says. "All I'm looking at is jersey numbers and physical movements and reactions. This has nothing to do with white or black."
Try telling that to Fox, who arrived at the 2005 combine expecting to find his name listed among the cornerbacks ("right above Domonique Foxworth's") but instead finding it among the safeties, none of whom were smaller than Fox's 191 pounds. That sudden demotion—and it was a demotion (a '11 study in the Journal of Strength & Conditioning Research concluded that cornerback is the most challenging of football's 15 positions; it's also paid, on average, the sixth-highest, whereas safeties are paid tenth-highest)—was softened by the strange praise Fox heard from several NFL coaches that week. Having observed him only from the nosebleed All‑22 angle, these coaches told Fox, wide-eyed as they shook his hand, "We thought you were black."
Fox's defensive coordinator with the Vikings in the summer of 2006, Mike Tomlin, called his little-used safety "the American Dream Dusty Rhodes," after the white professional wrestler from the 1970s who fought on behalf of the working man. Fox laughed at the joke, but by the time his four-year career reached its last stop, in Buffalo, it was slightly less funny.
"Why didn't I come into the league as a cornerback?" asks Fox, 34, who today cohosts a popular radio sports talk show in Cleveland. "My measurables were better than half the corners in the league. I made plays at Ohio State. Started [37] college games. I can't even get a shot? I vertical-jumped 40 inches. [Actually, Fox's vertical at the 2005 combine was 43 1/2 inches—not only second best among safeties that year but second best among corners and fourth best among all players.] I'm telling you right now, I was as good as or better than half the cornerbacks in the NFL. They got the opportunity, I didn't. ... The NFL was great. But I always felt like I never got a fair shake playing the position because I was white."
There were precedents for Fox's angst. In 1994 the Giants moved Sehorn back to safety the moment they drafted him. After two years of calls to Thurman, seeking his college coach's counsel—"He told me, 'You've got to fight to play corner,'" Sehorn remembers; "'they're not gonna move you back just because you want to'"—Sehorn was finally sent homeward to the boundary.
"The only resistance we felt [at USC]," says Thurman, "came from scouts and personnel people when they first came in to evaluate Jason. They asked, 'Is he a safety?' I said, 'No.' They were like, 'What?' Jason went out there and proved them wrong."
It's been 21 years since Sehorn officially became an NFL corner. He recalls the first time he lined up opposite Michael Irvin. "I don't know if he had honestly never seen me or what," Sehorn laughs, "but he said, 'Dang, you are white!' "
Playing safety wasn't an option for Donny Lisowski, nor was it an option for Pete Ittersagen, another undersized (5' 10", 190 pounds) cornerback from a small school, D‑III Wheaton (Ill.) College. Ittersagen played two snaps at corner for the Titans in 2010 thanks to a series of injuries at the position and, more specifically, to a winding 88-yard interception return by Jason McCourty that was negated by a penalty and which forced McCourty, the exhausted starter, to pat his helmet and let Ittersagen pinch-hit for two plays. "People used to tell me that all the time: Try safety," Ittersagen says. "Like it's easy. So you want me to put on 25 pounds and play inside the box? Nah. I'm a corner."
In 2008, Texas A&M had a white cornerback named Jordan Peterson who returned an interception 48 yards for a touchdown against New Mexico. One year later another white corner, Colorado State's Nick Oppenneer, took one 97 yards to the house against the Lobos. New Mexico's coaches presumably do not tell recruits this.
Today Peterson is the outside linebackers coach at Texas State, his childhood dream of becoming the next Sehorn having ended with a gruesome elbow and shoulder injury his sophomore year. "At this point," he says, "it's going to take a coach who's willing to take a risk—somebody who will stick his neck out there for a kid who loves the position and has a future there."
Fact is, Rutgers's Anthony Cioffi and BYU's Micah Hannemann were the only white corners to start for a BCS school recently. Cioffi had earned his way into that coveted corner spot after a stellar high school career in Springfield, N.J., where his family runs a popular deli established 60 years ago by Anthony's Italian immigrant grandparents, and by winning the 2012 state title in the 100 meters with a time of 10.86. In the spirit of Italian sprinter Piettro Mennea, who in 1979 broke the world 200 record by running it in 19.72 (still the best time by a nonblack athlete), Cioffi defeated the favorite in that state title race, Anthony Averett, who now starts at cornerback for Alabama.
"I do think it will end," Cioffi said of the Sehorn streak. "God willing, when my four years [at Rutgers] come up, I'll get a shot at it." But that was two years ago, before Cioffi and Hannemann were each moved to safety.
Then again, Ethan Kilmer played corner in the NFL without playing a single snap at the position at Penn State. Kilmer's claim to fame at State College: all the times he humored his teammates by leaping and touching the 12-foot ceiling in the locker room. The Bengals drafted the explosive but raw receiver in the seventh round in 2006, and in Week 11 of that season, with Kaesviharn starting at safety for a secondary wracked by injuries, Kilmer watched from the sideline as Cincinnati's last healthy corner, Keiwan Ratliff, was hurt returning a punt. That's how Kilmer got shoved onto the field to play a position he had only dabbled at in practice—except now he was going against the Saints' league-best passing offense.
On second-and-short, Drew Brees tried to dump a pass to a running back out in the flat, but the former Penn State walk-on intercepted Brees with nothing but green turf in front of him. A diving Brees almost caught Kilmer at the 20, which would have heaped shame on the tiny fraternity he didn't realize he had just joined, but Kilmer scooted by and thus turned his first snap as an NFL cornerback into a 52-yard touchdown.
"Forget starting," Dustin Fox says. "That's no longer the goal. Forget getting snaps. Just get a practice rep. Just make the team! Just be on the roster with CORNERBACK next to your name instead of SAFETY."
Lisowski couldn't get there inside a Trojan Horse, as Kilmer did. Lisowski was a committed corner. He still remembers arriving for work on Aug. 26, 2012, and going through his ritual of checking Seattle's special teams depth chart, which he had been climbing. But that day his name wasn't on the sheet at all. Maybe the Seahawks had caught on to the right-shoulder injury he'd suffered during his first practice that spring. ("I tried to hide it, but they had to know I was in the training room every morning.") Whatever the reason, he was politely asked to turn in his iPad and told to stay in shape because someone else was sure to call him soon.
Eighteen months and zero calls later, as Lisowski watched Sherman and fellow corner Walter Thurmond leave Super Bowl XLVIII with injuries, he was surprised to feel the same butterflies behind his ribs that he used to feel when he was about to run onto the field. He thought he had gotten over it.
"I could have played in the NFL," says Lisowski, who is still in top condition due to his recent enlistment in the Navy, where he will work as a medical corpsman. "I proved in the most competitive practice environment in the league, working with the best secondary in the league, that even with one good arm, I'm right there with them." He turned down a CFL contract after Seattle released him, then he dabbled in Arena and semi-pro ball before realizing "there's more to life than getting to the NFL. I proved to myself that I can compete at that level, and that's all that matters." A few months later, knowing that 4.38 speed doesn't grow on trees, he reconsiders. "Did some thinking. ... Interested in playing again," he texts.
Pending that, the status quo holds. The successors to Pat Fischer (56 NFL interceptions from 1961 through '77) are as difficult to find as Bobby Fischer. The league's next Roger Wehrli (one of two white corners in the Hall of Fame) might as well be named Shirley.
"Forget starting," says Fox. "That's no longer the goal. Forget getting snaps. Just get a practice rep. Just make the team! Just be on the roster with CORNERBACK next to your name instead of SAFETY."
Mueller, the bleached Richard Sherman clone, married a Stanford track star with whom he plans to start a family, so one might imagine that he has thought about siring the next Sehorn. "My wife is African-American," he says with a laugh, "so I don't think it would count."
Maybe a white cornerback will emerge from all the attention that Mueller's college teammate has brought to the position over the past few years. Sherman has made playing corner cool again, the way Deion Sanders did after his selection by the Falcons in the 1989 draft pushed (white) cornerback Scott Case to safety for the remainder of his Atlanta career.
Any kid out there who's pulling on a pair of Sherman's Iversonesque forearm sheaths to start the revolution might want to know that, for road games, Sherman prefers his sleeves white.