A New Staple of the Draft: Disruption
Ohio State cornerback Gareon Conley is being investigated by Cleveland police for an alleged rape, which he denies. It's the latest in a string of serious stories (La'el Collins, Laremy Tunsil) that have overshadowed the NFL's extravaganza in recent years
PHILADELPHIA — Twenty-one future NFL players lined up on the sixth floor of the Shriners Hospital for Children on Wednesday morning, ready to toss Nerf balls and play games with kids who are being treated for serious medical conditions. Along with the many interviews players will give and the many parties they'll attend over the next few days, community events such as this one have long been a staple of the NFL draft.
In recent years, however, serious storylines have overshadowed the league's extravaganza that turns college football's best players into millionaires. This year is no different. Former Ohio State cornerback Gareon Conley, who'd been invited to join his peers at the hospital, was conspicuously absent on Wednesday. Thought by many to be a first-round talent, Conley left the City of Brotherly Love the day before under a cloud of suspicion after being named in a rape investigation in Cleveland.
• PETER KING'S WEEKLY HOT READ:  Want insider information from Peter King? Check out The MMQB Hot Read
When the news about Conley broke, his college teammate Marshon Lattimore rushed to his defense on Twitter, questioning the alleged victim's account of the night and motive. Lattimore, another cornerback expected to be a top draft pick, later deleted those tweets and was told by his agent to choose his words carefully in media interviews during the hospital visit.
"You know you can't put yourself in a situation like that," Lattimore said. "You never know what are peoples' motives, what they are trying to get from you. It's just best to stay with your family throughout this process and just stay out the way. Everybody learns something from this. I hope the truth comes out, to where he is innocent . . . but we are going to see."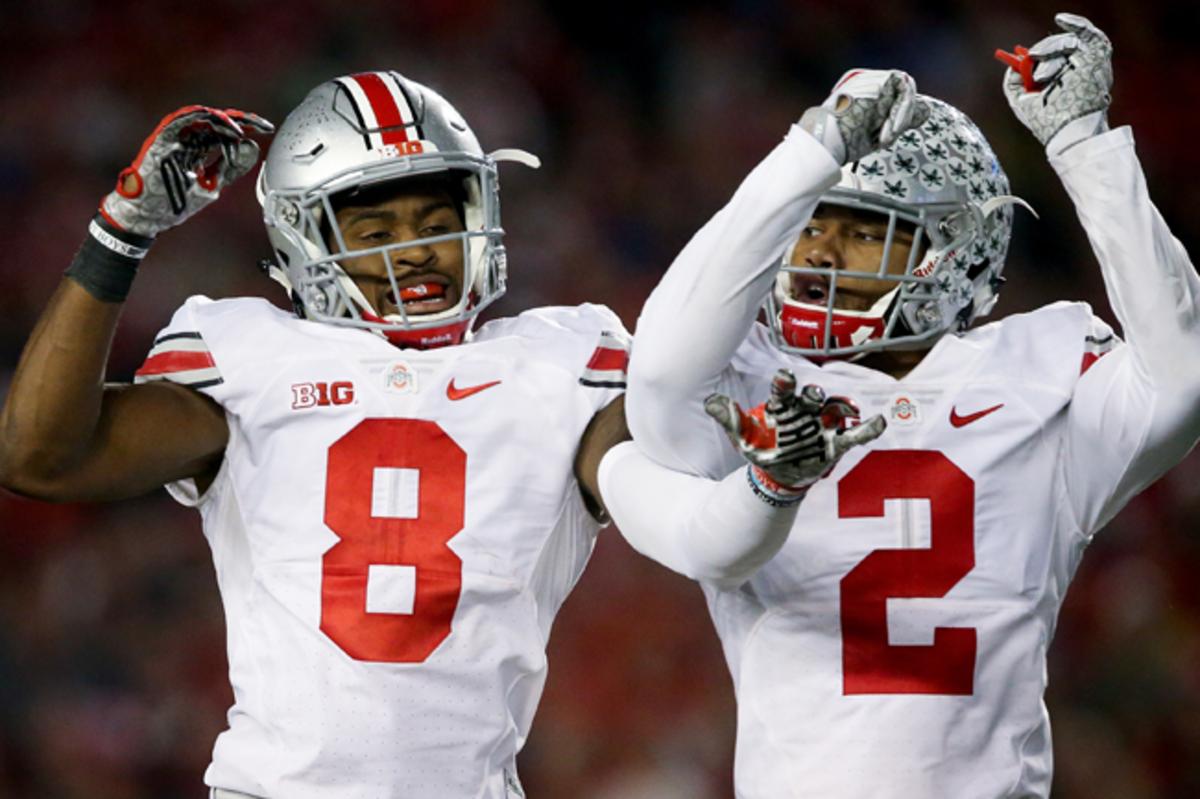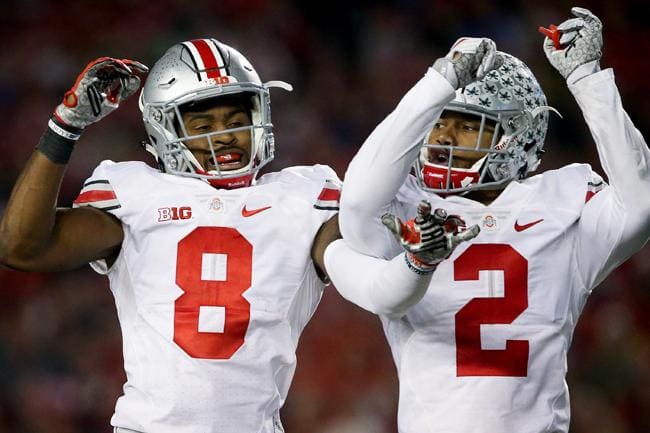 Conley isn't the first player to have his draft stock affected by allegations—true or not—so close to the draft.
In 2015, two days before the draft, NFL teams learned that Baton Rouge police wanted to question LSU offensive lineman La'el Collins as part of their investigation into the murder of a woman with whom he'd had a past relationship. Though not considered a suspect, Collins went undrafted as NFL teams waited for him to be interviewed. He wasn't cleared by the police until after the draft, and ended up signing a free-agent contract with the Cowboys worth $1.599 million, about $6 million less than the last pick in the first round. Last year, Ole Miss tackle Laremy Tunsil fell in the first round after an old video of him smoking marijuana in a gas-mask bong circulated on the internet. The video was originally posted to his own Twitter account, which had been hacked just minutes before the draft started.
"It happens every year, a story like that comes out," Lattimore said on Wednesday morning. "I just hate that it had to be [Conley]."
In this case, Conley was named in a police investigation slightly more than 48 hours before the draft. According to a report issued by Cleveland police on Tuesday, the alleged victim said she met Conley in a hotel elevator in downtown Cleveland on April 9 and went with him and a group of his friends to a hotel room. There, she said, Conley raped her in the bathroom. Conley, who hasn't been arrested or charged, released a statement on Wednesday calling the allegations untrue and malicious. He also claimed to have exculpatory video evidence.
• PETER KING: On the Gareon Conley Situation
Indirectly, many of the prospects in Philadelphia will have their draft experience affected by Conley—partly due to the media coverage, but mostly due to when they'll be selected and by which team. Most of them, however, seemed to have been coached on how to avoid the subject. Some said they hadn't heard about it. Several more, asked if a situation like this spurred them to change any behaviors or go on lockdown during the final days before the draft, said they don't go out anyway.
"I am always at the house," USC cornerback Adoreé Jackson said. "I am like Patrick [from SpongeBob SquarePants] pretty much, under the rock, just hanging out and doing my thing. Nothing changed for me. I don't go out. If somebody ever seen me out, they might think the world is probably ending."
Alabama defensive tackle Jonathan Allen said that Nick Saban, as recently as last Saturday, reminded his former Crimson Tide players about his oft-repeated adage: "Do you want to be an and guy or a but guy?" In other words, teams will talk about you in one of two ways: "I like this guy, and . . ." or  "I like this guy, but . . ." Stanford coach David Shaw, who is in Philadelphia working as a commentator for the NFL Network's draft broadcast, says he'll use examples of such alleged mistakes, even in perception, in a presentation he makes to his own players.
• ALBERT BREER: Welcome to Draft Day . . . How Far Will Conley Fall?
There will almost certainly be no official resolution regarding the Conley investigation by the time the draft begins at 8 p.m. on Thursday. At team headquarters across the country, the risks and rewards of drafting a surefire talent with such off-field uncertainty—he was labeled a "suspect" by Cleveland police—will be hotly debated.
"It's Wednesday at 12:30, so I don't know what's going to happen prior to tomorrow night," draft analyst Mike Mayock said at an NFL Network luncheon in downtown Philly. "The only answer to that question is how deep a team can dig between now and Saturday [the final round of the draft] . . . All I can tell you is that if there is any doubt, most teams won't draft him at all."
NOTES FROM PHILLY
Mike Mayock called this "the cloudiest first round I've ever been involved with." Even more than other years, there's tons of uncertainty in Philadelphia about how the first round will unfold. There's just not consensus on the players at the top of the draft. It's a deep class without a lot of stars, and many of the top prospects have big question marks. The Conley situation is by far the most serious, but teams also have to consider things such as Marshon Lattimore's hamstrings, Jonathan Allen's shoulders, Reuben Foster's combine altercation with a hospital worker and a failed drug test, and the fact that UNC quarterback Mitchell Trubisky started only 13 games in college.
• EMILY KAPLAN: 50 Draft Prospects You Need to Know
* * *
The biggest factor in how the first round unfolds is when the first quarterback will be taken. When the first one goes, that usually sets off a run at the position. What if the Browns take Trubisky at No. 1? It's then possible that three quarterbacks go in the top 13 picks—and this could go down as the Year of the QB Reach. Trubisky; reigning national champion Deshaun Watson; and Texas Tech's Patrick Mahomes, who visited or worked out for 19 NFL teams this spring, are expected to be the first three quarterbacks taken. But if you hear Trubisky's name called No. 1 to the Browns—and I'm not saying that will happen, but it's possible—things will get very interesting in Cleveland. You can bet there would be a lot of questions, not just from media and fans, but perhaps also players and coaches, on why, exactly, they passed on the clear best player in the draft, Texas A&M defensive lineman Myles Garrett.
• ANDY BENOIT: Inside the Film Room With... Mitchell Trubisky
* * *
Trubisky, a native of Mentor, Ohio, is a lifelong Cleveland sports fan. His favorite Browns QBs: Bernie Kosar and Derek Anderson. His take on what it means to be a Browns fan: "Loyalty."
* * *
In 2013 and 2014, no running back was taken in the first round. But since then, two RBs have been taken in the top 10 picks: Todd Gurley went to the Rams at No. 10 in 2015, and Ezekiel Elliott to the Cowboys at No. 4 last year. Both players surpassed 1,000 rushing yards as rookies, and Elliott was a first-team All-Pro, which Leonard Fournette believes will help him in this year's draft. The LSU running back is considered by many teams to be a rare talent at the position—but Fournette also sees the value of his position climbing back up. "They showed everybody, a first-round running back will do what they did, go in and make an impact," Fournette said. "They did a great job helping us out." Fournette is expected to be a top-10 pick, and Stanford's Christian McCaffery is also expected to go in the first half of the first round.
• PETER KING'S MOCK DRAFT: Expect Weirdness
* * *
One player in play for the 49ers, who have the No. 2 overall pick, is Stanford DE Solomon Thomas. Every team has done its homework on Thomas, but 49ers GM John Lynch is the only NFL team official who has done homework with Thomas.
During Thomas' freshman year, Lynch returned to Stanford to finish his college degree after a successful 15-year NFL career. One of the classes he took that semester was a Management Science and Engineering class on how to make good decisions. Not only was Thomas in his class—they worked together on a project.
• ANDY BENOIT: Inside the Film Room With… Solomon Thomas

The topic: Should the Washington NFL team change its name? Thomas says he can't remember their verdict; the project was more about the decision-making process. "He was on top of all the stuff, coming back as an older person, compared to us young people," Thomas recalled of Lynch. "He was on top of discipline, very studious and diligent."

Thomas got a B+ in the class. He doesn't know Lynch's grade but guesses it was an A. Afterward, they kept in touch, Thomas reaching out to the nine-time Pro Bowler for advice. It's possible Lynch is the one who calls Thomas on Thursday night, letting his onetime classmate know that he wants him on his team. And if Lynch passes on him? "It's going to be fine," Thomas said with a laugh. "He has to make the best decision for his team and who he thinks is the best player. If it's not me and it's someone else, I'll go to the next team, or whichever team chooses me."
The MMQB's Kalyn Kahler contributed reporting for this story.
• Question? Comment? Story idea? Let us know at talkback@themmqb.com