Cortez Kennedy: The NFL Loses a Legend at Age 48
The Seahawks' Hall of Fame defensive tackle passed away Tuesday and leaves a legacy that one heartbroken friend said 'was never about Cortez the football player.' Plus readers sound off on offseason power rankings
Somber day in the NFL. Not a lot of people around the league were tight with Hall of Fame defensive tackle Cortez Kennedy, the 1992 NFL Defensive Player of the Year. (Defensive player of the year awards: Kennedy one, Deion Sanders one, Champ Bailey zero, Julius Peppers zero.) Kennedy was closer to the security guys, the video guys, the neighbors on his block—some of whom didn't know he was a football player.
When former Seahawks contract negotiator Mickey Loomis—who did the big deals with Kennedy's agent for the nine-time all-pro player—was let go during a change in ownership late in Kennedy's Seattle tenure two decades ago, the first call Loomis got was from Kennedy, wishing him well, asking if he could do anything. And when Loomis got the front-office job in New Orleans in 2000, he stayed in close touch. When Kennedy's Seattle career ended, Loomis called, offering a one-year deal in New Orleans. "I can't do it," Kennedy said. "I can't do that to Seattle. I want to say I played my whole career with Seattle."
Kennedy died of undetermined causes in Florida on Tuesday at 48. He hadn't been feeling well, but the cause of death has not been determined.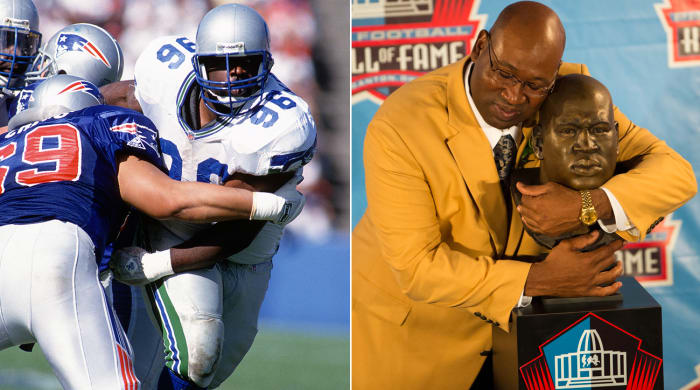 Loomis was still broken up Tuesday evening. Kennedy became such a close friend that the Saints became his adopted team. He knew all the Superdome staff, and all the behind-the-scenes people at the Saints' training facility. He loved Loomis' family. Sometimes, unannounced, he'd come to town just because he missed the Loomises, and he'd sleep on their couch. Loomis has twin 6-year-old kids, and when they visited Orlando to see Kennedy a year or so ago, they burst past security for a hug with Kennedy, screaming, "UNCLE TEZ!"
Kennedy was the godfather of one of the twins, Lucy. Loomis and his wife gave the other twin this name: Samuel Cortez Loomis. Not because Loomis wanted to say, See? I'm tight with a Hall of Fame player! But because he wanted his kids to grow up with the influence of a selfless and loving person in their lives. Mickey Loomis wanted them to know that their parents chose Kennedy as a model for them. This is how you treat people, they were told.
"I don't know how I'm going to tell them," a broken Loomis said.
"He is a member of our family," Loomis said. "They say only the good die young. That's certainly the case here. When I used to negotiate contracts with his agent, you know you can't get close to players. You try to be friendly with players, but not friends. With Cortez, I just couldn't help myself. You'd be around him, and you'd notice how he was friendly with everyone. All races, all nationalities, all religions, all kinds of people. I mean, later, you'd see him rooting for the European Ryder Cup team, and you learned he'd met those guys and got to know them. Of course he was going to root for them—they were his friends.
"It was never about Cortez Kennedy the football player. It was always about Cortez the human being. I can tell you, the way he treated every person he came in contact with … if he was in charge of race relations in this country, we wouldn't have any of the issues we're having. He loved everybody."
But Kennedy the football player was impressive enough. Awards are often (always?) skewed to players on winning teams. But in 1992, on the Seattle team tied for the worst record in football (2-14), Kennedy, a 24-year-old three-technique defensive tackle, knifed his way through lines for 14 sacks. Bruce Smith and Reggie White, edge rushers in prime seasons, tied Kennedy with 14 sacks that year. That's extreme for even the greatest defensive tackles, 14 sacks in a year. His 11 seasons in Seattle made enough of an impact that he was elected to the Pro Football Hall of Fame in 2012.
From then, Kennedy became a Saints adviser because of his closeness with Loomis. More emotion poured out of his adopted team, the Saints, than either his college (Miami) or pro team in Seattle—and that's no negative reflection on either of those places. New Orleans players, front office and fans loved Kennedy. Often, in post-game locker rooms in the Saints' glory runs a few years ago, there would be Kennedy, talking to writers or equipment guys or coaches or players. "He loved people, and he hated to be alone," Loomis said. Rarely he was. Loomis' family, and his team families, were the beneficiaries.
Now for your email, mostly about my ranking of the teams from 32 to one...
• PETER KING'S POWER RANKINGS: A two-part look at how the teams stack up heading into 2017 after all the offseason movement
* * *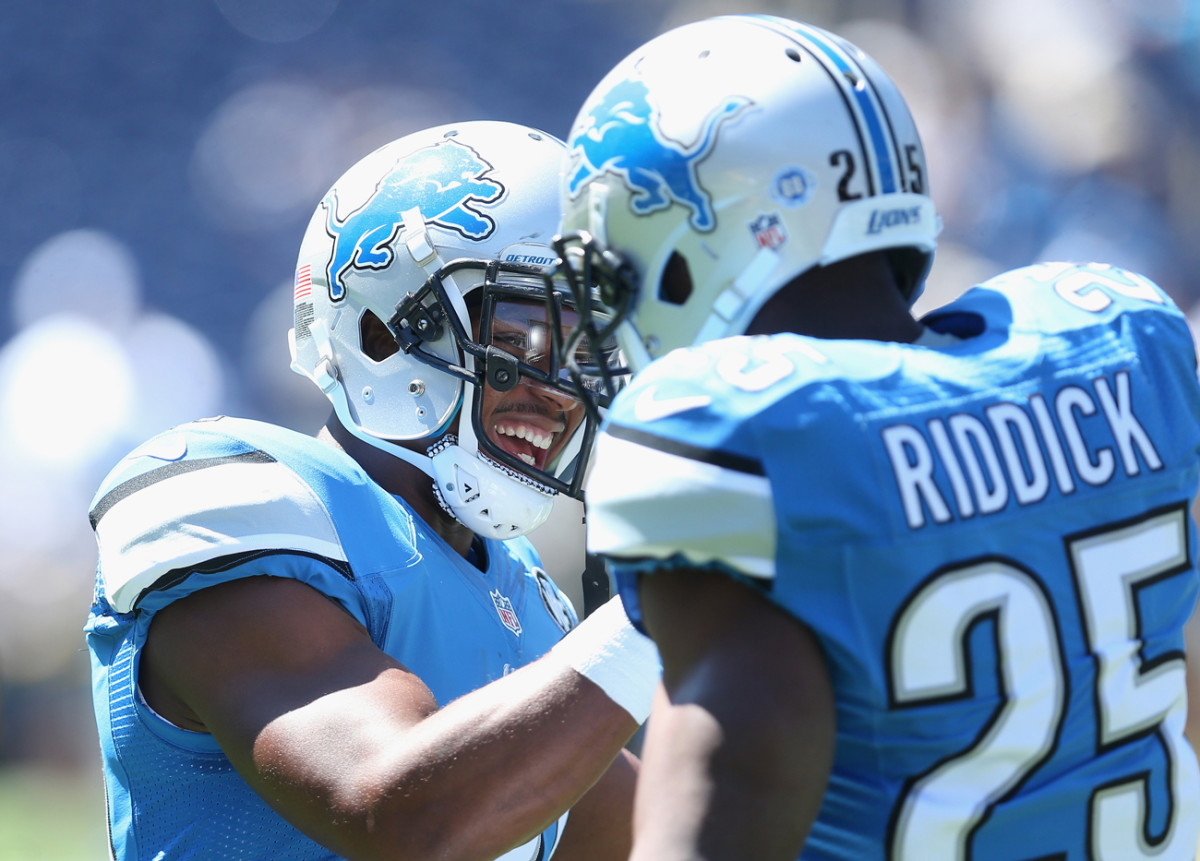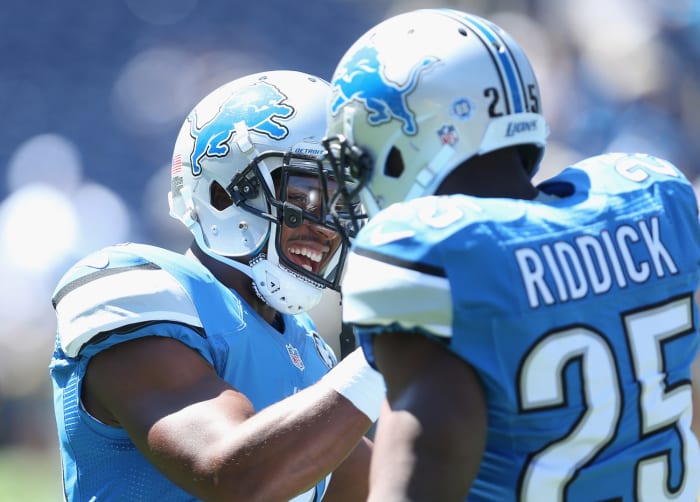 LIONS AT 17
I hate to be the guy who argues opinions, but I have no idea how you can think that Theo Riddick is a better back than Ameer Abdullah. In receiving and open-field play, Abdullah is essentially Riddick's equal, and in terms of rushing, Abdullah's vision, decision-making, and speed are all clearly superior. I love Riddick to death, and his rushing is improving, but AA is probably 95 percent of the back he is receiving and 200% of the rushing threat. No argument on the Lions being 17th in the rankings, I just think that's a terrible reason for it. Also, calling Wagner and Lang's contracts bloated when they are less than those of the inferior players they replaced (Warford in NO, Reiff in MN) seems to be willfully ignoring some important information. They clearly upgraded and saved money with those "somewhat bloated" contracts.
—Jonathan
When I watch the Lions, I think Riddick is the more dangerous back. You're right about stats—they certainly don't prove Riddick better. It's a personal preference, and the fact that Riddick last year averaged 5.0 yards per touch on 145 rushes/receptions. As far as the bloated contracts, I understand the concept of paying for quality. I question paying $20 million a year (an eighth of your cap, though it doesn't show up exactly like that because some money is pushed into the future) for two of 22 starters who aren't premier players.
• BUSINESS OF FOOTBALL: Andrew Brandt on the case for getting rid of OT
EAGLES AT NO. 23
One potential saving grace for the Iggles in that nine-game stretch from hell is their depth in the offensive line. I am going way out on a limb, and predicting 10-6. Bob Ford agrees with you, so the two best sportswriters in the country disagree with me. Which probably does not bode well for my prediction.
—Grant K.
Grant, all predictions are guesses. If you're right, I will toast you with this LaCroix lime sparkling water I'm downing right now.
PATS AT 1
I agree that grit is what defines the Pats, but as for them almost having "decisively lost" the Super Bowl, I disagree. After the game Bill Belichick said, "It was funny, it was one of those games where we didn't have control of the score, but I didn't feel like we had lost control of the game. We could move the ball, we were able to stop them on third down. We were able to do things, but the scoreboard was very much against us."
—Darren B.
It turned out the right way for the Patriots, but I'd maintain that, midway through the third quarter, the Patriots were decisively losing the game. Most teams that are behind 28-3 two-thirds through a game are decisively losing. But that's the thing about the Patriots—they just never say uncle.
• NFL RELAXES CELEBRATION RULE: Emily Kaplan on the No Fun League changing its tune, plus more thoughts around the league 
CHARGERS AT 25
I fail to understand why you feel that the Chargers are "going to feel like you're living out of a suitcase for three years." Sure the Carson location is smaller, but it is just 11 miles from the planned Inglewood stadium so staff who elect to move into LA area should not be personally disrupted by the stadium change.
—Peter S.
It's about practicing this spring in San Diego, relocating to do camp in another place, and playing in another place, all the while with families moving, with some families not sure what they doing at least in year one … It's just a mucked-up time. The craziness hurt the Rams last year.
TITANS AT 4
Peter, you're a highly respected figure in NFL journalism, but to say that the Titans are the fourth best team in the NFL, behind the Pats, Raiders and Falcons, is a bit much.
—Travelle
Every year there's a surprise in the NFL … and sometimes it's a big surprise. Tennessee's my pick for that this year. We'll see.
RAVENS AT 18
What exactly makes the Ravens worse? They were literally average, and improved across their defense and offensive line. While Steve Smith is one of the most ravenous Ravens to ever Raven, he was still basically a great possession receiver last year. And a word of caution: Grantland and then the Ringer have made a tradition about saying the Bucs will do great things, and fixed something in the draft. Has not happened yet.
—William K.
"One of the most ravenous Ravens to ever Raven." That is the greatest line ever written by a Wednesday mailbag author!
POWER RANKINGS IN GENERAL
I have to say that this week's column of "Power Rankings" had the same feel for me as tuning in to my favorite sitcom in the 80s and realizing it was a clip show. Sort of a major bummer. Columns during this slow time would be a great chance to further highlight a lot of the community and charitable works of the players and teams. Just a thought.
—Mike H.
Great job on the rankings. Now do a follow-up at the end of the season to see how closely your predictions match reality.  
—Terry J.
Just trying to do something a little different, Mike. Sorry it didn't appeal to you. And Terry, if I do not remember, please drop me a line in January and I will do exactly as you say.
BRADY'S (POSSIBLE) CONCUSSION
Really disappointed in your treatment of Tom Brady and his potentially unreported concussion. You've spent quite a bit of time talking about concussions in the NFL, and rightly so. Then you are presented with this opportunity to make a solid point about the need for players to report concussions, and you punt it to Drew Brees and Ben Roethlisberger for opposing views. Very equivocal. Not in keeping with your previous stance on concussions … This fits with your previous history of playing the role of Patriots apologist.  
—Mark I.
After the news of the week, Mark, tell me: when was Brady's concussion? Which game? I don't doubt he has suffered a concussion in his career, and I am not questioning his wife's declaration that he suffered one last year. But the team and the league say they cannot find evidence of one. If we can discover evidence of a concussion, then we can decide which party or parties is to blame, if any. I find it hard to blame a ghost.
• Question or comment? Email us at talkback@themmqb.com.