The One That Got Away
For the past 14 seasons, you've seen him slugging home runs as an MLB All-Star. But 20 years ago, college recruiters and even some of the NFL's greatest minds saw something else in Matt Holliday: a franchise quarterback in the making
Welcome to Baseball Week. As training camp approaches and baseball takes a break for its mid-summer classic, The MMQB presents a week of stories on the crossover between hardball and football.
Two decades ago, Les Miles had a stroke of luck so fortuitous that it might only happen once in a coach's career: The top quarterback recruit in the state, and one of the best in the country, lived just a few houses down the street.
Back then, Miles was an up-and-coming offensive coordinator at Oklahoma State. His kids grew up idolizing their neighbor, while dad wooed him on behalf of the Cowboys. NCAA rules permitted coaches to make home visits once a week, so, once a week, Miles would take a walk down his Stillwater, Okla., block. Miles grabbed the pad of paper next to the Hollidays' telephone and, over meatballs, drew up plays—a lot of pass plays—that he just knew would light up OSU's Lewis Field. The quarterback's dad still remembers the optimism that flew around their kitchen table (We'll lead the nation in scoring!).
All of them believed it. As a junior at Stillwater High, the kid had set a state record with 35 touchdown passes, this in an era before high school football was an aerial show. In the fall of 1997, during his senior year, a USA Today recruiting column described him as "the unbelievable quarterback out of Stillwater, Okla." He could sling it 75 yards without a lot of strain, and two decades later, Miles still recalls his neighbor's natural touch as a passer. "Boy," Miles says wistfully, "he could really whistle it."
But they never got the chance to run those plays they'd drawn up together. In early 1998, Miles accepted a job as the tight ends coach for the Dallas Cowboys. And that summer, the quarterback broke hearts in Stillwater when he walked away from football to chase a different sports dream. High school careers, in all too many cases, are in no way predictive of future success. But this quarterback? Even now, Miles is convinced of what he saw.
"I think he'd be playing in the NFL today," Miles says. "I think he'd still be playing."
• BASEBALL WEEK AT THE MMQB: The MMQB's series on the crossover between hardball and football.
* * *
The quarterback has made a name for himself on the baseball diamond. Even casual baseball fans know Matt Holliday, former Colorado Rockies, Oakland A's and St. Louis Cardinals star, currently spending his 14th MLB season as a designated hitter and veteran clubhouse mensch for the New York Yankees. "I ended up, I think, making the right decision," Holliday said modestly before a Friday night game at Yankee Stadium this spring.
Yes, his decision, made a few months after high school graduation, to pursue a professional baseball career has worked out so well that it's immune to any second-guessing. But at the same time, Holliday's well-above-the-odds success in one professional sports career only stokes curiosity: What if he had chosen football?
In hindsight it was an easy call, but 20 years ago it wasn't so obvious. Holliday loved baseball. He grew up around it; his dad coached it, his uncle scouted it and his older brother played it. Holliday always answered the age-old grade-school question—"What do you want to be when you grow up?"—the same way: A professional baseball player. But he also had an uncommon arm, built for a purpose beyond the baseball diamond.
The first time Holliday played quarterback was in eighth grade. Before that, because of his extra-large frame, he was required to play a position that didn't involve him carrying the football. Coaches stuck him on the offensive line, which was almost enough to run him out of the sport. His junior-high coach thought tight end might be the best fit—that is, until Holliday uncorked a 55-yard throw on his first attempt in a game. The receiver walked into the end zone untouched. On the next play, different pass pattern, same result.
Once his older brother, Josh, graduated, Holliday took over as the starting quarterback for Stillwater High as a sophomore. They ran a basic I-formation offense, no shotgun, far from the pass-happy spreads in vogue today. But by the end of his prep career, he'd thrown for more than 6,000 yards and 68 touchdowns. Years later, a game from his senior season is still the stuff of legend across the state of Oklahoma.
Stillwater was facing Tulsa Union, a state powerhouse, in the Class 6A playoffs. Midway through the fourth quarter, Stillwater trailed 42-21. Fans began to trickle out of the stadium—until word of a rally reached the parking lot. In the game's final six minutes, Holliday led Stillwater on three touchdown drives. By the time it was over he had thrown for 375 yards and five TDs in a 43-42 victory. Ten years ago, The Oklahoman published a list of the state's 100 greatest sports events. Holliday's dramatic comeback for Stillwater ranked No. 71, just two spots below Henryetta's Troy Aikman being named the MVP of Super Bowl XXVII.
In the stands, sitting in front of Holliday's parents that night, was Derrel Gofourth, the former Oklahoma State guard who played eight seasons in the NFL. "I don't know what Matt's going to do," Gofourth told the Hollidays after Stillwater's final score, "but if he doesn't play college football, you are crazy."
Holliday's recruiting class was packed with QBs—among them, Mike Vick and Carson Palmer—but recruiters gushed that the 6' 4", 215-pound pocket passer might be the best pure thrower in the country. An August 1997 article in the Tulsa World detailed the ramped up recruiting of Holliday. While touring in Brazil with the junior national baseball team, he got a phone call from Notre Dame head coach Bob Davie. Colorado's Rick Neuheisel flew in to Stillwater for a spring workout. Holliday was touted as Oklahoma's best football prospect since Aikman, word that reached the three-time Super Bowl winning quarterback himself. At the all-state football banquet Holliday's senior year, Aikman presented him with the trophy for Offensive Player of the Year. Holliday's dad recalls the Cowboys star good-naturedly introducing his son as, The guy who broke my records and, from what I hear, throws the football better than I do.
Then and now, Holliday never enjoyed the attention. "People try to make a lot out of my football career," he says, "and I try to remind them, I just played in high school, and there was no guarantee. I don't want to overhype my football prowess. But, I did love to play."
• TOM BRADY'S BASEBALL CAREER: Including the time a 17-year-old QB borrowed Ken Griffey Jr.'s jersey.
* * *
If anyone understood cutting through hype, it was Tom Holliday. Matt's father coached college baseball for 41 years and was promoted to head coach at Oklahoma State during Matt's junior year, after 19 seasons as an assistant. He worked with Robin Ventura before the third baseman's 16-year career in the majors; he signed Darryl Strawberry to a letter of intent at Oklahoma State, right before the slugger was drafted first overall by the Mets (Strawberry, of course, never enrolled). He also saw hundreds of promising young players who never sniffed the big leagues. Many times on the recruiting trail, Tom was tempted to declare, "That guy is the best hitter I've ever seen!" And then he'd catch himself, and think, "Yeah, but I did see Robin Ventura a lot…" A big part of Tom's career was evaluating talent, advising, trying to divine futures—but the stakes were never higher than with his own son.
Theirs is a baseball family—at the time, Tom's older son, Josh, played catcher for him at Oklahoma State, and Tom's brother, Dave, was a scout with the Colorado Rockies. But Tom made sure the door to football was open if his son wanted to go that direction.
Toward the end of Matt's high school career, Tom mailed VHS tapes his son's best friend had cut up to two former Oklahoma State coaching peers whose opinions counted for a lot: Jimmy Johnson, then head coach of the Miami Dolphins, and Dave Wannstedt, then head coach of the Chicago Bears. Tom's memory of their feedback is clearer than that of either former coach—"It was so long ago," Johnson says—but they helped validate that Matt had a real future in football.
Wannstedt, Tom recalls, predicted that Matt would be a three-and-out first-round draft choice if he went to college to play football. To which Tom replied, "You're not BS'ing me, are you?"
Perhaps the greatest source of validation, though, came in the form of an unsolicited letter that arrived at the Hollidays' home during Matt's senior year. Recruiting letters usually came to the high school, and the coaches would distribute them to the players during Saturday morning film sessions. This was different. Tom still has it at his home in Stillwater, buried somewhere in a box of Matt's stuff, old yearbooks and high school notebooks, out in the garage. But he remembers the gist of the message: Saw you on film, keep up the good work, see you in the NFL draft in three years. Whatever you do, keep the Kansas City Chiefs in mind. Signed, Carl Peterson, general manager.
The Hollidays' first thought was that it might have been a recruiting ploy by a college program eager to show off its NFL connections. But no school claimed credit for setting it up, and they never found out exactly how the GM of the Chiefs knew about a high school quarterback. Peterson, who has a distant memory of sending the letter, explains that this was a practice he enjoyed as a GM. He'd gotten his start coaching high school and small college football. Chiefs area scouts would from time to time come back from the road with names of up-and-coming high school players they'd heard about from college coaches, and Peterson liked being able to send the young men a letter of encouragement.
"My recollection was he was an outstanding high school football player," Peterson says. "Sometimes guys want to change sports, or try both. But, he probably made the right decision. One never knows."
* * *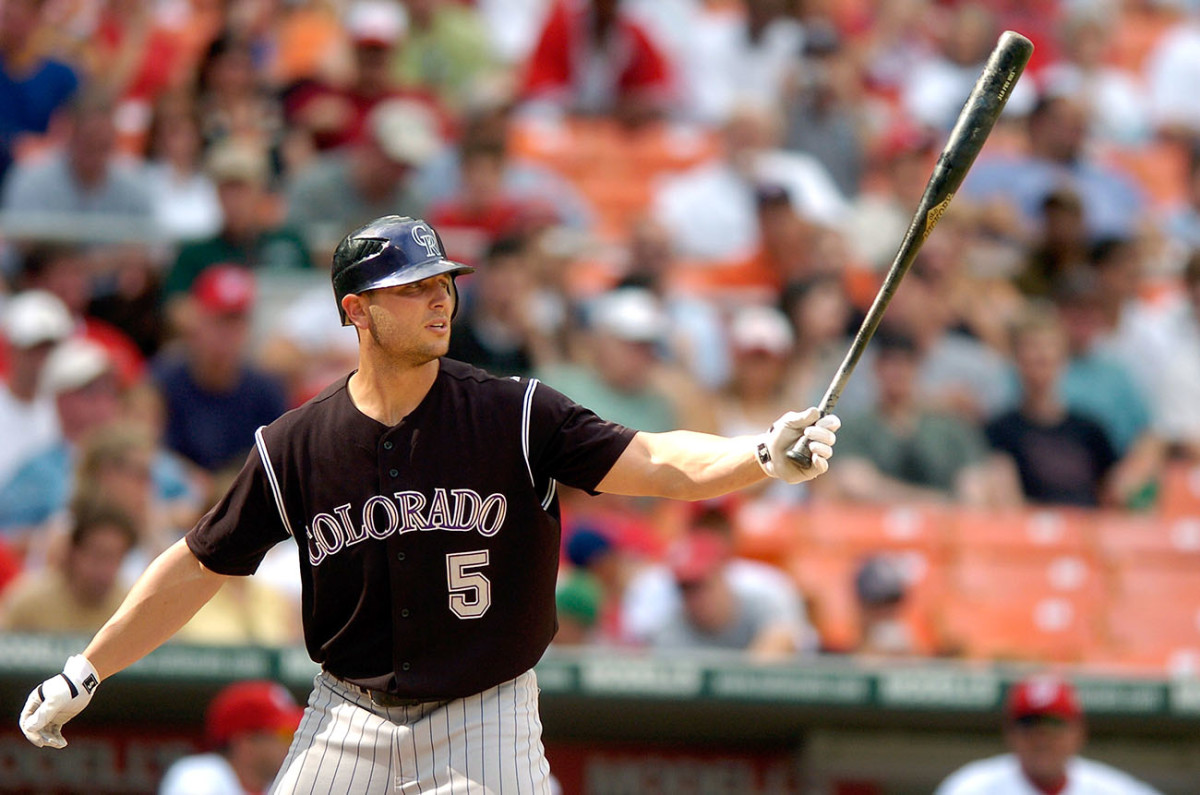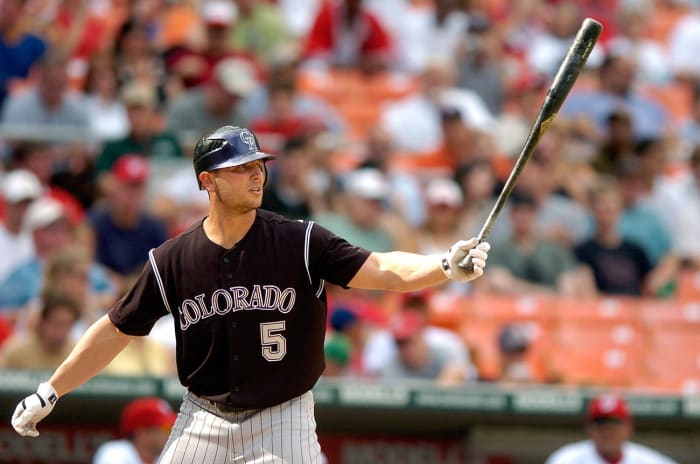 In the days leading up to the 1998 MLB draft, teams bombarded Tom Holliday with nervous phone calls. "Would he really sign if we drafted him?" a Yankees scout asked on the eve of the draft. Teams floated exaggerated signing bonus figures, wanting to know how many million it would take to get a deal done. Holliday had signed a letter of intent with Oklahoma State, to play football for Bob Simmons and baseball for his dad and with his older brother. Because of his options, MLB teams knew he would be a tough sign.
Holliday was invited to a pre-draft workout with the Pirates, where he was one of the final three players kept on the field. The Pirates took one of the other two players—first baseman Clint Johnson, who never advanced past Double-A—in the first round. The Yankees selected another dual-sports star, Drew Henson, in the third. Tom says three teams told him they'd take his son in the first round, but suddenly they stopped calling. "The draft was a mess," Tom recalls, "because everybody thought football was going to win out." The team that ended up taking a late-round gamble had Uncle Dave in the draft room.
The night of the draft, Holliday and his brother had an American Legion game an hour outside of Stillwater, so they weren't paying close attention. When Holliday came home, his dad told him, "Hey, the Rockies took you in the seventh round." Holliday went upstairs to shower, as if his dad had just passed on a message that a buddy had called while he was out.
After Holliday slid in the draft, most people expected him to enroll at Oklahoma State. Tom liked the idea of both sons playing for him, and of Matt exploring his options in both sports for a few more years. (And mom liked the idea of him getting a college degree.) But a few weeks later, Holliday knocked on his parents' bedroom door around midnight. "I think I want to go play pro baseball," he said. Tom told him to sleep on it; Matt said he already had. "To tell you the truth," Tom says, "I didn't know that he wanted to do it that bad."
Around the same time, Tom and his wife, Kathy, were at the airport when they bumped into Leslie O'Neal, the All-Pro defensive end whom the Hollidays used to have over for Sunday morning pancake breakfasts when he played at Oklahoma State. He knew Matt had a tough decision to make. "Tell him to go get baseball out of his system," O'Neil said. He explained how pass rushers like him eat up young QBs in the NFL. He loved the idea of Matt going back to school at age 21, and going to the NFL at age 24, older and bigger and stronger. The Hollidays liked how that sounded.
Tom took the family lawyer, Jot Hartley, out to Denver to try to negotiate a contract with the Rockies. The deal they worked out was a creative one: It was a three-year commitment, for both sides. The Rockies would pay Holliday a signing bonus just under a million dollars, a record at the time for a seventh-round pick. After three years, if Holliday didn't like baseball or baseball didn't like him, he could go back to school without having to give any of the money back.
Holliday had heard the same spiel his dad gave recruits, that only a slim margin of baseball players—around two percent—who sign pro contracts out of high school make it to the majors. Even so, he probably underestimated the toll that toiling in the minor leagues can take on a young player. At the end of those three years, he was still in Class A-Advanced, had just been moved from third base to the outfield, and would find out he needed Tommy John surgery to fix a torn ligament in his throwing arm. Les Miles was back at Oklahoma State as the head coach; he and a bunch of other college football programs (Tennessee, Texas, Miami) were calling. If Holliday was going to try football again, this was the time.
There are some obvious reasons today's athletes might prefer baseball to football. But in the late 90s, the link between head injuries in football and long-term neurological impairment was not nearly as well-understood or well-publicized, though that is something Holliday will consider with his own sons (his oldest, 13-year-old Jackson, won't be allowed to play tackle football until he hits puberty). Nor can he say that, as an 18-year old, baseball's fully guaranteed contracts vs. the partially guaranteed deals in football was something he really put a lot of thought into. Holliday picked baseball the first time for a simple reason: It was his lifelong dream to play in the major leagues. At age 21, even with the slow start to his pro career, that hadn't changed.
"I had to make a decision one way or the other," Holliday says. "Am I going to bail and go try to make it in football, or stick with it? I put a lot of blood, sweat and tears into my baseball career, and I felt like I was getting close to figuring some stuff out. I wanted to stick with it."
• TIM TEBOW'S NEW CAREER: Wherever this baseball odyssey takes him, for Tim Tebow it's all part of a much bigger plan.
* * *
If you follow baseball, you know the rest of the story. Holliday broke into the majors with the Rockies in 2004, emerging as a Rookie of the Year candidate. In 2007 he won a National League batting title, finished second in MVP balloting and led the Rockies to their first NL pennant. He's a seven-time All-Star, four-time Silver Slugger recipient and won a World Series with the St. Louis Cardinals in 2011. Now 37, he's been the Yankees' primary DH this season, plus a needed fill-in at first base and a mentor for rookie sensation Aaron Judge.
Even when his career in the majors began to take off, Holliday still heard from folks in Stillwater wanting to know, Hey, are you coming back to play football? "At some point I'd say, I'm doing pretty well in the major leagues, I am probably not coming back to play football," Holliday says. "I was reminded of it quite often, of football and what might have been."
For those who watched his high school football career unfold, that thought is hard to shake. Just a few years ago, Holliday was invited by Miles, then the LSU head coach, to Baton Rouge for a game against Alabama. "And shoot, he grew into a big ol' strong horse," Miles says. "He would have been a great quarterback." This isn't second-guessing; it's simply a football coach's wishful thinking.
A decade after his son's decision between football and baseball, Tom Holliday's coaching career took him to North Carolina State. There, he worked with another young athlete straddling two sports. He was the Wolfpack's quarterback in the fall, then played baseball in the spring—just like Matt would have done at Oklahoma State—but sometimes, on an autumn Monday, after the day's football meetings were done, he wanted to get in a little BP. Tom took to keeping one of Matt's bats in his office, so the player didn't get caught walking around campus with baseball equipment during football season. Afterward, he and his wife would invite him over for meatballs. Tom told him baseball was his sport—after all, he had been drafted by the Baltimore Orioles out of high school. Plus, Tom thought, Russell Wilson was too short to play quarterback in the NFL anyway.
Now, on Sundays, Tom watches his hometown Steelers, and he watches Wilson, hoping their games are in different time slots. All these years later, he still thinks about what it would have been like to watch his son on Sundays, too. What's the age, he's asked himself, when you've gotta get it out of your mind? Is there a statute of limitations on that other sports dream?
"Major League Baseball, and an All-Star game or two, and you start thinking, eh, forget about football," Tom says. "Then all of a sudden, somewhere in the winter you put a football in his hand, and you stand there and say, Gee whiz, he still throws the crap out of the football. Tommy John surgery? Doesn't matter. He just throws the football right. When Major League Baseball says they don't want you anymore, and you can't get a contract, why not take a whack at it for a year?"
Tom Holliday stops himself there. He knows it sounds crazy to suggest that his 37-year-old son, who has made more than $100 million in a sustained professional sports career, go back to play college football. But it's the most pleasant kind of "what if."
• Question or comment? Email us at talkback@themmqb.com.