Dallas Cowboys Training Camp: Jaylon Smith Looks 'Fantastic' in First Padded Practice
The second-year linebacker draws rave reviews in Oxnard as he continues comeback from disastrous knee injury in final college game. Smith's coaches and teammates are cautiously optimistic he'll be able to make an impact for the Cowboys this season
OXNARD, Calif. — After watching 2016 second-round pick Jaylon Smith practice in pads (like a real football player) for the first time since Dallas drafted him 15 months ago, Dallas owner Jerry Jones was ebullient Wednesday evening at Cowboys training camp. You may recall that the Cowboys, and Jones, caught flak for using the 34th overall pick on a player with a torn ACL and significant nerve damage in his left leg, and Smith never did anything in his rookie year except rehab the leg.
"He looked fantastic," Jones said in his camp office, iced tea in hand on a toasty California evening. "We certainly would give our one [a first-round pick] to pick him if the draft was today. I would spend the one, without hesitation."
So this was a good day for Jones, and for the Cowboys. Even after one final pre-training-camp test of the leg showed the knee was fully healed and the nerve 80 percent regenerated—according to one club source—the Cowboys didn't know exactly how he would respond wearing pads. And being hit for the first time since that fateful New Year's night at the Fiesta Bowl almost 19 months ago. And torquing the knee in different directions. And, in what is so important for a middle linebacker, pivoting and sprinting to either sideline to chase the play.
One final pre-practice note: Six weeks ago, in a Dallas minicamp, Smith looked tentative and definitely favored the left leg when he pivoted to run. I saw a video replay of one of his pass-defense plays in shorts and T-shirts on that June day; he ran at maybe 70 percent, definitely favoring the left leg.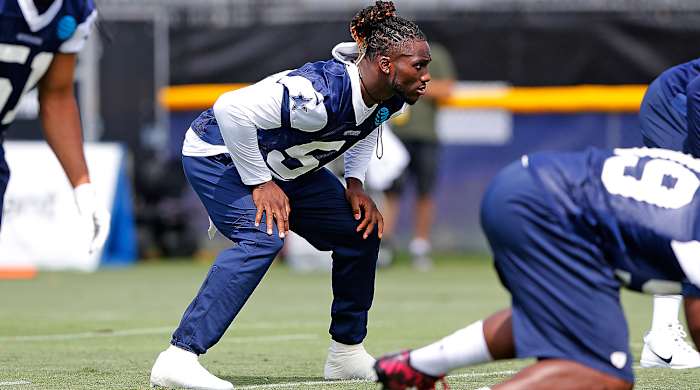 Not so Wednesday, on his first day as a full participant in practice. Smith looked a little rusty in recognition of some plays. He got turned awkwardly on one run-defense play, missing a runner bursting through a gap. But for much of his 85 minutes on the field, he sprinted with abandon and, most importantly, looked like he belonged in the middle of an NFL defense. He looked good enough that, if you didn't know this was his first real football competition in a year and a half, Smith wouldn't have stood out among the 83 Cowboys practicing.
"It's a great feeling," he said afterward, a big smile on his face. "A great feeling. A huge accomplishment. A great day. I am so happy."
And then: "I can't remember the last time I had pain in my knee or foot."
Sean Lee, a mentor to Smith for the past year and a half, watched him all through this practice, given the day off by coach Jason Garrett. "I saw unbelievable athleticism today," Lee said. "It's been a long road, but from what we saw today, Jaylon's really making great progress."
On Jan. 1, 2016, playing for Notre Dame in the Fiesta Bowl, Smith was pushed by an Ohio State lineman, and his left knee flexed awkwardly. Smith tore his ACL and suffered significant damage to his peroneal nerve. His leg would need a brace to support his foot and keep it from flopping uncontrollably.
In the past year and a half, the peroneal nerve has regenerated steadily, according to the Cowboys. In periodic exams, Smith has been tested for strength in the foot and ankle, and the most recent test showed significant progress. But will it be enough progress for him to play opening day—or early this season?
"It's absolutely possible," Dallas coach Jason Garrett told me Wednesday afternoon before practice. "We're very optimistic for him."
Tom Savage or Deshaun Watson? Texans QB Situation Leads Camp Storylines to Watch
I asked Garrett, based on the tests and Smith's progress, if he can be the player he was before the injury. "I'm betting on the guy," Garrett said. ""We're pulling for the guy, and he's worked so hard. The expectation is that he can come back to that level, but right now we're not looking too far ahead. We're just living in the day. Day by day."
In training camp, teams with pads don't often tackle ballcarriers. Defenders are told to contact ballcarriers and stand them up with a thud. Two or three times Wednesday, Smith did just that, looking like he wanted to cream the man with the ball but holding up. "It was just so exciting out there," Smith said.
Dallas needs Smith to be the man he was before the injury for a few reasons. One: They're light on impact defensive front-seven players after Lee, far and away their best linebacker. If both are healthy, defensive coordinator Rod Marinelli will be able to use Smith inside and Lee at his weakside spot. Two: This is a mediocre-at-best defense, with interchangeable parts not from the top of drafts, so talent anywhere would be crucial for the long-term fate of a once-proud defense. Three: Garrett makes it clear that the Cowboys, in drafting Smith, were searching for a long-term defensive leader the team doesn't now have.
To be clear, it's too early to know if Smith will be the impact guy Dallas drafted him to be. How can you know, when the team hasn't seen Smith tackle a single player in 15 months? The left foot is certainly not all the way back. But assume the 80 percent nerve regeneration improves slightly in the next six weeks, between now and opening day against the Giants at home. Smith is close to being able to help this team now. He may not be able to be the fly-around player he was for the Fighting Irish. One other Dallas source said Wednesday he expected it would be four to six months before Smith would be close to fully healthy.
But Smith wouldn't allow himself to think ahead. Garrett drills his players with the "just worry about this day and this day alone" mantra. So far for Smith, focusing on incremental improvements has worked.
"Do you think you'll be healthy enough to play opening day?'' Smith was asked after practice.
Smith smiled, and paused, and said: "That's a great question … I'm very confident. I'm just taking it day by day.''
"What's the next step?" someone else asked.
"The next step?" Smith said.
Pause.
"The next day."
• Question or comment? Email us at talkback@themmqb.com.