Jordan Reed vs. the Laws of Physics
Washington's tight end has the speed of Antonio Brown and the body skills of LeBron James—and an injury chart that continues to grow. As NFL body types evolve at every position, Jordan Reed is Exhibit A on the question: Are players these days just too big and too fast?
This article appears in the Aug. 28 issue of Sports Illustrated. To subscribe, click here.
Jordan Reed bends over a metal garbage can, pauses ever so briefly and then unleashes a waterfall of vomit. He immediately grabs a 12-pound medicine ball, power walks over to a steel column and jumps up and down, over and over, repeatedly smacking the ball against the column with his arms fully extended. Then he walks back to the can and pukes again.
Dozens of pro athletes—mostly football and basketball players—drive along NE 24th Street, up Biscayne Bay from downtown Miami, until it dead-ends at the railroad tracks, bright graffiti splashed in the distance. They come to Legacy Fit gym looking for Manning Sumner, Auburn linebacker turned torturer of the stars. Reed, the 27-year-old Redskins tight end, sought out Sumner this offseason, and within three weeks the trainer had seen enough to deem his new client "as explosive and athletic as anybody I've ever worked with."
Reed calls his vomit-inducing power walks a "standard" workout. But what he considers typical, even most elite athletes cannot fathom. For a man of Reed's size—6' 3", 240 pounds—he doesn't run so much as he glides, swallowing the gym's turf field in long, graceful strides. He moves faster than some wideouts; he leaps as if boosted by springs; he pushes around 500-pound sleds like shopping carts. Although Reed didn't play organized football until ninth grade, he has come to represent the future of pro football, both in records broken (numerous) and in concussions suffered (at least five; depends whom you ask).
Reed knew from a young age that he was different—it was evident as he jumped over five-foot-high fences and later when he front-flipped into end zones. Had he the desire, his high school coaches say, he could have played major league baseball or college basketball, drawing from the same gifts he would use to accumulate 200 receptions faster than any other tight end in NFL history.
Today his personal receivers coach, David Robinson, compares Reed's speed and acceleration to those of 5' 10", 181-pound Steelers wideout Antonio Brown (another client) and his body control to LeBron James's. In other words: Reed, freak that he is, has the skill set of two elite athletes, one who weighs 60 pounds less and another 10 pounds more. "He's changing football right before our eyes," says Robinson.
Reed is both the next drawing in a Darwinian timeline and the embodiment of what happens when a sport built on brutality meets Isaac Newton's second law of motion, force equals mass times acceleration. He's so big and so fast (he ran a 4.62 40 at his pro day) that he generates uncommon momentum, and that makes him more susceptible to the worst kinds of collisions, the hardest kinds of impact, in ways that smaller or slower players are not. He's everything that's beautiful and dangerous about football, at once the future of the sport and the face of what could threaten it.
At Auburn, Sumner played at 6' 1", 225 pounds. Today he'd be considered undersized. "I'm like, What are these people eating?" he says. "Did you see [2017 No. 1 pick, defensive end] Myles Garrett at his pro day? I've never seen somebody that big and that lean move that fast. That's just not normal." Sumner smiles. "That's what football is becoming."
Inside Legacy Fit gym, where instructors shout at beautiful people exhibiting bad form on their burpees, Reed's goals never change: bigger, stronger, faster. Only, there's a catch. For Reed and others like him, bigger, stronger, faster could be a problem.
At the Andrews Institute in Gulf Breeze, Fla., the most respected orthopedic surgeon in sports preaches from a black leather couch. Things evolve, James Andrews says. That's life. Andrews, 74, recently found a box of old LSU football programs from 1959, when he was a Tigers undergrad. Intrigued, he scanned the roster's columns of heights and weights and found that the heaviest player was Billy Cannon, a running back who weighed 207 pounds.
Things evolve. That's life. But now imagine the next James Andrews, a half century from now, looking at the Tigers' 2017 roster and noting that the heaviest player was freshman nosetackle Tyler Shelvin, who tipped the scales at 380 pounds. How laughable will that be?
"You're not going to see an outer limit," Andrews says as he pulls out his cellphone and cues up a video of 17-year-old pole vaulter Armand Duplantis launching over a bar 19' 4 1/4" off the ground, breaking the under-20 world record in April. Andrews's point: A lifetime ago he was a successful pole vaulter at LSU, and his best jump barely cleared 15 feet. "Women are jumping higher now than we jumped," he says. "People get bigger. They jump higher, hit harder." Again, life.
He's everything that's beautiful and dangerous about football, at once the future of the sport and the face of what could threaten it.
Take Reed's football position, for example. In 1967 there were only eight NFL tight ends as tall and as heavy as Reed is now. That number was up to nine in '77, 35 in '87, 75 in '97, and it topped off at 97 in 2011. It has since dropped as low as 81, last year, accounting for the NFL's emphasis on athleticism at the position—and that's why Reed represents what's next. Tight ends were already big. Now they're faster and tasked with spending the majority of their time in the middle of the field.
This isn't some towering pitcher hurling 100-mph fastballs or a 6' 11" star point guard. In football, evolution leads to bigger, stronger, faster players hurling themselves into other bigger, stronger, faster players with unparalleled force. These collisions are often referred to as car crashes, but more and more they resemble tractor trailers with Lamborghini engines ramming each other at top speed.
During an NFL season Andrews says he spends his Mondays "picking up the wreckage" from the weekend, his phone ringing from sunrise to sunset with news of various injuries. Legislate violence out of the game all you want, but men like Reed still barrel across the middle of the field—faster than their predecessors, more like receivers—where 260-pound linebackers and 225-pound safeties lurk, waiting to deliver forceful hellos.
Rob Gronkowski, Football Mastermind
On Sundays, Andrews views those collisions up close on the sideline at FedEx Field, as the Redskins' team doctor. He describes Reed as "a hell of a player," "someone I worry about" and "someone who epitomizes where we've come with tight ends." It's not just tight ends that keep him up at night, though. It's all the players with Reed's body type and athletic makeup: big and tall and fast. Think Rob Gronkowski and J.J. Watt, Cam Newton and Demaryius Thomas—guys whose size-speed combinations make F=MA problematic. "Bunch of injuries," Andrews says. "They're just so damn big."
Which raises a question central to football's not-that-distant future: What happens when there are 22 Jordan Reeds on the field? "Well, they're going to tear each other up," Andrews says. "They already are."
He sighs. "I love football, but I'm sick of seeing these guys get hurt, too."
One hour after his workout ends, Reed needs to replenish what he so hastily emptied into that trash can, so he settles into a booth at Miami Juice, near his waterfront condo in Sunny Isles Beach. He orders the cod, a fruit smoothie and a side of red beans. Over the whir of a blender he concurs with Andrews's thoughts on football evolution, saying Garrett is a "freak of nature" and the sport "is going that way, man." But he takes exception to the notion the game could outgrow itself. "Football is more evolved than just brute force," he says. "It's moving more toward skill. A lot of guys are big and fast and strong. That's all good. But skills are what set guys apart."
He's not accounting, though, for what happens when bigger, stronger, faster players patrol the same field while boosted by today's year-round training, optimized nutrition and specialized performance coaches. His very story, in fact, speaks to what's possible, and to what happens when that possibility becomes reality, for better and worse.
Reed's mother, Karen, didn't want him to play football. She liked that he worshipped Derek Jeter; she thought baseball was safer. But before Jordan's freshman year at New London (Conn.) High she capitulated. Within weeks Jordan replaced his team's injured starting QB, picking up the sport the way a mere mortal might naturally take to, say, horseshoes or pinball.
Even though he was often the tallest and biggest player on the field, Reed fit perfectly into the late-2000s trend of Wildcat QBs. He worked with a personal trainer and stripped the fat from his frame, amping up his explosiveness. "I've never had someone quite like him," says his New London coach, Jack Cochran, who has mentored a cadre of NFL players, including Dwight Freeney. "He ran like a tailback, had the best hands on the team and could throw the length of the field."
The 10 most important players on the Washington Redskins
Reed reached the state championship game as a freshman and a junior—and then, in October of his senior season, he got another physics lesson. Newton's third law: For every action, there is an equal and opposite reaction. Right as he earned a scholarship to Florida, he broke his right foot while being tackled, ending his high school career.
Healed up, he arrived in Gainesville in 2009 and in his redshirt year trained as a Wildcat QB and backup punt returner. A year later, as a freshman, he dabbled at tight end, where playing time was more ample, and scored nine TDs—five rushing, three passing, one receiving—to show what was possible for someone of his build. In '11 he approached his coordinator, Charlie Weis, and had what Weis describes as his strangest conversation with a QB in his 35 years of coaching: Reed wanted to move to tight end. Permanently.
The gifts that had made Reed stand out at every level of organized football also left him vulnerable. The better he got, the more vulnerable he became.
Reed's flexibility, moving between two dramatically different roles, underscored how the game was evolving, with specific positions becoming less important and sheer athletic ability increasingly desirable. As teams passed more, at all levels, defenses replaced slower linebackers with faster safeties or nickelbacks. Colleges recruited athletes. Reed typified the hybrid movement.
But evolution came with a cost. Reed injured both hamstrings, the result of all the extra running and collisions, and he considered quitting. "I would wake up in the mornings and my joints were inflamed," he says. "I couldn't move the way I usually do. I was done."
Instead he pushed forward, and in his redshirt junior season he caught 45 passes for 559 yards and three touchdowns—then he left school for the NFL. Banking on his raw talent, the Redskins plucked him in the third round.
By then Reed's career had developed a pattern. The gifts that had made him stand out at every level of organized football also left him vulnerable. His blessing and his curse. The better he got, the more vulnerable he became.
The water boy for Reed's high school teams later starred at quarterback for New London. His name was Casey Cochran, and he was the coach's son. Every so often Casey dials up Reed's highlights on YouTube and sits there transfixed, watching and rewinding. "Most people will never see an athlete like Jordan up close," he says.
As Reed reached the NFL, Cochran arrived at UConn, heralded as one of the most decorated QBs in state history. But Cochran had already sustained nine concussions. He suffered one more in his first start, in 2013, and yet another the following fall.
He quit football after that, but the fallout continued. He suffered migraines, became depressed and twice contemplated killing himself. He still fights depression and anxiety and says it took three years "for me to really feel like I could function." It took him two years to watch the movie Concussion; he knows former teammates who avoided that film. He still watches Reed, transfixed. But he worries, too. 
Luke Kuechly and the Gruesome Part of Football
"In a lot of ways, football has become more refined," Cochran says, "but these hits—the size of the players and the way they train—have never happened before."
Last summer, Cochran and Reed met for lunch. Cochran didn't lecture Reed on brain physiology. He didn't tell Reed about his suicidal thoughts. Instead he looked Reed in the eyes and said, friend to friend, "Please be careful."
Reed knows his own injury history, which seems like the inevitable result of two evolutions—his own and that of the sport he loves. He knows that in four seasons he has never played all 16 games, never topped 14. He says he's far more disappointed in himself than are his fantasy football owners, who annually weigh Reed's injury risk against his statistical rewards. When he's hurt, he feels as if he's let his team and his family down. "When people say that I'm [often injured], they're right," he says flatly. "I understand their concern. I understand what Casey meant."
While Reed says he has sustained five concussions, media reports place that number higher. He says the first two happened in college; the most recent one came against the Ravens last October, one week after he hauled in his 200th catch, in just 38 games. (He did his best to conceal that one from Andrews, despite the headache.) Most of his concussions resulted from defenders' blows, but one came on a hit he delivered himself, another when he dived over a pile, "trying to be Cam Newton," and landed on his head—at least two instances where bigger, stronger, faster seem to have gotten him into trouble.
But this was how Reed learned to play football, how he defined what it meant to be a man. "Whaler Pride is what they call it," he says, referring to New London's mascot. "You don't back down from nothing." So says the rare QB who enjoyed the Oklahoma Drill, lining up across from linemen, charging and hitting them full force. "I was known for that," Reed says, his chest puffed out. "That's how I was raised. I don't shy away from contact. You've gotta take me down."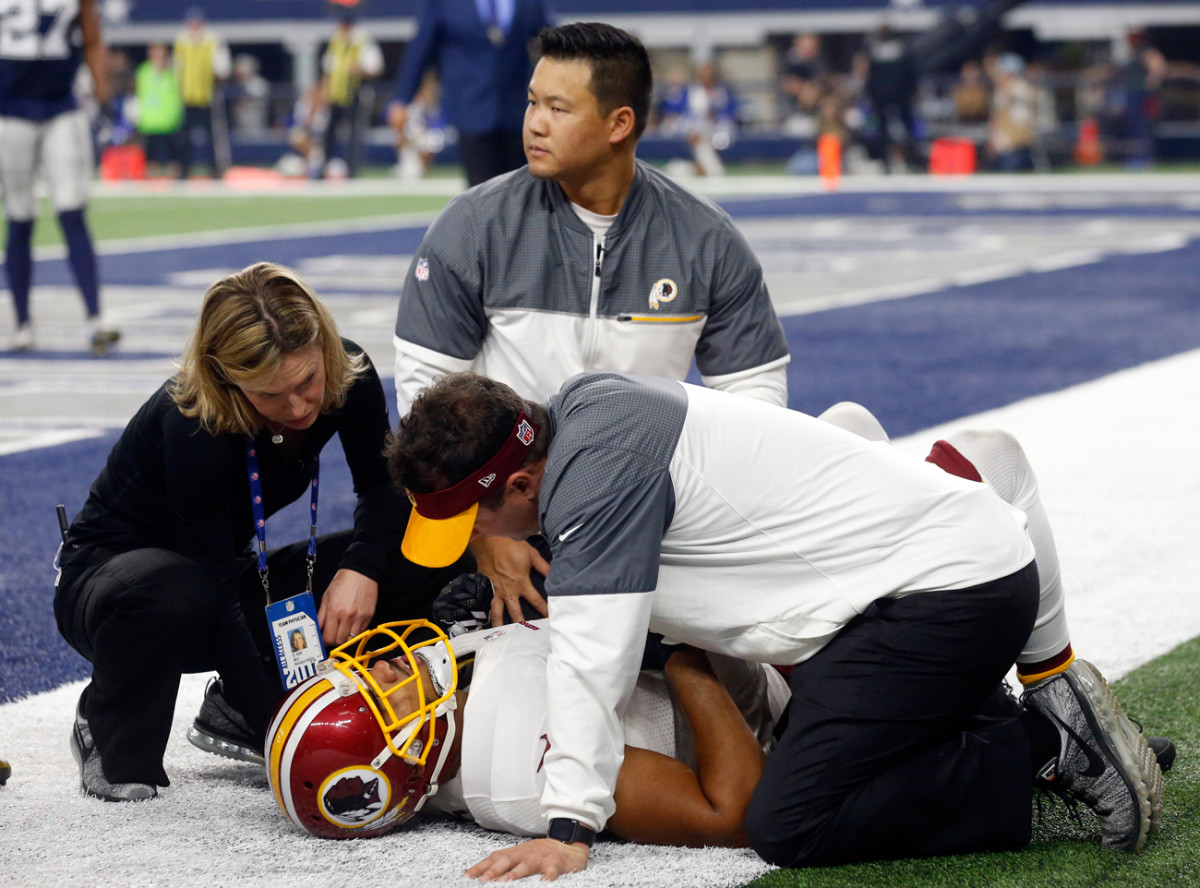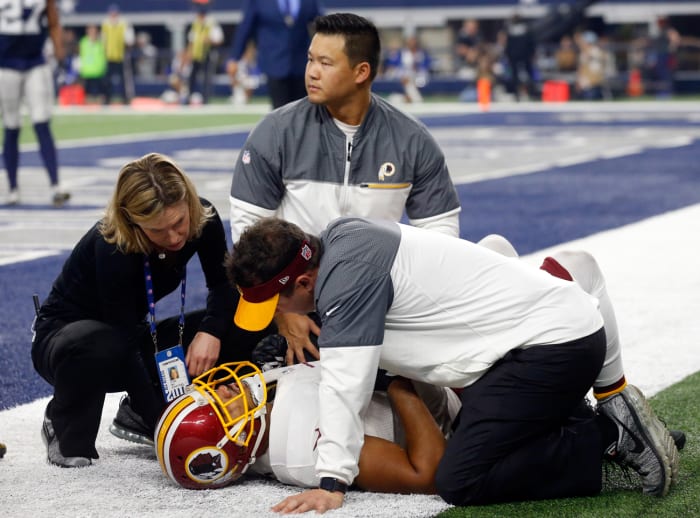 He drops eye contact and continues, his voice softer now: "That's where injuries come in."
It's not just concussions. Reed has injured both ankles, both hamstrings and his right knee. Last year on Thanksgiving Day, against the Cowboys, he went up for a catch over the middle and was flipped upside down, landing on his left shoulder. Reed admits he shouldn't have jumped; were he not so athletic, he wouldn't have even tried. At halftime he could tell something was wrong, but the game was still close, so he went back on the field. As he played catch before kickoff with Kirk Cousins, he could feel his shoulder "shifting," his arm popping in and out of its socket. "The way he plays—with reckless abandon and no fear—he's going to have those injuries," says Jack Cochran.
The flip side: That game in Dallas marked one of the best in Reed's career. He caught 10 passes for 95 yards, including a diving one-armed grab up the right sideline in the third quarter with safety Byron Jones (an exceptional athlete who holds the unofficial world record for the standing broad jump) draped over his back. Maybe 10 players in the league make that grab. Very few play tight end. Reed also scored twice in the fourth quarter: once on an out route where he shook free from a safety, and later when he snagged a slant between defenders, inches from the boundary.
In part because of that lingering shoulder pain, 2016 was a disappointment for Reed compared with the year before, when he broke out with 87 catches for 952 yards and 11 TDs and then cashed in, signing a five-year contract extension that offseason with $22 million fully guaranteed. Afterward he bought his mother a Porsche Cayenne, pulling into the driveway with "My Girl" blasting at full volume.
Reed admits he has discussed his concussion history with his family in recent offseasons. But he prioritizes the future financial well-being of his two young daughters—Jaeda, 2, and Laila, who was born in February—over even his own health. He sympathizes with his NFL counterparts who have retired early because of health concerns, but that's not him. Not yet.
He reasons that he'll never make more money than he earns now, in his NFL prime, and he falls back on typical football rationalizations about enduring concussions: Life is dangerous; an office worker can suffer from hip pain, or a construction worker might break bones before returning to work. . . . 
None of that changes physics. For all that football has evolved, the attitudes surrounding the game aren't all that different than they were 50 years ago. "If I have another [concussion], maybe I'll consider doing something else," he says. "But for the time being, I'm perfectly comfortable where I'm at."
Back at the gym, Reed heads outside and mixes jumpers and dunks on the painted-blue basketball court near the railroad tracks out back.
A week earlier, at a camp organized by former Buccaneers coach Jon Gruden, he worked on routes with Cousins, whom Reed calls "my guy" and who he says "definitely deserves" a lucrative long-term contract. Reed is animated in defending his QB, his hand slapping the table as he notes the paucity of elite signal-callers. He says Cousins "has done everything he can to prove himself." But he also says it's not his business to tell the Redskins what to do.
With Cousins's top two wide receiver threats, DeSean Jackson and Pierre Garçon, having departed in free agency this offseason, the QB's success—financially and on the field—may hinge on the health of a man whose career is defined by the line between gift and curse. Over the past two seasons the Redskins are 2–4 when Reed has sat out, and 6-2-1 when he's gained more than 75 receiving yards. He's such an integral part of Washington's offense that when the wideouts bolted, coach Jay Gruden felt compelled to point out that his offense "runs through Jordan Reed."
Still, in March the Redskins re-signed tight end Vernon Davis (another athletic marvel at 6' 3", 250 pounds), partly as an expensive insurance policy on their Pro Bowl starter. That transaction underscored what Gruden told Reed at camp: He needed to "play smarter and avoid some of those hits."
Odell Beckham Jr. Hit: 'That's Football' Says Retired NFL DB Charles Woodson
Reed's mission in 2017 is to compete in 16 games for the first time. And yet his greater goal hasn't changed: bigger, stronger, faster. "This season," he says, "is going to be my best."
As he heaves up three-pointers from the left wing, he calls out his hopes and wishes, a routine he started as a boy. "If I make this shot, I'm going to give all the money I make in the NFL to my daughters. . . ."
Swish.
"If I make this shot, I'm going to the Hall of Fame. . . ."
Swish.
"If I make this shot, I'll be healthy this season and make the Pro Bowl. . . ."
The ball clangs off the back of the rim.
Reed repeats his wish, then makes the shot. Later he's asked if he ever thinks about what might happen if he can't play with his daughters when they're older, if he's not around for their proms or graduations. He answers calmly, with direct eye contact. He says he's religious and puts his life in God's hands. He believes in what he calls the "power of intention." He says he doesn't think he'll have another concussion in his career because he's prayed on it.
He can pray and lobby for his quarterback and thrive under rules aimed to protect him, but his job description remains the same. It's him versus physics, against the laws of motion. As players get bigger and faster and stronger without end, Reed and others like him will continue to thrill a nation of football obsessives with enviable athleticism. The question moving forward: at what cost?
Question or comment? Email us at talkback@themmqb.com.