Game-Winning Catch Has Brandin Cooks 'Thankful' to be a New England Patriot
The former Saints wide receiver made a toe-tapping, end-zone grab with 0:23 left to help Patriots beat the Texans 36-33 on Sunday
After the smattering of boos at Gillette Stadium for the 15 Patriots who chose to kneel for the national anthem in defiance of President Trump's inflammatory Friday remarks—you don't hear boos for the home team too often in the house of the five-time world champs—it was time to get down to business for the Patriots. The visiting Texans weren't making it easy for New England, though, building a 33-28 lead with a little more than two minutes left in the game, and the Patriots would need to travel 77 yards to overcome Houston.
Tom Brady soon took his fifth sack. Then he was knocked down for the eighth time in the game.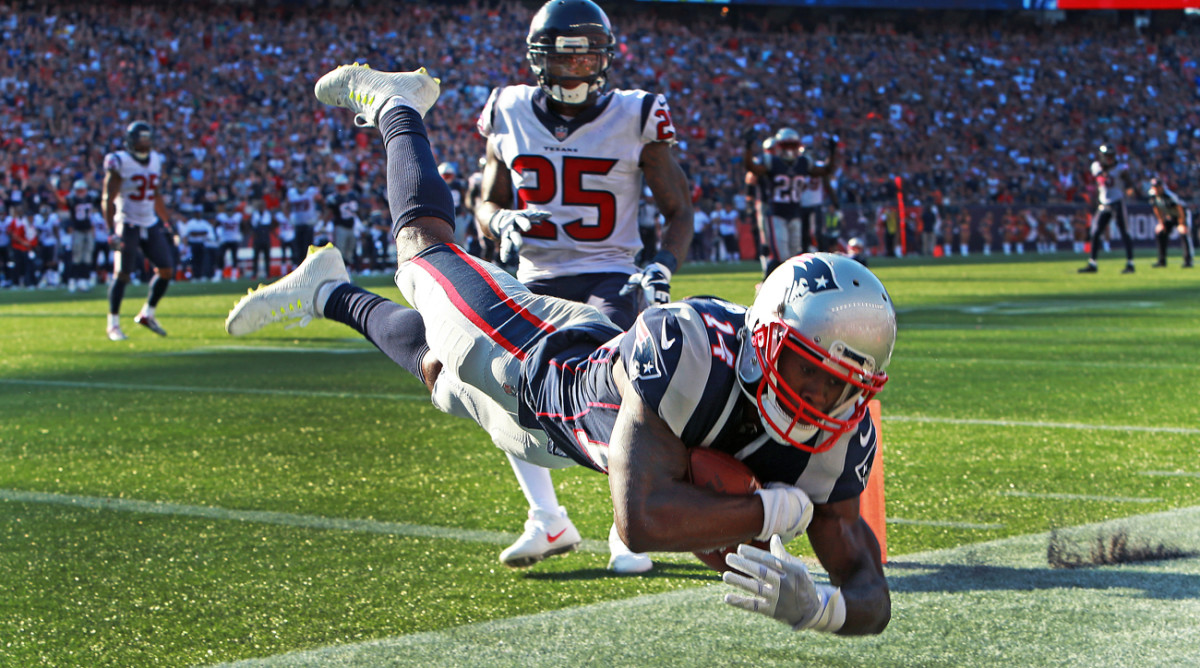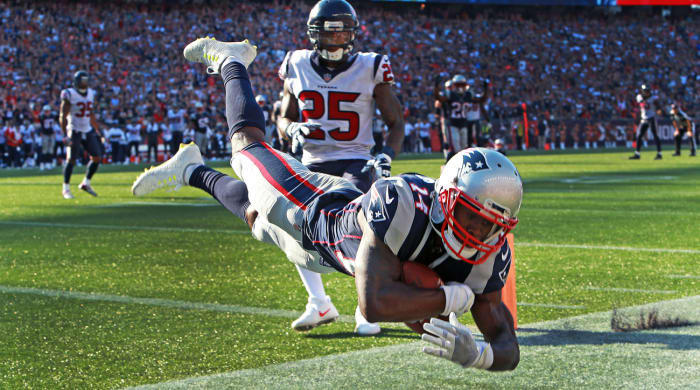 Then he converted a third-and-18 throw to Danny Amendola, and ducked into the New England huddle, 29 seconds left, with the ball at the Houston 25-yard line.
"What'd he say in the huddle, other than the play?" I asked Brandin Cooks an hour after the game.
Cooks had to think for a moment. "No words, really,'' he said. "You know, just, 'Let's go fellas. Do what we do best.'"
Three & Out: Takeaways From the Patriots 36–33 Win Over the Texans
Cooks' job was to beat his man, cornerback Kareem Jackson, down the left side, deep, and be ready for the ball near the goal line. "It's just one of the things you know playing with Tom—run the best route you can on every snap, because you never know when it's coming to you," said Cooks. Brady looked over his four options and let it fly for Cooks, who'd beaten Jackson by two steps and now had only to contend with the deep safety, Corey Moore, coming fast … and Cooks had to contend with the wide white stripe on the side of the end zone. The ball from Brady nestled into Cooks' arms, just as Moore flew over his head and came close to battering him into the turf. Cooks caught it, his two feet seemingly glued to the ground, as the official stared at him, stared at his two feet, and stared to see if he hung onto the ball as he fell to the turf, as if being toppled like a tree, straight over.
Touchdown. The fifth one of Brady's day, against one of the best defensive fronts in football. At age 40. To a talented receiver who was in second grade in Brady's rookie year.
"To be honest, your brain knows you're close," Cooks said. "I can't even describe to you what I did or why I did it. I can't take you through it. It's just the instincts of a receiver. You know how much space you have, and it's not much."
NFL Week 3 Sunday FreakOut: There Were Poignant Demonstrations, and the Games That Followed Were Incredible
Cooks turns 24 today. He's gone from one Hall of Famer (Drew Brees) to another (Brady) in one off-season. What's next? Going to Green Bay in free agency and finishing his career with Aaron Rodgers? I asked him how he felt now, being dropped into the New England offense, being the go-to receiver for perhaps the greatest quarterback of all time on a team with legitimate Super Bowl aspirations. Again.
"Thankful, thankful, thankful," said Cooks. "There are so many people who would love to play this game, and so many who would love to be in this position. It's a gift from God. Truly, this is a gift from God."
In their own words…
Today at The MMQB, we have a series of comments from the NFL's rank-and-file about what they heard over the week from the president, and how the player movement is gaining steam. Below is one example, and here's the link to what the players really think:
Voices of NFL Players on Sunday's Protests During the National Anthem
Andrew Whitworth, OT, Rams
Age 34, 12th NFL season
Hometown: Monroe, La.
"I saw the president's comments when I picked my phone up Friday night and saw the social media buzz. Honestly, my first thought was, 'Oh no.'  I really had fear. I didn't know where it would lead. And now, I hope for unity. I hope for guys to support each other. Let's find ways to unify, to find common ground.
"Will I kneel or sit? No. That doesn't mean I'm not 100 percent in support of the players who choose to demonstrate in some way. But this is why I will stand: My high school best friend, Lee Deal from West Monroe, La., was a soldier in the Navy killed in Iraq the year I was drafted in Cincinnati. I've got a tattoo on my back of his gravestone. The national anthem, for me, I always get really emotional. I get to play this game and my brother—my close friend, who served this country on a special reconnaissance team and earned a Purple Heart—doesn't get to be here. So I will always stand, and get emotional … as a tribute to Lee.
"For me, who I am, what I'm about, it's about people loving each other. There is inequality in this country. I don't know all the facts, but I 100 percent believe there is racial inequality that must be addressed. The president made it personal. He went after a group of people, a special group of people, he attacked personally. Attacking people the way he did is not the way to improve the world."