How Deshaun Watson Earned the Texans' Trust—and the Job
Texans coach Bill O'Brien explains the process of how his rookie quarterback earned the team's trust, from the combine to camp to calling the shots as the starter
Bill O'Brien didn't have a moment of enlightenment on Deshaun Watson. He had a series of them, and the first one came all the way back in February, in a hotel suite in Indianapolis.
The Texans coach was just getting his 15-minute combine interview with the two-time Heisman finalist going, and wanted detail on a run-pass option Clemson called on its first possession against Alabama in January. Little did either guy know, the wheels were turning on getting to where we are now, and what we've seen go down the past few weeks.
"Before I could even finish the question, he remembered the play. It was a sticks play, and I have the option to throw it to this guy or run it or throw it to that guy," O'Brien said from his office this week. "Then I asked, 'What happened on Play 33 of that game where it was against cover-2?' And he said, 'Oh yeah, did the no. 3 guy run a double move?' I said, 'yeah', and he goes, 'OK, here's what I was thinking on that.' It was just impressive."
Not as impressive as Watson's been in his second and third starts, mind you. The rookie will take the 2-2 Texans into Sunday night's showdown against the 4-0 Chiefs having thrown for 584 yards and six touchdowns on 47-of-67 (70.1 percent) passing—while effectively compartmentalizing three picks over that time—in his last 120 minutes of football.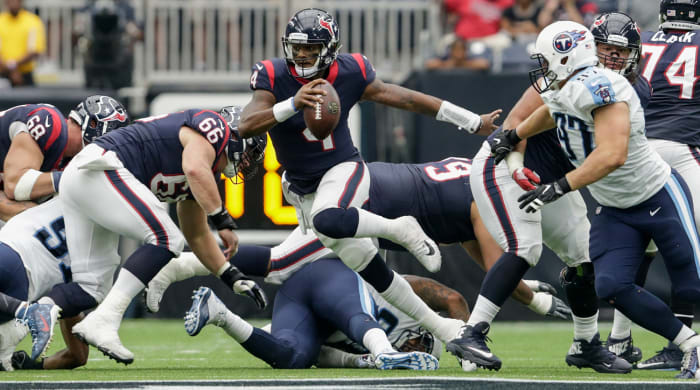 But for March, it was impressive nonetheless, and it explains why O'Brien didn't just have some light bulb flicker over his head this summer. He knew from the time the team drafted him that he'd be able to play Watson if he needed. It's certainly paying off now.
"I had a lot of trust in Deshaun from the day he walked in here," the coach continued. "He's the type of the guy we want, football meant a lot to him, his teammates meant a lot to him. We knew he was going to put the time in so when he did get his shot, he wasn't going to look back. He was gonna make mistakes, but he was gonna learn from them and be prepared every day. I always felt a lot of trust in him."
In this week's Game Plan, we're going to examine whether the Stephon Gilmore signing has gone bust in New England; look at the resurgence of the Bills team he left; kick the tires one more time before Mitch Trubisky gets his first start Monday; and quickly check on the 2018 veteran quarterback market.
We'll start with the Texans and how O'Brien came to the point where he'd feel comfortable tossing a rookie the keys to a playoff-tested roster—an element of all this that's important, because a reigning division champion can't afford to have a young quarterback fall on his face the way a rebuilding team can.
As I talked with O'Brien (we did something similar in May with GM Rick Smith, on how Houston was sold on the quarterback), we were able to outline a number of checkpoints over the course of this calendar year that led to the coach handing the reins to Watson at halftime of the opener. Again, that all started in that Indy hotel suite, and we'll jump from there ahead to his visit to the team's facility just ahead of the draft.
• April 18: A couple weeks back, as you probably know by now, Watson gave his first game check to three cafeteria workers who were affected by Hurricane Harvey. That came as a surprise to no one in the building, and it was from the start that O'Brien saw a young  player capable of leading older guys.
Peyton Manning Talks Football, the Future and Life in Retirement as a Carpool Dad
"He came into the cafeteria, and all players gravitated to him," the coach said. "A lot of our guys knew him—[Jadaveon] Clowney and, obviously, DJ Reader knew him. It was cool to see those guys say hello, eat lunch with him. It was interesting. And he was very poised in the meeting room. We'd teach him things, we asked him to teach them back to us, and he was good at that. He was just a good communicator."
• May 1: Watson went home after his introductory press conference with what O'Brien and the Texans call the "basic information section," which is the foundation of learning on which rookies will build. It runs through the team's personnel groupings, formations, motions, and calls.
"He went home for a couple days and he came back for the rookie minicamp, and he pretty much had that down," said O'Brien. "If you put him up on the board and said, 'Put up this formation', he said, 'OK, got it.' And he drew it up on the board. Or 'what is this defensive front?' He was able to show us what it was. You could tell he put the time in, and it was impressive."
• May/June: Learning is one thing. Translating it to the field is another. And so after rookie minicamp, the work for Watson was on taking the mental pieces of the game and being able to implement them with veterans all around him. In the time between that first camp and the start of OTAs, he did that.
"Once we got to OTAs, he was able to operate at the line of scrimmage, like right away, and operate in the huddle, right away," O'Brien said. "That's always an issue with rookie quarterbacks—the play calls are a little longer in the pros. And you could tell through that, it meant a lot to him to get that play call correct, so he could control the huddle. That stood out to me, right away."
• Late June/Early July: The Texans finished their mid-June minicamp and, along with the rest of league, broke for summer. Only Watson didn't really take much of a break.
"I texted him a lot, different questions, whether it was a protection, or a route, or something that had to do with read of a route vs. a certain coverage," said O'Brien. "I don't think I texted him every day, but I texted him quite a bit. And it was pretty interesting to me, because it wasn't ever long until I got an answer. Sometimes, it was, Hey, can you clarify that question, are you talking about this or that?
"And it was like, 'Wow, this guy, he's on the money with what he's thinking.' Sometimes when a guy asks you to clarify a question, you can tell that they really understand what you're talking about." That knowledge made Watson more viable going into camp.
Inside The MMQB Writers' Room: All Things NFL at the Season's Quarter Pole
• Training camp: The Texans' camp rotations allowed Watson to get reps with plenty of first-teamers, or at least the ones who were healthy. DeAndre Hopkins missed time with a thumb injury, Will Fuller broke his collarbone, and Duane Brown held out. As a result, for Watson, the key was actually what he did without those guys.
"No matter who he worked with, first or second team, the ball moved down the field in camp," O'Brien said. "When we got to the first preseason game in Carolina, I thought he played well, and the second game we scrimmaged New England and played New England and I thought it was getting better, there were things he needed to improve upon, but I didn't think he took a step back at all."
• September 11: So by Week 1, it's fair to say Watson's growing body of work added up to the leash for Savage being pulled to an arm's length. Savage could not afford to stumble much. And then the Jags held the Texans to 52 yards in the first half of the opener.
"We weren't moving the ball," O'Brien said "I don't think that was Tom's fault. That was a collective effort, coaches and players alike. But I really felt like in my gut at the time, this was the time to make the move. I felt like the kid was ready. He wanted to play. He wanted to be the guy. And so I said, 'This is what we're doing and let's see if we can move the ball.' First drive he was in, we went down and scored."
Watson then scuffled some in beating Cincinnati four days later. O'Brien said Watson's struggles were partly about the short week, and part the state of a roster without any tight ends available. But even in that one, he ripped off a 49-yard touchdown run. When I asked if anything has surprised O'Brien about Watson, that run came up: "I don't think anything surprises me, but I'll tell you the touchdown run against Cincinnati was a play, for me personally, that I haven't seen too often."
O'Brien also lauded how Watson tries to involve his teammates on each play in practice. He may pitch the ball on an option even if he doesn't have to, just to make sure the back knows he's needed. The coach points to back-shoulder touchdown throws to Ryan Griffin in New England and Fuller against Tennessee as a result of Watson keeping guys after practice to work on timing. Watson's also taken advantage of having his position coach, Sean Ryan, and his now-backup, Tom Savage, as resources in a way not all young players would.
The Sam Darnold Hype Train Slows Down
And through those sorts of things, O'Brien knows that while Watson has a ways to go as an NFL quarterback, he's giving himself every chance to get there. As for whether this solves the Texans' quarterback problem, which has hovered over O'Brien's whole tenure, the fourth-year coach was coy. But it's pretty clear that franchise is in a better spot than it has been.
"I don't look too far into the future," he said. "I'm focused on Kansas City. But I will say that I love coaching the guy. He's a very coachable guy, he has good questions, he has good suggestions, he's easy to talk to. He's really a great teammate, he does things in practice that shows his teammates that he's all about winning, that's all he cares about is trying to help the team win."
This week, the challenge is a little different, with a talented Chiefs defense and a creative coordinator, Bob Sutton, coming to Houston. Maybe this is where one of the inevitable bumps in Watson's rookie year comes. And that's OK. Whatever's ahead, the Texans trust he'll be able to handle it.
• We have a newsletter, and you can subscribe, and it's free. Get "The Morning Huddle" delivered to your inbox first thing each weekday, by going here and checking The MMQB newsletter box. Start your day with the best of the NFL, from The MMQB.