Vice President Mike Pence Upstages Peyton Manning With Orchestrated Anthem Walkout
While the Colts honored Peyton Manning on Sunday, Vice President Mike Pence stole the spotlight with a planned political statement over the national anthem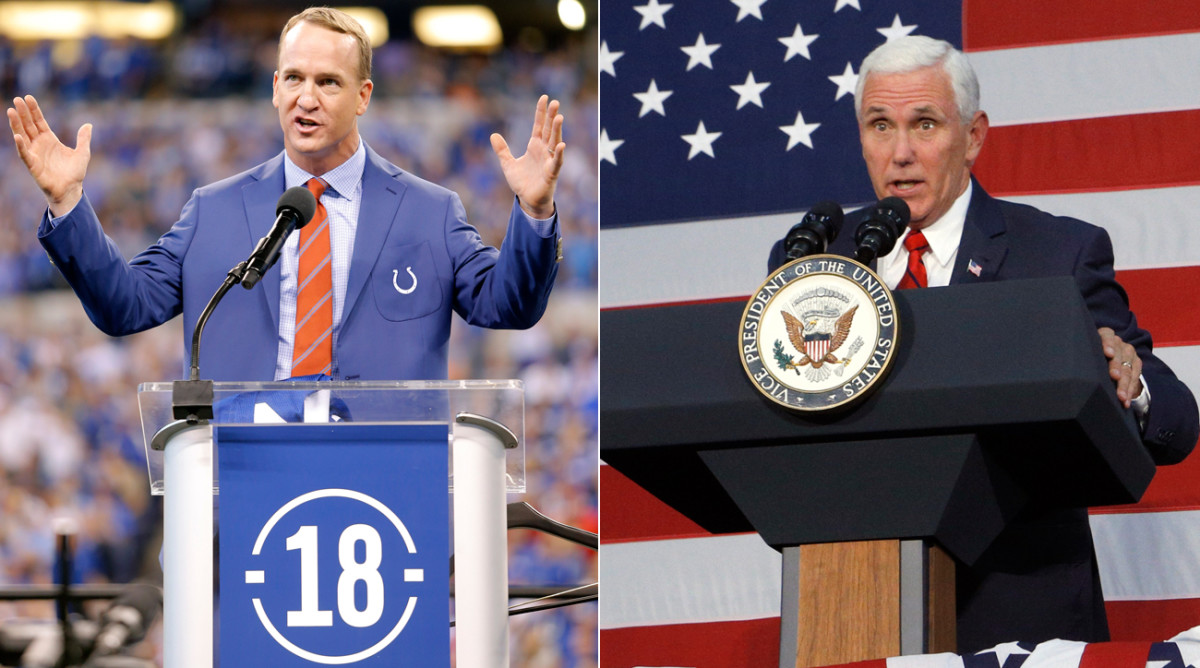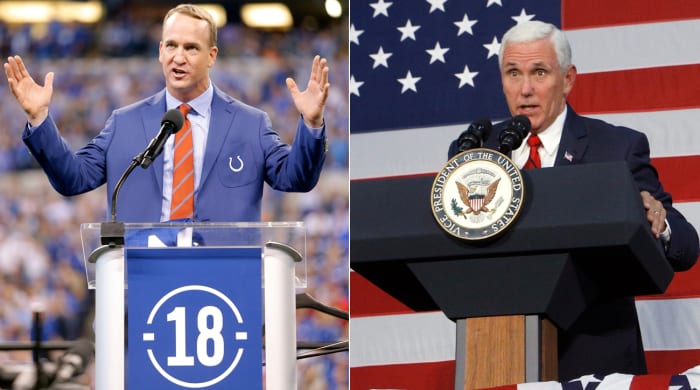 When Peyton Manning was drafted by the Colts in 1998, Mike Pence—born in Indiana, raised in Indiana, college-educated in Indiana—was a conservative talk-show host and avowed Colts fan. When Pence was elected to Congress in 2000, he moved away from Indiana for the first time but continued to root hard for the Colts in the Manning glory years. When Pence was elected governor in 2012 and Manning left for the Broncos, Pence continued to root for Manning when he played the Patriots, presumably because of the rivalry between the Colts and Patriots; Pence even tweeted his best wishes to Manning before a Denver-New England game several years ago.
So it surprised no one when Vice President Pence announced last week that he would be attending the ceremony in Indianapolis on Sunday when Manning's number would be retired at halftime of the Colts-49ers game. Pence would be in Las Vegas on Saturday to honor the victims of the murderous gun rampage there, and he would be moving on to California for a vice presidential appearance on Monday, but he would fly on Air Force 2 with his traveling party for the 1,600-mile trip from Las Vegas to central Indiana to pay tribute to Manning at his halftime ceremony.
Vice President Mike Pence Leaves Colts Game Due to National Anthem Protests
With Pence's trip, of course, there would be a traveling press pool of about 20 and a traveling Secret Service detail of approximately 10 with Pence and about 20 more doing advance work to sweep Lucas Oil Stadium and the Indianapolis hotel where the VP's party would stay on Saturday night and Sunday morning. There would be an ambulance in front of Pence's motorcade and a trauma team on alert at a local hospital. There certainly would be other manpower needs associated with a vice presidential trip, at a significant cost to U.S. taxpayers.
Meanwhile, at some point during the weekend, President Donald Trump and Pence spoke, and Trump told Pence—he admitted as such on Twitter—that if there was a demonstration with players kneeling during the national anthem on Sunday, Pence was to leave the stadium.
If there was one certain thing at the 49ers-Colts game, it was that some 49ers would demonstrate during the anthem. This is the only team since the start of the 2016 season to have one or more players either sit or kneel for every game—preseason and regular-season. There was absolutely no chance that this game would go off with 45 Colts standing on their side of the field and 45 members of the Niners standing on their side of the field. For at least the previous 26 games that the 49ers played, first with Colin Kaepernick sitting and then kneeling, and this year with safety Eric Reid leading players in some form of demonstration, the team did something during the anthem. Last week in Arizona, about 30 players kneeled.
So why did Pence show up? This was a fait accompli—that some Niners would kneel, that Pence would walk out, and that it would turn into the story of the day in the NFL.
And in the process, it would cast a gigantic shadow over the ceremony Pence even tweeted about Sunday morning.
Unless he was tone-deaf and had zero press people on his staff telling him, "The 49ers are going to kneel, Mr. Vice President," Pence knew he would be leaving and joining his boss in chiding NFL players for demonstrating during the national anthem.
Approximately 23 players for the 49ers kneeled. Pence walked out. By 8 p.m. Sunday, the top five stories on the Indianapolis Starwebsite were:
• VP Pence leaves Colts game after 49ers players kneel
• Swarens: Throw the flag on Mike Pence's walkout
• VP Mike Pence tweets same picture from Colts game
• Doyel: Pence uses Colts for political purposes
• Veterans, activists respond to Pence's Colts walkout
No popular headline about Manning's number 18 retired by the Colts or his induction into the team's ring of honor. Judge for yourself about the motives of Pence, a native Hoosier, at the glorious celebration of one of the greatest athletes in the history of the state. He could have stayed away from Lucas Oil Stadium on Sunday. It's a disgrace that Pence copied his boss and hogged a spotlight he had no business even sharing, never mind owning.
But the Vice President of the United States slapped Manning and Pence's beloved Colts in the face. Whether he's a puppet for the President or his own man, Pence trumped a day that belonged to the greatest football hero the state of Indiana has ever seen, and he did it for political purposes. He stole Manning's last great day as a Colt. Mike Pence will have to live with himself for that.