San Francisco 49ers Get Best of Both Worlds With Jimmy Garoppolo Trade
Coaches and executives around the NFL explain why the deal was a no-brainer for John Lynch and Kyle Shanahan to make
High winds and slick Massachusetts roads led to a black car taking Jimmy Garoppolo to the airport, and his future, to slide off the road, before he could even board his flight. A few hours later, Tuesday's trip was delayed again, this time by a refueling somewhere in South Dakota. And if that wasn't enough, Garoppolo then realized he hadn't packed for the cold weather he stepped into during that emergency stopover.
This isn't how anyone draws up his first day as a franchise quarterback. But that's okay, because Garoppolo eventually got there—and joked about it with his new co-workers—knowing the rest of all this craziness has the promise to be just about perfect. So go ahead and take the leap: The Niners won this trade.
Yeah, it's crazy to say an 0-8 team with a first-year coach and first-year GM got over on the five-time champion Patriots and their resident Greatest of All-Timer Bill Belichick. But the Patriots were stuck and the Niners recognized it and swooped to swipe a distressed asset, one that may well be a franchise changer. And if you don't believe me, I have some takes on the deal from around the league to show you.
In this week's Game Plan, we'll explain the Cowboys' plan for Ezekiel Elliott's absence; examine the strides the Eagles have watched Carson Wentz make; discuss roster purging by the Dolphins and Bills; delve into what Seattle's deal for Duane Brown signifies; and much more.
We start, though, with the biggest story of the week. That's the Garoppolo trade, which is so much more than just some run-of-the-mill deal for someone's backup quarterback.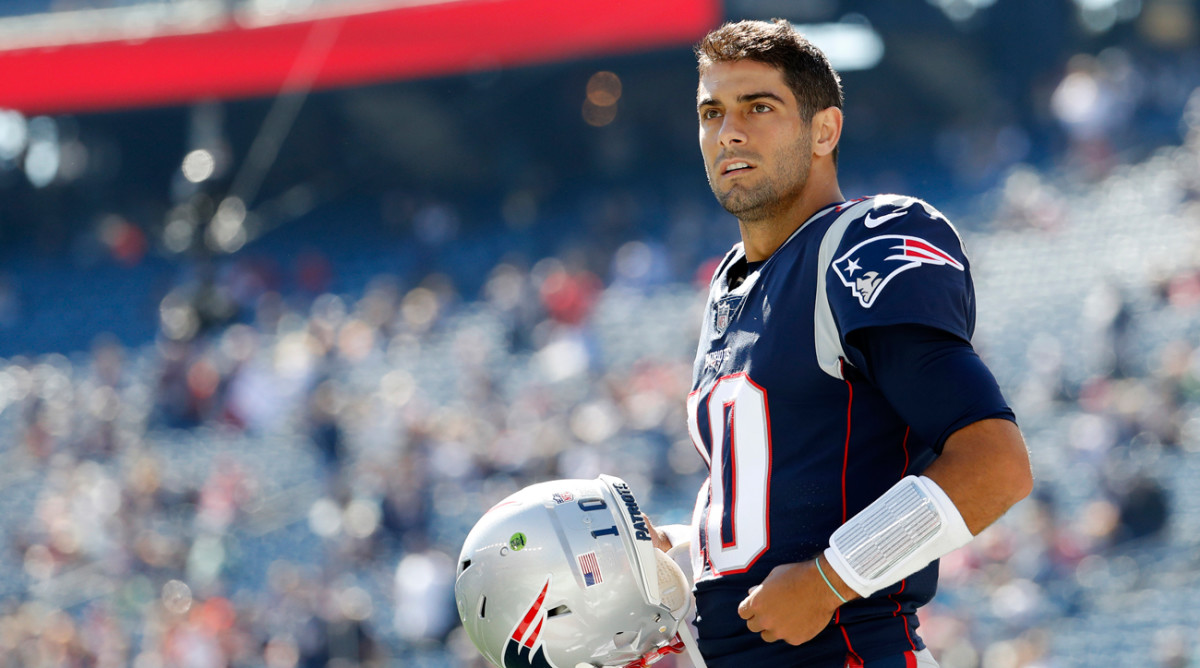 On the Patriots' side, it's simple. This is the team buying stock in Brady playing at a high level as a quadragenarian. It pulls the plug on the first succession plan that New England has put in place since Brady became starter in 2001, and clouds, once again, where the franchise will be post-Brady.
For the Niners, the beauty here is that it's actually more complex than that. If this works, the John Lynch/Kyle Shanahan braintrust got its quarterback for what will likely be the 33rd or 34th or 35th pick in the draft. If it doesn't, then the Niners only gave up a little more than the Browns did for DeShone Kizer, and that means they still could make up for it by getting Kirk Cousins or drafting Sam Darnold.
In essence, they've taken a big swing at a franchise quarterback, and now get a half-season to evaluate whether or not they got that one right without sacrificing their flexibility at the position. They'll get to see Garoppolo lead and work and react to teaching in their own environment the way they wouldn't be able to with a potential draft pick or free agent before signing off their future to him.
"We didn't bring Jimmy here to save our season," Shanahan told the press in Santa Clara. "We brought Jimmy here to improve this organization and we're going to figure out the best way for him and the best way for our team how we go about that. Just having him in the building and being able to work with him every day really helps us a lot and know a lot about him."
Jimmy Garoppolo Trade: Questions and Answers on Most Shocking Deal of NFL Season
But don't just listen to me on this one—hear the unanimous response that I got in polling personnel men and coaches when I asked if the Niners were as clear a winner in the deal to them as they were to me.
• AFC defensive coach:"Absolutely. A lot of people think [Garoppolo] can be a top 10 starter for the next 10 years. To me, that's what he was. I'm shocked they let him go. He's got all the physical tools, he can make the throws, he's athletic. … And he goes to Arizona (in 2016), in a hostile environment, against a good team, and he beat them soundly. And you could see the poise. He played like he'd been playing for a long time, not like it was his first start. And I think he's gonna do very well in that (Niners) system."
• NFC personnel exec:"No question. To me, you see people spending money and draft collateral on guys who have never played a game, and this guy has played, and been in a great system, and he's young enough. That puts them way ahead, as opposed to risking an investment on a college guy. And if he's not the guy, you only spent a second-round pick on him, instead of throwing a high 1 out there. … In the right system, and that system is the right system, he's a good athlete, with a good enough arm, and he's smart enough to be a successful quarterback. To what level? That depends on what's around him. … His limitations, can you put the team on his back? Is he that guy? No one knows at this point. Can he win games by himself? If he can, that's not a second-round pick. If you get that for a second round pick, then you're way ahead—I mean, way, way, way ahead—of the game."
• NFC personnel exec: "Someone would've given them a first in a different spot. But the Patriots knew they were running out of time, and had no leverage, would've had to tag him. …  He can be a top 10 quarterback in the league. If Cleveland's offering a 2 and a 3 for AJ McCarron, who's clearly not as good as Garoppolo, then he's worth a 1 plus something. And Garoppolo is a perfect fit in the Shanahan offense, he can move around, run boots, play action, timing and rhythm patterns, and he's got good feet, so he can beat you in and outside the pocket. … I'm not talking (Drew) Brees, (Ben) Roethlisberger, Brady, (Peyton) Manning, but the level right below that. That Kirk Cousins level, a better-than-average starter.  He doesn't have a cannon, he's a short-to-intermediate passer, and he's not the biggest guy in the world. But he has vision, the feet to make plays outside the pocket. … Perfect for Kyle and a lot of similarities to Cousins."
• AFC personnel exec: "I believe it's a win-win. For the Pats, right now, if the season ended today, that's pick 33, top of the second round. Theoretically, it might be a first-round player. Two, the first pick of second round has a great seller's market, you can trade down, or trade up into the bottom of the first, it's a great position to buy or sell from and get value. (Day 1 of the) draft ends, people restack and get eager. The third thing, if Jimmy walked, you get a comp pick, but no higher than a third, and this gives them a much higher slot. And the Niners are in position to have a quarterback in the building that can be their starter for a long time, and now they've positioned themselves in first round, with the first pick or the second pick, to trade down, sell and pick up multiple picks from teams looking to come up. …. I think he's a starter. I like his release, he's an instinctive guy, with starter traits. He's smart, he gets rid of it. He doesn't have a power arm, but he has a good enough arm with a good amount of accuracy. I just don't where his long-term ceiling is. … (But) they get to evaluate him on the their terms."
So ideally for the Niners, Garoppolo emerges as a star and the team, already armed with four picks in the first three rounds and more than $100 million on the 2018 cap to spend, can flip a top-five pick to a rival team looking for a quarterback. Worst case, San Francisco is using that pick to take one for itself.
The Most Significant Trade Deadline in NFL History
Either way, as these evaluators said, there's lots of upside here and minimal downside for the Niners. So John Lynch and Kyle Shanahan should take a bow for their patience, and for getting Garoppolo for so little. And sure, there's probably some real disappointment in the return inside New England's building, and some lingering concern about starting over in developing a young quarterback.
But it could be worse. Tom Brady, after all, is still their starter.
• We have a newsletter, and you can subscribe, and it's free. Get "The Morning Huddle" delivered to your inbox first thing each weekday, by going here and checking The MMQB newsletter box. Start your day with the best of the NFL, from The MMQB.
• Question or comment? Story idea? Email us at talkback@themmqb.com.