NFL Midseason Report: Ten Biggest Stories of the 2017 Season So Far
A roundup of the most impactful news, from the anthem protests and Roger Goodell's shaky status to the Rams' stunning turnaround and the Jimmy Garoppolo trade
Fairly newsy first half of the season. The 10 big stories of the first half, and what each means in the second half:
1. The anthem controversy, and Colin Kaepernick's unemployment, roiled the league. It's been a wild ride over the past 15 months, since Colin Kaepernick first sat and then kneeled for the anthem with the Niners. Now that he's sued the NFL for collusion in keeping him out of the league (and even before that), I can't see him being employed this year. And I can't see Roger Goodell forcing players to stand for the anthem. I see some olive branches being extended to players who want to make civil rights progress. But the one percent of players who are demonstrating are not going to stand at attention. Not yet.
2. Roger Goodell, in trouble. You know what I found odd after the October league meetings in New York? I heard not a single owner stand up when buttonholed by the minicams and reporters on their way out of the meetings and say, We're behind our commissioner 100 percent. Here's why: They're not. Most of them are not, any way. I still don't think that will evict Goodell from the league. But it creates a continued divisiveness between a cadre of owners who have soured on Goodell, led by Jerry Jones, and that's not going away. If the strife continues, and if some owners form a block to try to force him to make the players to stand (which Goodell does not want to do), I like what ESPN's Don Van Natta said on my podcast about Goodell's future this week, conjuring up how the Nixon Administration soured on Goodell's father, former Republican Sen. Charles Goodell, and put his political career in the trash can: "I would not be surprised to see that [Roger Goodell] would fight it to the end and go out in a blaze of principled glory, if he feels he is being forced to do something against his own conscience. It would be history repeating itself in the Goodell family."
3. The Rams are good, and maybe really good. The football story of the first half that surprised everyone the most is Los Angeles being 6-2, with the past two wins by 33 and 34 points. Who goes from last in the league in scoring one year to first the next? These former Lambs. Two of their toughest three games down the stretch are at home (Saints, Eagles, at Seahawks), and after globe-trotting the first half of the season, they stay in Pacific Time except for two Central Time games. The Rams are young and healthy and smart. They'll be fun to watch over the next eight weekends.
4. The strange case of Jimmy Garoppolo. As the tarnish continues to build on the 2018 NFL draft class of quarterbacks, and as Kirk Cousins seems glued to Washington for the future, the weirdness of New England trading Garoppolo, perhaps the most desirable quarterback who will hit the market in 2018, for the 34th or 35th pick in the draft will grow. But good for the Niners. Now the question is, how much will Kyle Shanahan play him (probably not at least until left tackle Joe Staley returns in Week 12 from his fractured eye socket) in the final meaningless weeks of the season … and how much will the Niners offer Garoppolo in a multiyear deal in 2018?
5. Andrew Luck does not deserve this Jimmy Irsay innuendo. Brilliant column Tuesday by Bob Kravitz of WTHR-TV in Indianapolis, wondering if the Colts owner's "intemperate remarks" about Luck's health and apparent questions regarding his ability to play hurt will cause a divorce between the team and its franchise quarterback. Irsay and his quack speculation of Luck's mental state is wrongheaded. Irsay needs to zip it, first of all. Secondly: Since the day in 2015 that Luck first damaged his shoulder, he has started 21 games. Does that sound like a player who doesn't want to lay it on the line for his team?
6. The Eagles look like the best team in football, and they employ the best athlete from North Dakota since Roger Maris. Carson Wentz is really good because he treats football like it's football, not like it's a seminal event in his life AND OH MY GOD TENS OF MILLIONS ARE WATCHING! And because he's really instinctive and has a great deep arm. But the Eagles are 8-1 heading into their bye just as much because Jim Schwartz's defense is so formidable and Fletcher Cox is one of the best massive athletes since Andre the Giant. But this will not be easy, this run to Minneapolis in February. Eagles' slate in the last seven weeks: at Dallas, Chicago, at Seattle, at the Rams, at the Giants, Oakland, Dallas.
7. What else can go wrong for the Texans?Hurricane, flood, J.J. Watt and Whitney Mercilus out, dumb statement by owner Bob McNair, players walk out, biggest phenom in franchise history sidelined for the year with a torn ACL in practice. And the season still has two months to go. One good thing: Deshaun Watson is real. And he's spectacular. Even if he's not going to be spectacular again until next fall.
8. Browns gonna Brown. Stop me if you've heard the one about the Browns trading for a quarterback at the deadline, but not really trading for him because they screwed up the paperwork with the league office. My only question is, as we examine the 2018 draft and the Browns' role in it, who exactly will make the high first-round quarterback pick that the Browns are all but locked into making? Say the Browns go 1-15 and select first. Say Houston finishes 6-10 and has the eighth pick. Cleveland has the Texans' first- and second-round picks. That would give Cleveland picks 1, 8, 33 and 40. Four picks in the top 40. Intrigue. Once the season ends and the draft order is set, Cleveland will have 115 days, 20 hours and 19 minutes to get the first pick into NFL Draft Control. Hope they're able to pull off sending in the card with the name SAM DARNOLD on it in the very brief time allotted.
NFL Power Rankings Poll: Patriots Finish Regular Season On Top, As for the Browns . . .
9. Tom Brady continues to play decent football at 40. Since turning 39, his regular-season TD-to-pick differential is 44-to-4. The Pats thought so much of his first two months of the season they left him without a net for the last three. We'll see how that goes.
10. Will Ben McAdoo end up like the last socially awkward Giants coach? Ray Handley, 1991-92: 14-18. Ben McAdoo, 2016-17: 12-13 (eight games remaining). Handley is the only Giants coach in the last 80 years to last two seasons or less. Now I wonder if recent history could repeat. New York co-owner and decider-in-chief John Mara is a patient man, and he'll have to rule on McAdoo after two years and GM Jerry Reese after 11 come January. I have no idea which way Mara will go; he could decide to bring back one and not the other. But this Giants team, though beat up, gives off the we're-not-playing-for-our-coach aroma. McAdoo most often seems miscast in the job. This will be the most interesting job situation to monitor in December, and I don't think the Giants will be able to rebound much down the stretch, not with upcoming games against Kansas City, Dallas, Philly, Oakland and Washington (twice).
Now for your email...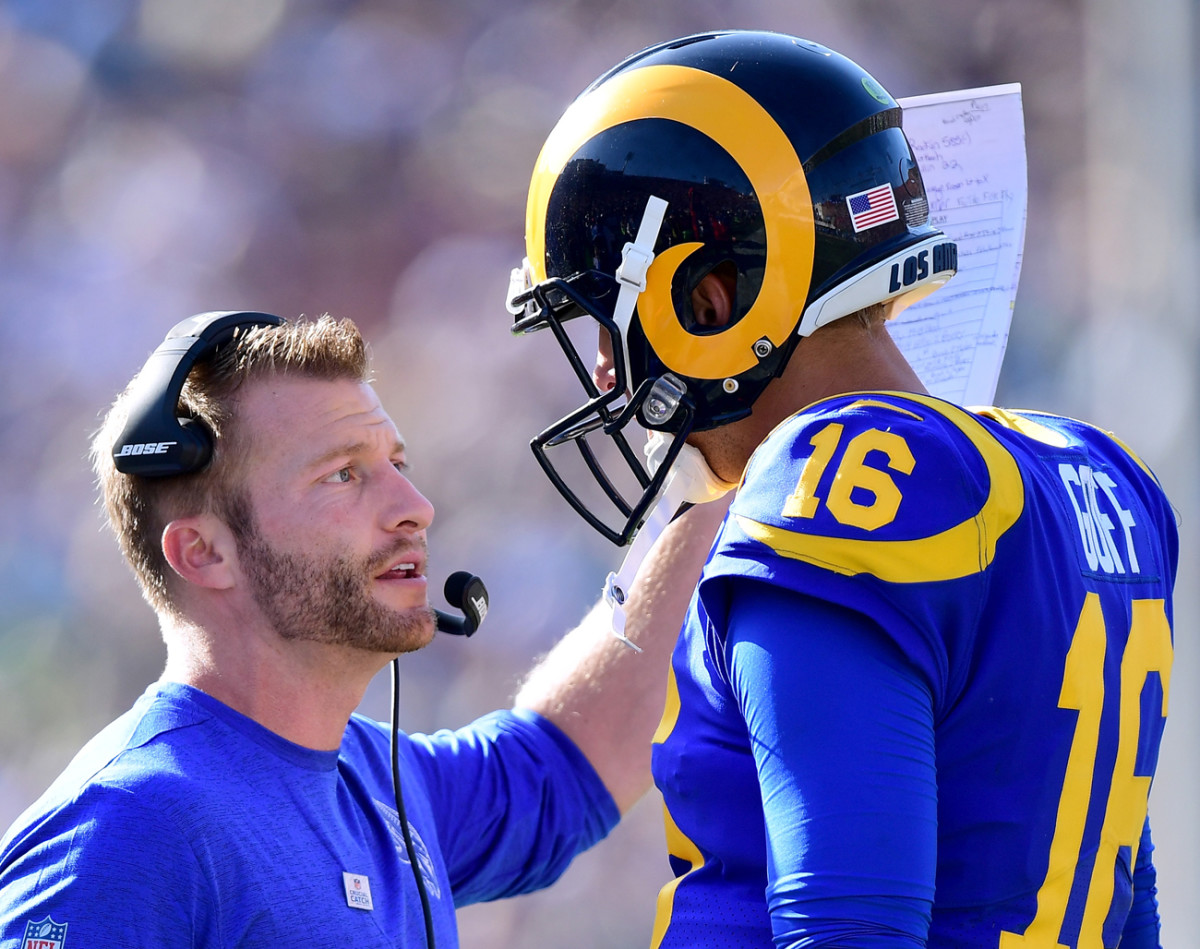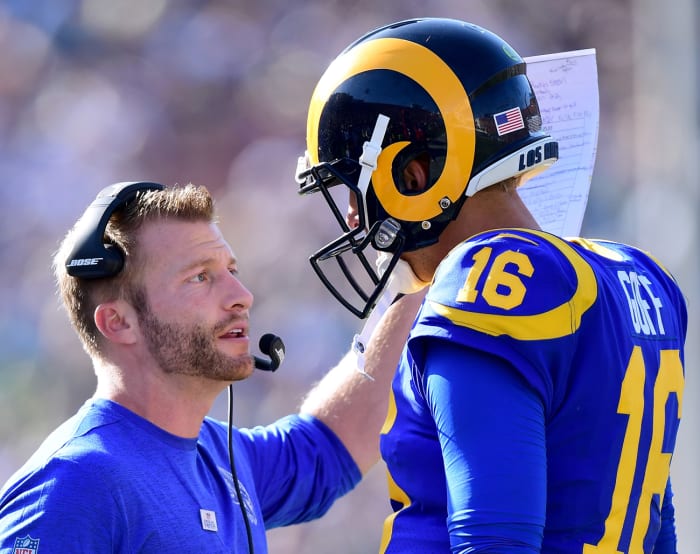 MCVAY/MCDERMOTT BENEFIT FROM FOLLOWING FISHER/RYAN
I think the media is giving way too much credit to Sean McVay. Yes, the Rams are doing great, but I think the media is giving a pass to the most overrated head coach in NFL history: Jeff Fisher. This team had a lot of talent for quite some time, but Jeff Fisher was holding them back with his old-school coaching and outdated play-calling. For those of us that recognized how awful he was, the Rams' 6-2 record is not a surprise.
—Paul F., Bowmanville, Ontario
I get that it was time to try a new approach with the Rams, and I get that people thought Jeff Fisher was a bad coach. I would point out, Paul, that the Rams won an average of 5.7 games a year over the past three years, and they've won six this year with half the season left to play. Wondering who gets some credit for:
• The lowest-scoring offense in the league last year turning into the highest.
• A brutally misfiring quarterback, Jared Goff, raising his passer rating from 63.6 to 97.9, and his record from 0-7 to 6-2.
• The team being legitimately dangerous heading into the second half of the season.
But, Paul, you weren't the only one to feel that way...
SORRY … I JUST REALLY DISAGREE WITH THIS
The Rams are better because they removed Jeff Fisher, and the Bills are better because they removed Rex Ryan. That is worth two wins per season. Both were replaced with exciting coaches who bring new ideas to their teams and seem to utilize existing talent more than their predecessors. Fisher is 6-10 or 7-9 every year, and Ryan was a talking distraction who seemed to believe the media hype was better than his record.​
—Bryan H.
Two wins for changing coach. Okay. So the Rams were 4-12 last year, and they're 6-2 with eight games left this year. Does the coach get any credit for the four or five or six wins in the second half of the season? Or who do you give that credit to?
The 6-2 Stunner: How the Rams Stole the Spotlight at NFL's Midseason Mark
BLAIR WALSH'S BAD DAY
Big fan, Mr. King. Been reading for a few years, and feel kinda lame that my first communique is such a negative downer, but how on earth is Blair Walsh not a Goat of the Week? If he makes one of those three misses, Cousins' big drive is game-TYING; two of them and that drive is moot. Only one of them (the 49-yarder) was realistically a stretch for a modern-day NFL kicker.​
—Jason, Soldotna, Alaska
My goats were two fight-starters, A.J. Green and Mike Evans. I agree that Walsh deserves a major knock for missing three kicks in a game Seattle should have won. Good point by you, but I still would have had the two miscreants as my goats this week.
Now speaking of Mr. Walsh...
WASHINGTON SHOULDN'T HAVE HAD A CHANCE
As great a drive that Kirk Cousins had in Seattle, he never should have gotten the opportunity. Seattle only needed a field goal for the win and instead of Doug Baldwin scoring and leaving Kirk Cousins 1:34 on the clock, Baldwin could have knelt and downed the ball at the 1-yard line. With the Redskins holding only two timeouts, Seattle could have run the clock down and kicked a game-winning FG from the old-school extra-point distance. By scoring the touchdown, Seattle handed the ball to Cousins, allowing the Redskins to steal the victory.
—Geoffrey T.
Interesting point, and I give it a lot of validity. But one asterisk: Blair Walsh missed three kicks inside 50 yards on the day, and you remember what happened the last time Walsh let a kick get in his head. I absolutely would not have eschewed the touchdown in this case, as bad as scoring early looks in retrospect.
KANSAS CITY'S WILD PLAY
Great read as usual. However, given your piece about the resurrection of the Rams and Sean McVay's comment that they used Andy Reid's playbook against the Patriots in L.A.'s conquest of the Giants, how could you omit mention of K.C.'s play to close the first half against Dallas? Tony Romo, watching it unfold and in replay, said more than once the he had never seen anything like it. We're guessing L.A. may well spring it on somebody later this season.​
—Tracy L.
That was not a great play by the Chiefs. It was a stupid play by the Cowboys. When I was in recess on the playground at Eli Whitney School in Enfield, Conn., in sixth grade, I knew this: When it was 11 against one in anything, the one never won. So this was not a great credit to Kansas City. It was idiocy by Dallas.
JOSH GORDON'S POTENTIAL FOR SUCCESS?
I'd like to see an analysis of the likelihood of a successful return by Cleveland Browns' wide receiver Josh Gordon. He was an extraordinary talent. The question is, has he retained that talent after missing about three of the past 3.5 seasons due to multiple suspensions. He is the only player to have consecutive 200-yard receiving days, and he did it while on the receiving end of passes mostly from Brandon Weeden. Gordon's game is based on size (he's 6'3" and last played at about 225 pounds) and speed. Has he retained that speed, and has he regained the desire that we saw in 2013, but not during his last season in 2014? It would be great to learn what football experts think about Gordon's potential comeback.
—Chris M.
Chris, I can't predict anything, and I do not know what is in Gordon's mind. But I actually feel good about the NFL giving him another chance. When I read the GQinterview, I thought it sounded like a guy in an AA meeting standing up and telling the room how much he'd screwed up because of substance abuse over the previous few years. He hid nothing (or at least sounded as if he hid nothing). It sounded like an unburdening. So I find myself pulling for Gordon's sobriety. He was obviously a great player at one time, and he threw it away. Why shouldn't he have another chance in a business in which he obviously is very good? If I were Cleveland, I'd devote one final chance to a player who seems to be truly trying to turn his life around.
ROETHLISBERGER ON MVP LIST?
I'd love to hear your logic behind including Ben Roethlisberger in your list of MVP candidates. On the season he has a 10:9 TD:INT ratio (ranking 18th in TD passes and fifth in interceptions), ranks 26th in QB rating, 25th in completion percentage, and barely cracks the top 10 in yards per attempt and yards per game—while getting solid protection (10 sacks in 285 dropbacks). By any measure, he's having one of the worst years of his career.
—Justin B., Columbus, Ohio
It's not about Roethlisberger's stats. It's about his impact on the game. I guess I believe that if the Steelers played a game today without Roethlisberger, they'd be at a bigger disadvantage than if they lost either Antonio Brown or Le'Veon Bell. And the name of the award is Most Valuable Player, not Best Player.
SOBER OCTOBER
How much weight did you lose giving up beer for October?
—Ronald M.
Good question. I didn't weigh myself, but I don't think I lost much. What I lost in alcohol weight I may have gained in pasta weight.
• We have a newsletter, and you can subscribe, and it's free. Get "The Morning Huddle" delivered to your inbox first thing each weekday, by going here and checking The MMQB newsletter box. Start your day with the best of the NFL, from The MMQB.
• Question or comment? Story idea? Email us at talkback@themmqb.com.