In Charlottesville, Chris Long Gives Underdog Kids a Chance
The son of a Hall of Famer, the Eagles defensive end had plenty of advantages growing up, including attending a pricy private high school in this historic Virginia town. He's been giving back for years, and in 2017 he donated six game checks to fund full seven-year scholarships to his alma mater, for worthy kids from the Boys & Girls Club in his hometown
The MMQB is on the road to Super Bowl 52. Follow along on Twitter, Facebook, Instagram and Snapchat (@TheMMQB), and find all of our road trip content here.
CHARLOTTESVILLE, Va. — You don't need a jacket on this January day at St. Anne's-Belfield School, one of those days when southerners remark to each other how they can't believe it was just snowing last week even though this happens nearly every year around this time.
There are about 400 students at the upper school (grades 9-12), including 83 boarding students, nestled on one of Charlottesville's rolling hills across the street from the prestigious University of Virginia. Kids adhering to the school's dress code stroll by Grisham Hall, named in honor of the famous author John Grisham, who was a parent here for nearly a decade. They're proud to say there are no lockers here, just cubbies, proof of strong honor among these students.
Five miles down the road, away from the neoclassical architecture, sits the Southwood Branch of the Central Virginia Boys & Girls Club. Thomas Jefferson didn't build Southwood, a wooded mobile home park now owned by Habitat for Humanity with an eye on redevelopment. This branch, one of six in the Central Virginia system, is 80% Hispanic, with 96% of the kids on free or reduced lunch. They arrive via bus around 2:50 p.m. to begin their after-school programs.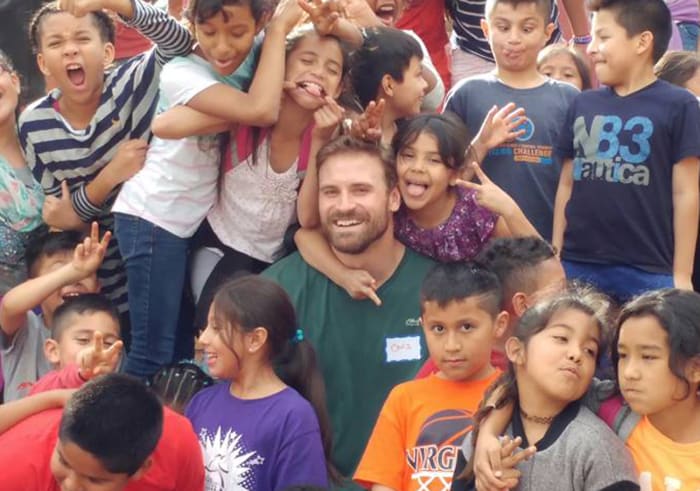 One or two of the kids coming of the bus today at Southwood today might be attending St. Anne's-Belfield in August, thanks to the generosity of one of the school's most proud alumni, Eagles defensive end Chris Long. A 2004 STAB graduate, Long promised at the beginning of the season that he would donate his first six game checks to fund scholarships for two deserving kids that would take them from sixth grade through high school graduation.
A former No. 2 overall pick who seemed to slip off the radar until his 2016 Super Bowl-winning season with the Patriots, Long has become known as one of the most woke players in the NFL today. He declined the invitation to the Trump White House, was one of the very few white players who publicly voiced support not only for his teammates' protest during the national anthem but for the reason they were protesting and, on top of donating his first six game checks to these scholarships, gave the other 10 to charitable education causes in the three cities—St. Louis, Boston and Philadelphia—where he's played in the NFL.
Just this week, after he and teammate Lane Johnson created dog-mask shirts and pledged to donate 100% of the proceeds to Philadelphia schools, Long and the rest of Twitter more or less convinced the NFL to do the same from the sale of the league's own dog-mask shirts.
It was here in Charlottesville where Long learned his giving ways. Kate Zirkle has been a board member of the Boys & Girls Club of Central Virginia with Chris's mother, Diane, for several years. She remembers all the Long boys—Chris's brother Kyle is a tackle for the Bears, and Howie Jr. works in player personnel for the Raiders—being part of the fabric of the club since they were old enough to contribute, popping up tables or just doing heavy lifting that sons of a Pro Football Hall of Famer could do.
He's long been a free-thinker, his high school coach John Blake says, and he has always been a champion of those who didn't have the size or opportunity he was blessed with.
"Chris, when he's comfortable, will speak his mind. Chris felt comfortable here," Blake says. "And I say that in a very good sense. This is a place where academics are very strong, and Chris did well. He didn't hold back when he was here. He spoke his mind and let people know. He's always been one of those guys, he looks after the little guy. You're not going to belittle someone in front of him. That's not going to happen."
By 2010, Long was entering his third season in the NFL and halfway through his $56.5 million rookie contract. Blake and head of school David Lourie took a trip to St. Louis to meet with Long as part of a major STAB fundraising effort for the school's centennial.
It was then that Long decided he would fund his first scholarship to STAB, a seven-year deal where the then-middle school student would graduate by the spring of 2017.
"You sit down with any potential donor," Lourie says, "and ask what their interests are. That was his interest: 'I want to help someone come to the school who would not otherwise have the opportunity.' To be able to speak with him about that and see how important that is to him and his passion for that, and the updates he wanted to hear, it was very gratifying."
Long and Blake had been engaged in recent years about continuing the donation, and Long wanted to involve the Boys & Girls Club this go-round. Last spring, on the same day he signed his two-year deal with the Eagles, Long was at the Southwood Branch meeting with the kids and asking unit director Olga Boucher every question he could think of, like what kids she might have in mind and whether transportation would be an issue.
He stayed for more than two hours, and on the blacktop where the kids usually play soccer, Long raced them to the goalposts and back, one time orchestrating a perfect tie.
• WHICH NICK FOLES WILL FACE THE PATRIOTS? Andy Benoit analyzes the Eagles QB and how New England will prepare for him
While the scholarship decision was well down the road, those close to Long say the events of Aug. 11 and 12 in Charlottesville only strengthened his resolve. That weekend, white supremacists and fellow racists marched in Charlottesville, and Heather Heyer, a counter-demonstrator, was struck and killed by a car in what police called a deliberate act by a white supremacist. Charlottesville was no longer Mr. Jefferson's quiet college town.
Fortunately, the Boys & Girls Club was open that day with extended hours, so many of the kids who might have had nothing to do on a summer weekend were there, away from the trouble.
"The emotional safety of our kids is a top priority, and those conversations continued on the staff level," Kate Zirkle says. "The discussion was how does this club open its doors and its arms wider for these kids who are coming in. It's difficult to know how they're processing it, but we are a safe place for kids."
Five weeks later, Long announced the scholarships. Some quick math gets you to the total of these gifts. Long made a base salary of $1 million this season, and six checks total $375,000. Tuition at STAB is about $25,000 per year; seven years would be $175,000, so two scholarships amounts to about $350,000, plus extra for books and miscellaneous needs.
There are approximately 2,500 kids in the Boys & Girls Club of Central Virginia; the scholarship search will focus on current fifth graders, though not exclusively. Boucher says STAB has interviewed a few kids already, and she thinks the club will ultimately present about 10 kids to the school. The hope is to get two local rising sixth-graders enrolled this fall.
• MEN BEHIND THE MASKS: Meet the two friends who are feeding the Eagles' dog-mask frenzy from 8,000 miles away
St. Anne's-Belfield, though private and expensive, doesn't feel stodgy or stuffy. The students in art class were extremely welcoming, and the staff surprisingly didn't take themselves too seriously. But it was clear that real academic work gets done here on a daily basis for kids with Ivy League aspirations.
At the Southwood branch, dozens of elementary-aged students fill in to call roll and get divvied up into groups for the day's post-school activities. There's a system here of rewards and demerits, known as Power Points, that helps the kids understand the value of a currency. Cayden, a 9-year-old fourth grader, walks a visitor through the various buildings, from the playroom to the computer lab, the teen lounge (which he's only allowed to go in when giving a tour), to the STEM class and into the dance room where the children are sweating learning a choreographed dance to "Mi Gente."
Shoulders. Step back. Shoulders. Turn around. Andddd jump!
"There are some really hard-working kids," Boucher says. "They have every odd against them, and they're getting after it with straight As and doing all the stuff that's needed. An opportunity like St. Anne's—a private school that has all these different trainings and teachers—there's so much in that for a kid who wants it."
• IN PRAISE OF THE EAGLES BRAIN TRUST: Andrew Brandt on Howie Roseman, Doug Pederson and how Philly got to the Super Bowl
Long intends to find two of those children. His last game in a St. Anne's uniform came in 2003. His 10-0 team faced then-Lynchburg Christian Academy, led by running back Rashad Jennings. With LCA driving on its final possession, Long tallied two sacks, including a game-sealing strip-sack that STAB recovered to salt away the championship.
"After the game," Blake says, "everyone had left, and I walk out of the door and Chris is still outside with his uniform still on. I looked at him going, 'I'm out of here Chris.'
"He didn't want to take his jersey off. "
Long wasn't ready for his time at St. Anne's-Belfield to be up. With these scholarships, he's getting another seven years.
Question or comment? Email us at talkback@themmqb.com.