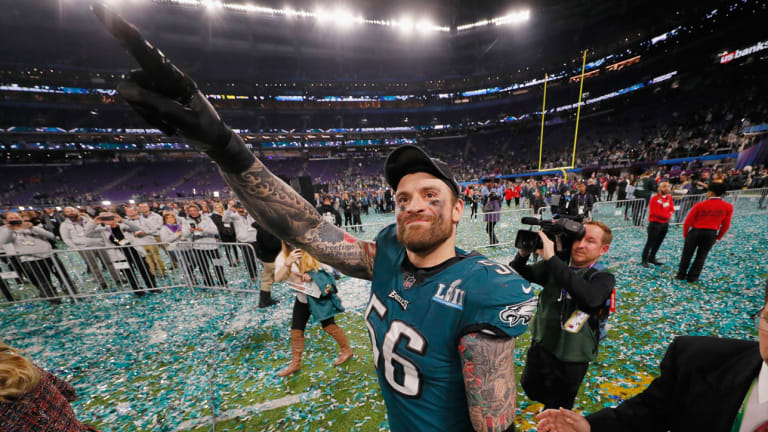 Chris Long's Next Mountain: After Super Bowl Summit, Eagle Eyes Kilimanjaro For Water Charity
The back-to-back Super Bowl champ will try to reach the African peak a third time, leading a group of NFL-types and military veterans to raise money for Waterboys
If you're a football fan of a certain age, you'll identify with this riff on the old Disney World/Disneyland commercial that ran on network TV the week after the Super Bowl:
TV voice (off-camera): "Chris Long! You've just won the Super Bowl! What are you doing next!"
Chris Long (staring into camera, grinning): "I'm going halfway around the world to climb a 19,000-foot mountain, Mount Kilimanjaro!"
Sixteen days after winning Super Bowl 52 with the Philadelphia Eagles, that's exactly what the 32-year-old defensive end is going to do. (And apologies to those who don't remember that's exactly what Phil Simms, Joe Montana and Emmitt Smith did a generation ago—win the Super Bowl MVP and make some money by staring into the camera as the game wound down and saying, "I'm going to Disney World!" This year, it was Nick Foles' turn.)
To raise money to build wells in drought-stricken east Africa, Long and 11 current and former players and U.S. military veterans will take off for Africa on Thursday night. The climb in Tanzania begins Tuesday. It should take them about six days to summit (for those who make it; the altitude KOs even some of the fittest of climbers) and a couple of days to come down.
This year, Long and his co-captain on the "Conquering Kili" trip, former U.S. Army Green Beret Nate Boyer, lead a team of 12 (plus a video crew) on the climb. That crew includes Rams linebacker Connor Barwin and three retired NFL players: quarterback Vince Young, running back Steven Jackson and tight end Tom Santi. Four retired military vets (two Marine, one Navy, one Army) will be on the climb.
• KING: Ten Things I Think I Think About Frank Reich, New Colts Head Coach
Long has made the climb twice—once late in his Ram years, and again last year. It was tougher last year; he said he really struggled with the altitude. But it also could have been the proximity to the season, and getting very little rest time after a Super Bowl year with the Patriots. Could be the same thing this year. Last night, Long, home in Virginia, was on the massage table till past 9 p.m. ET, still getting the kinks out after a six-and-a-half-month football season.
"I spend time outside," Long said. "I hike, I trek, I climb. Doing it halfway around the world for eight days is different. But the toughest part is the altitude. Lots of people make it. But even the fittest guys struggle. Last year, we had a vet, an ultra-marathoner, totally bad-ass guy, who had to turn around. Altitude didn't agree with him.
"The awareness for our cause, clean water in east Africa … this is our best platform. The world water crisis is huge, and it means so much to me that we've been able to raise enough money to build 32 wells in such desperate areas. We haven't set a monetary goal this year, but if we could raise enough money for three or four wells [at $40,000 per well], that's going to help so many people.
"It's a cool opportunity to involve all of my passions—my foundation, my life, helping active and retired NFL dudes, and then our military. They have a need, a void, for service. Some vets want to get involved in a cause bigger than selves. And this is such a great cause."
Long met Boyer three years ago, and got him involved in the cause. Boyer has been active in engaging returning vets (along with FOX's Jay Glazer) to find causes meaningful to their lives once they return from active duty. Long figures the Waterboys-funded wells and clean water has made a big difference in the lives of 125,000 east Africans.
Kilimanjaro is 19,341 feet high. This will be Long's third climb. "You start in a rainforest, move into the high desert, and on the sixth day, you're summitting, and you're on a glacier, and you're on top of Africa. It's quite amazing," he said.
• To donate to Long's cause, and to the cause of fresh water for Africa, go to waterboys.org.
Finally, Long will be 33 this year. A couple of years ago, he thought seriously of retiring; his back hurt, and he was tired of losing. In his first eight seasons, all with the Rams, Long was never on a winning team. Then came a title season with New England, in 2016. And then the magic with the Eagles this season. Now what's in Long's future?
"Playing football, I hope," he said. "I plan on playing football. I loved this season so much, just loved this team and my teammates. There's still things I want to accomplish. But I've got to climb this mountain first. It's the coolest thing going, vets and NFL guys and the mountain."
• KING: Wristband 145—Behind the Play That Confused The Patriots and Gave the Eagles the Super Bowl Win
Now for your email:
THANK YOU
Thanks again Peter for just a superbly written article. Love how you brought us "behind the curtain" and also loved that Doug Pedersen and Frank Reich opened up so much about the process how they select and design their plays. Fascinating! Dare say you'd never get that candor and openness from the Belichick and the Patriots? You made my Monday.​
—Sean C. Beahon
Thanks, Sean. I really owe Reich and Pederson and receivers coach Mike Groh for their help (and their time) in doing this story, because without their candor, there's no way a story of that insight could ever be done.
A note I wanted to add about this story. When I was in the middle of writing it, I thought how fortunate I was, being able to learn and write and impart to readers a first for me in 34 seasons covering the NFL—and the kind of story I have not read, anywhere. I had never heard, and have never read, coaches explain the birth, the roots, the development, the refinement and the adoption of a play into a game plan … and then how the coach figured this was the right time to call a play he never had called before, and it was third-and-seven with the Super Bowl on the line, in the 58th minute of the game, trailing 33-32. Doug Pederson called this play he and his staff had invented from so many disparate ideas, and, as it turns out, it's the touchdown that won the Super Bowl. I never had coaches spend 90 minutes explaining everything about any play, never mind the play starting from scratch and ending with the biggest moment of their coaching lifetimes. I spent 4,310 words describing the play.
During the course of Monday, I looked at Twitter a few times to see the reaction to the story from readers. This tweet stood out:
And my response:
I don't often—anymore—engage people on Twitter like that. It's not a good idea, and it's not mature. A few of you took me to task for it.
If you read that story, and that's your big takeaway, and you tweet at me, I might strike back. On the play, running back Corey Clement started from behind left tackle and, at quarterback Nick Foles' signal, pivoted and sprinted behind Foles parallel to the line of scrimmage. What I wrote: The Eagles used a strange motion on this play call Star motion, a Jet Sweep sort of motion behind the quarterback that they'd used only 12 previous times in 1,217 plays this season prior to the winning touchdown in the Super Bowl. The Eagles used regular motion on more than 400 offensive snaps this season. Regular motion is receivers or backs or tight ends running at different speeds behind the linemen, sometimes continuing to the snap of the ball and then turning upfield, sometimes stopping at an appointed spot in the formation. Star motion is when one of the fastest backs is in a dead sprint across the formation, not even turning upfield at the snap (as a back might do upon the snap into a wheel route) but rather drawing defensive attention very wide of the formation and waiting for the quarterback to throw. I didn't say it was exactly the same thing as a Jet Sweep. I said it was a Jet Sweep sort of motion, because it was so different from regular motion.
That's the explanation of why I was a jerk on Twitter on Monday: I did something I was proud of, I got slapped, I slapped back. That's it. Let's move on.
• KING: Why One Home Run That Barry Zito Gave Up in College Now Stands Out Above the Rest
THANK YOU II
A longtime reader. Eagles fan. Best column ever.​
—Greg M.
So nice of you to say, Greg. I hope educated football fans (and maybe some people in the game) got some knowledge and entertainment from it.
IN APPRECIATION OF OFFENSIVE COORDINATORS
Love EVERY SINGLE BIT of Wristband 145! I realized I'd have to curb my criticism of offensive coaches and players next season because I literally have no idea how many moving parts all have to work for a play in the NFL to be successful.​
—Jake
Your email, Jake, made me think of what might have happened if I'd done a post-mortem of this play with Patriots' defensive coaches. Would love to see Matt Patricia diagnose what went wrong—and I don't just mean Duron Harmon and Stephon Gilmore clanking into each other like a couple of stuntmen. I would love to know what happened between the time he said they had to double Zach Ertz and the snap of the ball and then the Patriots NOT doubling Ertz. Should Harmon have followed Corey Clement into motion? Should Trey Flowers or Kyle Van Noy have dropped into coverage for the double on Ertz?
COACHING HIRES
Regarding the Josh McDaniels farce, would it not be better to say no team can interview any candidates for a head coaching vacancy until the playoffs finish? Football has the longest offseason of any sport, so making teams wait to hire a head coach should not affect them as much as other sports. I have read arguments that if the league did this then you would see more teams break the rules and speak to prospects illegally. But we should not put a rule forward through fear of it being broken. The league would need to ensure the penalty for breaking the rule was high enough that teams would not risk it.​
—Gareth
First of all, Gareth, I apologize for answering your question incorrectly when this column first posted on Wednesday. Now to answer it with a bit of clarity: Your solution is probably better than the current situation, but I'm not even sure of that. What the NFL would do if it adopted a rule that prevented all teams from doing business for five weeks, I believe, would be a draconian penalty for all teams needing coaches. You would be asking the worst teams in the league, theoretically, to stop doing business for five weeks instead of starting on the road back to respectability by getting a new coach and maybe even a new general manager in house at the start of January. That brings up another issue. What about general manager prospects who are in the playoffs? Do you prevent them from interviewing until after the Super Bowl? I just think that asking teams with the most important position in the organization to stay vacant for five weeks instead of using that time to be able to begin to improve the team is unreasonable. But I do agree that the current situation should be addressed. 
NOT A BAD IDEA
I think (!) it would change everything if assistants were free to sign with other teams during playoffs. Assistants would have to know if they are "all in" right away, because they would have to sign a contract right away, and not in 2 or 3 weeks. And may I add, that it would prevent what happened with McDaniels. Belichick and Kraft would have been forced to make the run to keep McDaniels right away, and not after the Super Bowl.
—Charles P.
I've heard this quite often, and all things considered, I think it's probably the best idea.
THOUGHTS ON CHIP KELLY NOW?
Really great MMQB today. Given you are on record multiple times as having high regard for Chip Kelly, has the success of Doug Pederson and Howie Roseman caused you to rethink that view, at least in regards to Kelly as an NFL-caliber coach / de facto GM?​
—Mark J.
Mark, it's clear Kelly—who I still believe is one of the smartest football minds coaching in any league—didn't have every piece of the puzzle internally to be a great NFL head coach. I wrote that, to a degree, after the failed San Francisco experiment. So yes, I have rethought my feelings about Kelly. I think he still could be a good NFL head coach one day, but only if he learns the importance of the personal side of the business, and I also think he could take out Doug Pederson's collaboration book as well.
SB52 OFFICIATING
As for the officiating discussion … nobody has addressed was the obvious defensive pass interference/illegal contact on the Hail Mary. Pats receiver Chris Hogan was shoved off the play 20 yards downfield and was never able to get to the end zone or be a factor because of it. While this probably doesn't change the outcome of the game, there should have been one more play.​
—Tom M.
I disagree. You made me go back and watch the play a few times Tuesday. On the play, Hogan is shoved hard by an Eagle at the Philly 35; Rob Gronkowski gives a forearm shiver to another Eagle defender at the 15, on his way to posting up in the end zone. Hogan was able to recover and make it downfield. It appeared he was right at the goal line, or may at the 2-yard line, when the ball fell to earth in the scrum in the end zone, about three yards deep. There was contact, to be sure. Defensive pass interference calls on Hail Marys are rare, and I can't imagine anything short of a full-on tackle would have drawn a flag in that spot.