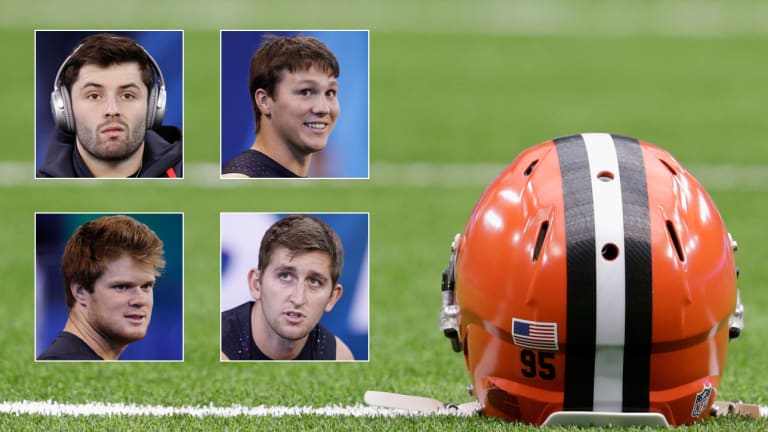 NFL Draft Rumors Start in Cleveland, Where No. 1 Overall Pick is No Sure Thing
A trip around the draft rumor mill includes: where the Browns stand two weeks out; Denver eyeing a move down; the Lamar Jackson mystery; and much more
Today's an important day for the Browns. Wyoming's Josh Allen is in Berea, Ohio, the final of the draft's Big Four quarterbacks to visit the team facility and make his case to be the No. 1 overall pick in 14 days.
And rumblings growing louder in scouting circles have led many to believe that Allen will walk through those doors with a lead.
My understanding, and I've heard this from multiple people: Cleveland has not made a final call. The team's scouts returned from the road on Tuesday, started draft meetings on Wednesday, and there's still discussion to be had. One person who knows GM John Dorsey well explained it like this: "I know John likes [Sam] Darnold, and I know he likes Allen's talent. It'll come down to this: Who do they trust most?"
Darnold's edge might be there. From declaring he wanted to go to Cleveland, to the stories of his teammates showing up in the rain for his pro day, to flying back to Los Angeles to throw for USC tailback Ronald Jones at the Trojans' second pro day, just about everything about Darnold screams franchise quarterback. It's the kind of force of nature that a cultural sea change could be centered on.
But is the tide turning?
The Jets, picking third, had nothing on the books with Darnold as of April 1. That's changed. He's set for a visit with them now—one of two he'll make in Jersey, with the Giants (picking second) on the docket for next week. Darnold also has plans to work out for the Bills, a prime candidate to deal up from 12th, in Los Angeles on Friday.
At the very least, all three are preparing for the chance that Darnold is on the board after the first pick, as they should be. So where two weeks ago this race was thought to be over, now these teams are proceeding as if it's back on. And while there's support for both Darnold and Allen among the Browns staff, I've heard they aren't the only two QBs Dorsey plans to discuss during the meetings for the No. 1 overall spot.
With two weeks to go, there's a lot on the line for everyone involved. So this week's Game Plan will be heavy on the draft. We'll dive a little deeper into the big question facing Allen; get to know the lesser-known Allen (who used to be a big deal) whom Josh Allen is working out with; look at comments made by Patriots owner Robert Kraft this week and what we can read into them; and explain the significance of Odell Beckham being present and accounted for this week.
But we start with what I think you want to hear, and those are the rumblings buzzing through the draft rumor mill. It starts with the intrigue with that first overall pick. And it'll keep going through a first round that's deficient in talent compared to 2016 and '17, yet rich with possibilities for trades, runs on positions and surprises.
Let's talk about some …
• The Broncos could be moving … down.It's been out there that the Colts would consider a second move down the board from No. 6 (after trading out of No. 3, to the Jets, in March), but they may have competition among sellers. I've heard if Denver doesn't like the quarterback that's there at 5, whoever that is, then it'll actively look at trying to get more picks. Two names that have been connected to the Broncos of late—Notre Dame G Quenton Nelson and Ohio State CB Denzel Ward—could be available further down the line. For what it's worth, the same two names have been connected to the Bears at No. 8.
• Late first-round picks lack value.The other day I was spitballing on a potential Bills-Giants swap with a team exec, who said to me, "The problem is that the 22nd pick might as well be in the third round." He was exaggerating, but only a little bit. The consensus I've heard is the difference between 22 and 52 is minimal this year, which is part of why the Colts did well to land a couple high second-rounders in their trade with the Jets.
• The mystery of Lamar Jackson. The 2016 Heisman Trophy winner is in play to go in the first round—or he could be waiting well into Friday night. I'm keeping my eye on the Ravens here. They'll have Jackson in their facility next week, on the second-to-last day that in-house visits are allowed, and they have an offensive staff with the infrastructure to build for Jackson. Coordinator Marty Mornhinweg built an offense for Mike Vick in Philly. And senior assistant Greg Roman put in option packages for Colin Kaepernick in San Francisco. So Jackson could be an interesting fit. Remember, Joe Flacco has underperformed of late, is 33 and has a balky back and no guaranteed money left on his deal.
• The linebackers are rising. I believe that if Bradley Chubb is gone by No. 6 and Indy sticks there, Georgia's Roquan Smith and Virginia Tech's Tremaine Edmunds would be in play. And I think each would be a consideration for San Francisco at 9, Oakland at 10, Miami at 11 and Buffalo at 12, if those teams don't move. And if Smith and Edmunds go earlier than expected, that would stand to help Alabama's Rashaan Evans and Boise State's Leighton Vander Esch.
Why No QB Has Emerged Atop the Draft Pack
• Will the Dolphins take a quarterback? As you read this, Baker Mayfield will be wrapping up his visit in Miami, with Allen coming in later Thursday. Ryan Tannehill is a little younger than Flacco (he turns 30 in July) but enters 2018 in a similar spot—coming off an injury-affected season with no guaranteed money left on his deal. The problem for Miami is that to get one of the top four QBs, it may need to move up, so we'll see if the rumors of Adam Gase being that smitten with Mayfield are true.
• What the Giants do will dictate a lot. I've heard that Giants GM Dave Gettleman really likes Darnold. I've heard the coaches like Allen. I've heard everyone there likes Penn State running back Saquon Barkley. And I know Gettleman has no history of trading down. But rumors of the work the team has done on University of Texas-San Antonio pass-rusher Marcus Davenport indicate that they're at least considering it here. Bottom line, what the Giants do will help paint the picture for the rest of the top 10. If they take a quarterback, then that would mean QBs go 1-2-3 and could create a feeding frenzy for Cleveland's pick at 4. If someone else trades up, then another team comes off the market for one. And if the Giants take Barkley, one of the QBs could slide a little. Gettleman is holding the cards.
• A good draft for grunt positions.You like interior offensive linemen? How about nose tackles? Nickel corners? Then this is the draft for you. We told you a couple months ago that Barkley and Nelson would likely be the top two prospects in the class—and that a back and a guard being rated that high would cause positional value debates all over the Top 10. Well, those could continue on down the line with really good tailbacks and guard/centers, and inside corners and big bodies for the defensive line available late in the first round and into Round 2.
FIRST AND 10
1. Patriots QB Tom Brady is off to Qatar on Thursday to do work for his charity, Best Buddies. I'm told the plan is for him to head back to the states late on Monday—and I'm sure no one will freak out if he's not at the start of the Patriots' offseason program that morning because of it. Right?
2018 NFL Draft: What Bill Belichick and the Patriots Will Do ... (We Think)
2. It'll be interesting to see which deal gets done first—one for Rams DT Aaron Donald or Raiders DE Khalil Mack. Both are expected to get past Ndamukong Suh's non-QB record of just under $19.1 million per. The question is who tops whom, something those in the agent community are watching since Donald is repped by CAA and Mack by fellow titan Lagardere. "The agents are in an arm's race," said another prominent agent. "And they're backed by two of the biggest companies in sports entertainment, so money isn't relevant to them. Looking like they won is." The two direct agents, by the way, are Todd France (Donald) and Joel Segal (Mack), both of whom have pretty impressive client lists.
3. Part of the issue for Mack may be the Raiders' willingness to hand over a big number in fully guaranteed money, since they aren't as cash-rich as some other franchises and those dollars have to be fully funded. Suh's 2015 deal still has the highest full guarantee for a defensive player in NFL history, at just under $60 million. Denver's Von Miller is second at $44 million.
4. Patience can pay off in free agency. On Day 1, the Bears paid $14 million per for Allen Robinson. On Day 29, the Saints paid $4.8 million per to sign restricted free agent Cam Meredith away from the Bears. Both wideouts are coming off torn ACLs, and Robinson has a higher ceiling, to be sure. But in 2016, Meredith had seven fewer catches (73 to 66), two fewer touchdowns (6 to 4) and five more yards (888 to 883) than Robinson.
Shaquem Griffin's Success Is About Design As Much as Desire
5. Seattle's turning over cornerstones on its defense, and so here's one name to keep an eye on: corner Justin Coleman. The Seahawks traded a seventh-round pick to get him back from New England last September and put a second-round tender (which he has since signed, at $2.9 million for 2018) on him after he finished 2017 strong. He's viewed as a nice piece for a team that needs a few now.
6. I'd be at least a little concerned that we're still talking about Cardinals QB Sam Bradford's ability to step onto a practice field in May. By then it will have been eight months since he suffered his latest knee injury. Related: It'll be interesting to see how aggressive Arizona is in a couple weeks in trying to move up for a younger quarterback.
7. Not ideal, either, if Andrew Luck can't throw "The Duke" in a few weeks when the Colts open OTAs. But I'd say, in this case, Indy is right to be as cautious as it possibly can be in bringing back Luck.
8. To anyone who knows the coaches and players who've been around Richie Incognito, Shady McCoy's social-media pleas for the Pro Bowl guard to come back to the Bills come as no surprise. Even in the thick of the Bullygate controversy, Dolphins staff and teammates privately supported Incognito. It was unanimous among those I talked to. He was absolutely one of the most well-liked guys in every locker room I saw him in, which would surprise some people.
Richie Incognito's Retirement Would Leave a Glaring Hole on an Already Sparse Offensive Line
9. Seeing Mike Vrabel discuss his first offseason program the other day in Tennessee showed what he brings to the table as a former player. He's putting it on those guys to make sure they're ready and trying to establish a level of trust along the way. "If they're pros," he said, "they're going to be working somewhere." Vrabel, you might remember, was part of the NFLPA executive committee that negotiated the current work rules back in 2011.
10. Was everyone as excited about the preseason schedule coming out as me?
FOUR DOWNS
1. Don't minimize the symbolism of Beckham showing up. We'll see what the Giants do, but I know the way at least a few other teams are taking Odell Beckham's presence in Jersey this week as a tacit removal of the star receiver from the NFL trade block. My feeling was April 9 was always the key date. That was Monday, and Beckham reported. He then came back for work Tuesday, and I'm told he was there again Wednesday. What he did—normal offseason strength and conditioning work—was something he could've done anywhere. But that he went through it with his teammates and down the hall from Gettleman and new coach Pat Shurmur matters. Had Beckham decided to stay away, it'd have been borderline impossible for the team to do a long-term deal with him at the rate he's seeking.
Just think about all that's happened in the past 16 months. The boat trip. The no-show in the Packers playoff game. The hole punched in the wall at Lambeau. The de facto holdout last spring, complete with Beckman waving his absence in everyone's face, via social media. The dog-peeing celebration, which was a precursor to other explosions in the Giants locker room. And then whatever happened in Paris a couple months back. If the Giants were to do a deal with Beckham without the receiver having done anything in Shurmur's new program, they'd be implicitly signing off on everything that happened before the new regime arrived. So Beckham absolutely did the right thing, both for himself, and the team. By showing up, he gave himself the chance to put a few pelts on the wall, and show his teammates and the bosses that he's on board with the new coaches. And by getting good work in now, the Giants doing a deal with him in the coming months would take on a different context within the locker room.
This was an opportunity for Beckham to turn the page. It was wise of him to take it.
2. Josh Allen's rise. It's not hard to see why teams are tempted by him. He's big and strong and athletic, and can put the ball pretty much anywhere he wants it on the field, which was illustrated in living color at his pro day. But the problems are just as obvious. His college career is as perplexing as it is intriguing. Even taking into account the exodus of talent from Laramie after 2016, Allen didn't take the steps scouts were hoping he would as a redshirt junior, and as such questions arose about his football intelligence. I'd heard those in the fall, and they were the first thing I thought of when I asked Wyoming coach Craig Bohl, who recruited Carson Wentz to North Dakota State, to compare the two prodigious talents.
"If I had a quarter for every time that question was asked, I'd be a rich guy," Bohl said a few months back, over the phone. "The physical size is very similar. They're both tall, strong guys that can run well, they're ultra competitive guys, they have strong arms, and they're both guys that are students of the game. There are a lot more similarities to them than there are differences. … I think Josh, last year, and even this year, he improvises a little bit more than I saw Carson do when we had Carson. Carson, at that time, was a little bit more programmed, he was set and would go through every one of his progressions, where Josh might improvise more. They're not drastically different, but they're a little bit different."
It matches what you heard from scouts gathering info on the quarterback—Wentz was a savant coming out, and Allen isn't one. And so if you want to know how his stock has risen (I've heard the Browns, Giants and Bills have all been impressed), it makes sense that part of it would be allaying those concerns—which he's done by doing well when teams put him on the board. Scoring a 37 on the Wonderlic doesn't hurt either, though he was prepared for it. "Everyone has the test now," an AFC GM said the other night. "So you take it with a grain of salt. With Allen, I really think it comes down to bringing him in, putting him on the board, and testing him as much as you can to see what the comfort level is with him. How fast can he process and play? Allen's talented, but those would be the things you'd need to know."
And evidently, Allen has sold some people not necessarily on what he is, but on what he could be with a few years of NFL coaching.
Josh Allen: What He Could Be, and What He Is Now
3. Quarterback contracts will be interesting. Given the offseason of change Green Bay is going through, it was at least interesting reading the comments made by Packers quarterback Aaron Rodgers when he was asked about it this week on Milwaukee radio: "I think it's pretty clear that players play and coaches coach and personnel people make their decisions. That's the way they want it." Rodgers' most trusted target over his decade as Green Bay starter, Jordy Nelson, was asked to take a pay cut, then released in March. And that was after the team let quarterbacks coach Alex Van Pelt go, a move that Rodgers publicly expressed frustration over.
Will all of this affect Rodgers' play? My guess is that it won't. He's too competitive, and was playing too well before he got hurt last year. He still has a solid offensive group around him that'll be adding Jimmy Graham to the mix. But I do think all of this could affect how he approaches his contract situation, with so many in Green Bay having assumed that this would be when the Packers would re-do his deal. There have been rumblings about Rodgers feeling underpaid in the past, and his comments project a player with a greater understanding of how coldly a team can do business—and maybe the need for players to handle their own business the same way.
So does Rodgers ask for what Kirk Cousins got: A short-term, fully-guaranteed deal? Could the Packers even afford to do it, based on the funding rule? And what if Matt Ryan gets structure in Atlanta similar to what Cousins gets in Minnesota? Add it up, and my feeling is this negotiation may not be as simple as many thought it would be.
4. Where the Patriots are. Patriots owner Robert Kraft spoke to beat man Jeff Howe, now with The Athletic, for a story that ran this week, and what was most interesting to me was how he independently brought up his quarterback's age. Asked about Tom Brady's contract situation, the boss responded like this: "He'll be 41 when the season starts. Neither side has an issue with it. If it becomes an issue, we'll deal with it." Everyone knows Brady's into his 40s now. Why bring up the number?
The end of Brady's documentary was notable in that it: a) hinted at his dissatisfaction with the atmosphere in Foxboro and b) raised the possibility, for the first time, that Brady wants to take things year-to-year rather than shooting to keep playing until he's some far-off age. And so here's my interpretation: Whether he's making an educated guess or knows the date, Kraft can see the end of the Brady/Belichick Era and is preparing for it. Why wouldn't the contract be a big deal? It wouldn't be one if it wasn't such a sure thing that the player will continue past 2019, the final year of Brady's current deal.
Multiple people close to the situation told me that Kraft was the driving force in keeping Josh McDaniels in Foxboro. Belichick and team president Jonathan Kraft popped their heads in on that Tuesday, but my understanding is the owner was the one who made sure McDaniels wasn't going anywhere. And he had good reason. When he looked at his team after Super Bowl LII, he saw a coach who'd be 66 and a quarterback who'd be 41 the next time the Patriots took the field. With that came a recognition that the Patriots were starting to look like the kind of year-to-year operation that Kraft loathed to run. It was at the root of the 1997 Bill Parcells divorce. And so he moved to create some stability, and was able to convince McDaniels to stay.
Patriots Draft: The Case for Taking a QB, and the Case Against It
To me, Kraft's comments to Howe are an extension of that. And there's more work to be done in that regard. Which isn't to say Brady's deal isn't a priority. It's just not on the front burner right now.
LESSON OF THE WEEK
Josh Allen and Sam Darnold spent about two months training, throwing and living together in preparation for the April 26 draft. And here's a pretty amazing fact – If you rewind three or four years, the other guy in the threesome working with QB guru Jordan Palmer would've been considered far more likely to make it here.
You may not know who Kyle Allen is. But he used to be a pretty big deal.
Allen was ranked the top high school quarterback prospect in America in 2014 by Rivals, Scout and ESPN. By October of that year, he'd wrested the starting job at Texas A&M from Kenny Hill. Allen had the size, athleticism and arm to make NFL types drool.
Then, it all came undone. A&M brought in another touted QB recruit in 2015, Allen had a tumultuous sophomore year, transferred to Houston, then was benched by the Cougars' new coaching staff. So he decided to declare for this year's draft, even though 14 of his 17 collegiate starts happened more than two seasons ago. And so he knew what questions were coming—and they have come.
"That's usually the main question," Kyle Allen said Tuesday afternoon, after wrapping up a private workout with the Seahawks. "Teams just want me to walk them through what went on in college, and everything that happened between high school and then. It is a mystery to some teams that don't know a lot of the details. That's probably what we've talked about most."
So maybe the questions get a little old for Allen, but he knows well the flip side of the equation. The lofty status he held as an 18-year-old is a piece of the puzzle, and not an insignificant one, in why so many teams are interested in him. And that's where we have this week's lesson.
You'll hear a lot this time of year that guys never live down where they're drafted. And Allen's just one example that guys also, for better or worse, don't live down how they're recruited either.
Consider that 2014 class. The No. 1 player, Da'Shawn Hand, will likely be a Day 2 pick despite only starting one season at Alabama. The next three guys on the Rivals list (Myles Garrett, Jabrill Peppers, Leonard Fournette) were first-rounders last year. No. 5 Quin Blanding will likely go in the middle rounds this year. Sixth is Adoree' Jackson, another 2017 first-rounder. Seventh is Allen.
And Allen's getting plenty of attention. He worked out for the Seahawks on Tuesday, and flew to Seattle for an in-house visit with the team Wednesday. He's also had a private workout with the Titans, with Mike Vrabel in attendance; met with the Lions and Panthers; and threw at local pro days for the Cardinals and Texans.
So how's he answering the big questions?
• On what happened at A&M:"There was some miscommunication between people there. What it came down to for me, my goal has always been to make it to the NFL. And the way I look at my goals, I try to align everything that I'm doing every day, situations that I'm in, with my goals. And so at A&M, when I sat back after that sophomore season, and thought about how things were going towards my goals, it just didn't seem like that was the right fit for me at that time with how he was playing us at quarterback, and where he was trying to go with it. I didn't really understand or know where he was trying to go with the offense. … (Kyler Murray) would go in, I'd come out. They'd put him in if I was struggling. And then if he struggled, I'd go in. It was a volatile situation from a quarterback's perspective."
• On declaring for the draft: "It was similar to the A&M situation. I had two options basically, because the way it was going at Houston, it didn't seem like they wanted to go in a direction where I was the best fit at quarterback. They took me out after the third game, and from there I was just preparing our quarterbacks. For me, it was a roll of the dice. If I go to college somewhere else, transfer again, that's a roll of the dice, I gotta win that job and win over that locker room and who knows what's going to happen there? And if I go to the league, it's a roll of the dice, if a team wants to bet on me and think I can come in and be a two or be a three my first couple years and help the team. Either way, it's a roll of the dice. I was ready to bet on myself and come out here and try and impress some teams and force my way into the league."
• On what he'd do different:"I think the only thing I'd have done differently is change how I prepared as a freshman. That was the biggest downfall—I didn't know what it meant to prepare for a game in college, I didn't know what it meant to be ready to play in college football until probably into my sophomore year. And even then my routine, my preparation wasn't perfected. … I grew up in Arizona playing high school football, where I stepped out on the field on Friday nights and threw the ball around, threw for touchdowns and a bunch of yards. And then you get to college, and I didn't go to a college where there was a guy playing in front of me, because I wanted to play early, so I'm in a straight competition and learning the preparation on my own, learning the routine on my own. There were growing pains."
I talked to one coach who's evaluated Allen, who put it like this: "He's got talent, and the tape isn't bad. There's just not a lot of it, and it's obviously not great that he was benched." And the explanation, of course, isn't horrible either. Allen and Murray (who'll start at Oklahoma in the fall) both left A&M because of the communication issue, and Tom Herman's decision to leave Houston happened before Allen could even take a snap in a game for the coach he went to play for.
At the very least, who Allen was before all of the drama has piqued the NFL's curiosity. And where this goes from here will be pretty interesting.
• Question or comment? Email us at talkback@themmqb.com.