Davis Webb Will Be Ready When It's Time to Step Out of Eli Manning's Shadow
Webb may have not played a single snap as a rookie in 2017, but after a season of following Eli Manning and developing a strong relationship with the Giants starting QB, he maintains that he's "80 billion times" better than he was a year ago. Good enough to claim the title of "Manning's successor"? Let Webb explain for himself.
Davis Webb wants you to know how strong his arm is. He's not bashful about that.
"I can throw it better than anybody," he says. "I have a great arm."
Let him continue.
"I feel like I can make every throw. My arm strength is probably too strong."
It's a Sunday afternoon in Edgewater, N.J., and Webb—the relatively unknown second-year Giants quarterback who has oscillated between being passed over for the starting job by Geno Smith and being called the "future" of the storied franchise by teammates—is eating lunch at a restaurant overlooking the Hudson River. He's drinking water, eating a bison burger and talking about why he's ready to take the mantle from Eli Manning, whenever that opportunity may come. And it all starts with that arm.
Every day in practice Webb tells star wide receiver Odell Beckham Jr. the same thing: "You ain't outrunning my arm." When Manning points out that Webb overlooked an easy five-yard completion in favor of attempting a 70-yard bomb on a rep, Webb responds that he's "gotta get the arm on tape." He wants to throw deep, he wants the one-on-one sideline bomb and he wants it all day, every day.
"Gotta get [the Giants' coaches] talking about it like Man, that's a good arm," he says.
To be fair, Giants All-Pro safety Landon Collins has said Webb routinely launches balls deep over the secondary's heads, while rookie running back Saquon Barkley calls it the strongest arm he's ever seen. When Webb hears what Barkley said, he simply smiles because he already knows that. He prides himself on his arm.
The Keys to Trubisky's Potential
Webb realizes that most of the things you may know about him pertain to his work ethic and near-psychotic preparation (more on that later). But there's much you don't know. Like that he was a DJ in college, under the moniker DJ DWebb, and is now the Giants' resident music expert, in control of the team's musical accompaniment for every situation, every day. He prides himself on that, too.
He has a playlist for each day of the week. Monday is for alternative music: Mumford and Sons, The Lumineers, Coldplay. Tuesday is country (he's a Texas kid) and Wednesday he plays Old School Rock—Tom Petty, Jackson Brown, Stevie Nicks. Thursday is for rap and Friday is reserved exclusively for Kings of Leon, his favorite band. Saturday is when he hits shuffle on all 6,000 songs in his library—there's a rule that no one is allowed to skip a song—and Sunday is for R&B.
Webb also has an office playlist, for when he and Manning are spending long hours in the quarterback's room at the Giants facility, which contains 1,000 songs. He's happy to report that he's introduced Manning to six new bands, and Manning's favorite is the Turnpike Troubadors, a Texas country band. When Manning is not in the room with him—which is more often than you may think, because Manning has a family waiting at home—Webb will bring in speakers and blast the music so loud that it can be heard four offices down. Webb is in the room alone so often that everyone on the team calls it his personal office. Manning routinely tells him he needs to leave the facility earlier, get home, go golfing more. Most nights Webb is the last one remaining in the facility, left only with Jose, the janitor, and Steve, the security guard. Last year Webb even asked coach Ben McAdoo if he could get his own personal printer in the room.
"It was hard to get, but it was worth it," he says. "That's my biggest claim to fame as a New York Giant."
But why a printer? Because he's got binders to fill—a lot of them. Webb is obsessed with printing out screenshots from film study, statistics, news reports quotes, anything that he finds interesting or edifying, and filing them away in three-ring binders. He estimates that right now in his apartment he has 25 binders, each with more than 200 pages stuffed inside. Back when he was six years old, he began drawing play designs on notecards; now he has a binder that contains his own personal playbook for when he eventually starts coaching. He has another binder filled with details about every coach he hopes to play for one day, and 20 binders—four for the preseason opponents and 16 for the regular-season opponents—of the defensive coordinators the team played against last year. He has a binder for the offseason, one for OTAs and one for minicamp, both for last year and this one. And of course he has an Eli Manning binder for keeping track of "everything he says."
"Actually, I probably have 30 binders at home," he corrects now, after enumerating each. "I have a lot of binders."
The son of a Texas high school football coach, Webb has known he wanted to coach since the day he was born. It wasn't until he was a sophomore in high school that he even thought about playing football in college—and only then it was to further his chances of having a coaching career. He says watching and breaking down film is enjoyable for him, like "watching a TV show. It's perfect."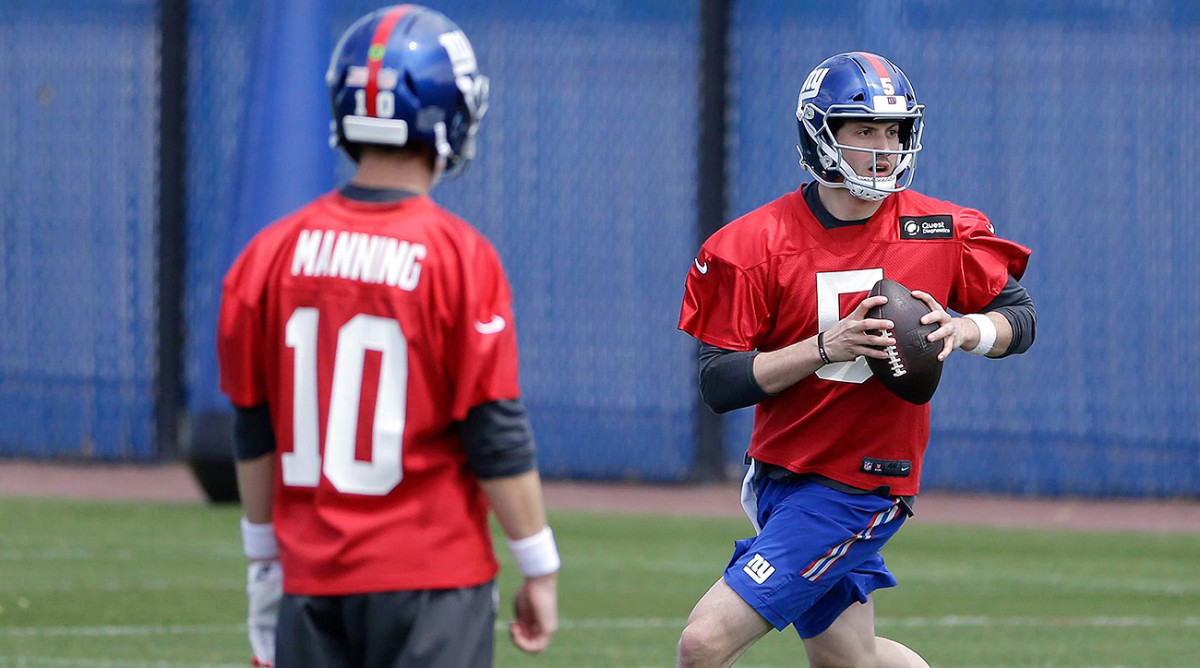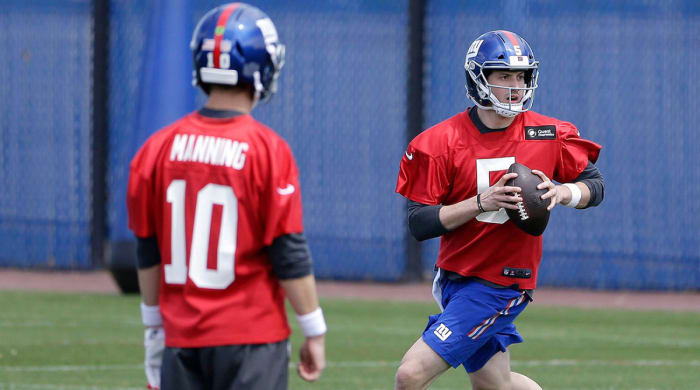 This obsession with football pedantry has endeared him to Manning. The second time the two met last year, after Webb was drafted in the third round as Manning's potential successor, the rookie told the vet, "I'm here to help everybody. I'm going to be in your ear all day. If you need anything I'm going to be here." That meant every week last year Webb would put together a scouting report on the team's next opponent, each totaling hundreds of pages, and then he presented the report to Manning on Monday. Most of the scouting report would be handwritten notes from his film breakdown and copious research, while some would be computer printouts (hello, personal printer!). In addition there would be a bio of the opposing head coach and defensive coordinator, and lastly, some fun facts to lighten the mood on the day before the game.
While several veteran quarterbacks—read: Ben Roethlisberger and Joe Flacco—have been in the news lately for their refusal to provide tutelage to the man who may one day replace them, Manning has taken the opposite approach. Webb calls him "the best teammate in the world." The two eat breakfast and lunch together every day during the week; Webb can recite Manning's breakfast order—an omelet, oatmeal with fruit (no sugar), a strawberry banana smoothie, and one water—without hesitation. They also work out every day together and have been recently focusing on their ab work.
"Trying to get that beach bod," Webb says. "We're working towards it. Making gains."
Despite their age difference—Webb notes that he's closer in age to Manning's oldest daughter than he is to Eli—they have become fast friends. They engage daily in often ridiculous debates: "What movie sequel is ever better than the original?" (Manning's answer: Toy Story), "Should a Cheeto be considered a chip?" (Manning is firmly in the not-a-chip camp, while Webb argues that because it is in the chip aisle, it is a chip. Counter-intuitively, Webb avers that a hotdog is not a sandwich.)
But their friendship did not give Webb special dispensation from the typical veteran-rookie ribbing last season. A tradition for many teams in the league is making every rookie sing a song on stage during OTA's. Last year, Webb chose T-Pain's "Buy U A Drank (Shawty Snappin')" and, while he says his signing isn't any good, his performance, which included dancing across the stage, was imbued with irrational confidence. So impressed (or entertained) was Manning that he made Webb perform another song in training camp—this time, "Your Love" by The Outfield. From this sprang a new tradition: during the season, anytime the film would freeze up during a big team meeting or there was any other unplanned pause in the action, Manning would yell, "Hey Dragon, sing us a song." Webb estimates it happened 15 times.
And yes, Manning calls Webb "Dragon." And no, Webb will not explain the origin, saying only that "it's a lifestyle" and I have to ask Manning for the genesis. The first time Manning called him Dragon, Webb laughed it off, thinking it wouldn't stick. The next day Webb came back to the facility and McAdoo and the team's then-general manager Jerry Reese were calling him Dragon. "That's when I knew it was bad," Webb says. When asked if it's a reference to the Step Brothers line—"You have to call me Dragon. You have to call me Nighthawk"—he says it is not, but that he can see himself being Will Ferrell and Manning being John C. Reilly. Such is their relationship.
Webb has also been the recipient of some of Manning's famous pranks. Most are mundane, like Manning stealing Webb's pen and keeping it for himself, or getting Webb to look skyward and then sticking a handful of mud in his mouth. Then there's the coup de grâce. During a walkthrough two days before the team's Week 17 game last season, the two were out on the practice field, in the snow and five-degree cold, before the rest of the team had arrived. Manning offhandedly toldWebb that Manning thinks he is the taller quarterback. Webb, knowing for a fact that he is a quarter of an inch taller, responded as such. At Manning's suggestion, the two lined up, back to back.
"Boom," Webb says. "He pantsed me from behind."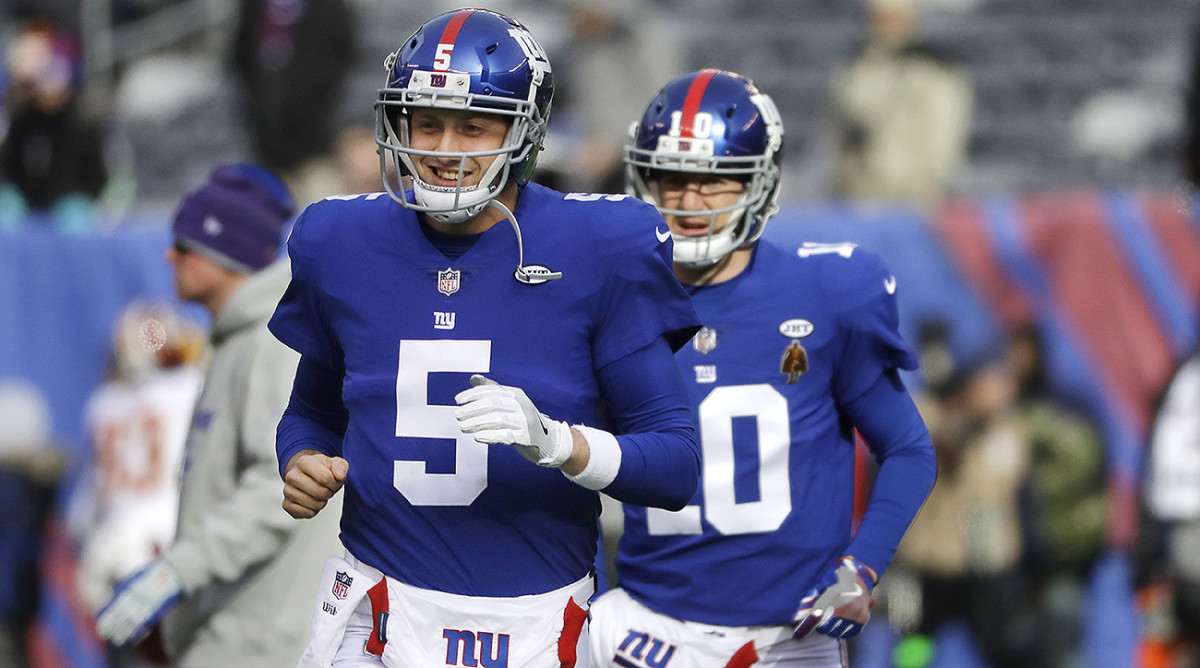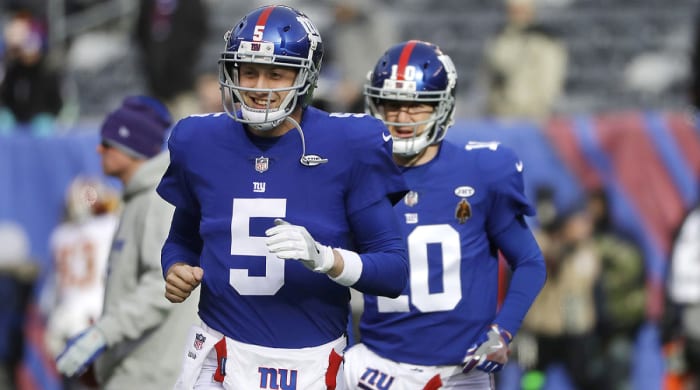 It's safe to say that the mentor-mentee relationship is strong, despite any natural awkwardness that could arise in their professional situation. The 37-year-old Manning is coming off arguably the worst season of his career; the Giants only won three games, and Manning was benched for the first time ever. The 23-year-old Webb, despite not seeing a single snap in a regular-season game all year, showed enough promise to one day be Manning's successor that the New York regime decided against selecting a quarterback with the No. 2 pick in this year's draft. 
Webb was told on day one that he was going to redshirt the entire season and learn behind Manning, so not playing wasn't unexpected for the rookie. But when Manning was benched mid-season, McAdoo noticed Webb that he was going to play in the team's final three games; then McAdoo was fired and that plan was nixed. As a result he's still an unknown in NFL circles.
Of course Webb wanted to play and of course it was frustrating, but he believes there was a tremendous benefit received from his year on the sidelines—Webb maintains that he is an "80 billion times" better quarterback now than he was last season. After playing at Texas Tech and Cal in college, Webb had only ever played in the Air Raid offense, which he admits does not prepare a quarterback adequately for the NFL. He says he took more snaps under center on his first day in Giants rookie minicamp last year than he did in his entire four-year college career. Another first for Webb last year? Being in a huddle.
After the 2017 season, which ended in McAdoo and Reese being replaced by Pat Shurmur and Dave Gettleman, Webb called a meeting with both men. He told them that after his year of learning from Manning, he has seen what it takes to be the team's next starting quarterback and knows he can do it. Their response? They told him to prove it, and he had only three days of minicamp before the draft to do so.
"I guess I did good enough for them not to [take a QB with the second pick]," he says.
Now when he's out and about in New York, he regularly hears fans tell him that he's the future of the franchise. He tries not to pay attention to that or to the beat writers who have been lauding his performance in OTAs on social media. He notes that he hasn't played a game yet, hasn't thrown a touchdown or an interception yet, and knows that the conversation around him can quickly change. But he also says that he is ready to be a starting NFL quarterback right now, that he could "go out there and do really good things."
AFC North Offseason Report Cards: Browns on the Rise, Steelers Vulnerable, Marvin on the Brink, Lamar Jackson Is the X-Factor
Like any player, he wants that to happen this year. However, he understands the situation that he currently finds himself in. He says that Manning has been "mesmerizing" in OTAs so far and is not afraid to say that he is still the best quarterback on the team. But he also says that there is "no doubt" that the gap has been narrowed from last year to now.
He feels more comfortable, more confident. As a rookie, getting acclimated to the NFL, he says he was "scrambling." Now he's settled into the league and into his routine; this is evident, he says, in the fact that he is playing more golf now—just yesterday he played with receiver Sterling Shepherd and shot an 84—and in the car that he is now driving. Last year, a Texas transplant in New York, he decided to buy a Tesla sports car for the summer. Combined with his predilection for wearing capri pants, Manning made fun of him every day. But this year Webb is back driving a pickup truck, an all black 2018 Ford F-150 Lariat. The other night, when out to dinner in Midtown Manhattan with a few teammates who were all wearing Jordan's, Webb had cowboy boots on.
"I'm back," Webb says. "Back to my roots."
Webb wants Manning to have a great season, because that means the team will have a great season. He's ready but not worried about playing right away. This offseason he spoke with Case Keenum, who had a breakout year in Shurmur's offense after spending several seasons in backup QB purgatory. Keenum told Webb that he must believe that his opportunity is coming and work as if it is, because it's going to come at some point. And when it comes, he better be ready because it isn't going to last long.
"I know I'm going to get a shot here," Webb says. "If it's tomorrow, if it's in 10 years, I know I'm going to get a chance. And when that comes, throw it deep, throw it deep. Scared money don't make money."