Can Alex Smith Turn Around Washington's Misfortunes? Players, Coaches and Fans Are Hopeful
The veteran quarterback, along with a handful of new offensive pieces, is here to usher in the post-Kirk Cousins era for the Redskins.
ASHBURN, Va — Gene Bogley is happy that it's been a quiet offseason, relatively, for his beloved Washington Redskins. After trading for QB Alex Smith during Super Bowl week, the team didn't make any splashy free-agent acquisitions, nor did it fire a coach or a general manger. And thanks to the Smith trade, there's been no more incessant will-they-or-won't-they discussion in regards to a Kirk Cousins contract extension.
With Cousins gone, the game of chicken between the team and the quarterback, the standstill in negotiations for a long-term deal, is finally over, and enter 14-year veteran Alex Smith. But even that change at the sport's most important position has had a relatively muted reaction in the fan base; during Wednesday's team minicamp practice, Bogley's fiancé, Donna Late, was the only one of the several dozen fans in attendance wearing a Redskins No. 11 Smith jersey.
Bogley stood in line for nearly an hour on the Saturday after the draft to buy three Smith jerseys—one for Late, one for her daughter and one for her nephew. The 70-year-old has been a fan of the team since his uncle first took him to a game in 1964, and he's been to almost every home game for several decades now. He remembers the franchise's good times—memories drummed up by the Sonny Jurgensen jersey that he wears to every game. 
He was there at RFK during the 1982 playoffs when the Redskins beat the Vikings en route to the franchise's first Super Bowl title and John Riggins came out to the 40-yard line, looked at the crowd and took a bow.
"That was my favorite moment," Bogley says wistfully.
He's hopeful that Smith brings some more of those good memories, because there haven't been many for the Redskins for some time now. When Bogley had his uncle's season tickets transferred into his name in 1997—after buying them from him for years—the team had a waiting list nearly 200,000 names long. But just this week, the team announced that season tickets are available for purchase. Such has been the team's fortunes over the last two decades. Even last season, Washington finished 7–9 and missed the playoffs for the third straight season, despite Cousins passing for over 4,000 yards.
Smith, however, is the team's newest and best hope to reclaim past glory. During the offseason coach Jay Gruden has been effusive in his praise of what Smith has brought to the team, not only because of his experience but because of how it allows the coach to open up the offensive playbook with zone reads and the quarterbacks ability to get outside the pocket and extend plays. Those reading between the lines could also interpret that as subtle shots at Cousins, as well.
At practice on Wednesday—held in the team's indoor bubble, because of poor outdoor field conditions—Smith was mostly a bystander, as Gruden noted he wanted to give the second and third teams the majority of the reps on that day. The team has a lot of new offensive personnel, from Smith to the speedy Paul Richardson, who played four seasons in Seattle, to second-round running back Derrius Guice. Because of that the offense is still malleable and adapting.
"It's a constant roundtable of information to lead to putting these guys in the best possible situation," quarterbacks coach Kevin O'Connell says. That roundtable of information includes input from Smith, who has played in multiple schemes and brings a veteran presence to the offense that several teammates claim to be an intangible benefit brought to the team. O'Connell has known Smith since the two were both in high school in the San Diego area, and even played against him in college, when O'Connell played for San Diego State and Smith for Utah. He says he was the most excited one on the staff when the team made the trade to acquire the quarterback, and it's not just because of his abilities on the field.
"I know what he's like as a leader," O'Connell says. "I know what he does to a team from a standpoint of how he works and how he can bring guys along. I hear nothing but unbelievable things from guys who have coached him or been on teams with him before."
Matt Ryan and the Falcons Are Not Concerned About Julio Jones's Absence ... Yet
O'Connell says they don't know exactly yet how they plan to best utilize Smith in their offense, or what adjustments they may need to make to maximize his skillset. "It may mean taking shots down the field, may mean more completion plays, may mean making Alex more of a playmaker in the run game," he says. "We don't know yet, we are trying to figure all that out now."
Receiver Jamison Crowder, Cousins favorite target during their three seasons together, repeated the word "excited" eight times in a five-minute conversation about the addition of Smith and the team's prospects going forward. He says the quarterback and the receivers are still building chemistry, but since Smith is so "seasoned and experienced, it hasn't been a hard transition." Crowder notes that at this point in the offseason, he can tell that Smith is getting a sense of what type of throws different receivers like, where is the ideal ball placement for different guys depending on their body types—all of those minute details that allow for a potent and consistent connection in the passing game.
"We are off to a great start," Crowder says. "I look forward to that growing as the season goes on. I'm just excited about the start we have had. I'm excited to play with both [Smith and Richardson].
Richardson brings a deep-threat option that the Redskins have been lacking since DeSean Jackson left before the 2017 season. But Richardson also brings a winning pedigree, having been on a Seahawks team that consistently played late into the postseason. 
"They brought in guys that want to win," Richardson says, "guys that know how to win. One of my roles is to help lead, which I've been doing. I think it's a mentality change. The attitude, the confidence, you knowing what you going to do and having the confidence that you are going to be able to succeed at that."
Smith is also familiar with that winning culture. The quarterback averaged 11 wins per season over his five years in Kansas City; the last time the Redskins exceeded 10 wins was 27 years ago. But will Smith's success in Andy Reid's multiple offenses translate to Washington?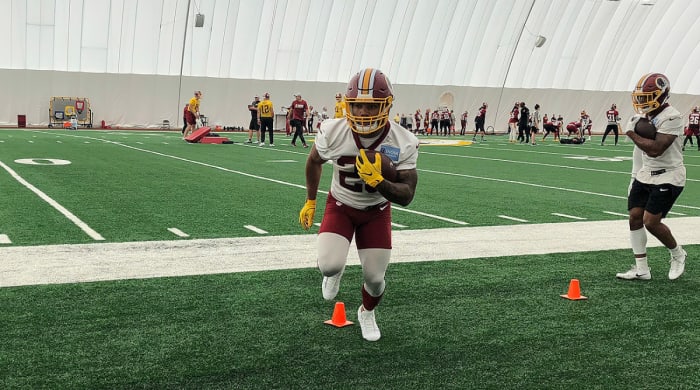 If Smith can replicate his 2017 season, in which he was the best deep-ball passer in the NFL, according to Pro Football Focus, the quarterback will bring a component to the Redskins offense that they have not had in years. But all of that will be moot if Washington's rushing attack is not significantly improved from the impuissance of last season. In 2017, the Redskins ranked 27th in the league in rushing the ball with only 1,448 total yards on the ground. To address the problem, the team selected bruising LSU back Derrius Guice in the second round, after he took a mysterious tumble down draft boards for a variety of unsubstantiated rumored reasons that don't have enough credibility to enumerate. Guice is now primed to emerge as one of the steals in the draft. The back has looked powerful and fluid as a runner, and his sheer size is jarringly evident up close; yet don't let that fool you into thinking he is not nimble.
During individual drills at the start of practice, the running backs were told to run through two teammates smacking them with large pads and then juke around two overturned trashcans. Guice burst through the pads but instead leapt over the cans (and the team staffer crouching in between them).
"It's just my instincts, man," Guice said afterward about the leap. "They try to make you robots out here. But at the end of the day when you on that field, and you have a defender in front of you, you are going to do what you do. You are not going to do what the coach told you to do, you are going to do what you do. Everything after the line of scrimmage is you, you naturally and your instincts. All the stuff before the line is what the coach teaches you, your steps, your hands, all that stuff. But every time we do drills like that, I'm just doing me."
The running back has also has impressed with his hands, coming down with some one-handed grabs during one-on-one passing drills. Despite catching only 32 passes in his three seasons in college and being labeled as a more one-dimensional runner heading into the draft, Guice maintains that any perceived limitations were because of the offense that LSU ran. He says he was simply not asked to run routes and be a factor in the passing game.
"People say I can't catch because we didn't throw the ball at LSU, but I've never dropped a pass out here," he says. "People doubt that because they don't see it, doesn't actually mean you can't do it. My whole mentality is I'm going to keep having fun and keep being me. I'm not worrying about everyone else."
(Guice, it's worth noting, has always been doing everything he can to shed any lingering negative reputation he may have sustained from his draft-day slide. He has regularly been the last player remaining during media sessions, and also the last player left signing autographs and snapping pictures with fans.)
For the 49ers, the Biggest Job May Be Managing the Jimmy Garoppolo Buzz
With Chris Thompson—who is still recovering from a fractured fibula suffered in Week 11 last season—expected to be back by training camp, Washington actually looks to have a deep and loaded running back corps. Thompson was a massive boon for the team last season, and will fit in nicely as a receiving threat out of the backfield with Guice handling the bell-cow role rushing the ball. In the 10 games in which Thompson played, the Redskins averaged 23.8 points per game—in the five games without him, that average dropped a full five points. His 510 yards receiving was the most for any Washington back since 2000. The combination of a healthy Thompson and a hungry Guice could turn Washington's offensive weakness last season into their strongest unit.
All of these offensive additions—plus a revamped defense led by a healthy Jonathan Allen and first round pick Da'Ron Payne up front—has Bogley optimistic about the season. For decades Bogley, who had four season tickets, struggled to find people to attend games with him. Six years ago he had a ticket to spare and so he asked the bank teller that he had been flirting with for years (mostly about the Redskins) if she wanted to join him. That was the first date that Bogley and Late went on. Now, six seasons and several dozen Redskins games together later, they are setting a wedding date.
It's fair to assume that it won't be during football season.
• Question or comment? Email us at talkback@themmqb.com.