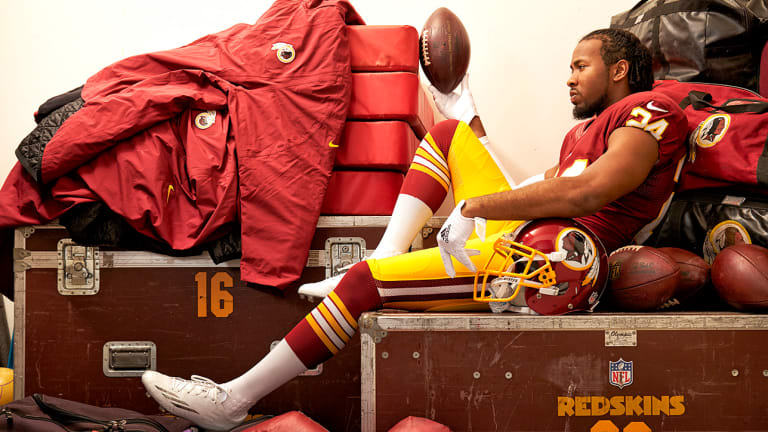 Josh Norman Has Evolved
Washington's star corner has words for anyone who thinks he's fallen off his perch as one of the league's best corners, for certain young cornerbacks proclaiming themselves as 'the best,' and for any other slappies still trying to chase him down. Norman got to where he's going on the field, and he's found peace off of it
RICHMOND, Va. — Josh Norman working well after practice is nothing new. On this early-August day, he's been in the Virginia heat for 45 minutes following a two-plus-hour joint practice with the Jets. He will lose 4-5 pounds today like he does every practice, and then he'll head to the cafeteria and spend the rest of the day putting it back on so he can lose it again tomorrow.
The post-practice work involves catching hundreds of balls from an equipment staffer—lying on his back, sitting up right, with a teammate draped over him. It's all going to translate onto the field, Norman believes.
"You're so confident because you went through every repetition out on the practice field," he says. "There should be nothing you haven't seen because you worked it all. And if it's something that hits you in the game, you're not upset or overly concerned about it because you know you've done that 1,000 times and you make a play on it the next time."
I've known Norman since he came into the league with the Carolina Panthers as a 2012 fifth-round pick out of Coastal Carolina. As a beat writer covering the Panthers, I saw him have a three-interception training camp day as a rookie, fail in his second season when he spent much of the year in the doghouse, triumph in 2015 as a first-team All-Pro, after which he had his franchise tag rescinded as he and his agent miscalculated how shrewd then-Panthers GM Dave Gettleman could be. In 2016, Norman signed a five-year deal with Washington worth $75 million, making him the highest-paid cornerback in NFL history. Jay-Z name-dropped him in a song. Since then he's had three picks in two seasons, his team has gone 15-16-1 without a postseason appearance, and you don't see his name placed on "top cornerback" lists much anymore.
During his time in Washington, Norman has traveled extensively, been charitable with his money and danced with the stars. It doesn't matter if he's slipped out of the public conversation for the top corner in football. He knows where he ranks, and he has some thoughts on everyone trying to come for the crown he believes is rightfully his.
THE MMQB: The last time I covered you was that 2015 season. It was a magical year, you had two pick-sixes and four total picks. Last year you had zero picks…
NORMAN But I had three turnovers.
THE MMQB: You had three turnovers. That's right. [Ed. Note: Norman had two forced fumbles and one separate fumble recovery.] But I know you care about interceptions, too.
NORMAN: Interceptions are turnovers, right? Can it not be the same way? You're taking the ball away and giving the ball back to your team. If I force a fumble and I recover it, what is that?
THE MMQB: That's a turnover.
NORMAN: Same thing. Just like a pick to me. I don't view picks as most people perceive them. The great thing about it, you look at the landscape of everything, Patrick Peterson only had one pick [last year]. If he didn't have a pick what would they say about him? I'm a force to be reckoned with on the outside. I would rather take someone's fear in me than someone just coming over here and throwing the ball at me any day. I really could care less about the outside noise. And if I don't get accolades … I don't really look at it as most people see it. I see the game that I play [on the] outside as an evolving thing. I try to evolve that position. I'm not just a cornerback who makes picks. That's just a person's mindset of what they actually think a cornerback does but that's not the whole game.
THE MMQB: But picks help you get All-Pros and picks get you into the Hall of Fame.
NORMAN: Picks, what that does, that helps you get a stat. But when you look at the grand scheme of the game, if you're a force to be reckoned with—like, whether you have picks or not, someone's going not to force it to you. Someone's going to not play with you. When you look at that, you see where the game is trying to turn to. If you don't have that many opportunities, how are you gonna get 'em? The one's that are catchable you're supposed to catch. I let a couple go through my hands but I'm not overly concerned about that because I know I'll get another chance. If I don't, guess what? I'm going to be a force in the run game. I'm going to get my turnovers. It doesn't matter. I'm going to get my plays.
THE MMQB: So if you want this position to evolve and the recognition for it to evolve, then it's those advanced stats that will help. We've always looked at interceptions but now we need to focus more on passer rating versus Josh Norman to understand what Josh Norman is out there doing?
NORMAN: I feel like you've got to look at the whole scope of the entire game. What goes into affecting the side of the field that you're on. If you're really not getting that action and can take away that side of the field and force the quarterback to the other side, what is that? I view it as an evolving thing. You have to be a great tackler and a force in the running game. Even more so than you are in the air. Aerial assault is just an extra bonus in your repertoire. So for me I try to add that. I don't praise picks like most people do. If we get them then we get them. But if we don't, I'm going to make my play.
Jalen Ramsey Is the Best Cornerback in Football. Now What?
THE MMQB: Do you keep a list of top corners in the league?
NORMAN: I don't because I don't really keep up with guys like that. Even though I know who's pretty much—how do I word this?—I know which guys say they are at the top. So I see what guys say they are but I do have my number of guys who are really good, and the ones who are up and coming. For me you have to have three years under your belt before you're a top-flight guy. You haven't seen everybody in the league. You haven't seen all the wide receivers! How can you call yourself that? Me, I was coming up in the game so I always thought I was, and then I started playing the other receivers and my thought became an actual fact. When I see guys who have done it a while, and I'll always put guys up there who, in my mind, are still doing it to this day.
THE MMQB: So we're talking about a Patrick Peterson for you.
NORMAN: Absolutely. We're talking about him, talking about [Richard] Sherman, talking about guys who get that nod who are at the top of their game year to year to year. When you look at that and see that guys are still competing at a high level, that's something to be spoken about.
THE MMQB: But if we're talking about a young corner in Jacksonville [who this writer called the top cornerback in the NFL earlier this preseason], he needs another year or two under his belt?
NORMAN: You've got to think about it. It was his second year. Third year you've got to come back and do the same thing. Then fourth year you've got to do the same thing, O.K., solidified yourself. You know what I'm saying? If that's your thought [that you're the best] and that's your progression, you're supposed to have that. You're supposed to will yourself to be like, "I am the best." I don't ever want to take that from nobody, because that's how they got to where they're at. When you actually go through the whole scheme of things and you play everybody, then O.K. But I can't really give you that. You haven't seen a Julio. You haven't seen the OBs [Odell Beckham Jr.]. You haven't seen all those people of the world, so how can I say that to you?
THE MMQB: I don't know if Josh Norman three or four years ago would be saying the things that you're saying right now. It seems like you've gained some more perspective over the years. You've also been traveling the world a lot in the offseasons. How has that helped you? How does that give you perspective?
NORMAN: I told you, I evolved man. I see it differently. I still do the same work. I try to be technical with everything in my approach because I know what's going to help me and hinder me. I know my weaknesses and my strengths. You've got to know your weaknesses more than your strengths. So when I travel the world, I try to see things I can bring back over here and see things for what they can be and not what they are.
THE MMQB: So how does traveling to Israel translate to the football field?
NORMAN: I mean, I'm at peace. I really am. My world is not so rocky now. I'm laid back. Things that angered me before, I'm kind of, like, subdued now. I'm trying to make friends. I'm a different guy. I mean, I've always been this guy, but I more so like to help people now. Traveling over there and seeing different sights and praying a lot and being thankful for what I do have, I try to express that by giving what I can to people who need help. And then here, trying to lead a team that is young. We don't know the way so we're trying to do it in the right way and not ruffle any feathers in the process. We sure could if we wanted to do but we're trying to be mindful and respectful of everyone. We're just trying to win and find that cutting edge. That's what it comes down to.
For Many NFL Players, Summer Doesn't Bring Much of a Break
THE MMQB: You weren't heavily recruited coming out of high school and you were a fifth-round pick. When Washington made its pitch to you, I know that made an impression. I know you're a guy who wanted to get to the top. Now that you're at the top, it almost feels like because of your evolution you did it and…
NORMAN: Yes! That's it! Exactly.
THE MMQB: "You came, you saw, you conquered," and that's kind of that.
NORMAN: It's like, it's almost… it is so laughable that guys don't understand that. You can't really talk crap about me anymore. You can't throw me under the bus or say I'm this or that because I've already done it. I've already accomplished what you said I couldn't do. And now you're still trying to throw sticks and stones at this darn brick wall that's already been built. It ain't coming down! Before I had leaves and sticks that I was using to build the thing. Now I'm solidified. I'm solid. I'm concrete. I'm not moveable. The only thing now that I'm still searching for is that Lombardi Trophy. Nothing more, nothing less. I'm already AP, already Pro Bowl. I already got a contract that's higher than all the other slappies. At the end of the day I'm not chasing them. They're chasing me. When I look at that situation, I'm not dethroned so I'm not worried about you. What I'm worried about is this Lombardi. So for me, in my world, you've got to understand that logic. I don't care. I still have to work because I got somewhere to be and I got something to hoist. And after that you can kiss my [gestures to butt] goodbye. I'm outta this piece. Oh my gosh, I'm so gone. Another country!
THE MMQB: It's not about a gold jacket for you?
NORMAN: You know, I'll be honest, I never told myself that I'm coming to the league to win a gold jacket. Never have I ever. Because that is something to me, I'm getting chill bumps even talking about it. Those are immortals of the game. You let out a golden carpet and get out of the way. Paparazzi coming through taking their pictures.
THE MMQB: You don't want to be that?
NORMAN: It's something that I haven't even fathomed to touch because it's so prestigious. Think of all the people who have played in the National Football League, from 1910-20 and only a handful that's in that cat. So for me, I just, I don't know, I don't try to put that goal up there because I'm always just trying to accomplish that feat of winning that Lombardi.
THE MMQB: Can you guys do that?
NORMAN: I feel like we can. I truly do. I don't feel like I came here not to reach that goal. You have a choice to do what you want to in life and I felt like this is a team where I could reach that goal. And we are still working toward it each and every day. I will myself to be successful. You have to! Or else what are you doing it for? I live for the chase, man. That chase is what drives me.
• Question or comment? Email us at talkback@themmqb.com.