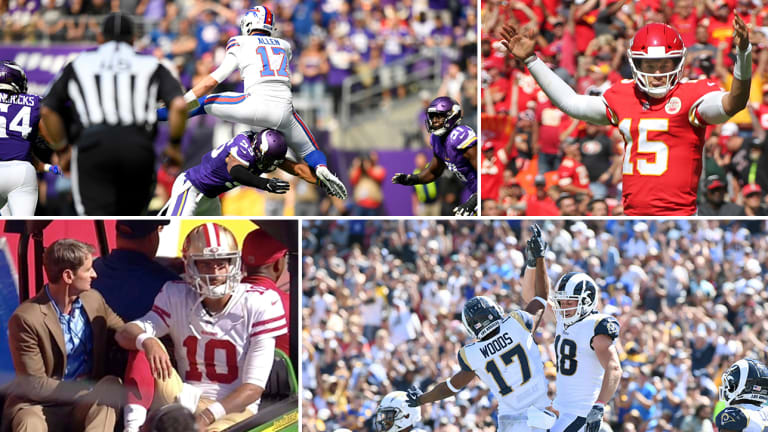 Josh Allen Lights Up Vikings, Patrick Mahomes Is Getting Boring, Garoppolo Goes Down, Rams Still a Juggernaut But…
Lose their two star cornerbacks. Plus, the Falcons' defense is falling apart, Wentz back in action while Luck looks off, Josh Rosen's arrival, the Seahawks turn back the clock, those sneaky Titans knock off the Jags, Calvin Ridley arrives, the Bears accept a gift in Arizona, the Giants figure things out up front, and cause for concern in Minnesota
Reacting and overreacting to everything that happened on Sunday afternoon. Get the full Sunday breakdown from Andy Benoit and Gary Gramling on The Monday Morning NFL Podcast. Subscribe to The MMQB Podcasts now and it will be in your feed first thing Monday morning
Things That Made Me Giddy
All Carson Wentz Needs Is Just a Little Patience: Just like Axl used to tell us repeatedly. Wentz's first drive back was a thing of beauty, 12 plays, 79 yards, TD to Dallas Goedert. And he book-ended it with a 17-play, 75-yard drive to win it.
Calvin Ridley: I whispered it back during draft season, and now I'll say it a little louder now: Poor man's Antonio Brown. In a good way. Atlanta finally got a big play, a 75-yard TD to Ridley, and the Falcons have scored touchdowns in each of their eight red-zone trips since that opening-night debacle. This Falcons offense is looking more and more like a nightmare for an opponent (if only the defense was healthy).
Bills Become First 16-Plus-Point Underdog to Win Since 1995: I think. Don't quote me on it, but I believe the last time was Heath Shuler and Washington over the Cowboys in Dallas, 24-17, as a 17-point underdog on Dec. 3, 1995.
My Goodness, Those Sneaky Titans: Specifically, those sneaky AFC South-leading Titans. They came limping into the season and were going to have to gut some games out early. And a 9-6 win in a game without touchdowns is exactly the kind of games they need to get while they figure things out.
Panthers Ground Game Gets It Going: 230 yards on the ground, only 36 of them from Cam Newton because Christian McCaffrey went for 184. (However, as for the wisdom of McCaffrey getting 30 touches…)
Bobby Wagner and Earl Thomas, Together Again: And with Kam Chancellor waving the 12 Flag (or whatever that thing they do is). The Cowboys are no good on offense, but it served as something of a reminder that the Seahawks can only slide so far back with Wagner and Thomas on the field.
Drew Brees, Dual Threat: Two rushing TDs! He set the all-time career completions record, and led a masterful overtime drive to beat an albeit short-handed Falcons defense in Atlanta.
Ben Watson Is the Highlander: Ridiculous diving catch on a Drew Brees stick throw. Dude has been around since 2004. He's going to live forever.
Unless Adrian Peterson Is: The revival is real. Peterson looked as fast as ever (well, maybe not quite ever, but close) in Sunday's win.
Dolphins Are 3-0: These aren't your grandpa's Dolphins. Assuming your grandpa's Dolphins are the 2017 Dolphins. Which is weird, you'd think he'd pick one of those teams from the 70s, but that's grandpa for you.
Wentz Extending Plays: He didn't have many toys to play with, and he left a couple of throws on the field. But a pretty encouraging season debut.
Saquon Barkley: I'm not sure he made a lot of plays that you'll see on the highlight reels, but the number of times he breaks a tackle and picks up three-to-five yards he has no right getting…
Ereck Flowers Gets Erased From History: Flowers was benched in favor of undrafted second-year man Chad Wheeler at right tackle. Wheeler was passable, which is enough of an upgrade to keep Flowers on the bench for good.
Chris Carson: Workhorse: Some Marshawn-type work in this one, with 32 carries for 102 yards, giving the Seahawks something of an identity on offense.
Josh Allen Might Be Really, Really Good: He's going to be prone to some bone-headed mistakes, but the Bills have every reason to believe they've (finally) found their franchise QB. He's exactly the kind of risk/reward playmaker for today's NFL. For the record, this was his best throw on a very good day; Robert Foster drops what should be a walk-in 84-yard TD.
Washington With a Lead: This team goes as the gameflow goes. They got the Packers early on Sunday.
Regrets
Clay Matthews Roughs All the Passers: This week's call was less questionable (which doesn't mean anyone has to like it, but it's the rule). Can't wait to see what next week's roughing the passer call on Clay looks like!
Garoppolo Leading With the Throwing Shoulder: Just go out of bounds you handsome, gorgeous fool; the sideline is your friend. An ACL injury is reportedly a possibility.
Marcus Peters and Aqib Talib Go Down: Peters's injury seemed to be more severe, though there's no clarification on either player yet. The Rams are obviously going to score a ton of points. But they don't have great linebackers or edge rushers. Taking away their starting corners puts this defense in a compromising position.
Brian Poole Attempting to Tackle Drew Brees:
Kelvin Benjamin on the Hands Team: Two first-quarter drops, one of them a four-point drop.
Randall Cobb Joins Him: A couple of soul-crushing drops, including one on a would-be fourth-down conversion that likely cost the Packers points, and a lost fumble to sink any comeback attempt.
Cowboys' Safety Play: It was poor safety play that led to the Seahawks' first touchdown, and a flat-out blown coverage that led to the second one, a long Tyler Lockett TD. With Jeff Heath hobbling through the second half, the Cowboys are in danger of getting burned by some big plays.
This Cardinals Offense Is a Crime Against Nature: A lot of it's the offensive line and Sam Bradford's poor play. But my goodness, this play-calling. Facing a third-and-2, down two, with less than two minutes to go, David Johnson isn't on the field and they run the rookie Chase Edmonds for a loss of three. Josh Rosen is a move in the right direction, but one wonders if they just need to blow this thing up.
Speaking of Which, That Might Have Been the End of Sam Bradford: Something of a star-crossed run as a starter in the league, starting on a terrible Rams team, bouncing around, seemingly finding his home with the Vikings only to be knocked out by knee injuries. I've talked to ex-teammates who appreciate his toughness and arm talent, but he was atrocious through two-and-three-quarters games as Arizona's starter, including two unforgivable second-half giveaways on Sunday. He did make a lot of money though.
The Now Regular Chargers Special Teams: If the game is played on a day that ends in a "Y," you know the Chargers had some special teams gaffes. Sunday started with a missed extra point, followed by a blocked punt TD allowed in their own end zone.
Dak Prescott Wins a Daytime Emmy:
Ricardo Allen Goes Down: If they're going to be without Deion Jones, Keanu Neal and now Allen, this defense is going to give up 30-plus points every week.
Andrew Luck Underthrows Everything: Which worked out with a handful of pass interference calls, but this is becoming concerning. It was Jacoby Brissett who came in to throw the last-ditch Hail Mary.
49ers Penalties: 137 yards worth against the Kansas City Mahomeses. Some of them were absurd (see the offensive PI call on Kyle Juszczyk that erased a late TD), but this was ugly in every way imaginable.
Chiefs Defense With a Big Lead: Something's gotta give here, and maybe the return of Eric Berry will turn it around. But after being staked to a 35-7 lead things got hairy again, and it took an atrocious offensive pass interference call to keep it a two-possession game with more than five minutes left.
Broncos on the Road: That's nine losses in their last 10 road games. And the first three games of this season look a lot like the first three games of last season for Denver.
Phillip Lindsay: Tantrum-y.
49ers Let 'Em Off the Hook: A lot of Patrick Mahomes's success a week ago in Pittsburgh was because he was never behind the sticks. On the opening drive in K.C., the 49ers put Kansas City in a third-and-15 and then allowed 14-and-a-half yards on a screen pass, then subsequent fourth-and-inches conversion, and a few plays later another opening drive touchdown for the Chiefs.
Those Handsy Packers DBs: Three pass interference calls fueled a Washington TD drive late in the first quarter.
Tony Gonzalez's Terrible Mahomes/Jeter Metaphor: Come on, guy. Jeter had neither range nor arm strength. In the history of baseball, he's arguably the player who least resembles Mahomes. If you're going to make a baseball comp for Mahomes, it's obviously Manny Machado.
Can We Move that Wall Back from the End Zone in Miami?: Nice catch by Kenny Stills, by the way, but can we do something about this, Rohan?
Moments We'll Tell Our Grandkids About
Patrick Mahomes Is a Jerk: The Niners called seven-mississippi!
Josh Allen Takes to the Air: Cool! Don't ever do that again.
Calvin Ridley Took P.J. Williams's Juice Money: That stutter-and-go was the equivalent of a swirlie.
Tyreek Hill: There should be a gentleman's agreement that if the defense is able to keep Hill from running behind everyone, the catch is disallowed.
Goff to Kupp to Official: As wonderful as Goff and Kupp are right here, my favorite part is the on-target throw to the right hand of the official signaling touchdown, making the one-handed catch. The perfect end to a perfect play.
What We'll Be Talking About This Week
Pump the Brakes on the Jaguars' Coronation: A home loss within the division? With the offense trudging through a dud, they need to re-focus their goals on a division title.
Sean McDermott Can Coach: He takes a ton of heat for the Nathan Peterman stuff because he's been fooled by the QB's success against shell defenses in preseason and garbage time. But he brought a team with 4-12 talent to the postseason last year. And on Sunday he went on the road with a fraction of the talent of his opponent and his Bills came away with a dominating win. No coach has gotten more out of less over the past two seasons.
The Bears Are Pretty Bad. And 2-1: But the good news is that they're collecting wins, and they figure to improve as Roquan Smith and Khalil Mack get used to the program and Mitch Trubisky (hopefully) improves in Matt Nagy's system. This feels a lot like the Panthers early last season, when they stole some shaky wins then improved and looked legit by midseason.
Do We Start to Worry About Minnesota?: Going back to January's NFC title game, this is two duds in their past four games, arguably three if a questionable Clay Matthews roughing call doesn't bail them out against a limping Aaron Rodgers and the Packers.
The 49ers Are Finished: If Garoppolo's season is indeed over, it's back to C.J. Beathard and undeniably a rebuilding year in San Francisco.
The Falcons Need Eric Reid: They needed him after Keanu Neal went down, they needed him even more after Deion Jones right now, and they can't play without him if Ricardo Allen is going to miss time. The Falcons have a Super Bowl-caliber offense, but this defense is taking on water fast.
• Question or comment? Email us at talkback@themmqb.com.