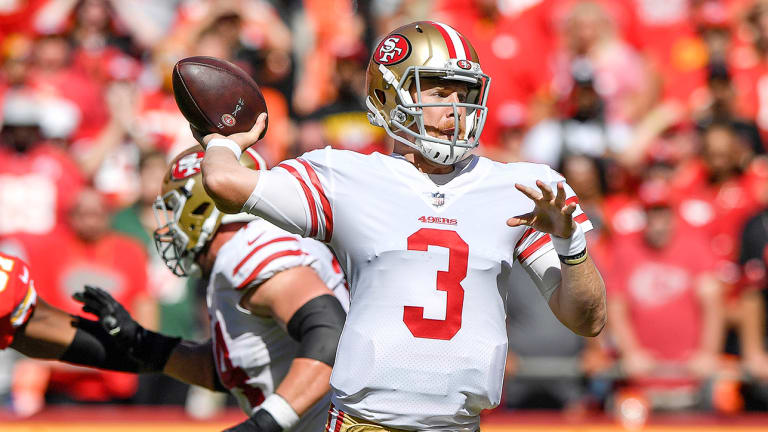 Jimmy Garoppolo Is Out, and the Niners Have No Good Options
They could trade for a veteran, but is there even a point with the unfinished roster that would surround him? Why the Niners have little hope to salvage their 2018 season
On the Monday Morning NFL Podcast, Andy Benoit and Gary Gramling analyzed the 49ers' options after losing Jimmy Garoppolo…
GARY: Jimmy Garoppolo goes down with what is feared to be a torn ACL, and gosh… the 49ers can't compete without Garoppolo. What's your troubleshooting solution here, Andy?
ANDY: I think it's game/set/match for their season, but if you're Kyle Shanahan, you still have to show up to work, you have to play and try to win the games. C.J. Beathard's the backup. I would imagine that's the first place you look because he's been there for two years now. At least he knows the scheme. What Shanahan needs is a quarterback who will run the scheme the exact way you want it run because that's their only prayer. I know some people have suggested signing Kaepernick. We can debate what he is now since hasn't played in two years, but let's say you're getting the Kaepernick of a few years ago. There's a place for that playmaking style of quarterback, but it's not here in San Francisco right now. They don't have a good enough defense or running game to complement that kind of QB so they have to win through scheme and design. They have to hope to outcoach people, so you need a quarterback who is an extension of a coach on the field, a Josh McCown-type of guy. So maybe if they see someone out there—Tom Savage is someone I thought maybe you could reason as that. Beathard, I don't know if he's a good enough passer to roll with, but it has to be someone like that. It has to be someone that can run the plays even if he's not the most talented guy.
GARY: Could you check in on Sam Bradford at this point? Assuming the Cardinals are going forward with Josh Rosen.
ANDY: The Cardinals wouldn't do that. They wouldn't trade to help their division rival in the middle of the season even if the Cardinals are sinking.
GARY: If you want to really look at it glass half full with C.J. Beathard, he had a beautiful throw for a touchdown that was taken off the board on a pretty bogus offensive pass interference call on his only throw today. Just looking around, I don't know if anyone who would possibly be on the market really fits what Kyle Shanahan wants.
ANDY: Because those kind of QBs are signed by now, they're locked up. There aren't just good players sitting out on the market.
GARY: When I say "on the market," I also mean the trade market. Let's say you roll for two weeks with Beathard and maybe you sneak out a win but he doesn't look impressive, then maybe you can find someone who's ready to quit on 2018 and move a veteran, bridge-type of quarterback.
ANDY: If you're the 49ers, how much do you spend to do that? You've had a lot of injuries, you don't have a great cast around your QB. It was fine when you haev the guy, Garoppolo, but now if you're plugging in Joe Blow quarterback and the supporting cast isn't very good, are you trading a third-round pick? You probably do that. Would you trade a second-round pick though? Do you draw the line somewhere because you have to look at this long-term?
GARY: That's the thing. Everyone has the urge to do this because of what Foles did last year, but this 49ers defense is nowhere near what the Eagles defense was a year ago, or at the moment. Their offensive line isn't as good as what the Eagles had. Maybe it's a lateral move as far as the weaponry goes at the skill positions. I don't know, I think you just roll with C.J. Beathard unless it's a complete disaster where you're going to clearly end up 1-15. I think you stick with the guy that's already there.
If you want the latest episode of The Monday Morning NFL Podcast in your feed when you wake up Monday morning, then subscribe to The MMQB Podcasts. For non-subscribers, there is typically a soul-crushing lag.
Also on this week's edition of The Monday Morning Podcast:
1:12— The 49ers options for replacing Jimmy Garoppolo
8:13— How the Rams are even better offensively this year
14:32— The Vikings no-show against a more-than-game Bills squad
18:49— Lions run game finally arrives, hammer away at Patriots
24:43— Giants get better up front, Texans still struggling
31:34— Brees puts on a show as Falcons defense suffers another big injury just as the offense figures things out
35:58— More Clay Matthews roughing the passer stuff, Washington gets the right game flow
40:41— Wentz looks good with limited weapons, are the red flags ready to rise in regards to Andrew Luck?
45:14— Seahawks turn back the clock while Cowboys offense looks helpless
46:51— LIGHNING(ish) ROUND!
• Cardinals figure out a way to gift game to Bears
• Titans get the job done, knock off Jaguars and take control of the AFC South
• Broncos get beat up on the road again, Flacco looking sharp
• Panthers run it down Cincy's collective throat
• Everyone starts to realize they were wrong to sleep on the Dolphins
• A look back on Baker Mayfield's Thursday night show
1:00:14— Andy and Gary each pick their "Thing of the Week" awards
• Question or comment? Email us at talkback@themmqb.com.