Why the Andy Reid Coaching Tree Has Been So Successful
If you ask Andy Reid's former assistants about why the Chiefs head coach is so good, they'll say many of the same things: He's a people person, he's straightforward, he tells it like it is, he's willing to explain things, he trusts his staff. And given that 10 of his former assistants have earned head coaching jobs (seven of the 10 are currently head coaches), he must be doing something right.
One Christmas years ago, Andy Reid got his assistants this gift—and independently of one another, they all have a way of bringing it up It's a book, and if you go on Amazon, it's marked down from its list price of $27.95 to $11 (you can get it used for $8.22). It's as old as Ben Roethlisberger—released in 1982—and wasn't exactly written with football coaches in mind.
The cover of "Mastery Teaching" has this subtext: "Increasing Instructional Effectiveness in Elementary, Secondary Schools, Colleges and Universities." Its author, a former UCLA professor named Madeline Hunter, was described as a "maverick educator and psychologist" in her 1994 Los Angeles Times obituary.
And it's sitting on the shelves of a few NFL head coaches all these years later. All those guys got the message Reid was trying to send with this present loud and clear.
"It's application is on point," says Bills coach Sean McDermott, "because that's really what we are, teachers dressed up in coaching gear."
"It's conceptual, a new wave type book," adds former Rams coach Steve Spagnuolo. "He was a firm believer that coaching is teaching. He wanted to surround himself with good teachers and that's what he did. And I think all of us to the core, and he has that in his core, I think all of us had the same thing. I think, in this business, if you have a background or a solid foundation, you're on your way.
"You've got at least a fighting chance."
BREER: How the Rams Have Dealt With Tragedy and Displacement
For two decades, this sort of Reid University for coaches has given his assistants that chance. And the results show that when they get it, they're ready to deliver.
Ten eventual head coaches served as Eagles assistants for Reid (two of them went to Kansas City with him, then got their shot), and the results have shown the merit in rival teams continuing to rip branches off the old tree. Consider …
• Of the 10 coaches, seven have lead teams to the playoffs. And Matt Nagy, now 6–3 in his first year as Bears coach, has a shot at making eight of 10 in a few months.
• Four of the ten—Baltimore's John Harbaugh, Philadelphia's Doug Pederson, Carolina's Ron Rivera and ex-Minnesota coach Brad Childress—have gotten teams to the conference championship round.
• Rivera, Harbaugh and Pederson all made it to the Super Bowl, with the latter two having won it all on their own.
• Seven of the 10—Rivera, Pederson, Harbaugh, McDermott, Nagy, Todd Bowles (Jets) and Pat Shurmur (Giants)—are currently head coaches. Add it up, and Reid's protégés have 42 years served as head coaches.
Subscribe to The MMQB Podcasts and get more of Andy Benoit's analysis on The NFL Deep Dive Show every Thursday
Ask Reid how all this has happened—how in the world he's trumped what his mentor, Mike Holmgren, did in putting assembling the Reid/Jon Gruden/Steve Mariucci Packer staffs of the '90s—and he'll reach back, and implicitly show you why he gave all those guys that old book in the first place without even referencing it. He wanted, in his own way, to emphasize why he hired them in the first place.
"I look for good teachers and good people, and so normally that's a foundation for a good head coach down the road," Reid says. "Normally, good teachers and good people are decent leaders, so they can do all that stuff. They can communicate, they're good with others, all of that."
And the other upshot of hiring good teachers, as Reid sees it, is that they're never done learning. He knows that, because that's how he was.
Reid was an English major at BYU, and he learned the NFL at the foot of a guy, in Holmgren, who actually was a high school history teacher at the outset of his career, and gave Reid his de facto masters in pro football.
"I tell the guys that I took notes," Reid continues. "There are things where you say, 'Well, if I ever have my chance to do this … And who knows if I'm ever gonna have the chance, I'm the tight ends coach!' But it's like, 'oh man, I love this,' or 'I could do this.' And then I'd ask questions on the things I didn't really understand, and he was willing to share that with me. So I do the same thing with my guys.
"I want them all to be head coaches."
Ten times over, it's happened for him. And so as The MMQB's week-long look at Reid rolls on, we gathered a handful of the guys who've gotten there and presented them with a simple question—What has he given all of you that's set up for so many to succeed after leaving the nest? Enjoy …
John Harbaugh
Ravens coach, 2008-present
Andy Reid assistant, 1999-2007
The first thing you saw with Andy is that he is genuinely himself. I'm sure he has taken philosophy and sayings and things from people like Mike Holmgren who he has worked for—but he never was or is a person to try to be something he's not. When you were working with Andy, you knew he was giving you what he thought. He was always respectful and knew how to talk or let you know what you could do better in a good way, but he never minced words in what he meant. He would say "I'm gonna shoot you straight here…" Simple. To the point.
He's not the kind of guy to sit you down and give you a lesson on head coaching in the NFL. You just had to watch him. He wasn't open about everything he was doing with everybody. You were more on a need-to-know basis—but if you had a question he would lay it out for you.
The other thing is he was a structure guy. Schedules were set up a certain way and there wasn't any conversation to do it this, that or some other way. This was a proven way to do it and we weren't going to waste time and energy on stuff that worked when we had many other areas that needed our attention and would make us a good team. I liked that. You never had to look and see what the schedule was. It never changed. I have done more changing and tweaking and sometimes it's better and sometimes it's not. But after all this time I came to learn that the solid way works. Don't mess with that.
ORR: The unusual places where the defensive answers football's offensive revolution might be found
Andy was very tolerant of people. He likes people, and you have to like people to be a good coach. He is intolerant of selfishness. He has a unique way of dealing with it—he just doesn't put up with it. He'd say something like "That's BS, don't do that." And incredibly, that was enough. [It's like Reid was thinking] This is self-evident. I don't have to explain this. You know it, now do it the right way, end of conversation.
He studies football all the time. We may have a way of doing things and certain fundamentals and teaching points are straightforward and they are principles that are written in stone, but he's always looking for new schemes. You make sure the fundamentals are right and never be afraid to attack the opponent somehow with a fresh scheme. He was always asking me [on special teams] if we have a fake or a trick we could run that week. Makes you want to find something.
[Reid was a] big family guy. He treated people well all the time, no matter who, and [he was] not a big small talker. If you're in a conversation with Andy, it's usually something interesting. Always on good terms with everybody as much as it was possible for him. Sometimes people may not have been happy with something he decided or whatever, but he still, on his side, was good with the person.
He's a very loyal family man, funny, easy to be around, but when the mustache twitched, get ready—there's something he wants to shoot you straight about …
Sean McDermott
Bills coach, 2017-present
Andy Reid assistant, 1999-2010
Number one, he hires, in terms of his staff, good people—and I'm not saying that because I was on his staff. ... And he was open. Sometimes you had to ask, but he was taught in a lot of ways by Mike Holmgren. So Andy did a great job being open to teaching us, in his own way, how you develop yourself, as a position coach, then into a coordinator, and then obviously into a guy that's ready to go when his number is called. There are obviously a lot of guys that get head coaching jobs coming from certain trees, but I'm not sure there have been as many as successful as those that come from Andy's tree.
What I took from [being on those staffs], he looks for guys that, through the highs and lows, are gonna stick with the plan. You obviously make adjustments, but that was always a big thing for Andy that I noticed from Day 1, he had an outline of a plan. And even when we struggled in '99 and through a couple different years, it came around. If you stick with the plan and you're consistent, and obviously reading the tea leaves and making subtle adjustments—you gotta do that, making necessary adjustment—but other than that, he had a plan and that was clear from Day 1.
Doug Pederson
Eagles coach, 2016-present
Andy Reid assistant, 2009-15
When I think of Coach Reid and his list of coaches that have gone on, whether they've been in Super Bowls or to the playoffs, I just think of the amount of time he spends with each individual coach when we worked for coach Reid. The time he spends with us, investing in coaching by coaching his coaches. That's always been a big theme with coach Reid. And it comes down to the individual as well. I think each individual, I look at McDermott, I look at Rivera, coach Nagy now, different coaches that are out there, these guys are self-motivated too. They're energize, they want to be successful, and coach Reid helps with that. He nurtures that, he helps grow that. That's always been the one thing that I'd give him a lot of credit for, where I attribute a lot of my success, where I owe it to him, because it's what he instilled, that work ethic.
And he pays attention a lot of attention to little things, to details. He doesn't focus on the big things as much. Those are all things I see with coach Reid that we all have. I know I still use it in my job here in Philadelphia. I used it as a coordinator in Kansas City, and as a position coach in Philadelphia a few years ago. And those are things that I can see the coach Reid has done not only for my career, but for the careers of some of the other gentlemen who are head coaches today.
When I use that term—he coaches his coaches—one example for me is when I was a coordinator, was in situational football, studying, turning over every stone, being prepared that way. So when you are standing in front of your team, addressing your team, you have answers, you've exhausted the film. That's what I think about when I say he coaches us, he coaches the coaches that way. He instills that work ethic to be great. And then it's obviously up to us. But those things he's given me, they've helped me be successful and I've continued to work at them right up to today.
VRENTAS: How Andy Reid and Patrick Mahomes are shaping the future of football
Ron Rivera
Panthers coach, 2011-present
Andy Reid assistant, 1999-2003
One of the things you gotta give Andy credit for is the way he does things. It's almost like it's right out of Bill Walsh's book, Finding the Winning Edge. When I was first with Andy, he encouraged me to go get it, so I read the book. And by reading the book, one of the things I learned off it was that everything we did with Andy was in the book. So I started seeing why—in the book, there are great explanations of why Bill Walsh did everything that he did. … He trusts you. So by empowering you and giving you trust, you really do feel like, wow, 'This is mine, he's given us an opportunity to take a true stake in what we do.'
One thing he always did with us, when we had to do our reviews from the game, we all did it together in the same room, and you had to sign your name to it. You had to put your grades up in front of everybody. And every now and then, you had to explain why you graded your players like you did. I'm an eternally optimistic person. So one time, we're grading, and my grades are a little higher than everybody's. And we had won the game.
So after we got done, Andy said, 'Ron, can you stay?' I said, 'Sure.' So I stayed in the room and he starts talking about the grades, everybody's grades. And we'd won this game like 35-7, I can't remember who we beat. And Andy was smiling—'You ever notice anything about the grades up here?' I said, 'I don't know what you're getting at, coach.' Andy say, 'Well, you see everyone's grades, you notice yours are a little high?' So I said, 'Coach, we won the game 35-7.' I'm looking at our offensive line, and nobody graded better than a 2.0, and a 2.0 was a backup player that you're looking to replace—3.0 was a solid starter who did a great job, 3.5 was a guy playing Pro Bowl-caliber football, 4.0 was an All-Pro.
And I said, 'Coach, I'm just looking at these grades and saying how can we win a game by so much and have so many low grades?" He said, 'OK, I get it.' And what I took, he didn't judge me. He just asked me what I thought about it. And from that, it made me realize, I'm a positive guy, I look at things from a positive perspective—we had to do something right if we won 35-7. And he was that way too.
I remember asking Andy, 'You know, you never fire anybody. Why?' He said, 'Ron, two things. First of all, I hired you. If I think something's not going well, I'm gonna work with you, I'm gonna train you and give you every opportunity to succeed. If I don't do that, it's on me, it's my fault.' So he gave us this book on teaching, it's a little book on teaching. And in it, there are little things about the progression of learning, the progression of teaching, you teach everything from the core, from the base. Like a tree, everything grows up, you've got a firm foundation and then it branches out. That's how I look at coaching, from having read that book.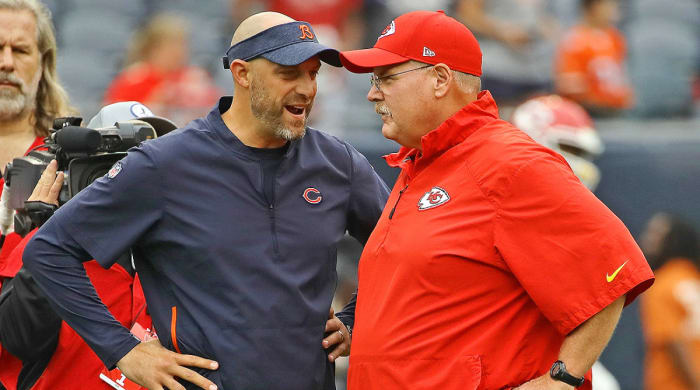 Matt Nagy
Bears coach, 2018-present
Andy Reid assistant, 2008-17
He does things the right way. And when I say that, I mean that he treats people the right way: He teaches, he coaches how to coach, he holds you accountable. There's always an ownership in everything that you do, whether it's an idea, a thought, a suggestion; he'll take it all in and listen to you, but it better be well thought-out. When you talk about the coaches who've come through his program, every single one of them, they're good people. They're guys that tried to do things the right way, and he knows that you will going in, when he hires you, because he's getting a recommendation from somebody that he trusts. And then he brings you in and you earn the trust.
He leads by example, he's not afraid to call you out if you screw up, he'll hold you accountable and he'll make sure there's ownership, but he'll protect you too. He's going to take care of you, and you have to learn from it and not make the same mistake twice. That's what you see from all these guys.
The other part would be details. He's extremely detailed. If it's how you run a practice, if it's how you teach an install, how you clean up a room, crazy things you wouldn't think of, he's just detailed. And it rubs off on you. I can't tell you how many times this year, since I got to Chicago, I saw that I took for granted little suggestions or things that he's done that he taught me indirectly, without even teaching me.
BREER: The Latest 2019 NFL Draft Big Board
For me, going through this process in hiring a staff for the first time, a lot of that rubbed off on me from coach Reid. You're always going to go through adversity, so when you go through adversity, how are you gonna handle it? And who are the people that are going through it with you? Coach Reid has always talked about it, no whisper rooms. When he says that, when things get bad, you lose a couple games, are you gonna be the coaches who shut the door and start whispering how it could've been this or that? Or are you the ones that put your nose to the grindstone and try to figure how to get things done, and work together?
He's always been that way. I'm dealing with it right now, with our team. We have a bunch of good human beings on our team, and I'm telling you, I swear by it. I think when you have good people on your team, when things are good, they never get too high; when things are bad, they never get too low. That's just powerful, it multiplies. And guys know how to lead each other.
Steve Spagnuolo
Rams coach, 2009-11
Andy Reid assistant, 1999-2006
One of the first things Andy did, and I don't know if it was partly luck, research, whatever it was, but he really did hire a hell of a staff, that first staff. I don't remember what the landscape of NFL staffs were at that time but I thought that, looking back at it, Andy had a tremendous mix of older, younger, college, pro, there was just a huge mixture in there. Jim Johnson and Rod Dowhower, Tommy Brasher, they were originals, they were veterans in the league. But guys like myself, I actually came out of NFL Europe and college ball. Brad Childress was out of college football, Pat Shurmur was college football, John Harbaugh had been there one year, but he was really basically a college football coach.
When I talked with Andy about that later, one of the things he put a prime emphasis when he hired, he wanted teachers, he wanted really good teachers. That was important to him. And if you had conversations with Andy, if he's gone into the past with you, his background is as a teacher. He was an English major. I remember there was one Christmas, it wasn't the only gift he gave us for that Christmas, but he bought us all, I still have it somewhere, a book. It was basically a teaching book.
And that so many guys have had success, it's a direct reflection of Andy and that's 100% true. I think it's his organizational skills in the fact that Andy, when he came there in '99, you could feel Andy was teaching. He came from the Green Bay Packers, so he's a Mike Holmgren disciple. And I think a lot of what he got, he got from Mike. I think he'd tell you that. And he brought all of that to Philadelphia and I really believe he taught, from the owner to the president to the GM, he taught guys how to put this thing together. You could see that. Just as coaches, you could see Andy doing that.
JONES: Jason Garrett, Risk-Taker? How the Cowboys Coach Is Counteracting With the Mounting Pressure
The whole culture of the Philadelphia Eagles back then was a direct reflection of what Andy was putting together—an organization first and foremost. And then the other part of the Andy that is really unique to Andy and I don't know if we all have this, but he is the consummate steady rock, through thick and thin, up, down, a good game, a bad game, he's the steadiest guy I've ever seen. And I think to the core that's probably the greatest attribute he has.
Obviously he's schematics-wise, he's done a great job on offense, but I just think the way he handles things and I'm talking about from a balance standpoint, handling the emotions of the ups and downs, to me, I've never seen anybody like him in that regard.
Earlier this week, we had the man who hired Reid, former Eagles exec Joe Banner, write about what he saw in the then-Packers quarterbacks coach before picking him to lead the franchise in 1999. Part of what wowed Banner, during the interview process, was the detail in the reports and rankings he put together on prospective assistant coaches.
But Reid will tell you, again, the basis is simple: Good teachers, good people, good coaches.
In fact, the one piece of advice he gives all these guys when they go off to run their show is "to be themselves. … You get one shot to do it, so do it your way, be yourself." And tucked in there, when he says that, is a belief in the people he's sending off to all these places, which he sees as a way of giving back to the game.
"Listen, whatever's good for the National Football League, I'm into," Reid says. "These quarterbacks that are out here, I love that, man. I love where the college game's gone, because they're throwing the ball, and I love that part. And if you can put good coaches out there, who are good guys, then that's good for this league."
And Reid has most certainly done that.