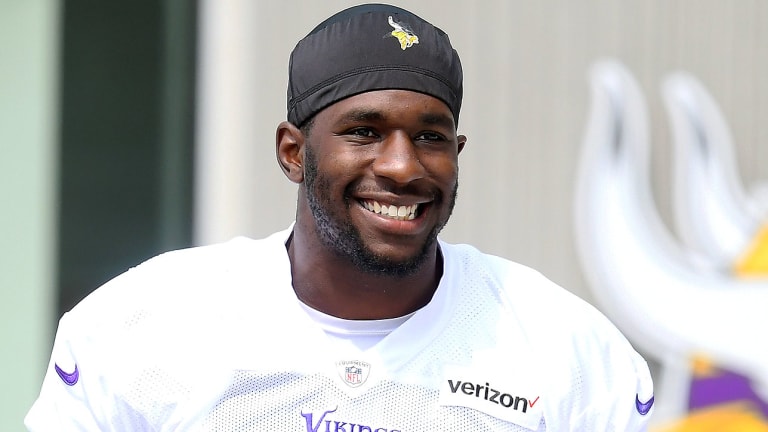 NFL Announces 'Inspire Change' Initiative, Will Boost African-American History Education in Schools
One part of this new initiative will include changing the way African-American history is taught by instituting a digital African-American History education program in 175 schools in high-need, high-poverty areas.
Growing up outside Atlanta, Stephen Weatherly says around 95% of his knowledge of African-American history was learned at home, from his mom and grandmother.
One lesson about his own race's history in America that still sticks with the Vikings defensive end came from watching Roots, the television miniseries based on the story of Kunta Kinte, a Gambian man who was sold to an American slave owner. Weatherly was in middle school when he watched with his mom; she was the one who explained to him the meaning behind the famous scene in which Kunta Kinte is tied up to a tree and ordered to be beaten until he accepts the name, Toby, that was given to him by his white slave master.
"I remember her explaining to me that you have been given your name by people who love you, and it's important that no one renames you because they can't pronounce it or, worse, don't respect you," Weatherly says. "That's the main reason why I don't like being called 'Steve.' My name is 'Stephen.' That came from a black history lesson, and I was not going to learn that in grade school."
Weatherly, 24, remembers some black history lessons he did learn in school, usually during February, which is designated as Black History Month. But they often featured the same, small number of figures—among them, Martin Luther King, Jr., Malcolm X, George Washington Carver and Sojourner Truth. "It made it seem like, wow, my whole people's successes came from these 20-30 people, out of all of history," he adds. "That's kind of the perception you get, if you don't have it coming from another source."
VRENTAS: The NFL and Social Justice: What Players and Teams Are Doing in Their Communities
This past fall, Weatherly took part in a program through the Vikings that is working to change how African-American history is taught in about a dozen Minnesota schools. This year, the NFL will begin doing this on a national level, starting by instituting a digital African-American History education program in 175 schools in Arkansas, Florida, Georgia, Montana and North Carolina that are in high-need and high-poverty areas, and where African-American history has been cut.
This project is one piece of a new "Inspire Change" initiative the NFL will announce today, part of the seven-year social justice partnership agreed to last year between the NFL and the Players Coalition, a social change and advocacy group of current and former players founded by Malcolm Jenkins and Anquan Boldin. It includes a TV spot that will air during this weekend's divisional round playoff games, featuring the Bears' social justice work in the Chicago area, and two new grants approved by a joint NFL-players ownership committee: to Big Brothers Big Sisters of America, which creates long-term mentoring relationships between adults and kids, and Operation HOPE, which targets income inequality through free financial literacy, recovery and entrepreneurship programming.
The NFL says that its financial commitment for the social justice platform was $8.5 million in 2018, and will rise to $12 million total through the 2019 fiscal year; in addition, nearly $2 million in social justice matching grants have been issued to clubs and current and former players through the NFL Foundation, and teams and players are raising funds for social justice work through each club's own matching program. The Bears, for example, this season raised more than $800,000 to be split among five Chicago area non-profits. "We anticipate that over the length of the initiative," a league spokesperson said, "we could exceed the reported $89 million." That figure represents a combination of national and local funding, and would include both NFL funds and those generated from players and clubs.
One piece of that pot will be committed to helping schools implement more comprehensive African-American history education programs than what Weatherly and many of his contemporaries had growing up, at no charge to the schools or students. The course being used was developed by Clayborne Carson, the director of the Dr. Martin Luther King, Jr., Research and Education Institute at Stanford, and is offered through EverFi, a digital curriculum provider. It's based around modules that include vignettes of an individual person's story or an event, and students complete a capstone essay project at the end.
THE ACTIONS BEHIND THE PROTEST: In 2017, Malcolm Jenkins and Anquan Boldin explain the why behind their protests
The Vikings have worked with a handful of local high schools to implement this course over the past three years, supported in part through funds from the NFL Foundation. They customized the program with short introductory videos from Vikings legends sharing personal stories about their experiences being black in America.
In one video, Carl Eller, a Hall-of-Fame defensive end, recounts being denied service at the front counter of a cafe where he wanted to buy a hamburger, at age 11 or 12. He was told to go to the back counter, where blacks were served, but decided not to spend his money there—an experience he's carried with him for 60-some years. In another, Greg Coleman, who was one of the first black punters in the NFL, shares how his peewee football team in Jacksonville won the city championship in its division and was looking forward to playing in the Gator Bowl. But his team was not allowed to play there, with the rest of the city champions, because of the color of the players' skin. Coleman had trouble finishing the story, because the memory still stung so much.
The experiences of current and former players can be folded into programming in other states in this same way, or through virtual meetings with students. This past November, on an off-day, Weatherly called in via Skype from the Vikings' facilities to a class with freshmen and sophomores from two Twin Cities high schools who were currently going through the curriculum. He quizzed them on facts about 10 different African-Americans they had learned about, and did a Q&A session with the students.
"It's basically normalizing success for other groups besides Anglo-Saxon males," says Weatherly, who studied sociology at Vanderbilt.
Weatherly has been an active participant in the Vikings' social justice work, including two visits this past fall to the Hennepin County Juvenile Detention Center in downtown Minneapolis. On one visit, he and position-mate Danielle Hunter talked with a group of six young men, sharing a message about how the mistakes that landed them there don't determine their futures; another time, he played chess with a group of young women and listened to one perform spoken word. The detention center is one of the local organizations the team plans to support with the team-based social justice funds through this offseason.
"I have noticed more people whom social justice issues wouldn't directly impact, talking about it more," Weatherly says. "No longer is it then a 'them' problem, or a 'these people' problem, it's an 'everyone' problem. Now that the NFL has brought a lot of awareness to the problem, even if it was by accident, they are saying, here's what we are going to do to be a part of the solution, and no longer be a bystander. I hope with that extra oomph from the NFL and NFL teams, we can start to see real changes in communities."
Question or comment? Email us at talkback@themmqb.com.