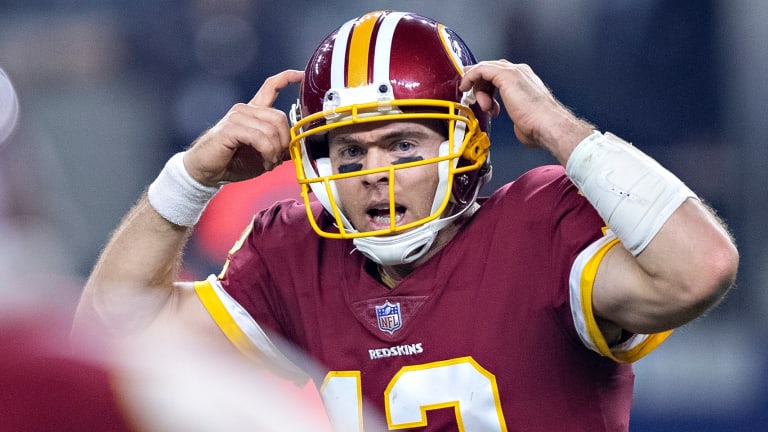 Week 5 Preview: Catch Colt McCoy Fever (Or Not)
Also, when your offensive line can't block (the Andy Dalton story), the worst of GIFs, segues gone mad, the great Michal Jordán, and so very much more. Plus, musical guest: The Clash!
Also, when your offensive line can't block (the Andy Dalton story), the worst of GIFs, segues gone mad, the great Michal Jordán, and so very much more. Plus, musical guest: The Clash!
1a. Washington is doing the right thing by putting Dwayne Haskins back on the bench. Last Sunday in East Rutherford the world saw what Jay Gruden already knew: Haskins is most certainly not ready. So putting him out there, surrounded by a roster of future XFL hopefuls, against the greatest defensive coach in NFL history, was not going to result in anything good. And considering the lack of a supporting cast, they'd pretty much be begging to create bad habits in their future franchise QB.
So, with that, get excited about the prospect of some Colt McCoy-to-Trey Quinn pitch-and-catch, and a whole lot of Tress Way's mighty left leg when they host the Patriots. And if that doesn't put fans in the seats at FedExField, then . . . well, it's pretty much like every other Sunday in Landover.
1b. Colt McCoy is actually fine. He's a slightly-above-average No. 2 QB who knows Jay Gruden's system (and it's a pretty good system; if only there were better players operating it).
1c. The worst thing in the world is Twitter. And the worst thing about the worst thing in the world are things that people share on Twitter ("tweets," as young people call them). And the worst things people share on the worst thing in the world are these staged GIFs (here's a mildly recognizable athlete doing a shruggy shoulder thing, I have made my statement to the world!). But the worst of the staged GIFs is definitely this one:
What is this meant to convey? Is it a preview of what was about to transpire: a not-ready young quarterback holding the ball too long in the pocket? Is he faking as if he will throw the ball at my face second-grade recess style, so that I will flinch and therefore punched in the arm? Is it just extremely specific to Dwayne Haskins, who expresses joy through stone-faced pump-fakes? And what is this pump-fake? If we're to pretend this is game action, he's essentially threatening to throw the ball off the back of Brandon Scherff's head. This production absolutely warrants a DVD commentary-style bonus feature from whomever directed it. But the commentary would have to fit in the three-tenths of a second that is the length of the GIF.
1d. This, however, is a good Twitter thread. The first one ever:
* * *
2. Since letting Andrew Whitworth walk after the 2016 season, the Bengals have tried three first-round picks (Jonah Williams, Cedric Ogbuehi, Billy Price) and a second-round pick (Jake Fisher) on the offensive line, and haven't gotten a single NFL starter-caliber game out of any of them. (I know, I know, Jonah Williams got hurt.) 
Meanwhile, Whitworth, even as he starts to show signs of decline in his third year with the Rams, would be a significant upgrade at any spot on Cincinnati's front five. And arguably an upgrade at tight end considering the stone hands Tyler Eifert flashed in Pittsburgh on Monday night.
Everyone wants rookies on cheap deals, which is why the Bengals tried to get out while they thought the getting was good on Whitworth. The problem with that approach is that the offensive line continues to be the most difficult position to peg via draft. There are plenty of factors for that, but sometimes it's simply because you rarely see grown-man strength in college. Monday brought a night full of Globetrotters vs. Washington Generals snaps between Cam Heyward and fourth-round rookie Michael Jordan (not to be confused with that other famous athlete of the same name—former AHL stalwart and pride of Czechia Michal Jordán), but this one in particular stood out:
And here's Price, who hasn't been able to get on the field one year after being a first-round pick, filling in for the fellow Ohio State alum Jordan (the Bengals save a lot of money by only scouting Columbus) with arguably the worst rep you'll ever see:
Zac Taylor has some nice play designs, and Andy Dalton is theoretically capable of carrying them out. But, as of now, this offense is non-operational.
* * *
3. As some of you know, it's been a really difficult week in these parts, which is why this column is on the short side. In light of that, I'd like to draw everyone's attention to a thing that I couldn't stop laughing at.
Before we do anything, I'd like to be clear: Dick Stockton has had more success in his career than I will have in 1,000 lifetimes combined (though, to be fair, I assume I'd be reincarnated as different creatures, and I just don't know how productive I'd be as a squirrel, on account of all the time spent gathering acorns, cracking off the tops, etc.). But basically, Stockton's worst day as a broadcaster is probably better than my best day as a . . . whatever it is I do. But just play this, with the sound, and then I'll ruin it with a breakdown:
Segues are difficult. I host a podcast and most of my segues are mostly just an exaggerated sigh followed by an awkward silence, on account of life beating me down. But man, that was something else.
I went into that segment with no knowledge of who that was either (I'm sure she's famous, but I'm 112 years old so I don't know). However, through context clues, I was able to figure it out. Specifically, I recognized that the letters in the chyron, when placed in that order, signaled that this woman's name is Becky Lynch. That she is a WWE Superstar. And that her nickname is "The Man," which is what that whole setup was about. I could have immediately explained that joke to anyone watching football with me. If only I had friends.
* * *
4. Ladies and gentlemen . . . The Clash!
• Question or comment? Email us at talkback@themmqb.com.