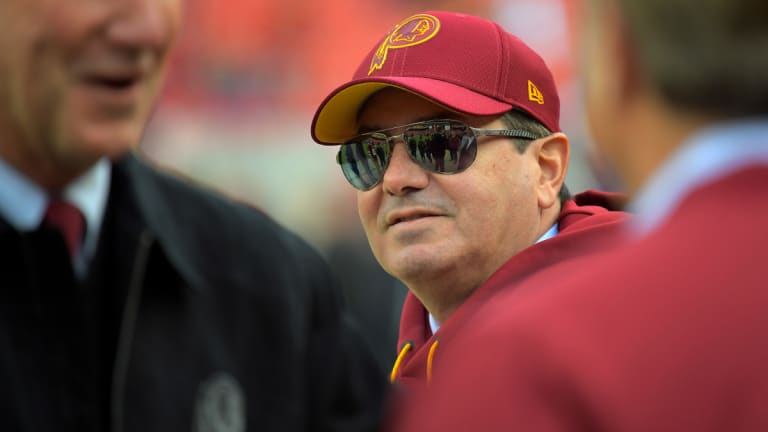 So, Who Wants to Be Dan Snyder's Next Coach?
Another head coach is gone, and this time things will definitely, surely, absolutely be different in Washington.
Imagine having the same meeting every few years, with the same core group of executive leaders, and deciding that the smoldering franchise occupying the floors below is someone else's fault.
Another coach? Another coach. Yes, this time, things will be different.
Out of every horrid, bottoming-out situation in the NFL this year (and there are plenty) Washington stands out as especially hopeless. They are the worst home on the block, a weed-infested landscape with a caved-in roof, chipping paint and outdated appliances. The homeowner gazes at this tumbling structure and is content to blame the gardener. They are the kind of project only a blindly optimistic soul might take, against the warning of all of their peers.
In the Daniel Snyder era, Washington has successfully courted coaching candidates by default. They are one of 32 of these jobs in the world and so at some point, no matter how hard you try, circumstances may drive the desperate together. Inside the building, they seem to specialize in the kind of toxicity that lingers. They spend excessive draft capital on franchise quarterbacks and then place them in the middle of painful administrative wrestling matches. They assemble a team of disjointed parts. They uproot personnel. They meddle, and then deny meddling.
This may be the hiring cycle when it becomes truly evident what people in NFL circles think of this once-revered franchise. It's not getting any easier to hire in this league, thanks to decades of mishandling the coaching pipeline. The competition for capable coaches who are truly ready is only becoming more serious. And what candidate on earth would risk perhaps his one and only shot here?
Jay Gruden was, by all accounts, a fine football coach. He made the playoffs with Kirk Cousins at quarterback despite the franchise placing Cousins into a perpetual contractual arm lock. He won games with an aging Adrian Peterson as his most potent offensive weapon. He handled the turbulent ebbs and flows of the franchise with an even demeanor. Only in recent weeks did he start breaking down, throwing Dwayne Haskins into a game just to satisfy his employers. Checking out. Suggesting his key card might not work in the morning (he was right).
It is the perfect example of the coaching lifecycle in Washington. You buy the house and start pulling out all the weeds but the weeds keep growing. You get a handle on the weeds and the roof caves in. You fix the roof and the weeds start growing again. It is an exercise in patience with no ultimate reward. Just continuous tests of self-control.
How easy is it to imagine how the next staff will be treated? Initial excitement followed by forced, microwaved development of Dwayne Haskins followed by dip in performance due to inevitable jettisoning of expensive veterans causing cap complications, followed by another prolonged grinding at the hands of management before one side quits or the other one moves to fire.
This is a franchise that had the entire cabal of young, star offensive coaches on one staff (Kyle Shanahan, Sean McVay, Matt LaFleur) and burned it down. This is a franchise that had the offensive rookie of the year at quarterback and burned it down. Even when they trip into something worthwhile, they can't help but fiddle with the product until the situation is completely untenable.
The one positive in firing Gruden now is that Washington will get the longest head start on the 2020 coaching carousel. Based on their previous history, they will need every last second to convince a rising star in the profession to risk it all in the nation's capital.
Someone will try and fix up the house because they always do. Coaches are a naturally adventurous—and confident—lot. Someone will believe that all the other guys just couldn't handle a strong personality on the floor above. But at some point they'll realize the same thing every other person who tried and failed here has realized: There's only so much you can do to the place without evicting the owners.
• Question or comment? Email us at talkback@themmqb.com.