MMQB: Anthony Lynn on His COVID and Chargers' QBs, the Miraculous Alex Smith, College Football's Mess
The Hard Knocks star is ready to move beyond the news of his COVID diagnosis and is just about settled on his starting quarterback. Plus, Alex Smith's comeback, tight ends finally get their due, and the impact of inconsistencies across college football's conferences.
The Hard Knocks music has probably never kicked in at a more poignant moment, or one more emblematic of the time it was played.
"Fellas, this year is not like any year we've had in the National Football League," coach Anthony Lynn told his Chargers over Zoom. "It's gonna be chaos. It's gonna be change. And it's gonna come every single day. The goals, the objective will not change. I can't promise you that you aren't going to get infected—I got infected."
And … boom. Joey Bosa's eyeballs get big. Linval Joseph's face goes blank. Justin Herbert looks like he saw a ghost. Lynn continues.
"I've talked to some people that said they're sick of this virus. What the hell's that supposed to mean?"
I'm not sure any of the league's other 31 coaches could've driven home the message that all of them have tried to convey—take COVID-19 seriously, or else—in quite the fashion that Lynn was able to, mostly because, as far as we know, none of the others were in position to reveal they had the virus as camp opened. But I can tell you now that the last thing Lynn wanted was the attention that's come from the revelation airing on HBO.
I'm told the Chargers, on behalf of Lynn, turned down a handful of opportunities to tell the story to an enormous audience on prominent, non-sports network morning and evening talk shows. Moreover, that speech? It happened as the Chargers vets were reporting to camp, right around the July 28 date, meaning the news that Lynn to delivered to more than 100 people on that Zoom call stayed under wraps for two full weeks.
In today's NFL, you'd have a hard time keeping what someone had for lunch under wraps for that long, much less something as significant as Lynn's diagnosis—and that came over a month after he told a small group of people within the organization about it. And all the same, when he and I talked late Saturday night, after the team's first full speed practice of camp, he politely, and steadfastly, declined to go into detail about his COVID-19 experience.
What he was willing to explain was why he told his team in the manner he did.
"Anyone who knows me knows I take this virus very seriously—and I got it," Lynn explained. "I was trying to get across to them, you cannot be too careful. You cannot relax. You cannot let your guard down. We have to stay on top of this. And I was talking about [adversity] creating a competitive advantage this year. It just happened to be Hard Knocks, so they took it and ran with it. But that was for my team, and I just wanted them to know.
"You can't be too careful with this thing."
More to the point, the message was intended only for his team, even if others could use it.
And that team, if you've paid attention the last three years, has been through a lot—and this is one more thing. Which, if you think about it, may actually serve them well as they work to mount a challenge to the champs in the AFC West.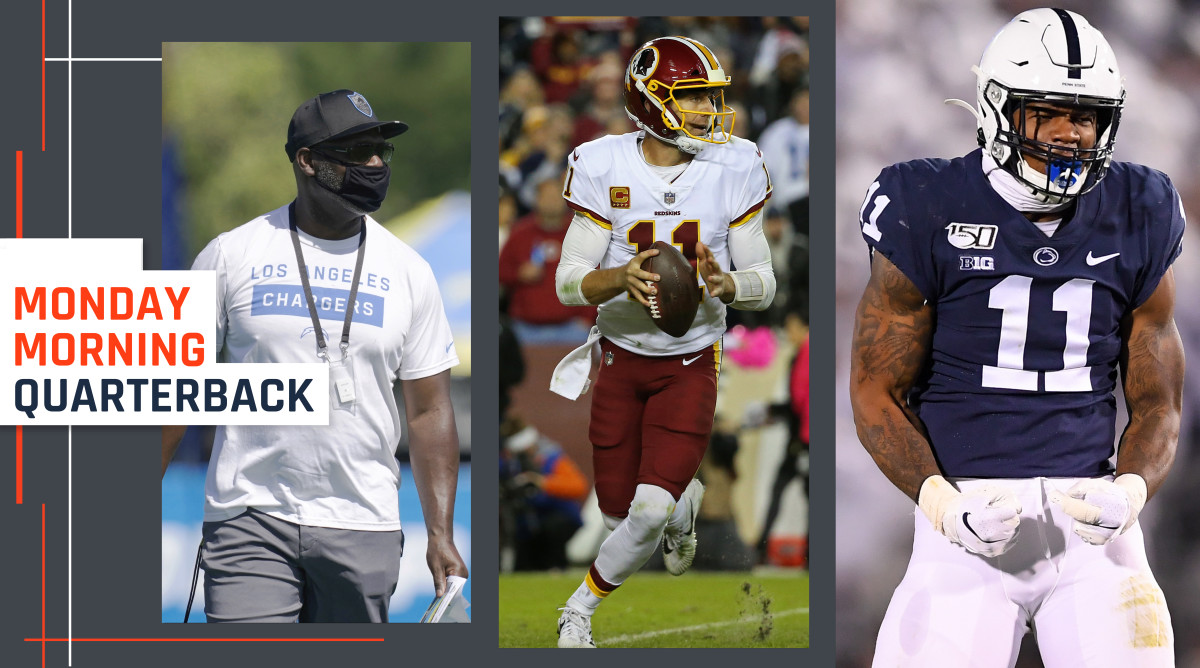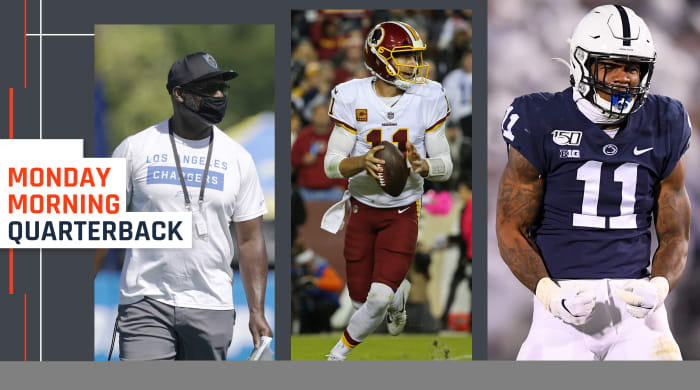 ***
We're going to take things on the road this week, and I'm excited for that. Today is the day that most of the league is putting on pads for the first time this calendar year. Until then, in this week's MMQB, we're bringing you …
• More on Alex Smith's remarkable return.
• A dumpster-dive into the college football mess.
• Perspective on the success of the Bills' rebuild.
• Whispers from early practices across the NFL.
But we're starting with the Chargers, and how a group that's built up—to borrow a phrase that a Texan like Lynn would most appreciate—armadillo skin over the last few years is preparing for another test of its will.
***
As you might imagine, on Tuesday night, during Lynn's Hard Knocks star turn, the coach's cell phone kept buzzing. And most of the messages, of course, expressed concern.
"People think I have it," Lynn told me with a laugh. "I don't know what people took from that. But they think I have it now. I'm fine. I had it over a month ago. I'm fine."
Indeed, Lynn's bout—the story of the golf broadcast you saw on Hard Knocks emanated from Traveler's Championship, which was held in late June (and from which Denny McCarthy withdrew after testing positive for COVID-19)—had already been waged.
He got sick. He is better now. The end.
Really, that's where Lynn wants to leave it, because he knows the football season is coming and he never wanted to make all this about him. It was about giving players something that would illustrate how easily someone can get infected, and how, in these circumstances, that can threaten to impact more than just that single person. If it happened during a game week, it could, in fact, have a trickle-down effect that reaches everyone.
So as for the football? He and I got in to that, too.
Tyrod Taylor is entrenched. I mentioned in the GamePlan on Thursday that the Chargers quarterback situation really intrigued me. Taylor is a former playoff quarterback, and Herbert brings big-time talent as the sixth overall pick. But as it turns out, this derby won't exactly see both horses coming out of the gate together.
For now, the Chargers are going to prepare Taylor to start, and Herbert would have to wrest the job from him. It's not so unlike the situation Taylor was in two years ago in Cleveland, with Baker Mayfield behind him.
"I don't think we need to tell the team who the quarterback's gonna be," Lynn said. "I think right now, Tyrod Taylor's our quarterback. And if Justin goes through camp and does something to change our mind, that's great. That means we'd have a really good quarterback competition. But without being here for the offseason, without having any of those practices, that sets a quarterback back.
"Justin's a very intelligent young man, I'm very pleased where he's at with his football IQ. I'm not gonna shortchange him. I'm never gonna say what you can't do. But right now, this football team knows Tyrod Taylor's our quarterback. And if someone wants to step up and knock him off the pedestal, then that's great."
And having that clarity, Lynn hopes, will help the team build to Week 1.
"I'm just saying, right now, Tyrod Taylor's our quarterback," Lynn said. "I'm not ever gonna say the backup can't win the job. I'm not gonna say that. If [Herbert] does something where there's a pattern of consistency and a pattern of success throughout practice, he could change our mind. I don't know. But this team right now believes in Tyrod Taylor."
That clarity will be sought across the rest of the roster. Lynn conceded that, because he has to be fair to the guys who'll actually play, there will probably be fewer of the proverbial "camp battles" than there have been in the past. The starters, obviously, lost the whole spring and are just putting on pads at point where, last year, they were about to play their second preseason game. That leaves a lot of ground to make up.
"No doubt," said Lynn. "That's crossed my mind the whole time. And the thing that scares me to death is missing out on a guy like Austin Ekeler or Michael Davis, those undrafted free agents that are major contributors for us right now. It happens every year all over the league, undrafted free agents winning jobs. Some of them become Hall of Famers. You fear missing out on someone like that under these circumstances."
Lynn did say that he and his staff are going to try to generate more competitive situations within practices that might reveal the next Ekeler or Davis. But where the team goes, he knows, is going to hinge on guys who are what Ekeler and Davis have become, rather than the kinds they once were, so getting those guys ready is paramount
And those prime-timers have been ready to go. Lynn saw it early, in the pace of the first walkthroughs—"I thought they were going to kill each other!"—and knows that it's not all going to come back at once, which, again, will eat at time bottom-of-the-roster guys need, and probably won't get this month.
"We have to patient," Lynn said. "Physically, we may not be where we were at, at this time last year. So let's be patient, and let's be careful not to peak too soon. We're trying to strategically do that as a coaching staff. You know, we gained six practices because we don't have preseason games. That's six more practices that we didn't have last year—so we're going to get more time, more practice. We have to use it."
The advantage of Zoom. Saturday was the Chargers' first competitive day of practice, with the offense going head-to-head with the defense. It was also the first real day of in-person meetings. That's right—through two weeks of camp, Lynn has chosen to keep the meetings virtual. Part of it's a COVID-19 precaution, of course. But another part of it? Lynn has become a fan of Zoom.
"I've grown to like the Zoom better than the in-person meeting because I like to see your facial expressions, I like for you to see my face," he said. "I struggle talking to a group of people behind a mask. I'd just rather see your face on Zoom and teach that way. And I think other people feel that way too. These guys have handled it well. So yeah, I wouldn't say I was a techie, but I've had to become a tech guy,"
O.K., then why did Lynn move the meetings back into the building? "It was time," he said. The Chargers' installs were about to get more intense with what "real" camp looming, and, yes, the staff does value the face-to-face interaction.
"It's important for our coaches to be in front of our players every once in a while," Lynn said. "We can't do it every day, but I still think it's important for [the coaches] to be in front of [the players] when they can, so long as they have the proper facility to keep the distance. Today I thought we handled that pretty well."
It will get a little more challenging with time. The meetings thus far have been split between the Irvine Marriott and the team's Costa Mesa facility—the offense is at the former, the defense at the latter. In a few weeks, when the Chargers cut the roster down, they'll lose the hotel as an option, meaning they'll have to get creative at their home base. Or ramp the Zoom meetings, again.
The Chargers still feel like they're close. Yes, L.A. was 5–11 last year. But the team didn't lose a game by more than one score until Dec. 15. And it wouldn't take much digging to find out what the difference was between the 12–4 team of 2018 and last year's last-place group. The 2019 Chargers were tied for last in turnover differential, last in takeaways, and 29th in giveaways.
"We've been very good on fourth down the last couple years, we work situational football all the time," Lynn said. "It's just … you can't turn it over the way we turned it over. You can't be 29th in the league on offense and 32nd on defense in taking it away. You're gonna have a hard time winning games that way, I'm telling you."
And that brings us to the Super Bowl. Lynn did watch the game. He'd normally root for the team from his division. He was a little torn this time around: "Kyle Shanahan's like a little brother to me." (Shanahan's dad, Mike, coached Lynn in the 1990s in Denver). But his main takeaway was one that his team has heard: That the Chiefs won the whole thing is another sign that the Chargers really aren't that far off.
"No doubt," he said. "We probably turned the ball over 10 times in the two games we played against them. You gotta give them some credit, they forced that. But that goes back to something that we had been doing the first two years—we were taking care of the football. And we got away from taking care of the football. In those close games, when you're loose like that, everyone's trying to be the hero, everyone's trying to make a play, and that's when that true toughness shows up. I feel like we lacked it in that area."
***
That said, 2019 wasn't all bad for Lynn. As injuries mounted and eventually blew up the season, the players were challenged. And Lynn saw them respond.
"This team's always gonna compete—and last year's team did, they never rolled over when things weren't going our way," Lynn said. "Didn't feel sorry for ourselves. Had a ton of injuries, didn't matter, guys competed. Losing nine games by one score, that ain't great, that's not what we want to do. But it's a sign guys didn't stop playing. And I watched these guys, and how they handled adversity, and I thought the leadership stepped up. This was a selfless football team in a lot of ways.
"Guys still cheered for one another, rooted for one another. When we did have success, no one really cared who got the credit. I like the fact that we have a gritty and a selfless football team. But now we have to get a little tougher. What I mean by that is we have to be at our best when we need to be at our best."
The truth, though, is that brings you back to what guys like Joey Bosa, Melvin Ingram, Keenan Allen, Casey Heyward and Hunter Henry—who have seen, wire-to-wire, what the franchise has been through the last three years—can draw on. They played through a move, through calling a soccer stadium home for three years, through bad injury luck and through the end of an era at quarterback with Philip Rivers' departure.
It's a resilient group that twice played past these sorts of things and to winning records. And now, having gone through this sort of stuff in a year in which they couldn't get to the right side of .500, Lynn hopes it'll be a hungrier group too.
No one, by the way, is contrasting any of that to a global pandemic. But the Chargers have made a living hitting curveballs over the last three years, so they should be as well-equipped as anyone to take a swing at this one.