MMQB: How Aidan Hutchinson Became a Top Draft Prospect
The Michigan pass rusher talks about his diet, his play and reaching out to TB12. Plus, why the combine is at a crossroads, and notes on Aaron Rodgers, Kyler Murray, franchise tags and more.
INDIANAPOLIS — It was one slice, and it was part of a marketing deal with Autotrader, and it wasn't like Aidan Hutchinson didn't know what he was getting into when he signed up to do a Barstool pizza review. And if you check the tape, the 6' 6" 265-pound top-five lock played it off like that, giving Big Mama's and Papa's in West Hollywood, Calif. a polite 6.7, while rattling off his favorite Ann Arbor pizza spots to Dave Portnoy.
But deep down? He regretted it the minute the tomato sauce hit his tongue.
"Because it was in the middle of training, I was like, To have dairy, gluten, just like, what am I doing to myself?" Hutchinson said, standing in a hallway where he'd just finished working on starts for the next day's 40-yard dash. "So I had that piece of pizza, and it always just sits in the back of my mind. And if I'm ever feeling bad, with my body or something, I'm like, It's that damn piece of pizza."
What's more, once he got back to the Sports Academy, an hour north in Thousand Oaks, he felt compelled to tell everyone, if for nothing else than to get it off his chest.
"He came back and he's like, Man, I had bread and dairy," said Taylor Ramsey, a director at the facility. "Dude ate one slice of pizza, and he's pissed at himself—for one slice of pizza."
This is how Hutchinson became, by many accounts, the best player in the 2022 draft, and how he arrived here in Indianapolis as the safest bet any team can make in this year's class. A year ago, the Michigan star was injured and seen as a sort of try-hard edge rusher destined to go somewhere late in the first round. And because few saw him as special, it was easy to wonder why he didn't just cash in by going pro then.
Since then, he's become something else entirely. Now, he's the type of player an NFL team can build a defense around, one who could go No. 1 overall, and one who very likely won't fall past the second pick, which happens to be in the possession of his hometown Lions.
Any time a guy can shift perception the way Hutchinson did the last 12 months, it's surprising. But that he's pulled it off really isn't even mildly so to Hutchinson himself, because he had in his head how he'd make this story come to life all along. And here in Indy, with a class that lacks some sizzle, that story is one that's absolutely worth telling.
As it would be, really, in any year, because who Hutchinson is explains everything about how this happened. The piece of pizza illustrated it for me, and, for the record, yes, he was just playing it cool with how he scored it.
"It was fricking delicious," he said, laughing. "I haven't had a piece of pizza in forever."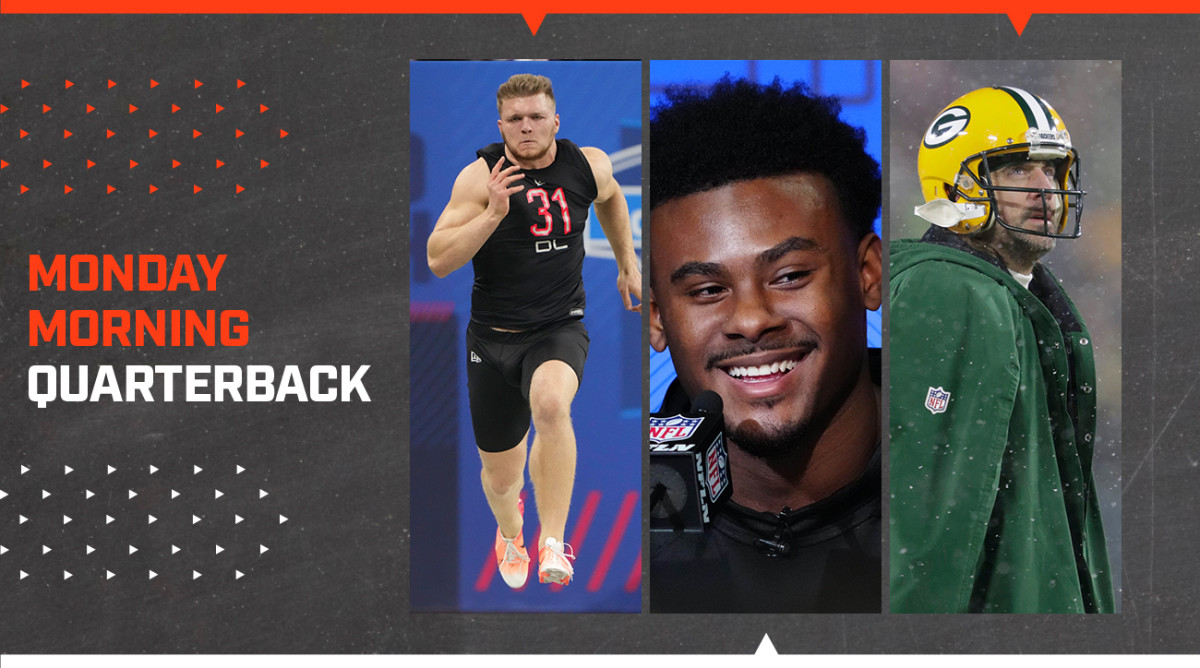 ---
Combine week's come to a close, and we're a week away from free agency, so we'll have lots of time for risers, rumors and news in this week's MMQB column. Inside the column, you'll be getting …
• A look at the winners of this year's scouting combine.
• An underrated factor in Aaron Rodgers's looming decision.
• Where Kyler Murray stands a week after his big statement.
And we'll also have a proposal for a new type of combine … in Indianapolis. But we're starting with your very own NFL introduction to Aidan Hutchinson.
---
Hutchinson's parents, Chris and Melissa, were decompressing in the hospitality suite at Michigan's team hotel after Aidan's final college game, a playoff loss to Georgia, when agent Mike McCartney arrived to meet with them and close the deal on his newest client. A few minutes later, McCartney got up to get the family drinks and found nothing but soda put out for the players, friends and families.
McCartney picked up a handful and doubled back to Chris and Melissa.
Chris, seeing him coming, quickly deadpanned, "If you knew much about the Hutchinson family, you wouldn't have grabbed a bunch of sodas."
He was messing with McCartney, of course, but there was truth in what he said. While how Aidan coped with that slice of pizza showed, indeed, how far their son has taken it, mom and dad raised their kids in the sort of environment that naturally would churn out a kid who'd always optimize his health—and ultimately his athleticism, with how he treated his body.
Where and how Hutchinson took it to another level is another story.
He became a full-time starter at Michigan in 2019 and, on a really good defense, emerged as a true every-down player quickly, in on every package and personnel grouping that coordinator Don Brown deployed. As that happened, he says now, "I knew I had a chance. And then, once I saw that opportunity, I'm all in."
That meant doubling down on everything he'd done to get himself to Michigan and make himself a starter there in the first place. Which is what would lead him to the greatest player in football history, Tom Brady, who just so happened to be a Michigan alum.
"You just look at him; he's 44," Hutchinson said, "and you gotta wonder what he's doing."
So Hutchinson went to his dad, a Michigan All-American in the '90s, who then reached out to his buddy Scot Loefller about getting in touch with Brady. Loeffler, who played with and coached Brady at Michigan and is now the head coach at Bowling Green, texted his old teammate. Brady then got Hutchinson's dad in touch with a trainer from TB12.
Hutchinson wound up getting some body work done and adopted elements of Brady's diet—eliminating dairy, sugar and alcohol, drinking a gallon of water a day, and minimizing his gluten intake. Which, as you might imagine, wasn't easy for a college kid.
"It is hard, it is very hard," he said. "But I know to be great, I'm going to have to make a lot of sacrifices. That was one that I'm willing to make easily, because I want to get everything that I can out of this body."
It didn't take long for Hutchinson to physically feel the difference just in his day-to-day life, but the on-field payoff would have to wait. He got hurt in the Wolverines' third game of the 2020 season. He then made the decision to come back for his senior year, and last spring things started to come together. He was getting healthier. He saw new coordinator Mike Macdonald's defense being installed.
And as he'd lost 10 pounds or so to get sleeker and play more on the edge full-time in a hybrid outside linebacker role, everything came clear as he watched spring ball from the sidelines, finishing up his rehab.
"I was watching, and our edges were dominating," he said. "And so in that moment, I was kind of thinking to myself like, I've got a chance here to do something. Because if those guys are dominating, imagine what I could do."
---
We know the rest of the story now. Hutchinson had a school record 14 sacks as a senior, was a Heisman finalist and unanimous All-American, and won the Silver Football as Big Ten MVP, the Lombardi Award and Big Ten championship game MVP. He also helped Michigan climb and summit the Ohio State mountain and get to its first playoff.
And being able to do all those things was a reason he came back for his last year—an unselfish decision that's led to incredible individual rewards, both in the 2021 season and now in his draft position.
"One-hundred percent, every football player, this game, football uses you," he said. "So every football player has to use football. You really got to think of yourself first, just thinking about it individually. And from a team perspective, I mean, it was beneficial all across the board. It made that decision very easy. It was probably one of the best decisions I made in my life. … Everything that I sought out to achieve, I did."
As impressive as any of it is how Hutchison flipped perception.
Once seen just as a high-effort, workmanlike linemen, the combine again showed how much more Hutchinson has become than that. He ran a 6.73 in the three-cone drill—used to measure agility, explosiveness, and change-of-direction skills—which was a better time than all but three receivers, and sits comfortably between the times that Von Miller (6.70) and T.J. Watt (6.79) clocked here. His 4.15 20-yard shuttle was the second-best of any player at the combine going into Sunday. He ran the 40 in 4.74 at 260 pounds.
You don't get there without a lot of natural ability and, again, Hutchinson always thought he had plenty. But his willingness to push his limits and maximize what he was born with is a good piece of this, too—which comes back to his willingness to do what others won't or can't, especially others at his age. "It's knowing what it takes to be at the next level," Ramsey said. "And knowing what guys that have been in the league for 10 to 13 years do."
That happened for Hutchinson through the commitment to cut out things like pizza, yes, but just as much through a willingness to listen and learn that isn't always there with the top guys.
"With him, you'd expect someone that's projected at that high level would say, 'Hey, this guy's coming in, he's gonna need this, he's gonna need that,'" Ramsey continued. "Guy ended up being the most humble dude, like just, 'I'm here to work hard. Tell me what I can do to get better.' And he listens, he's coachable, anything that we've said. We did inflammatory markers. It's, Alright, I'm not gonna eat that then. Simple. Out of my diet for the rest of my life. It's not like, I'm gonna do this for the rest of this process. It's, O.K., I'm not gonna do that anymore. This is causing inflammation? Not gonna do that either. O.K., cool."
And that's why, as Ramsey described what he's seen the last two months from Hutchinson, it mirrored his path at Michigan—with the trainer explaining how so many players that age have their ups and downs, this one just steadily, continually, has kept getting better.
That culminated in a strong, complete combine performance that affirmed the change in perception of Hutchinson among NFL teams was justified.
"It's weird how the narrative changes in just a year," he said, smiling. "But that just goes to show why I block out the outside noise, because it's all just B.S. at the end of the day. People are going to believe what they want to believe."
Hutchinson has a lot of believers now.
---
Late on Friday afternoon, Hutchinson was just off the massage table, having gotten some aggressive body work done by a TB12 trainer named Devin who'd flown in for the combine, when Minnesota edge rusher Boye Mafe started giving him crap about a pair of shorts he was wearing that was branded with his name. Hutchinson played it off. Then Mafe went in on Hutchinson's sneakers—which he suspected were custom-made.
Mafe was trying to needle Hutchinson for being a superstar. And he knew he could, because Hutchinson doesn't act like one.
"That's what I'm saying," said Mafe, who's trained with Hutchinson since early January. "He has that superstar stature, first off the board, but acts as if he's in the sixth round."
Which, of course, reflects the whole story line here—a guy who knew, deep down, he had it in him to be a top-five pick, working like a priority free agent to get there. "I mean, the man drinks only distilled water," Mafe continued. "If you focus on the type of water you're drinking, you're locked in."
And Hutchinson's now on the doorstep of seeing that manifest in the NFL's implicit acknowledgment that he's become what he thought he was from the start.
"I think, in my head, I always knew it," he said. "In my head I always viewed myself like that. … Now everyone sees me at No. 1, but I've been seeing myself at No. 1 for a very long time now."
From here, Hutchinson will go back to Detroit to get ready for Michigan's pro day, where he'll do the bench and probably little else.
The larger plan now is to turn the page, take everything he learned from the last two months, phase out the combine work and start training for his first NFL season, so he can hit the ground running when he gets to rookie minicamp and OTAs in May.
And whether it's the Jaguars, Lions or someone else taking him, it's a pretty good bet he'll be ready when he gets there, because the approach he'll take in getting ramped up for football between now and then won't be much different from the one he's always taken. Going first, he says, "would be cool," but more than that he wants to be on a team that fits him, he wants to win and, deep down, he knows what's out there for him.
"I want to be a Hall of Fame player," he said. "I want to have a lot of First Team All-Pros. I want to be legendary."
And clearly, he'll do whatever it takes to get there.
The pizza can wait.
---
COMBINE AT A CROSSROADS
The first and most obvious thing I'm taking away from this year's combine, after last year's was erased by COVID-19, is this: The event itself is dealing with growing pains, brought about by the league's insistence on turning it into more than what it was intended to be, which is a tool for teams to get their work done.
And the fan experience element clashed with the workplace environment right away when workouts kicked off Thursday night. Loud music, and, to put it kindly, not the kind of music the players would pick out, drowned out player announcements in the suites. The scoreboards showed the NFL Network feed, rather than displaying who was working out where. Because of that, personnel people and coaches up there had to scramble and use binoculars to pick out who was doing what as the workouts wore on.
Midway through Thursday night's festivities—to the credit of Jeff Foster, and the combine and league folks there—the powers that be made the decision to kill the music, and it didn't come back.
But by then, coaches and scouts alike were calling the operation of the event a (bleep)show. Several head coaches and GMs cut their trips short. Others stayed in their hotels and used their time to work ahead on free agency. Many of the higher-ranking team people in town for the week questioned whether they'd come back if things keep going this way.
Also, the team that won the Super Bowl, the Rams, made the trip optional for most of its personnel, and all of their top decision-makers wound up declining to come with the event happening two weeks after their 2021 season ended. And if more teams go in that direction, the main motivator for the top prospects to work out—getting to do it in front of every head coach and GM—will be gone. Or the league will have to pay them to participate.
If the top guys don't work out, what will the league be left with? An event it can't sell.
Very clearly, the combine is at a crossroads. Later in the week, rumblings were growing that Indianapolis would, indeed, wind up keeping the event for the next year or two, after so many thought it was a fait accompli that it'd go to Dallas in 2023. Most NFL people want it here, so that happening would help. But clearly, the league has a lot to work out to keep what's been a tentpole event for decades viable in a post-COVID-19 world.
And with that, here are a few nuggets we were able to ascertain after the teams had the chance to kick tires on the 324 prospects in Indy.
• Liberty's Malik Willis came out of Indy as the guy who gained the most among a pretty blah group of quarterbacks. He threw the ball much better than he had at the Senior Bowl, and interviewed well with teams—with the context being that he showed a capacity to learn and a strong personality, even if it's pretty clear he'll have a ways to go in learning the nuances of the pro game (and he did a very good job explaining the ins and outs of a simplistic Liberty offense to teams). And in the NFL's current Patrick Mahomes–Josh Allen world, his combination of a howitzer for an arm and elite athleticism puts him in position to convince teams he can grow into a lot more than what he is right now. I'd say he's in the lead to be the first QB taken. His pro day is March 22, and showing the kind of continued improvement he did between the Senior Bowl and combine there would help his cause.
• When I sent out texts Saturday night asking who helped themselves the most, one AFC GM responded, "Every Georgia defensive player." An NFC exec said, "Kirby Smart." He then texted, "14 players, and they all interviewed and performed well." So much so, in fact, that it's tough to single out one. Or maybe it's just tough to single out one beyond mountainous nose tackle Jordan Davis, who ran in the 4.7s on some watches at 341 pounds. "He was the best guy out there, Jordan Davis," said another NFC exec, "one of the single most impressive combine performances ever." The question with Davis will be whether he'll have the endurance to be an every-down player in the pros, but the freakish athletic show he put on here would at least give you a good feeling that he can be more productive on third down in the pros than he was as a collegian.
• Davis's linebacker teammates Travon Walker and Quay Walker drew similar reactions from scouts. One exec I talked to said, more or less, he thought a lot of scouts were quiet on the former during the fall, with hopes what they saw in him wouldn't be widespread. Well, the secret's out. "We're not in that market," he joked, "because we don't have a top-15 pick." Another said he "should be in the conversation to be the player with the most upside in this year's class." Travon Walker's workout was that good. And Quay Walker, overshadowed all year by Nakobe Dean, crushed his meetings, flashing very solid football intelligence. Want one more Bulldog? Safety Lewis Cine had a very solid weekend all the way around. Suffice it to say, it's not hard to see why Georgia was historic on that side of the ball.