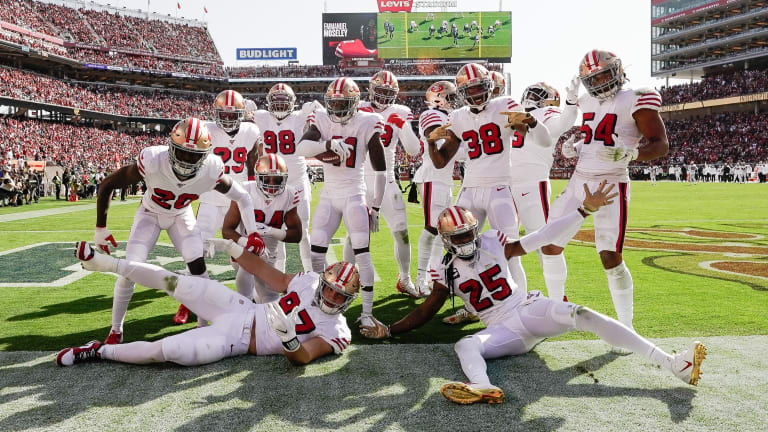 Gameday Live Blog Week 9: 49ers vs. Cardinals
Live updates and analysis of the week nine matchup between the San Francisco 49ers and Arizona Cardinals. Join in on the conversation with your thoughts.
The San Francisco 49ers are back on primetime to take on division rival Arizona Cardinals on Thursday Night Football. Both teams had to make a quick turnaround following last Sunday in preparation for tonight's game. All-around it is a strenuous process to get physically and mentally ready for Thursday night.
This is just another speed bump for the San Francisco 49ers who have seen their fair share of adversity this season. Other than it being a short week, the other challenge is how the 49ers' defense contains Kyler Murray's running ability. Seeing how they get it done will definitely be a sight to see.
We have you covered for today's game at State Farm Stadium with updates and analysis. Join the conversation and give us your thoughts while this game plays out.  
49ers inactive list
Cardinals inactive list
1st Quarter
12:11 - Cardinals strike first on a clinical drive called by Kliff Kingsbury. Newly acquired RB Kenyan Drake with the touchdown run.
Cardinals 7 49ers 0
11:00 - George Kittle walks off the field with what looks like a knee injury. He appears to be moving fine on the sidelines with a questionable status.
7:08 - Sacked! Dee Ford brings down Kyler Murray within seconds of the snap. 49ers rebounded well on defense following the allowed touchdown.
5:36 - 49ers are forced to punt as their second offensive series goes no where. It was going to be a challenge for this team to get going early due to the short week. Let's see how they adjust as the game progresses.
4:39 - Cardinals cannot replicate their opening drive and are forced to punt the ball back to the 49ers. Series three for the 49ers coming up on offense.
0:04 - The offensive cheat code for the 49ers on offense, George Kittle, scores a touchdown. 49ers' offense starting to wake up now.
Cardinals 7 49ers 7
End of quarter
2nd Quarter
12:28 - 49ers' defense has woken up. A 19 yard sack on Murray, followed by a near interception by Fred Warner. Arizona's offense has been figured it already.
 8:58 - 49ers are starting to open the floodgates on offense as they score another touchdown. Kendrick Bourne reels in a tough catch on a dime by Garoppolo. The pressure is on for the Cardinals and Kyler Murray on offense.
Cardinals 7 49ers 14
4:58 - Cardinals move the ball a bit better, but it isn't enough to dent this stout defense of the 49ers. Feels like the Cardinals have no shot of scoring another touchdown at this point. 
0:04 - Another touchdown for the 49ers on a Garoppolo connection with Emmanuel Sanders. The guy has made an major impact in a game and a half already for the 49ers. San Francisco putting their foot on the gas pedal. 
Cardinals 7 49ers 21
End of quarter
Halftime Analysis: Arizona opened up the game with a great offensive drive and even played solid defense for a couple of series. Since then, they have been getting completely battered by the 49ers. Kyle Shanahan is once again showing out his stellar play-calling, but the star of the game has been Jimmy Garoppolo. He's been dialed in and dealing all game. On a short week, it's an impressive feat. Cardinals have no shot to comeback in this down by two scores. 
3rd Quarter
11:42 - Cardinals defense holds the 49ers who have been having their way with them. A little bit of life is still in this Cardinals team. 
9:01 - Arizona will not lay down! They come back to score for the first time since their opening drive. Kliff Kingsbury made the proper adjustments to counter the 49ers' defense by going up-tempo and having Murray run more. This game is alive again. 
Cardinals 14 49ers 21
5:55 - Dante Pettis goes unchecked as he is wide open for a touchdown. Garoppolo now has four touchdowns on the night, which is a career high for him. Kyle Shanahan versus Vance Joseph is a mismatch. 
Cardinals 14 49ers 28
3:27 - Cardinals go no where on the ensuing drive. Time is becoming scarce if they want to muster any sort of comeback.
1:01 - Offense of the 49ers moves the ball a bit, but the Cardinals defense finally stiffens up. 49ers forced to punt.
End of the quarter.
4th Quarter
9:24 - Cardinals get back on the board with a field goal. However, with so little time left, they will need their defense to be stout. 49ers will look to bleed the clock as much as they can.
Cardinals 17 49ers 28
5:32 - 49ers are able to drain some of the clock, but not enough as they forced to punt with over five minutes left. Can the Cardinals do something with time running out?
4:53 - This game is not over! Huge play for the Cardinals as Andy Isabella dusts Emmanuel Moseley for the long touchdown run. 49ers have allowed the Cardinals to come back and are endanger of an upset. 
Cardinals 25 49ers 28
2:00 - 49ers need to convert on third down to ice the game and they get it. Garoppolo connects with Ross Dwelley for the conversion and the 49ers will win this game to improve to 8-0. 
Final: Cardinals 25 49ers 28