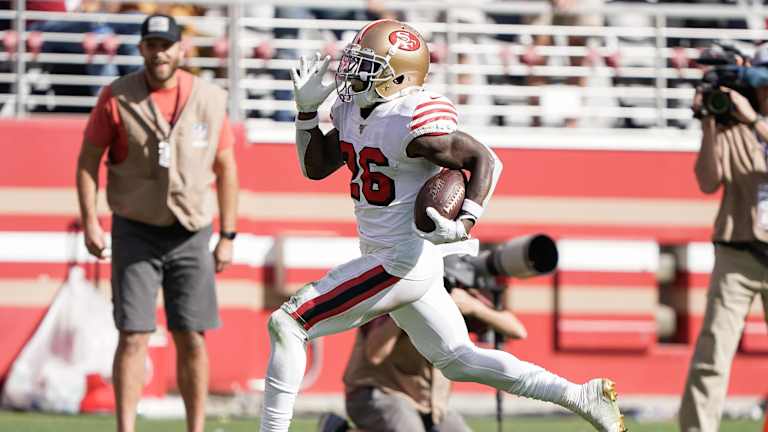 Tevin Coleman is Establishing Himself as the 49ers' Lead Running Back
Running back Tevin Coleman had an unforgettable performance in the 49ers' 51-13 win over the Panthers. His performance is sure to give him the edge as the lead back.
To steal the words of Baker Mayfield, running back Tevin Coleman "woke up feeling dangerous" on Sunday against the Carolina Panthers. Coleman rushed for 105 yards and a career-high tying three touchdowns on 11 carries (9.5 avg.) and added two catches for 13 yards and a touchdown. Coleman's four total touchdowns were the most by a member of the 49ers since wide receiver Jerry Rice had four receiving touchdowns at Tampa Bay (11/14/93) via 49ers.
"The runs, definitely." Coleman on what worked best for him Sunday. "It was real open. The guys on the O-Line blocked well, tight ends, receivers, they blocked well and they opened up gaps for me."
Coleman was allowed to see the majority of the snaps in the backfield due to Matt Breida exiting the game early with an ankle injury. Ever since Coleman returned from his ankle sprain he has been a nightmare for defenses, and with the latest injury to Breida, he is establishing himself as the 49ers' lead running back. That is not to say that Breida will be phased out enitrely, but that Coleman will be the go-to player in crucial situations.
In every running back committee, there is a lead bell cow. With the way Coleman ran the ball against the Panthers, he is continuing to establish himself in that role. The gashing and slashing that Coleman did to the Panthers' defense was outright abuse. He was practically a human cheat code out there running the ball. The vision of Tevin Coleman should not be overlooked. 
As great as the offensive line is blocking, it would be all for naught if Coleman did not have the vision and patience to hit the holes. His performance against the Panthers was one for the books. He is the first player since Todd Gurley in Week 15 of 2017 to have three rushing touchdowns and a receiving touchdown in a game. Prior to Gurley, no one had done that since Darren McFadden in 2010, per ESPN Stats and Info.
When asked about his thoughts on Coleman's performance, George Kittle answered "From the first time that Tevin came into the building, just watching him run with the ball and how he reads it, how he gets downhill, him taking the edge and then getting vertical is one of the most impressive things I've ever seen and he does it with zero regard for his body, which is pretty amazing for a running back. He gets downhill so fast, so I just love watching him play. For him to get, I think, 110 yards on 11 carries, something like that, and three touchdowns, I'm just happy for him. He deserves that because he grinds every single day and we're just happy we could help him do that."
You have to figure that Kyle Shanahan will always default to Tevin Coleman just because of their history. It is the main reason why Coleman signed with the 49ers. The slew of injuries that Matt Breida has been sustaining lately is not helping him. Once again, he will not be phased out. Shanahan will still rely upon Breida, but Coleman has the clear cut edge as the lead running back on the 49ers' offense.
Follow our @JSanchezSI and @49erMavenSI for your unique source of the 49ers.