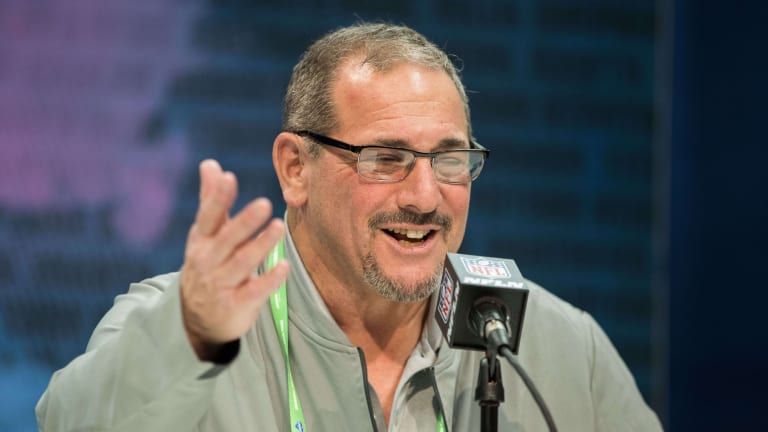 What the Experts Said About the Giants Draft
And whether we agree with them.
The NFL draft is over, but the players, thanks to the COVID-19 restrictions, still have a long way to go before they hit the field to prove whether the general managers who put their trust in them were right.
Still, it wouldn't be a draft without some preliminary grades from the experts about the class, so let's take a look at what some of the experts have said about the Giants' draft haul.
Prisco gave the Giants 10-member draft haul a solid B, applauding general manager Dave Gettleman for not wasting any time or getting too cute in addressing the offensive line.
They had to improve the offensive line, and they did. Landing Thomas and third-round tackle Matt Peart will give them a pair of bookends down the road. Second-round safety Xavier McKinney is a playmaker who will help the defense.
Prisco's only knock against the Giants was that they didn't address edge-rushing help early in the draft. However, other than Chas Young, who wasn't expected to fall to the Giants at No. 4 anyway, this was a weak class for edge-rushing help.
The Giants have been insisting that they can general a pass rush through scheme, and general manager Dave Gettleman reiterated that after the draft.
"No, we didn't draft what you guys would call a 'blue-goose' pass rusher, but a lot of the time, it's a group effort. It's not about who gets the sacks; it's about the number of sacks and the number of pressures," Gettleman said.
But that doesn't mean he's going to rest on his laurels.
"Roster building is a 12-month season. It's 365, and it's 24/7. We feel good about where we're at, but we'll continue to try to improve it. We're going to take a look at what we've got, and you know part of it's going to be scheme. I've got a lot of confidence in (Assistant Head Coach/Defensive Coordinator) Pat Graham and Joe and the defensive guys. We're going to be fine. It'll get better."
It better because last year the Giants tried to generate a pass rush through scheme and, other than for Markus Golden's ten sacks, the approach didn't work. So Prisco's criticism is certainly a valid one.
Kulp lauded the Giants for putting up the best smokescreen when it came to hiding its desire for Georgia offensive tackle Andrew Thomas, giving them an A- for their draft haul.
Here's what Kulp had to say.
It turned out the draft started at No. 4 because almost nobody predicted OT Andrew Thomas to the Giants there. One of three offensive linemen selected, along with OT Matt Peart in Round 3 and OG Shane Lemieux in the fifth. In between, the focus was on improving the secondary with S Xavier McKinney in the second and CB Darnay Holmes in the fourth. Those were New York's most significant holes, for sure. Don't forget to count Leonard Williams among the haul.
I was among those who DID predict Thomas to the Giants int he days leading up to the draft as between Gettleman all but confirming they were going offensive tackle in a call held the week before the draft and my use of logic, Thomas was a clear choice.
I was also glad to see Kulp include Leonard Williams as part of the haul. Though the trade for Williams remains controversial and the Giants had to sit and watch a lot of talent coming off the board in between the second and third rounds where they picked, who among the prospects at where the Giants would have picked would have been a better choice than Williams?
Yes, Wiliams' sack total is indeed paltry, but in eight games with the team, he still managed to finish third in total pressures. Had the defensive secondary held its coverage, your wonder if perhaps the Giants' sack total by its defensive front would have finished higher than 28th in the league.
Hopefully, with the upgrades made in the defensive secondary, we'll find out if that turns out to be true.
Reuter broke dow the grades by day and then overall. He gave the Giants a B for Day 1, an A- for Day 2, and a B+ for Day 3, concluding with an overall grade of B+ for the haul.
Here's what Reuter had to say about the Giants' draft class:
Most people expected the Giants to hit the offensive line early on -- and picking Thomas and Peart in Rounds 1 and 3 met that expectation. Safety McKinney (Round 2) bolsters the team's secondary, as does cornerback Holmes (Round 4), who will work in the slot quite well for the Giants Lemieux provides depth on the interior offensive line, though he might have been picked a bit earlier (No. 150) than expected. Brown displays the athleticism to become a nice pick-up as a reserve edge rusher. Brunson was a good pick who finds the football despite not having any elite physical traits. Williamson is a versatile corner/nickel/safety who will contribute soon, and Crowder was an absolutely underappreciated part of the 2019 Georgia defense. Look for general manager Dave Gettleman to seek out hidden receiver gems after the draft.
The point about the receivers is worth noting. Initially, I thought the Giants might dip into what numerous draft analysts considered to be a historically deep class at receiver.
Having thought about it since, the Giants instead went after undrafted free agents from that abundant draft class, saving the valuable draft capital for players to staff the three most glaring positional units on the team (offensive line, linebacker and defensive secondary).
It also makes sense considering the Giants are going to alter the game plan every week to where a different player will be featured.
To that end, the Giants, who do have three reliable receivers in Golden Tate, Sterling Shepard and Darius Slayton, plus tight ends Kaden Smith and (hopefully) a healthy Evan Engram and Corey Coleman, and Saquon Barkley think they have enough to where any receivers they do add can take some time to develop via special teams.
There's only one tiny flaw with that thinking, however, and it's injury-related. Engram has sadly proven not to be durable. And who out there isn't concerned about Shepard, who last year dealt with two concussions, suffering another one?
We can sit and think positively and hope that things will be different, but history tells us to be wary.