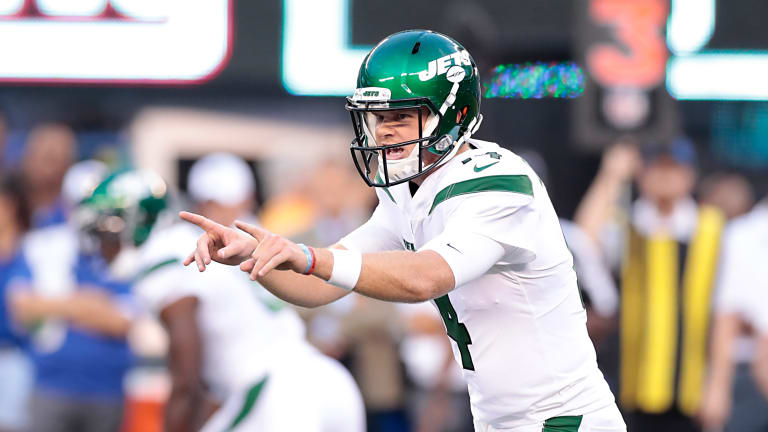 Publish date:
New York Jets Sink to a New Level in Loss at the Miami Dolphins
The New York Jets were terrible on Sunday in handing the Miami Dolphins their first win of the season.
The New York Jets are now the worst team in the NFL, a 26-18 loss at the once winless Miami Dolphins now cementing this team as a certifiable disaster. 
Penalties, untimely turnovers and defensive breakdowns marked the afternoon for the Jets (1-7). They let a Dolphins (1-7) offense that came into the game as the lowest scoring in the NFL move the ball effectively and with purpose. 
Former Jets quarterback Ryan Fitzpatrick threw for three touchdowns in the first half, sparking an offense that was efficient against a Jets defense – in particular the secondary – that looked and played overmatched. 
Fitzpatrick finished the afternoon 24-for-36 for 288 yards and three touchdowns 
An inexplicable interception by Jets quarterback Sam Darnold on the cusp of halftime and down 21-7 seemed to sum up the afternoon for the Jets. Inside two minutes left in the first half and gifted prime field position after Vyncint Smith's 78-yard kickoff return, the Jets took over on Miami's 18-yard line and systematically moved themselves to the goal line. 
A Ryan Griffin catch in the back of the end zone, originally ruled a touchdown, was overturned on official review. On the next play, rather than throw the ball away in the face of pressure, Darnold made a weird underhand toss into traffic that was intercepted. 
The game started so well for the Jets. On their opening drive, New York marched 11 plays and went 75 yards, Darnold finding wide receiver Jamison Crowder on a fade route for a 7-0 lead. But the offense struggled to move the ball consistently. Poor protection of Darnold was again an issue for the Jets as he was sacked three times and hit nine times. 
The Jets managed just 17 first downs on offense, a number that did little to sustain drives or keep their beleaguered defense off the field. Penalties, 10 to the tune of 105 penalty yards, continually haunted the Jets on both sides of the ball. 
The problems for the Jets on offense were far from Darnold's fault, who was 27-for-39 for 260 yards with a touchdown and an interception.