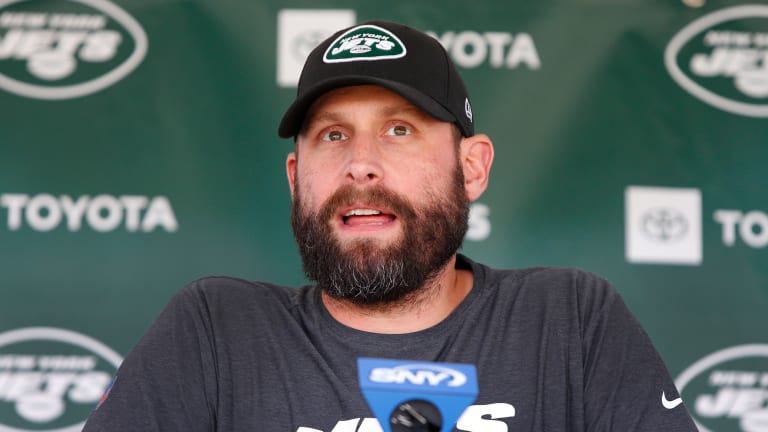 Publish date:
Adam Gase 'Isn't Embarassed by S--t' Jets in Loss at the Dolphins
New York Jets head coach Adam Gase isn't embarrassed by his team's loss at the previously winless Miami Dolphins
If losing to a previous winless team isn't embarrassing for Adam Gase then the New York Jets head coach doesn't have a single shameful bone in his body. 
The Jets are now 1-7, a 26-18 loss at the Miami Dolphins that gave Gase's opponent their first win of the season. Not only did the Jets lose to a previously winless team, they were sloppy and pathetic in the process of doing so. 
This was an undisciplined Jets team that was whistled for 10 penalties for 105 yards. They were poor in their tackling, woeful in their blocking and just generally inept. So when Gase was asked after the game if he was embarrassed by losing to a Dolphins team that was considered far and away the worst in the NFL, his answer was surprising. 
"It's the NFL," Gase said. "You can't be embarrassed by s—t." 
Tell that to the Jets fans who likely are seething and ready to turn MetLife Stadium into a protest next Sunday.  
It never should have gotten to this point with the Jets, who have had an embarrassing season whose very foundation was laid by an equally embarrassing offseason. There is no denying that the team is in rebuild mode, but losing to a Miami team that entering Week 9 was the lowest scoring in the league while conceding the most points so far this season should have been a recipe for a Jets win. 
Instead, they were humiliated on the field, only to hear that Gase wasn't embarrassed by what was an absolutely abysmal performance.  
"We're 1-7. Everybody – you feel like crap. You don't put in all this time and effort to come out here and lose, 
"We've got to get things fixed, that's what they know. That's what I told them. That's what other guys in the locker room are saying the same thing." 
Then again, after allowing former general manager Mike Maccagnan the chance to spend over $100 million in free agency and then conduct the NFL Draft, only to fire him weeks later, can the Jets be embarrassed any more this year? Then again, losing a starting quarterback to mono is pretty bad too.