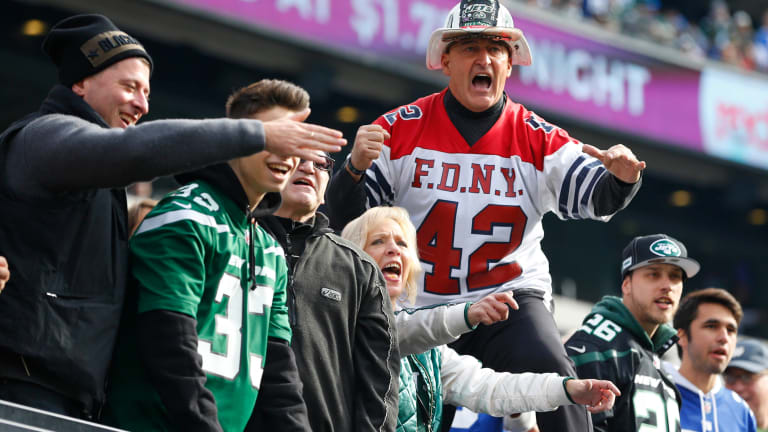 'Fireman Ed' Endorses Adam Gase to Return in 2020, Understands Jets Fan Anger
Fireman Ed understands why Jets fans are angry but wants patience with head coach Adam Gase.
It is time to unite behind head coach Adam Gase, so says the message from New York Jets super fan Ed Anzalone. Better known as 'Fireman Ed,' Anzalone thinks that the embattled first-year head coach needs patience from the fanbase and not necessarily protests. 
Gase received a vote of confidence from Jets owner Christopher Johnson on Wednesday, who said the head coach will be back for 2020. There was hand-wringing and protests from the fans over Gase's 2-7 start with the Jets, something that Anzalone said is unfair. 
Anzalone wants patience with Gase, who came to the Jets one year removed from a three-season stint as head coach of the Miami Dolphins. Gase has an extensive track record as an offensive coordinator and a quarterbacks coach, including working with Peyton Manning during a record-setting year at the Denver Broncos. 
It is that offensive mind that was appealing to Johnson and the Jets as they look to groom their franchise quarterback, Sam Darnold. The Jets moved up in last spring's NFL Draft Draft to take Darnold with the third selection. 
"It's the right move and how you could legitimize to Sam Darnold, who is your franchise quarterback and who has told you that he loves Adam Gase and believes in the coach and the system? How do you go around and fire Adam Gase and have him go through his third head coach and system? How do you do that? Then this kid would go to his agent…Do you think he legitimately would say that he wants to re-sign with the Jets? That's what fans aren't thinking about," Anzalone told SportsIllustrated.com. 
"This kid loves the coach. If you don't like him as a fan, have some respect for your franchise quarterback who is saying he loves this guy and basically wants to grow with this guy. This is what your franchise quarterback is telling you. 
"What coach is going to want to come in here and do this and be the third coach in three years? It wouldn't happen. You have to give Adam Gase some time. It's not Adam Gase, it's a culmination of things and it is being taken out on Adam Gase." 
The protest movement against Gase came to fruition several weeks ago following a loss at the then winless Miami Dolphins. It lost a bit of steam this past weekend after the Jets pieced together a 34-27 win over the New York Giants. 
A group of fans raised several thousand dollars and a plane flew over Manhattan's West Side with a banner that ready "Fire Adam Gase!" 
Fan frustration had been brewing well before the loss in Miami as Gase was an unpopular hire this offseason to replace Todd Bowles as head coach. Most Jets fans wanted Mike McCarthy, who won a Super Bowl as head coach of the Green Bay Packers. 
Anzalone said that the fan anger runs deeper than just what is being directed at Gase, although Gase has now turned into a bit of a piñata for fans of a team that hasn't made the playoffs since the 2010 season. 
Complicating matters is that Gase appears to have orchestrated a coup to oust former general manager Mike Maccagnan this past summer. Whether that is actually true or not likely will never be known. 
But from the outside looking in, it appeared to fans that the unpopular pick as a head coach was in a power struggle with Maccagnan and had his guy, Joe Douglas, brought in as a replacement. 
"I understand their frustration and their frustration goes from 10 years ago from going to championship to going through the head coaches," Anzalone said. 
"Then what happened – and here is where the frustration happens: You fire Bowles and you keep Maccagnan. Then you let him through free agency and $100 million and let him draft then you fire him to hire Joe Douglas…I don't need to be privy to anything in that organization but you see Gase comes in to that team and sees the way that Maccagnan is hiring the personnel, that is the reason why Johnson fired," Anzalone said. 
"How do you turn around after eight games and you're flying planes over the Hudson River, saying you want the guy fired? I understand frustration with ownership, but how frustration with a first-year coach eight games when he hasn't had his franchise quarterback for eight of those games." 
Darnold is clearly the franchise's cornerstone, a point so much as expressed by Gase last week. Anzalone cautions that a change at head coach can only backfire in Darnold's development. 
The Jets have been looking for a franchise quarterback for over four decades since Joe Namath was under center. 
"We're nine games [in] but Sam has only played only five. When you get a new system in, it takes time, it takes time. The problem with the Jets for 20 years has been continuity, there's never been continuity," Anzalone said.  
"We've never had a coach for more than five or six years. There's a reason why the Giants have won two Super Bowls, they have Tom Coughlin and Kevin Gilbride for the better part of 10 years. Eli was throwing to a spot, they made Victor Cruz a household name. OK? And he was not a great receiver, he wasn't better than most guys. But they had a system and the system worked."