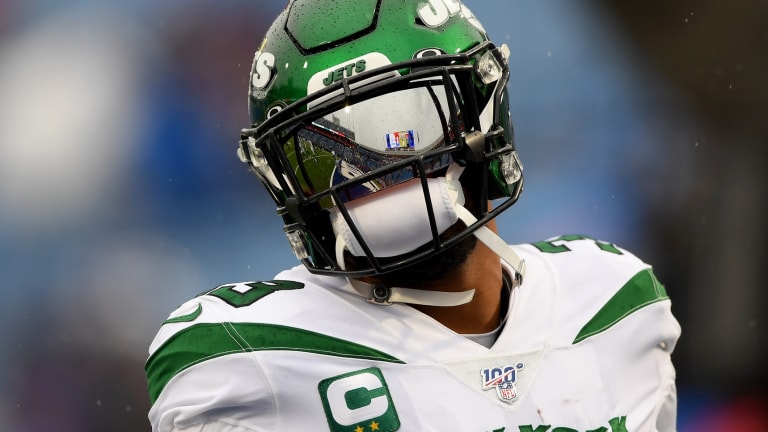 Publish date:
Jamal Adams deserves a new contract but the New York Jets might find more value in trading their All-Pro safety
The New York Jets and Jamal Adams might both benefit from a trade.
It might just be Jamal Adams forcing the issue, but it is clear that the New York Jets and their star safety could well be past the point of getting a deal done. The time for both sides to move on might be here.
Even if that isn't in the best interest of the Jets or Adams, a divorce might simply be inevitable.
When Adams twice took to social media over the past week, pointing out that two players (Myles Garrett and Christian McCaffrey) from the 2017 NFL Draft class were on the verge of long-term deals, it was obvious that he was underscoring his own outstanding contract situation. Then on Thursday with a report that Adams reportedly was asking for a trade, there is little doubt that things could get ugly real fast between the Jets and the biggest star on the roster.
Now is the time as Adams enters his fourth season in the league that teams begin to tie-up their young players on long-term deals. Garrett was taken No. 1 overall in the 2018 NFL Draft by the Cleveland Browns, Adams was sixth and McCaffrey went two spots later to the Carolina Panthers. Both Garrett and McCaffrey got long-term deals from their respective organizations while Adams, arguably the best player of the trio, remains wanting a new deal.
And while Adams is entering the fourth year of a five-year rookie contract, he's made it abundantly known that he wants a long-term deal, one that would make him the top-paid safety in the NFL. According to ESPN's Rich Cimini, Adams sees himself being the top-paid player on the Jets roster.
Let's get this out of the way: Adams is deserving of a new contract and big money. He's absolutely earned it. But he may not get it here with the Jets, certainly not now.
The Jets still have two full seasons to be played before Adams' deal is up as well as the option to punt further on any long-term commitment by using the franchise tag. While this scenario likely wouldn't make Adams happy or settle the contract issue, the Jets do have leverage here. They also drafted a safety in the third round who projects as a starter, Cal's Ashtyn Davis. The cupboard isn't bare in the backend.
What the Jets must decide is Adams' value relative to where they are as an organization. Since 2010, the Jets have had one winning season and while last year's 7-9 record is clearly a step in the right direction, especially considering that they won nine games combined the previous two seasons, they are still a long way's away in terms of finalizing their rebuild.
The Jets still have holes on their roster including cornerback, edge rusher and wide receiver. The offensive line, though improved, might well need an upgrade depending on how the free agent class pans out. And then there is the contract situation of quarterback Sam Darnold, who is entering his third season in the league. Can Adams, though dominant and the best safety in the NFL, be of more value to the Jets as a trade chip?
It is a point worth considering, especially since they still have many holes on their roster and will need to retain cap flexibility to get a deal with Darnold done.
That the Jets will likely need to tie-up at least $15 million to retain Adams and certainly will need more than that if he wants to be the highest paid on the roster. And Adams is worth that money as the best safety in the game and arguably one of the best defensive players on the field, regardless of position. There will be teams ready to pay the price.
But that type of money is a huge commitment for the Jets and does not fall in line with their mentality this past offseason. So far in free agency, general manager Joe Douglas has not swung for the fences and brought in the big names and the superstars. He didn't overpay for players like Jack Conklin, although the Pro Bowl offensive tackle would have filled a huge need on the offensive line. And despite needs at pass rush and cornerback, Douglas has maintained his discipline in not chasing after pricey talent such as defensive end Jadeveon Clowney or cornerback Logan Ryan.
In this philosophy, it is difficult albeit not impossible to see how Douglas would overpay for Adams, especially when the player could net a healthy return. The Jets are reportedly seeking a first round pick and a third round pick for Adams, meaning that not only could they avoid tying up a significant sum of their salary cap on a safety but they could accelerate their rebuild with multiple draft picks. And based off of how Douglas traded back three times in April's draft, the accumulation of draft capital is clearly of value in how he wants to build the team.
That isn't to say that the Jets shouldn't try to make a deal work with Adams even if it means paying a little extra for his transcendent talent. But at this point, the value he could net in a trade coupled with Adams' frequent outbursts on the topic have made this a difficult marriage. Not to mention that the money saved under the cap could go towards upgrading the rest of the roster and the idea of trading their only Pro Bowl player suddenly has some appeal.
Here and now, the Jets could well be facing their own Herschel Walker moment, one where the trade of a big name and popular player might actually be of a greater benefit to the club.
There will be suitors for Adams, in particular playoff teams looking for a player to push their roster talent over the top. Someone might be willing to overpay to get Adams on their roster and signed to a long-term deal.
And the Jets might be willing to listen. They might have no other choice.