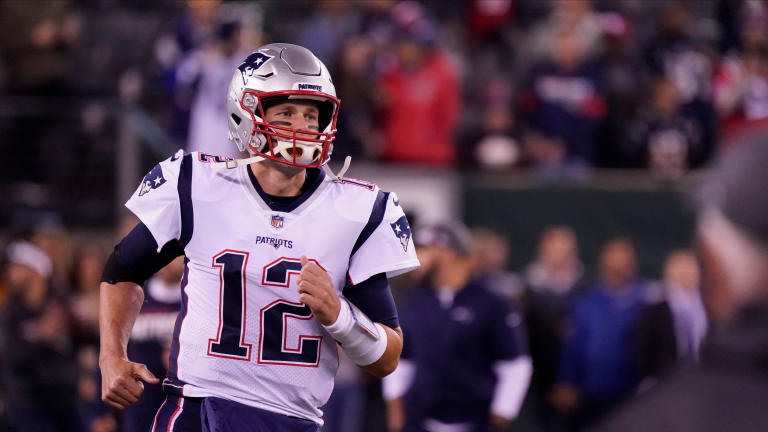 Adam Schefter: Returning to Patriots Is "Least Likely" Option for Tom Brady in 2020
Schefter doubles-down on his suggestion that 2019 may be Tom Brady's final year in New England.
Schefter doubles-down on his suggestion that 2019 may be Tom Brady's final year in New England.
This past Monday night during ESPN's pregame show, NFL Insider Adam Schefter spoke about about the possibility of New England Patriots quarterback Tom Brady playing elsewhere in 2020, saying that the signs points towards that potentially happening, though nothing was confirmed. 
Schefter doubled-down on those comments during ESPN's morning show "Get Up!" on Thursday, saying that he believes Brady staying in New England may be the least likely outcome for the QB next year. 
"These are his acts that he's put into motion," Schefter said. "And I don't think that he knows how it's going to play out after this year. But again, just look at the basic facts. That's what I said. If he's selling his house, his trainer is selling his house, and he's voiding his contract, doesn't that tell you something?"
"I would just say there are three options: He's either staying in New England, he's retiring, or he's going to play somewhere else. I would think of those three, that staying in New England, to me, would seem like the least likely option of the three. But we'll see."
"I think he could go any which way," Schefter added on after drawing a reaction from his colleagues on the "Get Up!" panel. "I think all three are in play. But I think it'd be more likely that he'll retire or perhaps even move on than stay in New England. We'll see."
To be clear: Schefter is not sharing information from a source. What he claims about Brady is strictly his own opinion based on what he knows. However, an educated guess coming from an insider who may have information that the rest of us don't makes Schefter's comments that more interesting. 
All we can do right now is worry about what Brady and the remainder of the Patriots team can do in 2019, which based on their production so far should be a fourth straight Super Bowl appearance. But this opinion given by Schefter should be stored in the back of the heads of those who genuinely care about the team's future once Brady leaves New England.