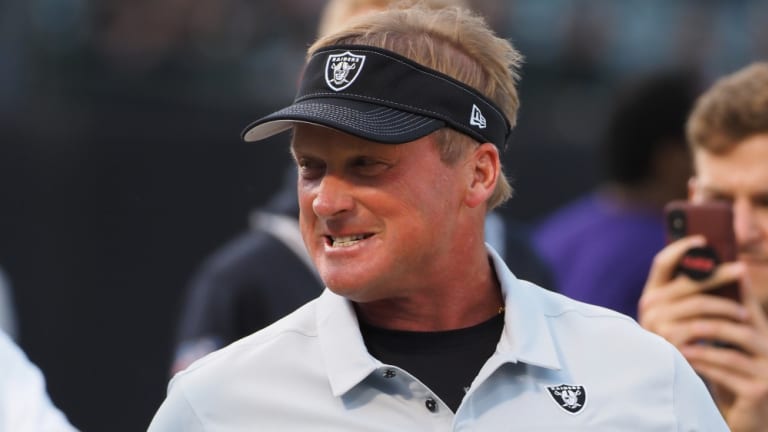 Coming Home Could Be Sweet for Raiders
With Five of the Next Seven Games at the Oakland Coliseum, the Silver and Black Could Make a Big Move
by Tom LaMarre
The Oakland Raiders are finally at home for a while after playing five games in six weeks away from the Oakland Coliseum, where they will face the Detroit Lions, their first home game in 49 days.
The Raiders (3-4) were 2-3 in their road swing through Minneapolis, Indianapolis, London (against the Chicago Bears), Green Bay and Houston, and are in second place in the AFC West behind the Kansas City Chiefs (5-3).
"The league did what they did with the schedule, and for the most part we did really well sticking it out and hanging in there," safety Lamarcus Joyner said. "Nobody expected for us to be 3-4 right now, I mean, I'm pretty sure everybody laughed at us, and thought we would win zero games, but we're going to keep going. Ain't no love lost. We still believe, we still (have) hope. We're going to be good."
The Raiders left home with a 1-1 record after winning their opener against the Denver Broncos and being outclassed by the Chiefs.
On the road, they defeated the Colts and the Bears, were beaten by the Vikings and Packers, and lost a game they could have won against the Texans last Sunday. They have been unable to slow down three of the best quarterbacks in the league—Aaron Rodgers, Patrick Mahomes and Deshaun Watson.
"It hurts a lot because we could have won … I think we could have won every single game (on the trip)," rookie defensive end Maxx Crosby said. "That's the tough part about it, but it's one week at a time. We have to get refocused.
"We have a huge game coming up at home. We have to get a win, so looking back, I feel like we did some good things, but there's definitely some things we can correct, and get better on. The second half of the season is about to start.
"We've been traveling all over the place. We need to go home and give our fans what they deserve."
The Raiders play three straight games at home against the Lions, Los Angeles Chargers and Cincinnati Bengals, and after road games against the New York Jets and Chiefs, the Silver and Black return to the Coliseum to play the Tennessee Titans and Jacksonville Jaguars.
The first four of those teams have records at or under .500, so the Raiders would seem to have a chance to make a move upward.
"I feel pretty good," Coach Jon Gruden said when asked about where he feels the Raiders stand. "I feel pretty good about the progress we're making, and I'm going to continue to beat that drum.
"We're building our team around a lot of young players who are playing critical roles. Really proud of our young players. That doesn't mean we're a finished product. We want to win some of these tight games, so we'll continue to work hard. We know the Lions are another team coming off a big win. They'll be a handful. We have to get better in tall three phases, and it starts with me."
Of course against Detroit, the Raiders will be facing another pretty good quarterback, Matthew Stafford.