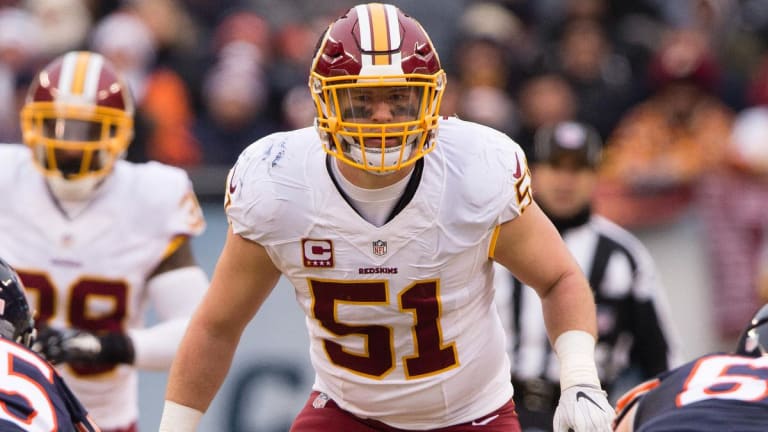 Raiders Sign Three Free Agents
LB Compton, C Magnuson, DT McClain Added to 53-Man Roster
by Tom LaMarre
The Oakland Raiders announced the free agent signings of linebacker Will Compton, center Erik Magnuson and defensive tackle Terrell McClain on Wednesday.
To clear space on the 53-man roster for the three newcomers, the Raiders waived linebacker Dakota Allen, and released defensive end Kasim Edebali and defensive tackle Corey Liuget.
The 6-1, 235-pound Compton was signed by the Washington Redskins as a free agent out of Nebraska in 2013 and also has played for the Tennessee Titans and New Orleans Saints, who released him with an injury settlement in September.
Compton has started 35 of the 68 games he has played in seven NFL seasons, including the first four with the Redskins. He has recorded 274 tackles (163 solo), one sack, three interceptions, 12 passes defensed, two forced fumbles and three fumble recoveries.
His best season was 2016 with the Redskins, when he posted career-highs of 104 solo tackles, five passes defensed and two fumble recoveries, in addition to forcing a fumble and making an interception.
The 6-6, 300-pound Magnuson was signed by the San Francisco 49ers as an undrafted free agent out of Michigan in 2017 and played two seasons with the Niners before being waived/injured this year.
Then he signed with the Buffalo Bills, who waived Magnuson in the final roster cuts after training camp, and he signed with the Bills' practice squad.
Magnuson gives the Raiders insurance behind Andre James if Pro Bowl center Rodney Hudson is kept out of action by an ankle injury.
The 6-2, 302-pound McClain was a third-round pick (No. 65 overall) by the Carolina Panthers out of South Florida in 2011, and has played for the Panthers, New England Patriots, Houston Texans, Dallas Cowboys, Washington Redskins Atlanta Falcons, Arizona Cardinals and Kansas City Chiefs in nine NFL seasons.
McClain has made 34 starts in the 89 NFL games he has played, collecting 129 tackles (85 solo), 7.5 sacks, three forced fumbles and three fumble recoveries.