TAYSOM TIME! Saints' Top 10 Defining Moments in 2020, #6
TAYSOM TIME! The most defining moments from the New Orleans Saints' 2020 campaign. At #6, it's Taysom Hill carrying the Saints to three consecutive victories in Drew Brees' absence.
The New Orleans Saints' 2020 season has come and gone following their NFC Divisional Round loss to the Super Bowl LV champions, Tampa Bay Buccaneers. Despite falling short of their ultimate goal of a Super Bowl title, New Orleans claimed their 4th consecutive NFC South title and displayed resilience in the face of adversity.
This offseason, we will look at 10 moments that defined the New Orleans Saints' 2020 campaign. 
The #6 moment came over three weeks as Taysom Hill led the Saints to three crucial victories in Drew Brees' absence.
If you were to look up the definition of a Swiss Army Knife in a dictionary, Taysom Hill's picture would be beside it. A Swiss Army Knife is a multi-tool pocket knife, and Taysom Hill has been precisely that for the New Orleans Saints, a multi-tool offensive weapon.
In the Saints' Week 10 matchup against the San Francisco 49ers, Drew Brees sustained a punctured lung and 11 fractured ribs. With Brees unable to continue, QB Jameis Winston finished the game at quarterback by completing 7 of 10 passes. Brees' injury sidelined him for the next month. The door was open for Taysom Hill or Jameis Winston to lead the Saints at the QB position.
With the anticipation that Winston would be allowed to re-write his young NFL career, similar to Teddy Bridgewater's time in New Orleans, it was a shock to many that Sean Payton named Taysom Hill the Saints starting quarterback in Brees' absence.
Fans of the NFL and Fantasy Football owners were familiar with how Hill played multiple positions each week. However, in Week 13, Taysom Hill earned an opportunity to start at the QB position and gave New Orleans a chance to evaluate him as a potential franchise QB.
Taysom Time Begins: Week 11 vs Atlanta
Hill's first challenge was to take on divisional rivals, the Atlanta Falcons. The Swiss Army Knife completed 18 passes on 23 attempts for 233-yards en route to the victory. Michael Thomas served as Hill's go-to target reeling in 9 catches for 104-yards. The performance inside the Mercedes-Benz Superdome was the injury-riddled wideout's first 100-yard game in 2020.
Hill showed his pocket presence and his ability to escape from the pocket when needed in the victory. Hill's legs led the way as he rushed for 49-yards and two touchdowns. The multi-faceted quarterback pieced together a few impressive drives resulting in touchdowns for the Saints offense and led them to a two-score victory over the Falcons.
Hill Makes it Two in a Row: Week 12 at Denver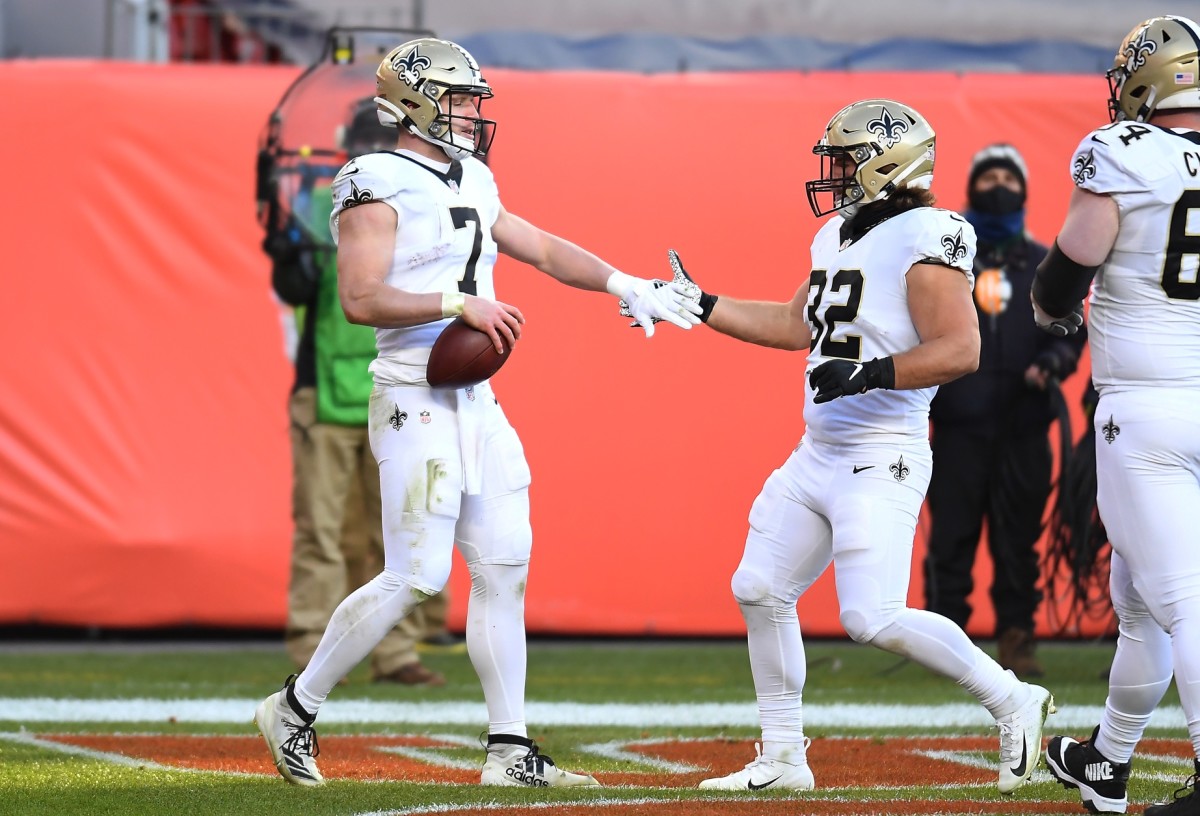 In what was one of the more odd games of 2020, the Broncos hosted the Saints in Taysom Hill's second start of the season and his career. Denver had no options at the QB position due to COVID-19 high-risk close contacts. 
Contact tracing left all Broncos' quarterbacks ineligible for the contest. Denver's GM John Elway was forced to elevate WR Kendall Hinton from the team's practice squad. Hinton was a former college quarterback at Wake Forest before joining the Broncos in free agency.
Taysom Hill completed 9 passes on 16 attempts for 78-yards, no touchdowns, and 1 INT in his second career start. Hinton completed 1 pass for 13-yards and 2 interceptions. The Saints relied on their run game in this matchup, with RB Latavius Murray leading the backfield by posting 124-yards on the ground with two touchdowns. 
Hill also found pay dirt in rushing for 2 rushing touchdowns and 44-yards. The Saints-Broncos contest was an ugly game. But a win is a win in the NFL. Taysom was now 2-0 as a starter and looking onto his next opportunity.
Taysom Makes His Case As the Heir Apparent: Week 13 at Atlanta
Hill had yet to throw a touchdown pass in his first two professional starts, but that streak finally came to an end when the Saints traveled to Atlanta for their second showdown in three weeks with the Falcons. Hill hit WR Tre'Quan Smith in the end zone for a 15-yard touchdown pass in the first quarter. The Saints led 7-0 off of Hill's first NFL passing touchdown.
The fourth-year pro looked exceptional in the pocket throughout the contest, connecting with 7 different players on 27 completions for 232-yards and 2 touchdowns. Michael Thomas was again Hill's favorite target, earning his 2nd 100-yard receiving game of the season, hauling in 9 catches for 105-yards.
Hill was doing it all, rushing for 83-yards and escaping the pocket when needed to extend drives for the Saints. Despite an ugly fourth quarter and a late fumble from Hill, New Orleans made the defensive stops needed and controlled time of possession by +13:48 minutes. The Saints were victorious, 21-16.
The Clock Struck Midnight on Taysom Time: Week 14 at Philadelphia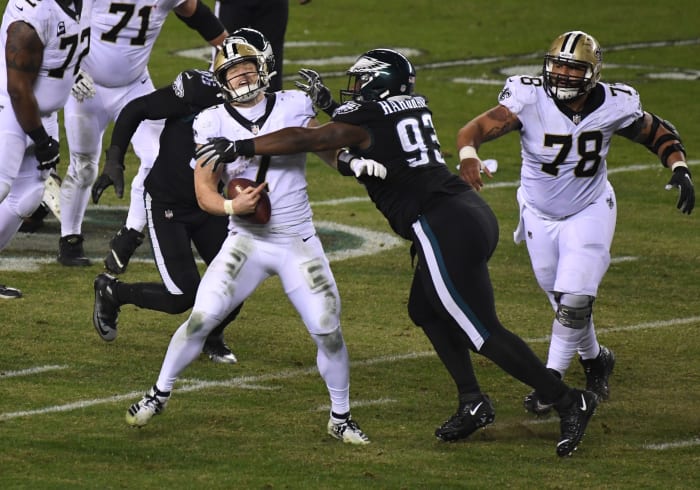 In his final start, Taysom Hill and the Saints traveled to Philadelphia to take on the Eagles. Rookie signal-caller Jalen Hurts would make his first NFL start. New Orleans fell behind early and never recovered. Hill threw 28 completions for 291 yards on the day and had a costly turnover late in the game.
Hill added 2 more passing touchdowns when he located WR Emmanuel Sanders for a 37-yard TD pass and TE Jared Cook late in the game. Hill moved to 3-1 as a starter following the 24-21 loss to Philadelphia.
Taysom Hill's efforts helped keep the Saints' playoff hopes alive by leading the Saints to 3 key victories in Drew Brees' absence. Hill, 31, showed he could be a viable NFL starter during the span of those four games helping secure three wins and swept their divisional rival, the Atlanta Falcons. 
"Taysom Time" served as a massive headline during the Saints' 2020 season, landing at #6 on our top 10 defining moments of the season.
Saints News Intern Joe McGuan contributed to the Article Series: Top 10 Defining Moments of Saints 2020 Season.
For all the latest New Orleans Saints News & Rumors follow:
The Saints News Network at www.saints.media.
Follow Saints News Network's Writer, Brendan Boylan, on Twitter & Instagram at @btboylan.
Continue to follow all Saints' coverage on Social Media with Saints News Network at @SaintsNews on Twitter, Instagram, and Facebook.