Top 25 Saints of 2020: No. 20, Deonte Harris
One of the NFL's best stories from 2019 was a little undrafted rookie free agent from DII Assumption College named Deonte Harris.
We're starting to see some teams announce training camp plans, which is hopefully a good sign for the New Orleans Saints. Football season can't get here fast enough, although it's sure to look completely different than anything we've ever seen previously. We continue our look at the Top 25 players of 2020, but first look at where we are to this point.
The Countdown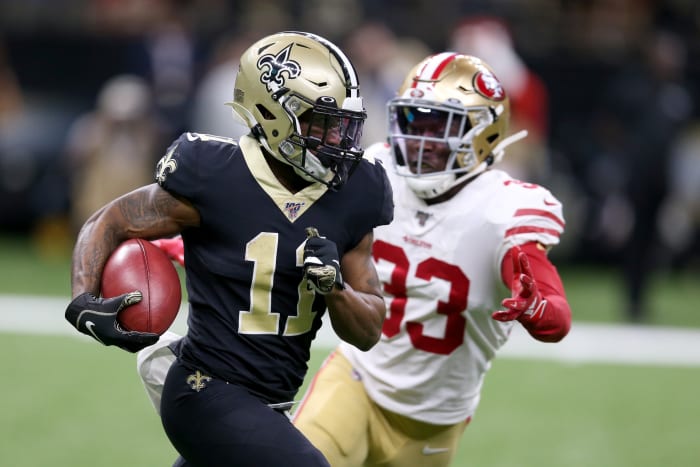 No. 20 - Deonte Harris
There's not many better stories from the 2019 NFL season than Deonte Harris'. It's no secret that the Saints have had a successful track history with undrafted rookie free agents, and Harris was no exception. The Division II Assumption College product finished fourth in the NFL with a 9.4 yards per punt return average, while being third in the league averaging 26.8 yards per kickoff return. Arguably, he was the spark that ignited the Seahawks road trip victory that featured a five-game stint without Drew Brees.
Harris appeared in 14 games for the Saints last season, being inactive due to injury for consecutive games against the Buccaneers and Panthers in November. He finished with 36 punt returns for 338 yards (long of 53) and 24 kick returns for 644 yards (long of 51). Any time he had the ball in his hands, there was a sense that he could break off a big play.
Harris' accolades from 2019:
PFWA All-NFL Team
PFWA All-NFC Team
PFWA All-Rookie Team
AP First-Team All-Pro
The Sporting News All-Pro Team
Pro Bowl Team
Harris' Outlook in 2020
We saw what Deonte Harris brought to the table against the Vikings, finishing with 227 all purpose yards (4 kick returns for 133 yards, 4 punt returns for 33 yards, 1 catch for 50 yards), which just shows you how valuable he is to the Saints. Harris didn't do too much on offense in 2019, finishing with 8 total touches (2 carries, 6 receptions) for 42 yards. However, that looks to change for the new season.
There's open competition for the team's receiver spots behind Michael Thomas and Emmanuel Sanders, and it wouldn't be hard seeing Sean Payton use Harris more to help move the chains or make things happen more in 2020. There's also room for Harris to improve, according to special teams coordinator Darren Rizzi.
"I say this all the time. I think people look at me like I am crazy, but I think Deonte can actually really improve a lot. I think people will just automatically look at the numbers, his accolades, the All-Pro and Pro Bowl and all that and automatically assume that this guy has got it figured out. I think Deonte would probably be the first guy to tell you that he has enough things to work on."
Whether it's route-running, ball security, or something else to his game, you're sure to get some major improvement from Harris in his second season.