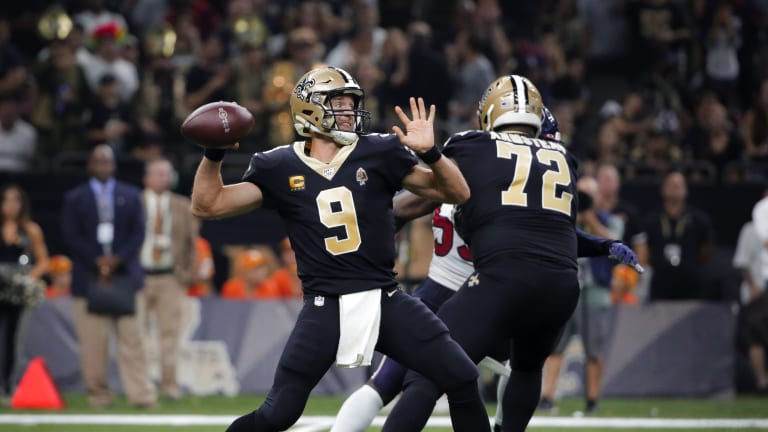 Saints Gameday Social Media Buzz - Cards Game (SNN/SI)
Saints News Networks latest Gameday news and updates on the Saints-Cardinals Game
Here are the Saints News Gameday social media buzz and updates ahead of the Saints-Cardinal game on today.
DREW BREES IS STARTING
Saints QB Drew Brees will get the start on today against the Arizona Cardinals.  
DREW IS NOT UNRETIRING, JUST RETURNING
STAR RUNNING BACKS ARE OUT - Alvin Kamara (Saints) and David Johnson (Cardinals)
REMYDAMUS & THE FANS - (Saints-Cardinals Game)
Remy "Remydamus" Jones chats with longtime Saints Fan William Mitchell on the Saints, Drew Brees, Teddy Bridgewater and the Saints-Cards Game Predictions.
Profootball Focus' look at the game
THANKS TEDDY!!!
SAINTS HALL OF FAME INDUCTEES - REGGIE BUSH and MARQUES COLSTON
Both Reggie Bush and Marques Colston were honored on Saturday as the latest inductees into the New Orleans Saints Hall of Fame.  In 2006, the Saints selected Bush for their 1st draft selection, and Colston was the 7th round draft choice for Sean Payton and Mickey Loomis.   
Listen to Marques Colston words on the Who Dat Nation:
Sean Patyon's Introductions
Reggie's flight was delayed.  His wife and family were there to support in his absence.
GAME PREDICTIONS
Saints News Network/SI predicts:  Saints - 27, Cardinals - 17 in Drew Brees' Return to the Mercedes-Benz Superdome.