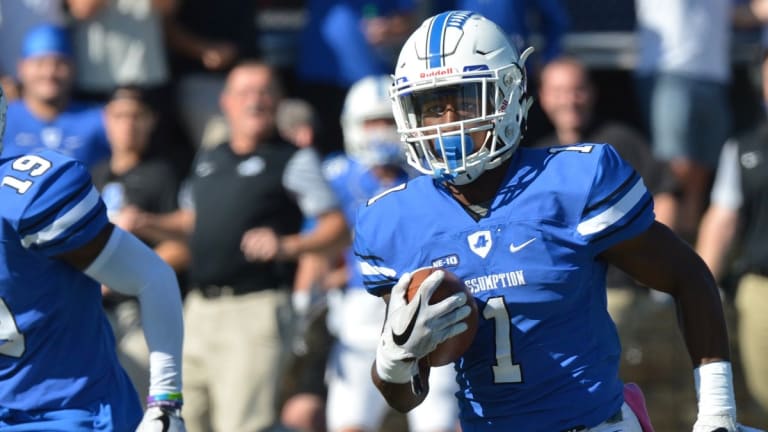 'You could sense it': How Deonte Harris electrified D-II crowds before joining Saints
Harris is an undrafted rookie from Assumption College who could be on the verge of making the Saints' 53-man roster.
Harris is an undrafted rookie from Assumption College who could be on the verge of making the Saints' 53-man roster.
The kickoff Drew Canan remembered best was the first one Deonte Harris returned for a touchdown. He caught the ball at the 3, evaded several defenders and raced 97 yards to the end zone. 
"And I'm not lying," the former special teams coordinator at NCAA Division II Assumption College said about that return. "He made nine guys miss."
Anyone who saw the 5-foot-6 Harris return 14 kickoffs and punts for touchdowns during his four seasons at the Worcester, Massachusetts-based school is not surprised to see where he is now, readying for a third preseason game with the New Orleans Saints.
Through two preseason games, Pro Football Focus rated the undrafted rookie as the top return specialist in the NFL. 
The Saints in March signed veteran Marcus Sherels as a return specialist from the Minnesota Vikings. But because Sherels has been inactive since before the first preseason game, Harris has emerged as a possible 53-man roster favorite. How he fares Saturday against the New York Jets could be significant.
Saints coach Sean Payton said Harris has done "some things that are encouraging," but the position battle "is not crystal clear right now."
While at a Pro Day hosted by Harvard in the spring, Harris posted a 4.35-second time in the 40-yard dash. With that speed, Harris has returned five punts for an average of 11 yards and five kickoffs for an average of 28 yards. 
"It looks like he's going to break one twice a game," said Ashton Grant, the punt returner at Assumption before Harris took the job from him as a freshman in 2015.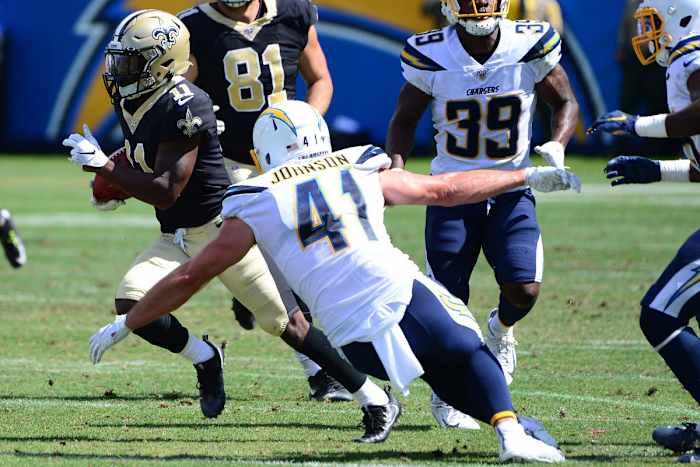 Back when Grant returned punts for Assumption, he primarily tried to position himself to catch the ball as he called for a fair catch. But the first punt Harris returned in college went 89 yards for a touchdown, and from that point forward, Grant gladly let Harris have the job. 
"I'd rather watch him return a punt than have me try to return one," said Grant, who roomed with Harris in their final season together.
It's more fun that way.
When Harris ran with the football, everybody stopped to watch. Defenders just coming off the field after either allowing a score or forcing a punt never began their sideline position-group meetings until after Harris completed his return. Offensive players getting ready to step on the field also made sure they could see what Harris would do next. 
Harris played mostly before crowds of less than 10,000.
"You could sense it in the stadium," said Canan, who now coaches special teams and tight ends at the College of Holy Cross, also in Worcester. "We went out there for punt rush or punt block or whatever you want to call it, and everyone in the stadium knew that if the ball got near him, they were going to witness something special."
The shifty Harris became so hard to stop on his own that Assumption coaches would send only the punt-block team onto the field because Harris didn't need much upfield help creating running lanes.
On some kickoffs, Assumption made getting the ball to Harris such a priority that they would sometimes lateral the ball backward two or three times so he could get the return. 
On one memorable kickoff, Harris received a lateral at the 20 after an attempted squib kick and took it for a touchdown in a 2017 playoff win against Findley. That was one of two kickoff return touchdowns by Harris in that game. He also scored touchdowns on a pair of long pass receptions -- all four touchdowns coming in a second-half comeback from down 10-3 at halftime to win 45-26.
"We would try to get him the ball as quickly and as often as possible," Grant said. "If they tried to kick it short, we would lateral it to him. However we could get 'Te the ball, it would be to our advantage."
The next week, Harris took another lateral after a kickoff near the goal line in the final minute. He darted upfield but was unable to get by a final defender for what would have been the winning touchdown in a national quarterfinal at Indiana (Pa.).
Another memorable kickoff came when upback Dylan Oxsen faked a lateral toward Harris and caused all 11 defenders to drift in his direction as Oxsen ran 64 yards to score in 2016 against New Haven.
Coaches also found ways to get him the ball on offense. Listed on the play-call sheet below his college uniform No. 1 were the words "vertical," "sweep" and "bubble." Each was a reminder for if the team had trouble getting the ball to its most dynamic play maker.
Commonly, the play-calls worked. He scored 28 touchdowns receiving and three rushing, giving him a four-year total of 44.
Assumption recruited the diminutive Harris as an overlooked running back from Baltimore Archbishop Curley, which Harris helped to an undefeated record and a Maryland state championship his senior season. 
Assumption coaches marveled at the 8-minute highlight video from his junior season posted at his Hudl page — baffled that he held no college offers at the time.
Ultimately, his other two offers out of high school came from FCS-level Rhode Island and Towson. He could have stayed in his Baltimore hometown and attended Towson, but "his mom wanted him out of Baltimore," said former Assumption strength and conditioning coach Chris Grautski.
The offer from Towson came one day before the February national signing day, and when the Towson recruiter called the high school, and Harris asked, "Where have you been? Assumption has been with me since the spring."
The next day, Harris signed.
"We couldn't believe we got him," Canan said.
Harris made an immediate impact as the Northeast-10 Conference rookie of the year. A lingering shoulder injury during his sophomore season slowed him some, but not enough to keep him from returning a kickoff for a touchdown in the first round of the playoffs that season. 
In the offseason before his junior season, he never left campus. He stayed through the summer and improved his strength and conditioning, with Grautski once stopping Harris from continuing with his 405-pound squat reps when he reached 13.
"There was no point in continuing," Grautski said.
When Harris first signed with the Saints, he sent a text message to his coaches. The message arrived on their phones April 27 at 6:37 p.m.
From that point forward, everybody who knew him in college figured it would only be a matter of time before he made a strong impression in the NFL.
With Harris, they always knew something special was about to happen. So far, they've been right.