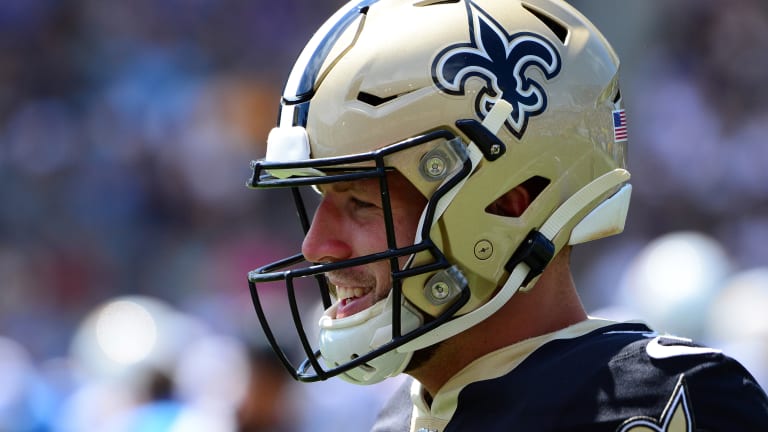 Next Steve Young? Sean Payton explains vision for Taysom Hill
During the CBS broadcast of the Saints' preseason comeback against the Chargers, announcers said how Payton likened Hill to the Hall-of-Fame quarterback.
METAIRIE, La. -- Sean Payton saw something he liked about Taysom Hill when the New Orleans Saints made a waiver claim for the quarterback just before the 2017 season began.
Sometime after that was when the Saints coach created a clear vision for what the do-it-all quarterback could be.
During the CBS broadcast of the Saints' preseason comeback led by HIll against the Los Angeles Chargers, the game announcers said how Payton likened the 28-year-old Hill to Steve Young, another quick-footed former BYU passer who also happens to be in the Pro Football Hall of Fame. 
"If you look back through Steve's career, people don't remember his time before he came into the NFL," Payton said Monday. "You had a very athletic player that I think advanced when he got to San Francisco and he always had great ability with his legs.
"You're trying to create visions for players no different than how you'd evaluate how you'd see Teddy (Bridgewater) progressing, what he can be. That's the business we're in."
Perhaps similar to how Hill has to wait behind career passing yards leader Drew Brees for his chance at becoming a starting quarterback with the Saints, Young waited behind four-time Super Bowl winner Joe Montana for four seasons with the 49ers.
Young began his professional career with the Los Angeles Express of the USFL and then played two hapless seasons with the Tampa Bay Buccaneers. The Bucs went 3-16 in games he started during that time. With the Niners, he became a full-time starter in 1991 and in 1992 was named the NFL MVP. He also was a three-time first-team All-Pro selection and won a Super Bowl in 1994. 
For as much Young flourished as a passer, his ability as a runner provided another element similar to what Hill has shown when at quarterback. Young's 43 career rushing touchdowns ranked as the most by a QB until Cam Newton topped that number in 2016.
Payton has frequently told the story of how the Saints were 11th on the waiver claim list after the 2017 preseason and hoped no team ahead of the Saints would put in a claim for Hill, who the Green Bay Packers let go with hopes of putting the then-rookie on the practice squad.
Once the Saints acquired him, he remained a game-day inactive until the final five games that season, when former special teams coach Mike Westhoff opted to put him on punt teams. Last season, Hill thrived on special teams with three successful fake punt conversions -- including one in the playoffs -- and one punt block that helped spark a comeback win at Tampa Bay.
The comparison to Young came only after Payton saw more of Hill's skills as a rusher and a thrower.
Hill showed much of those abilities against the Chargers. He completed 11 of 15 passes for 136 yards and two touchdowns, and rushed five times for 53 yards. With Hill at quarterback, the Saints rallied from a 17-3 deficit at halftime and won 19-17.
 "I think we've seen significant growth with both (Hill) and Teddy," Payton said. "This is Teddy's full second year. We're seeing things on a day-to-day basis that maybe weren't happening a year ago."
Hill's development as a passer could be evident with his 27-yard touchdown pass to Austin Carr in the third quarter against the Chargers. After the game, Hill said Carr was not the first option on that play, one that drew the Saints within 17-10 on the way to a 19-17 victory.
Carr identified himself as the final receiver option on that play. one that is typically designed to go to a tight end in the middle of the field. 
"It was a great thrown ball," Carr said. "It speaks to his poise in the pocket. 
"You know Taysom is a guy that likes to scramble. If there's pressure, he's confident in his legs. But to see him sit in there and find the fourth, fifth or sixth read, or whatever it was on that play, just speaks to his poise and his maturity as a quarterback."
Considering his spot on the depth chart behind Brees and Bridgewater, the Saints have ample time to let Hill continue with his development. For as long as that happens, the potential vision for Hill should continue to brighten.