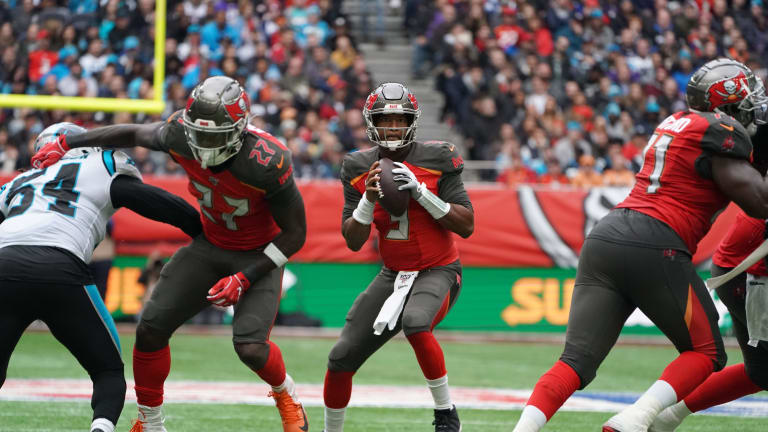 Enemy Confidential: Seahawks Should Be Wary of Unpredictable Buccaneers
Despite 2-5 record, Tampa Bay has fared better on the road and is led by a coach who knows how to win in Seattle.
The Seahawks are about to face a stretch of games that will define their season and their status as a potential title contender in the NFC West. Four straight contests against the likes of the 49ers, Eagles, Vikings and Rams are on the docket soon, with those teams sporting a combined record of 22-9.
But first, there's the matter of the game on the schedule this Sunday against a 2-5 team from the NFC South that may look every bit the part of easy prey as Seattle looks to move to 7-2 leading up to an epic Monday Night Football clash against San Francisco eight days later.
But Bruce Arians says not so fast.
More accurately, Tampa Bay's first year coach says "It's probably my favorite place to play" when referencing Seattle, as evidenced by his 4-1 record as the visiting coach at CenturyLink Field from his days in charge of the Cardinals.
This Bucs team isn't as good as some of those Cardinal teams of course, at least not yet, but they were good enough to steamroll the Rams 55-40 in Los Angeles in Week 4 and present a unique challenge to a Seahawks team struggling with some inconsistencies of their own.
Here's a closer look at the Seahawks upcoming opponent, including series history, additions/departures, key numbers, and Carroll's evaluation of the Buccaneers:
SERIES HISTORY
--14th regular season meeting. Seattle leads the all-time series 8-5. After joining the NFL together as expansion franchises in 1976, the Seahawks quickly established themselves as the better franchise, dominating the early years of this series. Seattle won seven of the first eight meetings between the two clubs. The tables have turned more recently, however, with Tampa Bay winning four of the last five meetings.
The lone win in that stretch by the Seahawks was a memorable one. Early in the 2013 season, the team that would go on to win the franchise's first Super Bowl found themselves down 21-0 to a Mike Glennon-led Bucs team in front of the home crowd before rallying to eek out a 27-24 overtime victory.
WHAT'S NEW?
--Departures: Tampa underwent massive changes in the offseason after the decision to fire Dirk Koetter and coax Arians out of semi-retirement, but chose to focus most of their rebuilding efforts on the draft. On offense, the franchise said goodbye to the likes of quarterback Ryan Fitzpatrick along with veteran receivers DeSean Jackson and Adam Humphries, but their biggest transformation came on the defensive side. Gone are the likes of defensive end Vinny Curry, defensive tackle Gerald McCoy, linebacker Kwon Alexander, cornerback Brent Grimes, and safety Andrew Adams as the team transitioned to the new scheme led by defensive coordinator Todd Bowles.
--Additions: Meanwhile, Tampa Bay added a host of lesser-known role players, but did acquire defensive tackle Ndamukong Suh and outside linebacker Shaq Barrett in free agency. The 2019 draft produced inside linebacker Devin White, the No. 7 overall pick out of LSU, and he'll start on Sunday. Also playing key roles as rookies are second-round cornerback Sean Bunting and fifth-round kicker Matt Gay.
--Local ties: Former University of Washington defensive lineman Vita Vea is starting for the Bucs, while former Seahawks receiver Amara Darboh is listed as a third stringer.
BY THE NUMBERS
28: Number of sacks taken by Jameis Winston in 2019, second only to Bengals quarterback Andy Dalton.
1,367: Combined receiving yards for Mike Evans and Chris Godwin, the most by any duo in the NFL.
4.6: Interception percentage per 100 throws by Winston, fourth-worst in the league.
17: Turnovers lost by Tampa Bay through seven games, tied for second-worst in NFL.
1: Number of 20-plus yard runs given up by the Buccaneers defensively, the lowest total in the league.
337: Rushing yards yielded on first down runs, the third-best mark in the league.
30.3: Points allowed per game by Tampa Bay's defense, third in the NFL behind only the Dolphins and Falcons.
47.9: Percentage of opposing drop backs in which the Buccaneers blitzed, second in the NFL.
CARROLL'S THOUGHTS
--Carroll spent most of his Wednesday press conference fielding questions about trade deadline discussions and his own injured players, but he's been impressed by what he's seen from Tampa Bay's explosive pass game.
"They're just loaded with talent," Carroll said. "Chris [Godwin] is their leading receiver, but Mike Evans is the star that we've watched for years. If you just watch the last game, Mike was all over the place making plays and lightening up. He made a lot of tough catches in difficult situations. You can see the confidence that Jameis has in those guys to throw the ball when they're in trouble and in traffic, giving them a chance to make a play. It makes those guys really dangerous. They've got other guys, too. They've got other guys that can fly. This is a pretty classic group for Bruce [Arians] to have where he's got his receivers that are really stellar. It's a difficult offense to deal with."
Seattle cornerbacks Shaquill Griffin and Tre Flowers will face a stiff test defending Evans and Godwin, who have each thrived in Arians's vertical passing game.
--The Seahawks continue to emphasize running the football as much as any team in the NFL, but the Buccaneers will present a real challenge trying to move on the ground thanks to the presence of Vea and Suh in the middle as well as linebacker Lavonte David. They currently rank first in the NFL surrendering just three yards per carry in 2019.
"They're as big as you can get. Vita is a monster of a guy in there and we know that [Ndamukong] Suh has always been a terror. It's a challenge for all of our guys. They start from inside out in the running game defense and it's a very, very strong part of their football team."
Seattle won't abandon running the football, but this may not be a great game for fantasy owners if you have Chris Carson or Rashaad Penny slated to start.
--Led by Barrett, who has posted 10.0 sacks through seven games in a breakout season, the Buccaneers have shown major improvements pressuring opposing quarterbacks. They're second in the NFL for blitz rate as well, so Bowles will continue to be aggressive.
Carroll anticipates the return of veteran defensive end Jason Pierre-Paul will only make Tampa's front seven stronger heading into Sunday's game.
"Yeah, it's a problem. They pressure. They're right up there with the top team in the league as far as how much they pressure. They're going to come after you a bunch. They're using their edge guys quite a bit. The linebackers are really fast and can make things happen, too, as well as the safeties they bring. They really give you the whole thing. They're very difficult."